Tour Details
About the Tour
Duration

6 days / 5 nights
Photos & Highlights
Expertly-planned 6 day, 5 night itinerary in the Netherlands. Experience world-class museums and masterpieces from the Golden Age to De Stijl with art historian Sabry Amroussi.
Small group size (6-10 participants)
Rijksmuseum, Rembrandt House, Van Gogh Museum, Amsterdam Canal Belt, and Mauritshuis
Tour Description
Dutch Art in the Netherlands with Sabry Amroussi
Departure One: May 21 - 26, 2022
Departure Two: September 10 - 15, 2022
Get in touch
about this Journey
Trip Highlights:
Explore: Trace this evolution of Dutch art from the Old Masters to Mondrian as we enjoy Dutch culture and life from a local perspective
Learn: Private tours to guide us through landmark destinations such as the Rijksmuseum, Van Gogh Museum, Kröller-Müller Museum, and more!
Connect: Exclusive opportunity to learn from a top-class expert, and create memories alongside like-minded travelers, in a small group of 6-10 participants
Unwind: Our team of experts on the ground has managed all the details, so guests can relax and enjoy carefree travel
Guided by Sabry Amroussi, an esteemed art historian, the essence of Dutch art stands at the center of this journey. Experience these works in their original context as we expose Amsterdam's medieval charms and modern marvels in a new light. Our tailored itinerary includes excursions outside of the city to The Hague, Haarlem, and Utrecht, and provides the unique opportunity to visit an otherwise off-limits private collection.
"Together we'll capture the most authentic view of 400 years of Dutch art and the lifestyle it captures ... looking beyond the cliches of canals and clogs to experience the culture of this beautiful country then and now." – Sabry Amroussi
Of course, we'll visit favorites such as Nightwatch and Girl with the Pearl Earring and drop by the Rembrandt House - and will also meet lesser-known artists equally worthy of the spotlight. We will immerse ourselves completely in 17th-century Holland – from an architectural, artistic, and culinary point of view in turn. We'll explore modern Dutch art and design as well as learn about Mondrian and Rietveld on-site. And we will venture off the beaten track, with an adventure to the Kröller-Müller Museum – with the world's second-largest collection of works by Van Gogh.
*Final Itinerary Subject to Change Based on Venue Availability*
DAY 1: Arrival & Getting Settled
Nowhere captures the architectural splendor and variety of Amsterdam quite like the energetic enclaves of the canal district. In the company of your Context expert, you'll enjoy an orientation to the heart of the city as we stroll charming parks, galleries, and shops near the hotel. Wrap up the evening by getting to know your guide and fellow travelers over dinner at one of Amsterdam's best restaurants.
At a Glance:
Arrive from the airport and check in to the hotel in central Amsterdam
Meet your fellow travelers and Sabry for an orientation stroll in the neighborhood
Welcome dinner together as a group

DAY 2: Amsterdam's Museumplein In Depth
We'll spend our second day exploring the two most iconic art collections of Amsterdam – the Rijksmuseum and Van Gogh Museum. In between, we will take a break for lunch as a group and end the day with some time at leisure to explore the city.
At a Glance:
Breakfast at the hotel
Rijksmuseum and Van Gogh Museum
Lunch together in central Amsterdam
Free time for rest and exploring the city before dinner
Guests enjoy dinner at leisure - recommendations will be provided

DAY 3: Seventeenth-Century Haarlem and Private Art Collection Evening
This morning we will venture to Haarlem, home of legendary Dutch master Frans Hals. We'll explore the churches and canals of this historic town and take in a few world-class museums. Back in Amsterdam, we will tour the Rembrandt House before heading to dinner in an original canal house to tour a private art collection - a unique experience available only to Context Journeys participants.
At a Glance:
Private transportation takes us outside of the city to explore nearby Haarlem and its intact 17th-century architecture and canal system.
Teylers Museum - the oldest museum in the Netherlands, an eclectic treasure trove of art and miscellanea
Frans Hals Museum
Lunch in Haarlem
Return to Amsterdam by private transportation
Rembrandt House
Private Art Collection Dinner

DAY 4: Exploring The Hague
Have you ever wondered who the Girl with the Pearl Earring was? Together we will take an up-close look at the masterpiece crafted by Johannes Vermeer. Following a relaxing lunch by the sea, we will explore the world-renowned Kunstmuseum and an evening to relax back in Amsterdam.
At a Glance:
Private transportation from central Amsterdam to The Hague
Mauritshuis Museum - home of Girl with Pearl Earring by Vermeer
Lunch by the seaside
Mondrian collection at the Kunstmuseum
An evening at leisure in Amsterdam

DAY 5: Excursion to the Kröller-Müller Museum and Gardens
This world-renowned museum, founded by one of the first female art collectors in Europe, Helene Kröller-Müller, opened in 1938 and hosts the second-largest collection of paintings by Vincent van Gogh, after the eponymous museum in Amsterdam. Together with Sabry, we will discover the stories and secrets of Helene's collection. In the evening we will take one last look at Amsterdam on an evening canal cruise to toast our week together.
At a Glance:
Leave from Amsterdam for the countryside in Otterlo in private transportation
Experience the magic of the Kröller-Müller's Van Gogh Collection and nearby nature preserve on a personal tour
Return to the city for free time and a chance for last-minute shopping
Amsterdam Canal Cruise and sunset cocktails
Farewell dinner as a group in central Amsterdam

DAY 6: Departure
Travelers depart for flights home – or onwards to their next destination.
For more information, we invite you to
explore our FAQ Page
or
get in touch
about this Journey. To reserve a spot on this tour, you can either place an order from this page or email us. We will charge a $1000 non-refundable deposit to reserve your place, with the balance due 3 months before travel. A single supplement will apply to individual travelers who wish to have a private room.
Tour Experts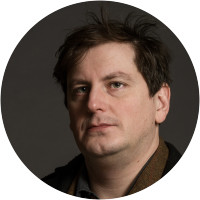 Sabry Amroussi is an art historian and writer living and working in Amsterdam. He specializes in the art of the Dutch Golden Age, mainly in the works of Rembrandt and his school, and also has a keen interest in the Jewish history of Amsterdam. He lectures and teaches on both subjects, and gives art historical tours all across Europe. As a true omnivore when it comes to art, culture, and even cuisine, he has worked with and for major museums and collectors, such as the LACMA, Rijksmuseum, van Gogh Museum and the P de Boer Collection in Amsterdam. As a guide for Context, he is eager to share this knowledge in real life, always with a big scoop of humor, often intermingling art with social life, cuisine, and history.
Behind the Scenes of Building the Context Journey
Discover more about this one-of-a- kind Journey to Amsterdam
Register today, spaces limited