Tour Details
Tour Description
Barcelona's vibrant La Boqueria market attracts Michelin-starred chefs and local grandmothers equally. As the center of the city's food scene and epicenter of Catalan gastronomy, the Boqueria offers an unparalleled opportunity to experience the sights, smells, and tastes of gastronomic Barcelona. On this 3-hour La Boqueria Market tour, we'll explore the market and nearby specialty food shops, tracing the history of food in this culinary city. In the company of a chef or food writer, we'll get a basic overview of regional Catalan gastronomy while tasting local specialties.
Barcelona Food Tour in La Boqueria Market
We begin by getting a foundation of Catalan culinary traditions, usually over a cup of traditional hot chocolate at a historic dairy. We'll then move on to La Boqueria, which, although it's now located in newer buildings, was established in the 13th century, making it one of Europe's oldest markets. We'll discuss the long history of public markets in Barcelona, from the medieval period to their revitalization in the 1990s.
La Boqueria Market with an Expert
We'll spend the majority of our time together under the glistening canopy of La Boqueria itself. We'll venture into the briny, wet stands where fresh fish, shellfish, and an array of mollusks are arranged over beds of ice. We'll stop to examine freshly hunted wild mushrooms or to inhale the salty aromas of cured jamon and embotits. We may sample
typical dishes
at such famed tapas bars as
Pinotxo
(for those wanting a closer look at Barcelona's tapas culture, we recommend our
Barcelona Tapas Tour
). Along the way, our expert guide, a trained food critic, chef, or local historian, will explain some of the origins and provenance of these foods against the backdrop of Catalonia's rich culinary history and diverse geography.
"We learned so much about Barcelona's traditions and typical food from the region. Our guide gave us a better understanding of the city, its history, and its cuisine."
Catalan cuisine is as innovative as it is economical: No part of the animal is thrown out. Unusual combinations like rabbit with snails (conejo con caracoles) or pigs feet with nuts and peas (pies de cerdo con piñones y guisantes) illustrate the experiments of ancient Catalan cooks. From this lineage of contrasting flavor profiles and economical exploits, Catalonia leads the world in culinary innovation, boasting many Michelin star restaurants and forging new frontiers in molecular gastronomy.
Barcelona Food Tour
Time permitting and depending on the stands we visit inside La Boqueria Market, we may visit a selection of specialty food shops in El Raval and the Gothic Quarter or a modern market building, which contrasts the busier, more visited Boqueria. We may also discuss notable restaurants specializing in "market cuisine" to highlight the interplay between market and restaurant, produce and chef.
Looking for a sweeter experience in the city? Try our private Barcelona Chocolate Tour.
Booking Instructions
Please note any food allergies or intolerances in the Notes box when booking.
FAQ About the La Boqueria Market Tour
Is this tour suitable for vegetarians?
Though Catalan food is traditionally meat- and seafood-based, we will taste some items that do not contain animal products.


Is this tour wheelchair accessible?
Some of the shops we visit are small, and many will have a step up to access them. The general route may include small streets with narrow sidewalks; please get in touch with us if you have any questions regarding accessibility.
Where You'll Start
Tour Experts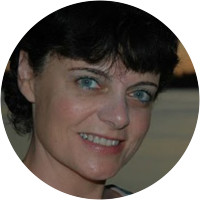 A Barcelona native, Esther grew up cooking with her mother and grandmother. Their love of Catalan traditions and use of local ingredients laid the basis for her very sophisticated knowledge of Catalan cuisine. Having studied business administration and marketing on the university level, Esther has traveled extensively, giving her a very good sense of the comparisons between cuisines and traditions. When not leading walks for Context, she can be found in Barcelona's restaurants and markets.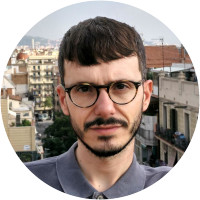 Jose Ortiz has a PhD in Art History and a Master's degree in Heritage Management. His thesis was focused on death iconography in the Renaissance and Baroque Catalonia, in the 16th-18th centuries. Nowadays, he is conducting research about diseases in art and working as a professor for Tourism Studies. As a Docent, he leads the medieval and modernista Barcelona Tours. As an Official Tourist Guide, he has specialized in the permanent collections at museums including the Picasso Museum, the Catalan National Art Museum, the Barcelona History Museum and the Miró Foundation. Furthermore, he has experience leading tours about gastronomy, Gaudí and his architecture, fashion and design, as well as other specialized tours.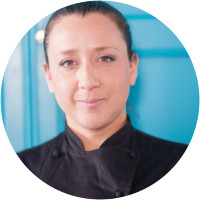 Teresa Mas de Roda, a native of Barcelona, artist and Professional Chef for 21 years, has lived and travelled all over the world in a continuous search for creative paths such as graphic design, photography, drawing, singing, writing and at last cooking. She studied Professional Cooking in Luis Irizar, San Sebastian. At the moment in addition to continuing with her individual Conceptual Chef project, she is working on her Instagram accounts and in a new pairing project for wineries. She is a food lover always looking for new gastronomic pleasures to explore her passion for food and for her city Barcelona.
Reviews can only be left by Context customers after they have completed a tour. For more information about our reviews, please see our FAQ.
Alessandro was the best! We will request him again, such a fun morning
May. 16, 2023
Alessandro provided the perfect mix of history...food...culture...unique insights...and international friendship. He really put it all "in context!" This is our third Context experience -- Paris...London...Barcelona -- but it will not be our last!
May. 3, 2023
Esther was a terrific guide and I enjoyed spending time with her and touring the market.
Apr. 30, 2023