Tour Details
Tour Description
One of the most impressive excursions from Barcelona, it's hard not to be in awe at the views from this emblematic mountain range 48km (30 miles) west of the city. Montserrat, which means serrated mountain in Catalan, houses one of Catalonia's most important Catholic sites and has played a decisive role in the cultural and spiritual life of the region. We'll delve into why on this half-day private tour in the company of a local expert. On our tour, we'll visit Santa Maria de Montserrat abbey and the Basilica of Montserrat including the Black Madonna.
Private Montserrat Day Trip From Barcelona
Beginning our day in Barcelona, our expert guide and driver will meet you at your hotel. We will start learning about the fascinating history of the area on the journey to the base of the mountain. Upon arrival, we will take the funicular up the slope to the Santa Maria de Montserrat Monastery. The site dates back to the 11th century and due to its religious and strategic importance, has often found itself a focal point of key events in Catalan and Spanish history including the Napoleonic wars and the Spanish Civil War.
Guided tour of Montserrat Monastery
Following in the footsteps of centuries of pilgrims, we will discover the impressive complex first hand, making sure to pay a visit to the Virgin of Montserrat (the black virgin or black Madonna).
La Morenata
is Catalonia's favorite saint whose sanctuary is nestled within the Basilica next to the Benedictine monastery. In addition to her religious significance, we'll likely consider the ways in which Montserrat has proved a haven for Catalan language and culture over the centuries.
If you are looking to dive deeper into the topic of Catalan identity, we also recommend our
Catalan History Tour
.
Montserrat Basilica and Museum
The Basilica where the Virgin is located is also home to the prestigious Escolania boys' choir, one of the oldest in Europe. Depending on the time of year it is possible to take in one of their daily performances as part of the religious services. (Please be sure to let us know if this is of particular interest). We may also visit the Museum of Montserrat, which houses a robust collection ranging from archeological artifacts to modern and contemporary painting (including works by Monet, El Greco, and Caravaggio), and a multimedia exhibit detailing the site's history.
Takeaways
By the end of our time together we will have gained a better understanding of Montserrat's rich history and outstanding natural beauty. Your driver will be waiting to return you to Barcelona with your guide.


FAQ About the Montserrat Excursion from Barcelona

Where does the tour meet? Where does it end?
Your guide and driver will meet you at your accommodation in Barcelona. Your driver will be waiting to return you to Barcelona at the end of the tour.

Do we see the boys' choir sing on this tour?
It is possible to see the boys' choir perform as part of the excursion, schedule permitting. Please let us know if this is a priority for you.
Please note, the boys' choir does not sing on Sundays or for much of July and August

Do we stop for lunch?
We do not include a break for a full lunch on the tour. There will usually be a pause mid-excursion for a short snack.

I have mobility difficulties. Can I take this tour?
This excursion is fairly walking-intensive, although we do have a private driver and can access the mountain via cable car. Please contact us if you have mobility concerns and we would be happy to advise on the appropriateness of the tour.

Will there be time to explore Montserrat on my own?
We typically return to Barcelona at the end of the tour. If you wish to extend your time with the guide and/or driver, please contact us about customization options.

Does the 5-hour duration include travel time?
Yes. This excursion is set up to include 3 hours on-site and approximately 1 hour each way in transit.
Where You'll Start
Tour Experts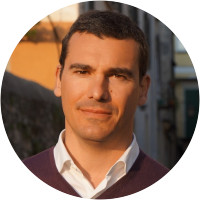 Cayetano has been working in the tourist industry in Barcelona for nearly 20 years now and as a freelance tour guide for around 5. He has an undergraduate degree in Art History as well as postgraduate studies in leisure and hospitality management.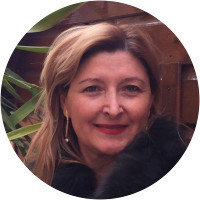 Tate is an Official Catalan Tourist Guide, researcher and writer, formerly a university professor, who today combines her academic life (congresses, and publications) with touring in Barcelona and Catalunya for visitors interested in cultural heritage. She is currently working on a book on the architecture of cemeteries and on another one on "The 50 wonders of Gaudí". Holder of a PhD in Journalism and Communication, as well as a degree in Translation, she has written numerous books and guidebooks on the architecture of the XXth century, specially Gaudí and the Catalan Art Nouveau. Walking along with Tate is both fun and deep, and will give you an unforgettable experience.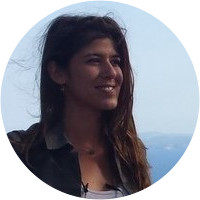 Zaida is a Licensed Guide of Catalonia with a rather eclectic background. She initially studied jewellery design before moving into Tourism, has taken a post-graduate course on Picasso organised by the Universitat de Barcelona in the Picasso museum and she studied as well, a Master's degree to become a Sommelier. As a pure "Barcelonina", passionate and full of energy, she loves sharing Barcelona with people in the most knowledgeable and Mediterranean style.
Reviews can only be left by Context customers after they have completed a tour. For more information about our reviews, please see our FAQ.
Tate is an incredible guide. Her unique combination of academic style and personal touch creates a fascinating story she tells with passion and competence. One of the best private tour guides I met. Real asset for Context. All that is not surprising , of course with her credentials.
Sep. 17, 2021
Ines was very informative and pleasant. The pace of the tour was perfect...low stress, not rushed, relaxed. We learned a lot and enjoyed the day.
Jan. 17, 2020
Anna is an exceptional guide and individual. She is extremely personable and knowledgeable and we highly recommend her. She enriched our stay in Barcelona.
Oct. 25, 2019