Tour Details
About the Tour
Duration

7 days / 6 nights
Photos & Highlights
Expertly-planned 7 day, 6 night itinerary in Istanbul. Tours lead by Context local guides, with evening lectures presented by Dr. Madden
Small group size (10-18 participants)
Hagia Sophia Museum, Grand Bazaar, Spice Bazaar, Topkapi Palace, Suleymaniye Camii, Greek Orthodox Patriarchate, and Bosphorus Strait
Tour Description
Istanbul Through the Ages with Dr. Thomas Madden
Departure: October 2 - 8, 2022
Get In touch
about this Journey
Trip Highlights:
Explore: This one-of-its-kind journey will encompass the splendor of Istanbul and its historical standpoint at a cultural crossroads of the Mediterranean
Learn: Private tours to encompass Hagia Sophia, The Grand Bazaar, Suleymaniye Mosque, and a private cruise along the Bosphorus river – and more!
Connect: Exclusive opportunity to learn from a top-class expert, and create memories alongside fellow curious travelers, in a small group of 10-18 participants
Unwind: Our team of experts on the ground has managed all the details, so guests can relax and enjoy carefree travel
Today we call the city Istanbul. Yet it has had many names through the ages: Constantinople, New Rome, Byzantion/Byzantium, Queen of Cities, City of the Sultans, and more.
For more than two millennia, Istanbul stood at the center of events that shaped the history of the West. It was a seat of wealth and power, a den of intrigue and betrayal, a place of vibrant commerce and enduring faith. Istanbul is often thought of as a "middle eastern" city, yet it is in every way a daughter of the West – born a Greek, raised a Roman, and converting to Islam in its middle age. For centuries it was the largest and most powerful city in the Christian world before transforming itself in the sixteenth century into the capital of the Muslim East. It remains a city in both worlds - perched at the very tip of Europe, gazing across at the shores of Asia.
In these academic lectures and private tours, Thomas F. Madden, a leading scholar in medieval Mediterranean history, will guide us back in time as we contextualize landmarks and hidden gems of this city's legendary past – from its foundation as Constantinople to its grandeur under Sultan Suleiman the Magnificent.
*Final Itinerary Subject to Change Based on Venue Availability*
DAY 1: Arrival & Getting Settled
We'll enjoy an introductory narrative timeline of Istanbul's history as we mingle at our hotel over drinks and dinner, followed by an evening at leisure.

At a Glance:


Arrive from the airport and check in to the hotel in historic Sultanahmet
Meet our fellow travelers and Dr. Madden for an orientation lecture
Welcome dinner together as a group

DAY 2: Introduction to Istanbul and Sultanahmet
We'll kick things off with private tours of must-see landmarks such as Hagia Sophia and the Hippodrome followed by a visit to the Mosaic Museum in the afternoon.
At a Glance:
Breakfast at the hotel, then we begin our deep dive into the history of Istanbul
Walking tour of Sultanahmet area including Hippodrome
Guided Tour of Hagia Sophia
Traditional lunch in Sultanahmet area as a group
Evening lecture with Dr. Madden to prepare for our visit to Chora and Tefkur Saray Palace tomorrow
Dinner on their own - recommendations will be provided

DAY 3: Chora Church and an Evening Bosphorus Cruise
We'll start the day exploring the history of the Chora Church and Tefkur Saray Palace before our evening Bosphorus cruise with cocktails to recap the day's explorations. We'll have a narrated ride through the European and Asian sides of the city – and discover the connections across the water – while cruising in a private yacht accompanied by Dr. Madden.
At a Glance:
Morning tour of Chora Church and Tefkur Saray Palace
Lunch and afternoon on our own to rest, explore, or shop
Our group reunites in the late afternoon for a sunset Bosphorus cruise departing from the Karakoy neighborhood
Evening lecture alongside drinks and Hors d'oeuvres onboard the yacht
Dinner on our own – tailored recommendations will be provided for local cuisine nearby
Please Note: Chora Church is currently under restoration, while we will cover some of it's history it's unfortunately not possible to tour the venue.

DAY 4: Experiencing Topkapi Palace and A Taste of Istanbul
Today will include a guided tour of Topkapi Palace followed by an annotated lunch with an expert. We'll learn about the history of Turkish regional cuisine and the origin story of spices such as saffron.
At a Glance:
Morning tour of Topkapi Palace, home of the Ottoman Sultans.
Cross the Bosphorus by ferry for lunch on the Asian side in the picturesque Kadikoy neighborhood
Evening lecture with Dr. Madden
Dinner on our own - recommendations will be provided

DAY 5: Sinan the Architect, Suleymaniye Mosque, and the Grand Bazaar
Today our learnings will focus upon the larger role of mosques and sultans within Turkish society – and religious education. We'll visit the Suleymaniye Mosque in the company of a leading local guide. In the afternoon, those who wish to can join a tour of the Grand Bazaar.
At a Glance:
After breakfast at the hotel, we will go to Suleymaniye Mosque to see the architectural masterpiece of Sinan
Lunch together in central Istanbul
Optional afternoon visit to the Grand Bazaar
Evening lecture with Dr. Madden to prepare us for tomorrow's continuing narrative
Dinner on our own – tailored recommendations will be provided
DAY 6: History and Continuity in Istanbul
On our final day together, we'll tour the Fener and Balat districts of Istanbul to learn about the complex layers of religious history in Istanbul over the centuries.
At a Glance:
We'll have a guided visit to the Greek Patriarchate Church
Experience local life in the Fener and Balat districts
Free afternoon for exploring independently and last-minute shopping
Final lecture with Dr. Madden to coalesce each day's narrative into the broader context of Turkish culture
Concluding with a grand farewell dinner as a group.
DAY 7: Departure
Travelers depart for flights home – or their next adventure!
For more information, we invite you to
explore our FAQ Page
or
get In touch
about this Journey. To reserve a spot on this tour, you can either place an order from this page or email us. We will charge a $1000 non-refundable deposit to reserve your place, with the balance due 3 months before travel. A single supplement will apply to individual travelers who wish to have a private room.
Where You'll Start
Tour Experts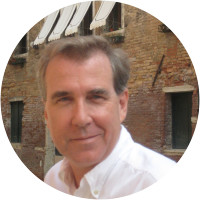 Thomas F Madden is a Professor of History and Director of the Center for Medieval and Renaissance Studies at Saint Louis University. As the author of the book Istanbul: City of Majesty at the Crossroads of the World and historical consultant, he has appeared in such venues as The New York Times, Washington Post, Wall Street Journal, CNN, and The History Channel. He is a Fellow of the John Simon Guggenheim Foundation, the American Council of Learned Societies, the Medieval Academy of America, and he is a National Endowment for the Humanities Public Scholar.