Tour Details
Photos & Highlights
Immerse yourself in centuries of history with a winding walk through the heart of the city — taking in Lisbon's three oldest and most iconic bairros
Led by an expert in history or archaeology
Praça do Comércio, Church of São Roque, Santa Justa Lift, Carmo Convent, Chiado Neighborhood, Bairro Alto Neighborhood, and Baixa Neighborhood
Tour Description
This introductory tour takes you to the heart of the bohemian, historic, and creative hubs of Lisbon in the company of a historian or archaeologist. Perfect for first-time visitors, or travelers looking to reorient themselves in the magical city, this three-hour tour will familiarize you with Lisbon's many fascinating layers with stops throughout its three most iconic neighborhoods: Bairro Alto, Chiado, and Baixa.
Sites Visited
São Pedro de Alcântara
Bairro Alto neighborhood
São Roque Church (interior and exterior)
Carmo Convent (interior)
Santa Justa Lift
Chiado neighborhood
Baixa neighborhood
Praça do Comércio
Río Tejo
Itinerary Details
There's no better place to kick things off than at the São Pedro de Alcântara viewing point. With a sweeping view of the hills of Lisbon before you, you'll learn about the origins of the city—arguably the oldest in Western Europe— as well as the decisive moments in its history that have shaped the way the city has evolved into modern cultural capital.
After taking in the viewpoint, you'll make our way through the winding streets of Bairro Alto. While nowadays it may be best known for its nightlife, you'll uncover how many of its historic buildings hold the key to understanding Lisbon's past. You'll marvel at the treasures within the São Roque Church as evidence of the prominence of the Jesuits in 16th-century Portugal, continuing through the Carmo Convent—a visceral representation of the impact the 1755 earthquake.
You'll continue into the Chiado neighborhood, a popular shopping district that has long been a haven for artists and creatives. This is the perfect setting to touch upon Portuguese café culture and the literary and artistic movements that have been nurtured here, like the great Renaissance poet Luis de Camões who gives his name to a nearby picturesque square, or the vibrant contemporary art scene. Your expert guide will wrap things up with a stroll through Baixa and the iconic Praça do Comércio to take in the impressive panorama of the Río Tejo, where you'll reflect upon all you've learned the city's ancient roots, its regeneration after the earthquake, and modern local life. You'll leave much more acquainted with central Lisbon, with plenty of recommendations from your expert about how to best explore the city further.
FAQ
For more information about Context tours
, please visit
our FAQs
.
Book with confidence
— see Context's flexible cancellation policy
here
.
Where do we meet? Where does the tour end?
We meet at the São Pedro de Alcântara viewpoint and will end in Baixa, near the Praça do Comércio. Your confirmation email will have the exact meeting point details along with a map, and 24-hour phone number for any last-minute issues.
How should we arrive at the meeting point?
You can get to the viewpoint by foot, although it is a bit uphill. You can also easily order an Uber or taxi to bring you to meet your expert guide.
Can someone with mobility issues attend this tour?
Lisbon, overall, is quite the hilly city. Consider that there are mostly cobblestone streets and this is a walking tour that mainly visits the exterior of various locations. While we have designed the tour to generally walk downhill, there may be some stairs and inclines. We may then have difficulty and lack of control in curating the tour to fit the needs of someone with mobility issues.
Where You'll Start
Tour Experts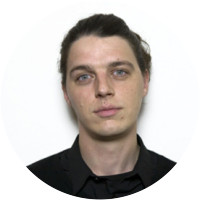 Bert is an architect and writer, and holds an MA in architectural engineering and cultural sciences. Born in Belgium, in the past decade he has lived and worked in architectural consultancy, writing and academia in Amsterdam, Beijing, and Shanghai and that before relocating to Lisbon in 2018. He is the co-director of "MovingCities", an independent research organization investigating the role that architecture and urbanism play in shaping the contemporary city. Bert has been living in China from 2006 to 2018, and has a great understanding of Lisbon's historic, cultural, Jewish and architectural past and present, an interest he has been developing since his first visit to the city in 2003.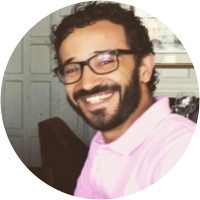 Hugo Maia is an Architect and Social Psychologist living and working in Lisbon. He is currently a PhD candidate in Architecture and History at the University of Tokyo. He received his MA and BA in Architecture from the Faculty of Architecture in Lisbon and also holds a BA in Psychology from the Higher Institute of Applied Psychology in Lisbon. His quest on Architecture is mainly focus on the understanding of the city built environment and the possibility it offers to its inhabitants, supported therefore on a grounded historical, cultural, social and architectonic analyses of the city. His understanding and investigation of Lisbon is both related to an affective relation with the city spaces as to a built understanding of the place from an architectural and psychological perspective. Hugo focus on the search of a relation between built and un-built; old and new; space and place; construction and memory, humanity and culture. He is interest on the complexity of the elements that define the understanding of the place, allowing the definition of an image of the city that supports it's shared understanding.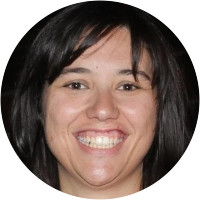 Patrícia Brum is a Portuguese archaeologist. Her first excavation was at the Alleins Castle, in France. From 2008 to 2021, she was part of the archaeology team of the Roman Ruins of Tróia, where she developed her interest not only in the research but also in its social return and community participation in heritage conservation, leading her to develop her master's thesis in Museum Studies. Between 2016 and 2019, she participated in a European project dedicated to the study of the effects of climate change on Cultural Heritage. She is now working at the Lisbon Museum - Roman Theatre, located in one of the oldest neighborhoods of Lisbon.
Reviews can only be left by Context customers after they have completed a tour. For more information about our reviews, please see our FAQ.
Estela was the best. She was incredibly easy to understand, incredibly knowledgeable and fun to be with. She kept us engaged and made our intro to Lisbon thoroughly enjoyable. Everyone should be so lucky to have her.
Jun. 29, 2022
Tiago was wonderful. Engaging and interesting. The perfect guide.
Jun. 27, 2022
It was a great tour. Bert was a perfect guide for us because we are interested in architecture as well. He was great at pointing out interesting buildings and views of the city along the way. It was a great time!
Jun. 13, 2022