Tour Details
Tour Description
Constantly changing over time, London's topography and architectural elements are completely different from those of any other large European capital. This London Architecture Tour explores the diverse influences that have endowed London with its strikingly unique cityscape. Walking around the city in the company of our guide, an architectural historian, our discussion will span from the Norman times to cutting-edge contemporary structures, offering a general introduction to the main periods and styles of London architecture.
London Architecture Tour
Our walk starts at St. Paul's, the jewel of Christopher Wren, and ideal start of our excursion (those with an interest in Christopher Wren should also consider our
Christopher Wren Churches Tour
). From here, we may proceed to Temple Church, built by the Knights Templar in the 12th century. This church represents one of the best places to discuss Medieval London and the passage from Norman-Romanesque to Gothic architecture. Depending on opening times, we may then visit Prince Henry's Room or the Staple Inn, two of the few examples of Elizabethan and Jacobean timber-framed houses that survived the Great Fire of 1666. We may step inside the Staple Inn to see the great hall, a typical feature of medieval English houses and mansions. For the Jacobean period and the introduction of the Classical architectural language in London, we will then consider Lindsey House on Lincoln's Inn Field, the only surviving example of an ambitious house-building project and one of the first examples of land development in the West End.
A Changing London
Depending on the day, and the interest of the group, we may circle back to the Square Mile, and discuss the effects of World War 2 on London's urban development. We could consider Brutalism and the architecture of the Barbican Center, or the role of the City and the financial institutions in reshaping the skyline of London in the past 20 years. Alternatively, we could cross the lively area of Covent Garden and walk through the British Museum, where we will then reach Bloomsbury and, in particular, Bedford Square, one of the finest preserved examples of a mature Georgian square and a typical eighteenth-century attempt to reach perfect symmetry and uniformity in the planning of urban spaces.
Take Aways
At the end of our walk, we'll come away with a deeper understanding of London, its architecture and urban past and future development.


FAQ
Do we go inside the venues or just see them from the outside?
We generally focus on the outside of buildings, but we do occasionally step inside churches or buildings that are relevant to the discussion. No advance tickets are required for these.


What if it's raining?
Tours operate rain or shine, but in the case of inclement weather, your guide will modify the tour so more time is spent indoors. It never hurts to have an umbrella on hand.


Is this tour good for kids?
Yes! We have some excellent family-friendly guides who can appeal to the learning styles of children. Please book privately if you have children under 13. Feel free to provide us with information about your children such as favorite school subjects, and hobbies. This way we can do our best to match you with the best possible guide.


Is this a walking intensive tour?
The walk covers about 2 miles, but the exact mileage depends on the day and the group's interests.


Where do we start? Where do we end?
We begin near St. Paul's and usually end near Bedford Square. Your confirmation email will have the exact meeting point.


Where You'll Start
Tour Experts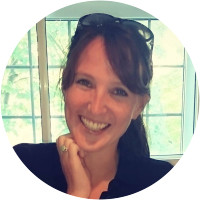 Catherine qualified as a Blue Badge Guide in 2009, a City of Westminster Guide in 2006 and a City of London Guide in 2005. Catherine now tutors on the Westminster Guiding Course at the University of Westminster. She works part time at ITN as a broadcast journalist/ news editor and part time as a tour guide. Combining these two story-telling disciplines, Catherine also makes podcasts about unusual sites around London. Catherine used to work in an investment bank for over seven years. She now prefers sharing stories about London with visitors and helping them have a lovey time in the capital city. She has an MA in History of Art, an MA in broadcast journalism and a BA in Drama. She is a counsellor at Childline.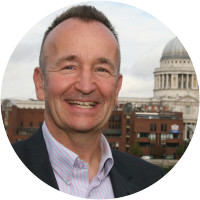 Although raised in the quintessential English picture postcard village, David has lived in London for over half of his life, and now considers himself very much a 'City Slicker'. Fine Art trained and a former magazine art editor, David brings together all previous experience into guiding the quirky, beautiful, mysterious and thought-provoking within London. A life-long love and understanding of buildings enables David to offer specialist tours of both historic and contemporary architecture. The urban fabric of our multifaceted capital, and how it came to be, provides David with endless fascination, surprise and delight, and is his passion in guiding visitors.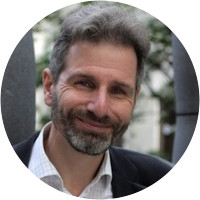 Tim Hochstrasser is Associate Professor of International History at LSE where he lectures on early modern European history, culture and political thought. He was educated and has taught at the Universities of Cambridge and Oxford. He is particularly interested in the Enlightenment era of European Thought but believes that the relationship between events and ideas can only be fully understood by taking seriously the architecture, town planning, design, art history and music within any period. He tries to reflect this holistic approach to history in his writings and teaching. He has lived and worked in London for many years and regularly takes groups of students out on London walks and expeditions to galleries so that they can experience the material culture of history first hand.
Reviews can only be left by Context customers after they have completed a tour. For more information about our reviews, please see our FAQ.
Alan was wonderful. Very knowledgeable, pleasant to hang out and chat with. Very professional and able to discuss the projects intelligently as well. I enjoyed it. He was also flexible and oriented the tour to my interests.
Sep. 28, 2022
Janice was absolutely fantastic! So knowledgeable and fun. We had an absolutely great time.
Jul. 31, 2022
Zozo was great. His insights were spot on and he kept us engaged for the e tire tour.
Jul. 1, 2022
Delve into London's architecture with Context
Get to know one of the historians leading this tour