Tour Details
Tour Description
On this full-day tour to Champagne from Paris, we'll explore the city of Reims and its surrounding countryside, home to some of the most important champagne producers in the world. We'll visit the vineyards of small local winemakers and explore the cellars of a world-renowned champagne house. We'll learn about the history of the Champagne region and why its climate is perfect for the production of the effervescent wine. At the end of the day, thanks to tastings and conversations with specialists, we'll have expanded our palates and learned to appreciate the nuances of a variety of different champagnes.
Looking for a different Paris excursion? See our
Giverny Tour
or our
Mont Saint-Michel Tour.
Sites Visited
Reims City Center
Reims Cathedral
Champagne Countryside
Champagne vineyards, houses and wine cellars
Included
Round-trip Train Tickets From Paris to Reims
Private Car in Champagne
Champagne Tasting
Itinerary Details
After taking the train from Paris to Reims, we'll first visit the massive cellars of one of the celebrated champagne houses like Taittinger, Lanson, or Pommery (depending on availability). Wherever we go, it'll be best to bring a sweater -- these caves, hidden 25 feet below street level, stay at a chilly 52 degrees even on the hottest summer days. As we explore the expansive labyrinths of underground cellars, we'll learn about the process of making, storing, and aging champagne from some of the best in the business. While in Reims, we'll also visit the cathedral -- a marvel of Gothic architecture where the kings of France were crowned until 1825.
Traveling in the company of our champagne expert we'll drive through the countryside to small towns like Epernay and Trulon-sur-Marne and visit the vineyards of local producers. We'll stop for lunch in a local restaurant with a view of the vine-covered hills of the Champagne region and discuss the multiple factors that make Champagne terroir so unique. We'll learn why the region's soil composition and climate make it ideal for grape growing and dive deep into the production process with the help of a local winegrower. While sipping and analyzing the effervescence of different champagne types we'll be given the keys to understanding and appreciating champagne like an expert.
Please note any dietary restrictions or intolerances in the Notes box when booking.

Special Custom Tastings: For visitors looking for a unique experience, we can custom-design a private tasting to focus on a particular champagne house or on lesser-known sites. We can also arrange a luxury champagne tasting experience. Please email us at custom@contexttravel.com to discuss options and additional costs.
FAQ
What is the legal drinking age in France?
The legal drinking age is 18.
Is this tour wheelchair accessible? Some of the shops we visit are small and many will have a step up to access them. The general route may include small streets with narrow sidewalks; please contact us if you have any questions regarding accessibility. We are also happy to design a private, customized tour for visitors with mobility concerns.
How will we travel to Champagne from Paris?
You will meet your guide in Paris early in the morning. Together you will take the train to Reims (1h ride) where you will meet your chauffeur and explore the region by car. At the end of the tour you will take the train back to Paris with your guide.
Where You'll Start
Tour Experts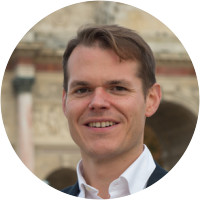 Preston
Preston Mohr first arrived in Paris in 2003 to spend a year eating and drinking his way through France while earning his BA in Art History and French Studies at the University of Minnesota. He also holds a Masters in Global Hospitality Management from Georgia State University with a focus on food and wine tourism and sustainability. He has worked in many fields in his 13 years in France, including many facets of hospitality and education, however, wine, gastronomy, and the French <i>art de vivre</i> have always been the focal point of his existence in Paris. In 2013, Preston earned the Diploma from the Wine and Spirit Education Trust (WSET), becoming a sommelier. Preston offers wine tastings, excursions, and other gourmet wanderings using his knowledge gained from extensive travels and studies in France. His goal is to make sure you savor France one bite (or sip) at a time!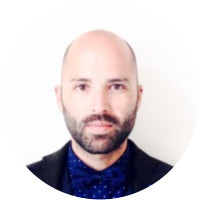 Andres
Andres was born in the tropics, educated in the U.S. with BA in International business & marketing, worked for an US multinational company for few years as a food marketing brand manager before he began traveling around the world, learning languages, premaculture, thai-yoga massage & Asian cuisine. He ended up attending one of the top cuisine & pastry schools - L'ecole de gastronomie francaise FERRANDI & working his way up in high-end restaurants & hotels for the last 6 years in Paris. He became a freelancer in 2015 to work in his personal culinary projects & create diversity, he spends his days having different experiences such as teaching workshops of cuisine & pastry around Paris for the general public, working as a trilingual translator at the famous Cordon Bleu School for the professional bread-making & pastry programs, food-styling projects along different photographs for making & publishing beautiful culinary books. He loves walking around Paris, discovering new ingredients in outdoor markets, the latest pastry shop, the best sourdough bread, new cooking trends, and deeply wishes to share those experiences with visitors.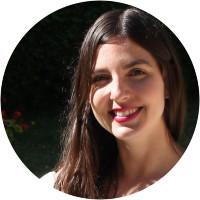 Marine
Marine comes from Marseille in the South of France but has been leaving in Paris for 12 years. A licensed tour guide since 2014, she first studied Art History at the Ecole du Louvre and then History at Nanterre University, from which she was awarded a Master degree. She also spent a semester in Italy, at the Scuola Normale Superiore di Pisa. In addition to her academic work in history and art history, she has a diploma in enology from the Wine and Spirit Education Trust. Before becoming a tour guide, Marine worked for museums and art foundations. Now, in addition to guiding, she teaches History of Architecture at the Ecole du Louvre. She is passionnate about architecture, history of fashion and street art.