Tour Details
Tour Description
Our three-hour guided St. Peter's Basilica Tour provides an in-depth look at the church of St. Peter's, the seat of the Vatican. Led by a church historian or art historian, this tour is designed to provide a detailed look at this major part of Vatican city and include works by Michelangelo, Bernini and others. Travelers usually book this tour in conjunction with our
Vatican Museum Tour with Skip-the-Line Tickets
.
"Your guide was exceptional and stayed with us for an extended period. It was just fabulous. No other tour company should be used, if one wants to truly learn. Bravo!"
St. Peter's Basilica Tour
We'll begin on via della Conciliazione, the modern processional road built by Mussolini in the 20th-century that greatly altered the approach to the Vatican. Here we'll discuss the topography of the Vatican and the historical precedents for the church that now stands there. We'll then progress through the square, designed by Bernini, to enter the basilica proper. Inside, we'll make a circuit through the church, guided by key artworks (the Pieta, the Baldacchino, etc.) focusing on the history of the Vatican in general and this church in particular.
Vatican Grottoes
We will then proceed to the Vatican Grottoes (Tomb of the Popes), which is situated between the floor level of the Constantinian Basilica and the nave of the modern building. Giving us a sense of how the old Basilica was structured, we will also view and discuss the tombs of several Popes. In the remaining time, we will visit the often overlooked Treasury Museum, which displays some of the finest works of Christian art in the world.
Miscellany
To assist you in planning your trip to the Vatican, we have created an informative resources page -
How to Tour the Vatican

This tour does not include a visit to the Scavi beneath St. Peter's. Visits to that site can be made through the Vatican Scavi office directly and are led by their own guides. You can email them at the following address: scavi@fsp.va


Keep in mind Context runs two other walks that cover the Vatican. Our
Vatican Museums Tour
is a three hour walk that covers just the Vatican Museums and our
Vatican Tour
, which is a four hour walk that covers both the Vatican Museums and St. Peter's Basilica.
Where You'll Start
Tour Experts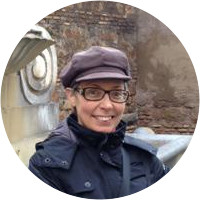 Olivia is a Rome licensed guide and an expert art historian who has worked as a main contributor to the award-winning Eyewitness Guide to Rome. She combines this role with her job as a professor, teaching a course at the Lorenzo de Medici School in Rome on Roman civilization. In addition she has contributed to the National Geographic Lost Cities of the Ancient World. Olivia infuses her discussion of Rome with a sense of what it's like to grow up in the city and be Roman.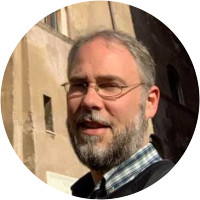 Gregory, a native of Providence, R.I., studied classics at high school and as an undergraduate at McGill University. He has completed coursework for a Master's degree in theology at the Pontifical Institute for Patristic Studies, or the "Augustinianum," in Rome and is currently waiting to take his comprehensives and defend his thesis on the church fathers. Gregory leads walks of the Vatican and other religious sites in Rome, but he is also a superb classicist and one of the few Context:Rome docents who can hold a conversation in Latin.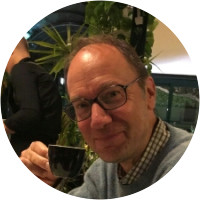 Originally from England, Richard has lived in Rome for the last fourteen years. He holds a Master's degree in medieval and twentieth-century history from London University and has a broad-minded and synthetic approach to understanding Rome. Richard works quite frequently with institutional travel organizations, such as museums and church organizations, and as a result spends much of his time traveling all over Europe. He brings this cosmopolitan and pan-European experience to bear on his work with us in Rome, constantly making connections to other cities and countries in the course of his lectures and seminars.
Reviews can only be left by Context customers after they have completed a tour. For more information about our reviews, please see our FAQ.
Simona was so knowledgeable and so adaptable to our interests. She was also really skilled at keeping us out of the lines and crowds--no mean feat at St. Peter's. I have been there several times before, but I have a whole new appreciation for what I am looking at after Simona's excellent guiding. I have been trying to build a better timeline of events, emperors, and popes, and I think I made some headway with Simona's good assistance.
Jun. 1, 2019
Guido was outstanding, one of the best Context docents we have had over the many years we have used your services. He provided us wonderful insight into the history of St. Peter's, its expansion and effortlessly pointed out fascinating facts regarding numerous parts of the basilica. St. Peter's is very impressive on it's own, however Guido really enhanced our experience. One suggestion to improve everyone's experience on a Context tour is to institute a strict 15 minute limit that a docent will wait for stragglers before starting a tour. Two of the six participants on our Borghese Gallery tour that we took yesterday were nearly 30 minutes late which really reduced our time in the gallery. While you advise participants to be on time advisement that all tours will commence no later than fifteen minutes after it's scheduled time will both provide some leeway for late arrival, an expectation that if you're later than the time allotted you have missed your tour and clearance for the docent to proceed without further delay.
Nov. 26, 2018
Well I think we had to wait too long in line. Is there no other way than to do it the way we did it? She said we had to go through the security line it took a really long time.
Nov. 3, 2018