Tour Details
Photos & Highlights
Explore the history and culture of Palermo & Monreale, visting the most famous sites
Led by a local expert or scholar
La Martorana, Palermo Cathedral, Capo Market, Immacolata Concezione, Santa Caterina, Piazza Verdi, Piazza Pretoria, Piazza Bellini, Quattro Canti, and Cathedral of Monreale
Tour Description
On this full-day tour of Palermo and Monreale, we will explore the stunning cathedrals, architecture, art, and markets located in these historic Sicilian towns. As the most conquered city in history, our expert guide will explain the tumultuous events and the subsequent merging of opposing influences that resulted in the utterly unique architecture of these two towns. Through palaces, churches, piazzas, and the boisterous market it's easy to see why Palermo is a city with the most UNESCO World Heritage-listed sites.
Sites Visited
Piazzas (Verdi, Pretoria, Bellini)
Santa Caterina
La Martorana
Quatro Canti
Immacolata Concezione
Capo Market
Palermo's Cathedral
Monreale's Cathedral & Cloister
Included
8 hours with a PhD or MA level guide
All entrance costs and taxi transfer from Palermo to Monreale
Itinerary Detail
We will begin the tour in front of Teatro Massimo, Palermo's Opera House and the third-largest Opera House in Europe. Situated at the center of Palermo in Piazza Verdi, it is a prime example of the influence of Greek and Roman design that still exists in Europe. As we wander through the lavish Piazza Pretoria, we will encounter an ornate marble fountain, where your guide will regale you with tales of its origin and how it got its colloquial name, "Foundation of Shame". We will see a number of divine churches which contribute to Palermo's unique character. One such building is the Sicilian Baroque, Rococo, and Renaissance-style church, the Santa Caterina, which had its beginnings in 1310 as a female monastery. We will tour, amongst others, the incredible example of Sicilian baroque architecture, the Immacolata Concezione whose building took a few months to erect but the decoration took a century to complete. We'll learn about the extraordinary polychrome marble decorations, unique to Sicilian architecture due to the abundance of material locally mined or available through trade routes.
Afterward, we'll continue to the colorful and boisterous historic market of the Capo. Here, learn about traditional food cultures whilst being invigorated by the lively vendors who mirror the original patrons of this working-class market - the pirates, mercenaries, and slave traders. In Piazza Bellini, we'll view spectacular Arab-Norman art and architecture left by the Norman kings, including the ornately decorated Church of Santa Maria dell'Ammiraglio or "La Martorana" the colloquial name given by the locals, named after the marzipan fruit on top of a cassata cake which originated in this location. We will head to the small town of San Cataldo, the city of churches, whose large number of places of worship tell many stories of different people and cultures throughout history. The tour will include the Hermitage of Saint Cataldus, built into a steep cliff, which could date back to the 10th century and houses a few ancient frescos.
After a local lunch at one's own expense, we will head off to the spectacular Cathedral of Monreale via taxi on the outskirts of Palermo. With an estimated 2200kg of pure gold, this cathedral is one of the finest examples of Norman architecture in Italy and is now a UNESCO World Heritage Site. Our expert guide will explain the unique synergy between Norman-French, Byzantine, and Arabic design and speak of the larger social and political context that allowed this masterpiece to be built. Lastly, we'll visit the cloister attached to the cathedral's south side. In contrast to the opulence of the Cathedral of Monreale, the cloister is subdued, yet its intimate detailing and regular arrangement are a sight to behold. Perfect ogival arches and 108 pairs of columns depict biblical scenes carved in marble which contrast with brighter inlays.
At the conclusion of this Sicilian city, you will be enraptured with the ornate and opulent architecture. You will gain an understanding of how this was possible through the confluence of cultures that has influenced this region over the centuries. To continue your explorations of Palermo with Context, we recommend our
Palermo Street Food
walk or are happy to assist in assembling a
Custom & Multi-Day Tour
of Palermo, geared to your specific interests.
FAQ
For more information
about Context tours, please visit
our FAQs
.
Book with confidence
— see Context's flexible cancellation policy
here
.
What is a private tour?
Our private tours are limited exclusively to travelers in your party. They are designed to provide a learning experience that is completely tailored to you and your traveling companions. Private tours give you more flexibility with scheduling (you decide when the walk best fits in your trip), the ability to tailor your itinerary (we'll work to match the itinerary to the interests and dynamics of your group), and more personalized time with your guide.
Is there a max pax?
We are limited to groups of up to 7 people as we take a taxi that seats this number.
Where do we meet? Where does it end?
We will meet in front of the Teatro Massimo (Palermo's Opera House) in Piazza Verdi. Your route may differ according to your guide. Your confirmation email will have the exact meeting point details along with a map, and a 24-hour phone number for any last-minute issues.
What if it's raining?
Tours operate rain or shine, but in the case of inclement weather, your expert will modify the tour so more time is spent indoors. It never hurts to be prepared; we encourage keeping an eye on the weather and bringing along an umbrella, sunscreen, water, or a hat as needed.
Can children join this tour?
Yes, we can adjust the time to 2 hours and the content to be more appropriate for younger learners. Alternatively, check out our
Sicily for Families
options.
Is this tour walking intensive, and/or wheelchair accessible?
We do cover quite a bit of ground on this tour and therefore we recommend contacting us with any mobility questions; we will be happy to advise if the itinerary will be appropriate for you or propose modifications where necessary. Please feel free to contact us.
Can I book a car service?
Part of the trip is conducted by taxi but if you want to add a car service for the full day, this is possible. Please contact us and we can arrange this for you.
Monreale's Cathedral and Cloister
This is a place of worship so you must dress accordingly. Nothing revealing for women, shoulders, and legs need to be covered. Men must wear shirts.
Where You'll Start
Tour Experts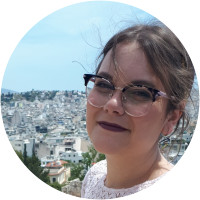 Roberta is a classical archaeologist. She studied Classics at the University of Palermo and Archaeology at the University of Pisa, and holds an MA in Cultural Heritage Management. When living in Greece, she studied at the French School of Athens, doing research on Hero Cults in ancient Greece, Sicily, and Magna Graecia. Roberta took part in different excavation projects in Sicily and Calabria, and she developed her expertise while digging on the sites of Selinunte, Mozia, and Segesta. Her informed, enthusiastic and empathic approach to history turns every walk that she leads into a full historical and cultural immersion.