Tour Details
Tour Description
Although Venice boasts a fantastic amount of in-situ artworks, a good number have been removed from their original setting and are now found within the Accademia, Venice's premier art museum. On this three-hour Accademia Gallery tour we'll join a local art historian to dive into this world-class collection, containing works by such masters as Veronese, Titian, Tintoretto, and Giorgione. Along the way, we'll get more background and develop a deeper appreciation for the distinct art scene that popped up in Venice during the Renaissance.


Accademia Gallery Tour led by an art historian
Includes Accademia Gallery tickets
Explores the work of the Venetian masters, such as Bellini, Giorgione, Titian, and Tiepolo
Accademia Gallery Tour
In our exploration of the Accademia Gallery, we'll cover the most important pieces as well as oft-overlooked gems, and explore the distinct character of this wonderful collection, which focuses predominantly on Venetian art, but also includes paintings by Piero della Francesca, Mantegna, Hans Memling, and Cosme' Tura. Among the masterpieces housed in this museum is the famed drawing by Leonardo, "The Vitruvian Man," exhibited only on special occasions.


Color vs. Design
Together with our guide, an art historian, we will explore highlights of the collection, among which are works by Veronese, Titian, Tintoretto, Giorgione, and Tiepolo, while weaving a narrative on the history and distinctive characters of Venetian art. Historically often compared with and contrasted to the Florentine Renaissance, the Venetians had their own unique style and technique. The former placed particular importance on the disegno, the design, as a means to reproduce nature while using a vivid color palette. The latter, instead, were interested in the process of layering and blending colors, creating wonderful effects of light.
Take Aways
We will spend considerable time contextualizing these works, in regard to both local history and their place in the canon of art. We will also look at the wider implications of these works in the social and political developments of the time. The goal of this walk is not to race through the corridors in an attempt to see "everything" but, instead, to observe selected works in-depth in order to gain a full appreciation of their significance.


Love art? You might also pair this tour with another Venetian art tour, including our
or our
Titian in Venice Tour
, examining the role of the artist and his contemporaries during the high Renaissance.
Do you reserve headsets for this tour?
Depending on your group size, we may be required by the venue to order headsets in which case you'll see a "Headset Fee" added to your order. If you would like to guarantee headsets for your tour regardless of your group size, please email us and we'll be happy to get them reserved for you.
Where You'll Start
Tour Experts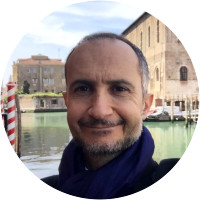 Originally from Venetian mainland, Matteo has lived in different countries, which sparked his interest in art history and archaeology. He holds a B.A. in Cultural Heritage Preservation and an M.A. in Archaeology - specializing in Islamic Archaeology - from the University Ca' Foscari, Venezia. Matteo chose to specialize in Islamic Archaeology, due to his personal passion and curiosity for the Islamic World: this particular interest was developed after several travels and stays in different Middle Eastern countries. He has worked as a freelance archaeologist following projects in different locations of the Veneto Region in Italy and in Cairo, Egypt. Matteo became a qualified tourist guide for the City of Venice in 2009, and he has been collaborating with Context since then.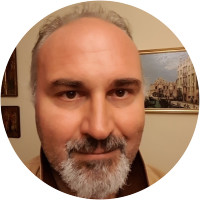 Davide was born in Venice he graduated from Ca' Foscari University with a degree focusing on the history of architecture and medieval history. After a specialization course in Innovative Tourism Marketing his interests in sustainable tourism began. He also has a special research interest in Venetian military architecture and military art theory. As a coordinator of a European NGO he organized cultural seminars in many European universities. He also spent time teaching the history of Italian art at the University of Turku in Finland. A passion for Venice, was what brought him back to his hometown, where his cultural interests developed into a profession, applying concepts of sustainable tourism crucial to preserving his city.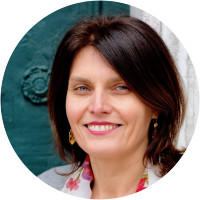 Nadia has a degree in art history from the Ca' Foscari University in Venice and wrote her thesis on the painter Francis Bacon. After various work experiences, both in public and private sectors, she collaborated in drafting the online magazine "Engramma," which dealt with the study of the classical tradition in Western culture and the mechanisms of transmitting ancient culture in our contemporary age. The magazine was created in conjunction with the Department of Architectural History at I.U.A.V University. Nadia has also spent time in France working at the "Les Abattoirs" center for contemporary art in Toulouse. In 2009 she obtained a guiding license, and through this work is able to share her passion and knowledge of art history, literature, and the history of Italian and Venice with others. Nadia enjoys approaching artworks as a lens through which to investigate and reconstruct historical contexts.
Reviews can only be left by Context customers after they have completed a tour. For more information about our reviews, please see our FAQ.
Loved the tour, loved how Susan varied it to to take into account our personal tastes-we have done seminars led by Susan which were great but nothing beats in person-so much knowledge and passion! Will definitely be back in Venice on Context tours (and have already booked more seminars !)
Jun. 16, 2022
Susan is a gem. We opted to leave the Accademia after a couple of hours and went to visit the Rezzonico Palace. Great addition to our brief overall education in Venetian art.
Jun. 8, 2022
Cristina was a wonderful guide! She knows so much about the art and history of Venice, and is also a gifted storyteller who brought the art and its context to life in a delightful way. Our teenage daughter was mesmerized for 3+ hours!
Apr. 18, 2022