Duration

1 hour and 10 minutes
Lecture Details
Photos & Highlights
Presented by the same world-class experts as our walking tours, Context Lectures highlight must-see attractions, reveal hidden landmarks, and explore the best things to do during your trip so you don't miss a thing.
Lecture Description
According to several Medieval legends, after the death of Christ, several of his followers departed Judea for southern France, landing at the Saintes-Maries-de-la-Mer in Provence. During this discussion, we will re-trace the missionary work of Mary-Magdalene, Lazarus, and Martha, in order to better understand their historical context. 
Together, these three divided the region and conquered in order to spread the word of Christ. Mary-Magdalene was principally responsible for converting citizens of Aix-en-Provence (Roman Aquae Sextiae) and her legacy throughout the city has survived. Centuries later, the Count of Provence claimed that he had discovered the skull and some skeletal remains of Mary-Magdalene in a cave eastward of Aix, at Saint-Maximin-la-Sainte-Baume, and thus began one of the most important pilgrimages in France to worship these relics.
Meet Your Expert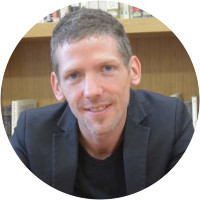 Passionate about the regions and countries at the crossroad of civilizations, Guillaume Durand, Ph.D. has long-standing expertise in Ancient art and archaeology of the Eastern Mediterranean Basin. Assistant dean and professor in archaeology and art history at the Institute for American Universities and the American College of the Mediterranean in Aix-en-Provence, France, Guillaume has traveled many times in Iran during these six past years in order to study the Persian Empires. He is also a tourist guide and lecturer in this country for French citizens.
This lecture will lead us into this Early Christian period in Southern France, where legends meet history and art. Starting with the figure of Mary-Magdalene, formerly considered the repent prostitute, we will understand who this prominent figure of the Early Church was, and how Provence claims to have her relics. We will discover some of the significant sites and artworks of the dawn of Christianity in Provence: the 4th-century Christian sarcophagi of Arles, the most extensive collection of this category outside Italy; the 5th-century baptistery of Fréjus and Aix-en-Provence; and the crypt of Saint-Victor of Marseilles where we can see the sarcophagi attributed to Lazarus. 

Led by Guillaume Durand, Ph.D., an archaeologist and professor of Archaeology and Ancient Art History, this lecture will explore how Christianity developed in Southern France. We'll also come away with a foundational understanding of how vital Mary-Magdalene's legacy is for modern-day Christianity.
How do I access the lecture?
Once you complete your purchase, you will receive an email with a link to stream the lecture on the Context Travel website. You can also access your past purchases anytime under
My Orders
. Please ensure you are logged into your account to open the streaming page. 
Is closed captioning (i.e. subtitles) available?
Yes! All of our lectures have the option to turn on closed captioning should you have difficulty hearing the expert.
How long does each event last?
Our recorded lectures typically run for 60 minutes.
How can I share this lecture with friends or family?
You are welcome to watch together with friends or family but each person viewing on their own device will need to purchase the lecture individually.
How long does my access to the lecture last?
Once you purchase a lecture, you are welcome to view it as many times as you like and your access does not expire.
What is your cancellation and refund policy?
Sales for recorded lectures are final upon purchase. Please contact us at
digital@contexttravel.com
if you have any questions or concerns about your purchase.
Can I purchase a gift card for a friend who is traveling?
Absolutely! Gift cards can be
purchased here
. Gift cards are good for 365 days from the date of purchase.
Reviews can only be left by Context customers after they have completed a tour. For more information about our reviews, please see our FAQ.
Guillaume Durand always has great information that is well researched and presented with humor and enthusiasm. This was another thoroughly enjoyable lecture.
Oct. 28, 2023
Excellent and very interesting!
Oct. 9, 2023
Thanks so much for a very informative and rewarding session. I'm 62, an American university professor, and Catholic by birth though not practice. I was sent to school in Provence in the mid-1970s when I was 13 (in a very small village: Aups —> its county/commune of Var is Draguignan), I know Aix well, and was fascinated by the regional stories of Mary Magdalene, relics, etc., that I still remember, even with having had no formal background at that point in my life. Dr, Durand was informative, engaging, and I will keep my eye out out for future. offerings from him.
Jun. 14, 2023