Lecture Details
Photos & Highlights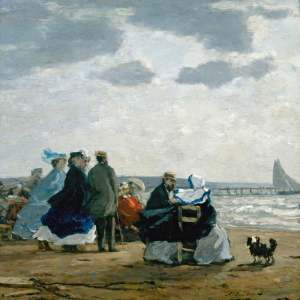 Presented by the same world-class experts as our walking tours, Context Lectures highlight must-see attractions, reveal hidden landmarks, and explore the best things to do during your trip so you don't miss a thing.
Lecture Description
The opening of train lines from Paris to France's northern coastal villages from the late 1840s to the 1860s gave rise to seaside vacations along the Channel. Fashionable Parisians, including Emperor Napoleon III and his wife Eugénie, frequented seaside resorts to bathe in the therapeutic saltwater, turning them into "the summer boulevard of Paris." Accordingly, many French painters moved away from depicting stormy maritime scenes, fishermen, and local peasant women to capturing the new breed of bathers flocking to the healing waters of such places as Trouville, Sainte-Adresse, Argenteuil, Berck, and Étretat. 
Meet Your Expert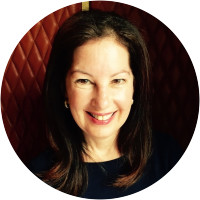 Dr. Alison Bracker is an independent art historian specializing in modern and contemporary art. She taught art and cultural history at English universities before undertaking a post-doctoral fellowship in contemporary art conservation at the Royal College of Art and Victoria & Albert Museum. She then ran the Royal Academy of Arts' Events and Lectures Program, exploring the museum's exhibitions through celebrated speakers on culture, society, the arts, history, politics, food, fashion, and literature. Alison combines her passion for cultural history with her background in the travel industry. She began her career by developing European tours for major tour operators, has published travel articles, has advised international travelers as a destination expert online for nearly 20 years, and guides for Context. While continuing to lecture and publish on modern and contemporary art and artists, she is an enthusiastic traveler who loves street photography and immersing herself in cities via their art, food, and wine. After a childhood in Los Angeles and 25 years in England, Alison now lives in Nice, France.
This lecture traces the 19th-century French craze for summer beach holidays from early to late Impressionism. Eugène Boudin, whose paintings of the summer season were described in 1867 as "the first to have captured and preserved for us this piquant aspect of modern life," introduces us to Trouville. Other artists, including Edouard Manet, reveal the changes that tourism brought to coastal towns and contrast the worlds of resident fisherpeople and holidaymakers. Claude Monet highlights aspects of modernity in his paintings of Sainte-Adresse and Trouville, while Gustave Caillebotte portrays the commodification of Villers-sur-mer. 

Led by Dr. Alison Bracker, an expert on modern and contemporary art history, this lecture takes us back to 19th-century coastal Normandy to see how the Impressionists perceived its transformation over the decades. Designed to inform curiosity and future travels, participants will come away with an increased understanding of tourism's rise along the Channel coast and what the Impressionists gained from painting burgeoning seaside resorts and their fashionable visitors. 
How do I access the lecture?
Once you complete your purchase, you will receive an email with a link to stream the lecture on the Context Travel website. You can also access your past purchases anytime under
My Orders
. Please ensure you are logged into your account to open the streaming page. 
Is closed captioning (i.e. subtitles) available?
Yes! All of our lectures have the option to turn on closed captioning should you have difficulty hearing the expert.
How long does each event last?
Our recorded lectures typically run for 60 minutes.
How can I share this lecture with friends or family?
You are welcome to watch together with friends or family but each person viewing on their own device will need to purchase the lecture individually.
How long does my access to the lecture last?
Once you purchase a lecture, you are welcome to view it as many times as you like and your access does not expire.
What is your cancellation and refund policy?
Sales for recorded lectures are final upon purchase. Please contact us at
digital@contexttravel.com
if you have any questions or concerns about your purchase.
Can I purchase a gift card for a friend who is traveling?
Absolutely! Gift cards can be
purchased here
. Gift cards are good for 365 days from the date of purchase.
Reviews can only be left by Context customers after they have completed a tour. For more information about our reviews, please see our FAQ.
Never miss a chance to listen in on a lecture given by Dr. Alison Bracker. She presents everything with such distinctive style. You come away from a class with her feeling knowledgeable and passionate about a subject that was only of passing interest. This particular lecture tells a lesser-known impressionists (in addition to the famous Renoir) and the intersection of geography, history, and art. Spectacular.
Jul. 5, 2022
Guest did not leave comment
Jun. 30, 2022
Alison was superb ! Her presentation was thoughtful, informational and beautifully illustrated
Jun. 30, 2022