Established as an institution for the royal family, the Museo del Prado is an exceptional house for all of Spain's renowned artistic treasures through history. Legendary Spanish masters like Francisco Goya, Diego Velázquez, and El Greco, all share space in the grand hallways of this stunning building — a lasting testament to thinkers and creatives who came together and borrowed ideas to create lasting works that have impressed and will impress for centuries to come. The museum also boasts wonderful collections of Flemish, Italian, and French art, representative of the far reach of the Spanish Empire, that is certainly worth your time.
With three floors, over 7600 paintings, drawings, sketches, sculptures, and rotating and permanent exhibits, it can be overwhelming to know where to begin in the Prado's vast gallery.
Not to worry! We've compiled a comprehensive guide on what not to miss, when to go, and what to see nearby if you've got some extra time.
Prado Hours of Operation, Tickets, and When to Visit for Free
Fortunately, you can see Goya every day of the year and for free! The Prado is open Monday to Saturday, from 10 AM to 8 PM, and Sundays and holidays, from 10 AM to 7 PM, but they have FREE evening hours. Come by the museum Monday to Saturday, from 6 PM to 8 PM, or Sundays and holidays, from 5 PM to 7 PM for free entry. Get there early during these evening times, especially during the summer months, since lines can get pretty long.
Tickets are also free for students between the ages of 18-25 with a valid student ID.
General admission tickets are 15 €.
Can you take pictures in the Prado Museum?
Photography is not permitted at the Museo del Prado at this time.
Do You Need a Guide to Visit the Prado Museum?
You can see any collection on your own, but if you want a more robust experience to go beneath the surface, Context experts are here for you. All of the Prado's paintings, the masters in art history, and rooms full of prints, drawings, and sculptures have a larger story to tell when you zoom all the way out of the museum. You might be wondering how it all fits together within the grander climate of Spanish and world history. Our scholarly guides are ready to deliver on your curiosity on our 3-hour Prado Museum Tour and 2.5-hour Prado Museum Tour for Kids. Learn about the relationship between court painters and the monarchy, how Charles V commissioned Italian Renaissance artist Titian, and so much more.
Read on to learn more about what not to miss at the Prado.
A Brief History of the Prado Museum
The Prado used to be a museum for collected and commissioned paintings by the royal monarch of Spain. Compared to the other world-famous museums in Madrid (more on the Thyssen and the Reina Sofia later), the Museo del Prado is known for celebrating Spanish artists and documenting the Spanish royal influence from the 16th to the 19th century. In fact, architect Juan de Villanueva designed the building in 1785 to be the Natural History Cabinet by orders of King Charles III, so the space was always associated with the Spanish monarchy.
King Charles III's grandson, King Ferdinand VII, is the one who converted the Natural History Cabinet into the Royal Museum of Paintings and Sculptures (later the Museo Nacional del Prado), which opened to the public in November 1819. The museum collections gained more recognition under Charles V and the succeeding Habsburg and Bourbon Monarchs.
Spanish royalty certainly had good taste (or maybe we think that because they determined the trends of the day, who's to say), and these monarchs commissioned or purchased some of the greatest works of art known to mankind like The Garden of Earthly Delights by Bosch, Las Meninas by Velázquez, The Family of Carlos IV by Goya, and many, many other must-see masterpieces.
What should I not miss in the Prado?
The Garden of Earthly Delights by Hieronymus Bosch
Bosch's Garden of Earthly Delights is one of the Prado's most treasured pieces. Painted between 1490 and 1500, the masterpiece was confiscated by the Duke of Alba and brought to Spain from The Netherlands in 1568. From there, Phillip II bought the painting at an auction, and it hung on the walls of the palace in El Escorial for over 300 years before being transferred to the Museo del Prado in 1939. History jumps in and out of the painting's frame, showing us a complex relationship between empires that perhaps isn't unrelated to the themes presented in the paintings — themes of desire and the consequences of temptation.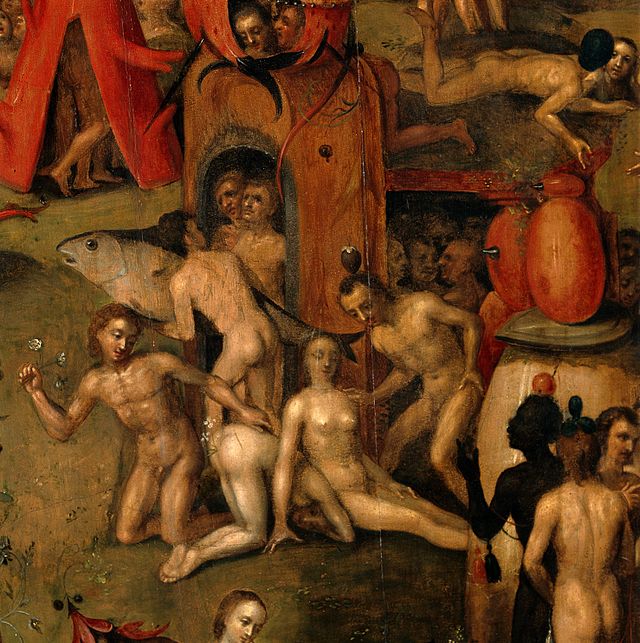 While we don't know much about the original intention of the piece, the tryptic oil painting by the Dutch painter illustrates a clear portrayal of society's degradation over time. Bosch may have been warning us of indulging in pleasure or temptation. The beautifully enigmatic work seamlessly ties together biblical themes and color contrast in an everlasting way. Just like Phillip II, the Garden of Earthly Delights will surely invoke awe in you.
The Descent from the Cross by Roger van der Weyden
This dramatic painting by Flemish artist Roger van der Weyden has a similar history to The Garden of Earthly Delights by Hieronymus Bosch. Roger van der Weyden originally painted The Descent from the Cross for the Chapel of Our Lady in Leuven, Belgium. The ornamented crossbows in the left and right corners of the frame are the symbols for the guild that commissioned the painting, the Great Crossbowmen`s Guild. It was painted between 1399 and 1464, and acquired by Philip II around 1564. It was later taken to El Escorial in 1566 where it hung until 1939, just like Bosch's painting.
What's particularly unique and influential about this piece is its emotional capacity. Not only does it capture the horror and heavy sentimental reactions in the figures surrounding Jesus, the worried faces, muted lighting, and fainted shapes in the painting almost invite us to react in the same way to the grisly depiction of Christ.
Paintings by El Greco
El Greco, or Domenikos Theotokopoulos, was a Spanish painter that was born on the Isle of Crete. Just how exactly did this painter get over to Spain? Trained as an Icon painter in the late-Byzantine style, El Greco moved to Venice and gained more practice with Western styles of art. He didn't actually apprentice under Titian, but he familiarized himself with Titian's style by studying it outside his studio. His marriage of late-Byzantine, Mannerism, and Venetian Renaissance art is apparent in his unique manner of painting. While the specific reasons are unknown (he might not have been doing that well in Italy as an artist), some historians hypothesized that he went to Spain to seek work from Philip II. El Greco moved from Madrid to Toledo, where he would be commissioned to paint The Disrobing of Christ by the cathedral and the monastery of Santo Domingo el Antiguo, considered to be one of his great masterpieces. While El Greco became a widely well-regarded Spanish painter in years to come, he was unable to secure the favor of the court and Philip II. The king might've not liked certain elements that the artist incorporated, like living people for instance. In any case, El Greco still remains a huge name in art history for his bold, revolutionary style.
Look out for his notable paintings that embody his signature elements: elongated limbs and colors that inspire fantasy. The Nobleman with the Hand on His Chest, The Flight into Egypt, and Pentecost are three mesmerizing pieces.
Paintings by Diego Velázquez
Diego Velázquez's Las Meninas remains one of the most recognized and celebrated masterpieces in European art history. After moving to Madrid at the age of 24 from his hometown of Seville, Velázquez became a court painter and was an artist for the king until his death in 1660. His many masterpieces in the royal collection include portraits of the Spanish family and the common people, religious works, events in history, and a few landscape and animal scenes.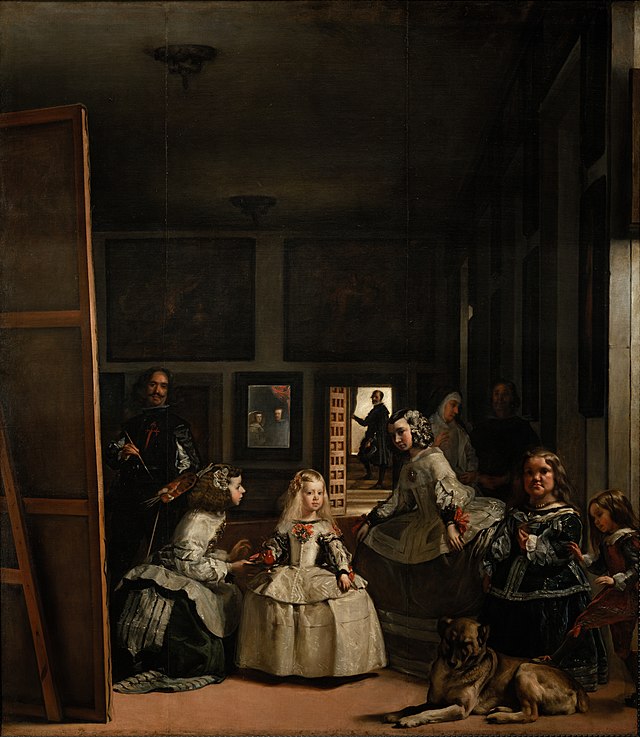 It only makes sense that Velázquez would pick up the daily comings and goings of Spanish royalty during his time as the leading court painter, daily events that exposed the family for who they might've been. The artist subtly embedded these social criticisms in his masterpiece, Las Meninas. While the painting is rich with political interpretation and symbols, it is evident that Velázquez's main goal was to convey a sense of illusion about art and royal status. Velázquez places himself in the thick of the chaos, observing the scene unfolding around him: 5-year-old Infanta Margaret Theresa, her staff of maids, and some other figures both in and out of the painting. We can see the reflection of King Philip IV and Queen Mariana in the mirror on the back wall as well. The impressive painter seems to be telling us that, despite the social regard that some of us may have and uphold, all isn't as it seems, and it takes careful reflection and observation to see the truth.
Be sure to also check out the artist's The Triumph of Bacchus piece as well.
Paintings by Francisco Goya
Like Diego Velázquez, Francisco Goya was a court painter that would forever change the game of art history. And also like Diego Velázquez (and many other thinkers during 18th and 19th century Spain), he felt a growing disillusionment toward Spanish royalty and the politics of the time. This feeling is one that became stronger and stronger over time, and you can starkly see it when you compare his earlier works to his later works.
There is so much that Goya is famed for creating in his lifetime: La Maja Desnuda (1790-1800), Charles IV of Spain and His Family (1800-1801), El sueño de la razón produce monstruos (1799), The Third of May 1808 (1814), and Saturn Devouring His Son (1819) to name a few. But what is so fascinating about Francisco Goya is the way his views about Spain, his degrading health, and his fear of madness all culminated into a timeline of masterpieces documenting an incredible journey through his own life. His earlier pieces commissioned by the royal family, like his tapestry cartoons (The Parasol painted in 1777 is one example), show vibrant, colorful outdoor scenes that are remarkably different from his later Black Paintings that are morbid, dark, and gloomy (Saturn Devouring His Son painted in 1819 being the most famous example). What happened in between those two paintings is a story of life itself.
The Prado has a room dedicated to Goya's late-period Black Paintings, which absolutely cannot be missed. This breathtaking collection shows both the artist's complete lack of faith in Spanish leadership as well as his fear of and descent into madness.
What else can you see in the Prado museum?
You could spend all day lost within the crevices of this large, historic building! Make sure you don't miss Titian and Peter Paul Rubens while you're at the Prado. Both of these artists have many of their most famous paintings here, like the grand Equestrian Portrait of Charles V by Titian, Venus and Adonis by Titian, The Three Graces by Peter Paul Rubens, and The Adoration of the Magi by Peter Paul Rubens.
You'll also find many sculptures, sketches, and objects in different rooms at the Museo de Prado. Precious glass, plates, cups, and other royal artifacts preserved long after the lives of kings and queens are another fascinating peek into who they once were.
The museum also has a cafe to eat at and a gift shop.
Golden Triangle of Art in Madrid
There are three museums in Madrid that make up the Golden Triangle of Art: the Museo del Prado, the Reina Sofia, and the Museo Thyssen. While you're in Madrid, visiting the other top museums within walking distance of the Museo del Prado is a must.
One of the best collections of modern art in the world, the Reina Sofia houses Dalís and Picassos that will make your jaw drop. Other works at the Reina Sofia include Cold War collections, interactive installations, and impressive contemporary sculpture.
The last leg of the Golden Triangle of Art in Madrid is the Museo Thyssen, which is known for its wider array of European and American art collections. See the wonders of art in different eras and places, connecting the dots between styles, famous figures, and different movements.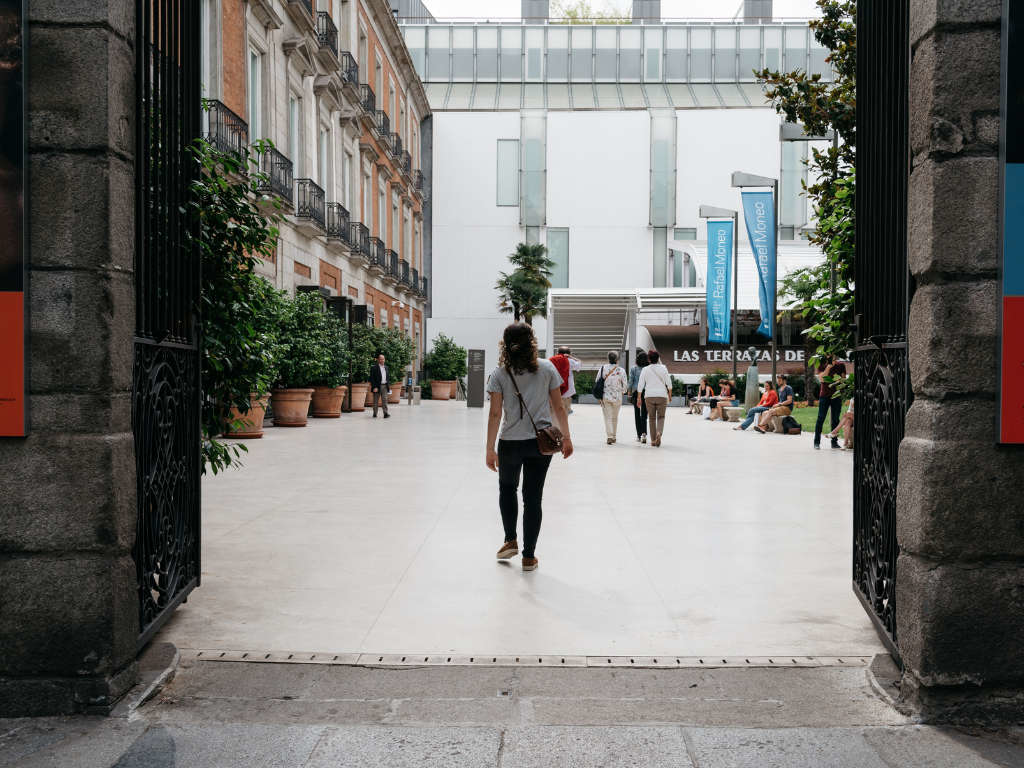 We assure you, there is no shortage of art in Madrid. If you're still looking for more, El Retiro, an expansive public park located very close to the three museums, has beautiful sculptures, the Palacio de Cristal (the Reina Sofia's offshoot museum that usually has rotating exhibits), and gardens to fulfill your desire for pleasing aesthetics.
Learn more about Spain online
Can't make it to Madrid? Bring the city to your living room, and learn about Spain's many beautiful destinations, intricate history, and wonderful art with an expert who has spent years studying them with Context.