Ancient sacredness permeates Teotihuacan, captivating visitors as they imagine what life was like in this amazing metropolis. Teotihuacan was once the site of one of the largest ancient cities in the Americas, with more than 25,000 inhabitants. Developed between the 1st and 7th centuries A.D., Teotihuacan's influence on city planning and urban development is still relevant today.
Visitors can explore the world-famous Pyramids of the Sun and the Moon, along with the Great Compound with the Temple of Quetzalcoatl, during their time in this ancient city.
How to Get from Mexico City to Teotihuacan
Wondering about great day trips from Mexico City? Teotihuacan is a great option! And the best part is that you have many travel options to get from one place to another.
Take a Bus Trip:
Head to the Terminal de Autobuses del Norte in Mexico City, the main bus terminal for northbound destinations.
Purchase a bus ticket from one of the bus companies that operates the Mexico City to Teotihuacan route. There are several options, such as Autobuses Teotihuacanos, Autobuses Pirámides, and Autobuses Estrella Roja, among others.
The bus ride takes approximately 1 to 1.5 hours, depending on traffic and the specific bus company.
By Guided Tour:
Many tour companies in Mexico City offer guided tours to Teotihuacan, which includes transportation from Mexico City to the archaeological site.
Research and book a guided tour in advance.
Join the tour group at the designated meeting point in Mexico City.
By Rental Car:
Rent a car from a car rental agency in Mexico City.
Use a GPS or map to navigate from Mexico City to Teotihuacan.

The site is about 25 miles northeast of Mexico City.

Parking is available at the site for a fee.
By Taxi:
Hail a taxi or use a ride-sharing app to book a taxi from Mexico City to Teotihuacan.
Negotiate the fare with the taxi driver before starting the trip, or ensure the ride-sharing app provides a fare estimate.
Confirm with the taxi driver that they will wait for you at the site or arrange a return ride.
Travel Tip: Check the latest travel advisories and safety precautions before embarking on any journey. Make sure to follow local laws and regulations and exercise caution while traveling.
Explore the Teotihuacan Pyramids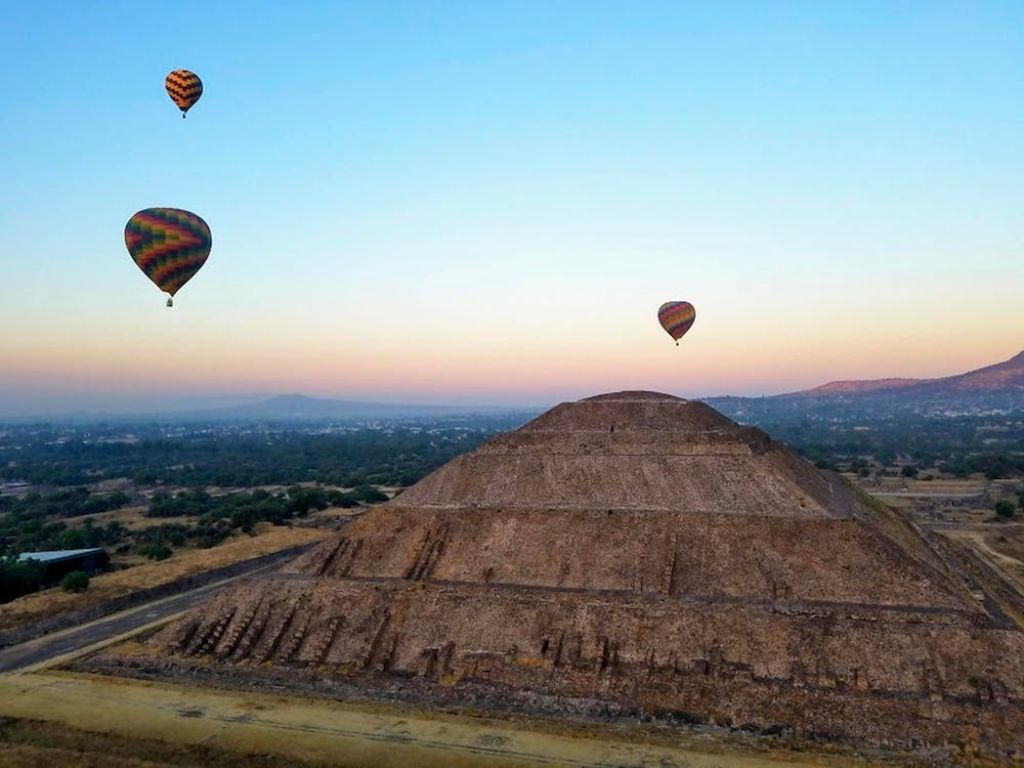 The Teotihuacan Pyramids are among the most iconic and well-preserved pyramids in Mexico and the world.
The site is also known for its beautiful murals, extensive residential complexes, and the Avenue of the Dead, lined with smaller pyramids, platforms, and other structures. The Teotihuacan Pyramids are recognized as a UNESCO World Heritage site and are a significant archaeological and cultural landmark in Mexico.
Context offers a full-day Teotihuacan tour from Mexico City led by an archaeologist or historian. Located just an hour outside Mexico City, this former metropolis is the perfect place to experience incredible ancient structures dating back to 100 B.C.
In the first half of the day, your expert guide will discuss the importance of this site in the pre-Columbian history of the Americas. You'll have a local Mexican lunch afterward, then head to a second nearby location, Acolman, to see a 16th-century convent that was instrumental during the Spanish conquest.
What to Know When Visiting the Teotihuacan Pyramids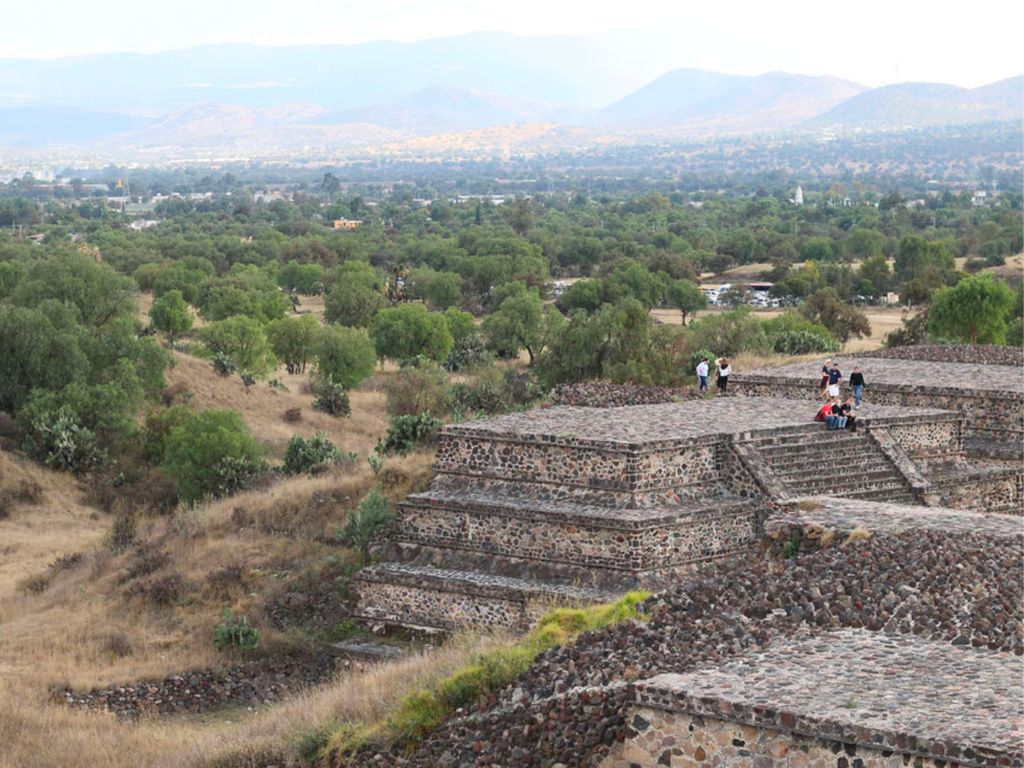 The best time to visit Teotihuacan largely depends on your personal preferences and what you want to experience during your trip. Here are some insider tips and pointers to consider when planning your visit to this ancient archaeological site in Mexico.

Weather
The weather in Teotihuacan can vary greatly depending on the season. The dry season (from November to April) generally offers pleasant weather with cooler temperatures, making it a popular time to visit. The rainy season (from May to October) can be hot and humid, with frequent afternoon showers, which may affect outdoor exploration.
Crowds
Teotihuacan is a popular tourist destination, so prepare for crowds! If you prefer to visit when there are fewer visitors, you may want to avoid major holidays or weekends and consider visiting during the shoulder seasons (e.g., May, September, or October) when there may be fewer tourists.
Events and Festivals
Teotihuacan hosts various events and festivals throughout the year, such as the Spring Equinox and Day of the Dead celebrations, which offer unique cultural experiences.
Time of Day
Teotihuacan opens early in the morning, and visiting during cooler hours, such as early morning or late afternoon, may provide some respite from the heat of the midday sun.
Cost of Visiting Teotihuacan
Visiting the Teotihuacan pyramids is exceptionally affordable, with an entrance fee of MXN 80 (or just under $4). Your entrance fee gives you access to both museums and the pyramids.
Teotihuacan Hours of Operation
The Mexican pyramids are open from 9 am to 5 pm, 365 days per year.
7 Things to do at Teotihuacan
Teotihuacan offers a rich cultural and historical experience, with various activities and attractions to explore. Here are some popular things to do at Teotihuacan:
#1. Explore the Pyramids
The highlight of any visit to Teotihuacan is exploring the iconic pyramids. While you can no longer climb the Pyramid of the Sun and the Pyramid of the Moon, you can still marvel at these incredible structures and their place in Mexico's history. Take your time to appreciate the impressive architecture and learn about the history and significance of these ancient pyramids.
#2. Walk the Avenue of the Dead
The Avenue of the Dead is the main thoroughfare of Teotihuacan, stretching about 1.2 miles and lined with smaller pyramids, platforms, and other structures. Take a leisurely walk along this ancient road and revel in the well-preserved murals, carvings, and architectural features that provide insights into the city's ancient civilization.
#3. Visit the Temple of the Feathered Serpent
Also known as the Quetzalcoatl Pyramid, the Temple of the Feathered Serpent is a unique structure at Teotihuacan with intricate stone carvings depicting feathered serpents and other mythological creatures. Explore this stepped pyramid and admire the intricate details of the carvings, which offer clues about the city's religious beliefs and cosmology.
#4. Spend Time at the Teotihuacan Museum
Located near the entrance of the archaeological site, the Teotihuacan Museum provides a wealth of information about the history, culture, and art of the ancient Teotihuacan civilization. It houses a collection of artifacts, including pottery, tools, and sculptures, which offer insights into the ancient inhabitants' daily life, technology, and artistic achievements.
#5. Attend a Light and Sound Show
Teotihuacan offers nightly light and sound shows, where the pyramids and other structures are illuminated with colorful lights while narrations in multiple languages provide a look into the history and mythology of the ancient city. This immersive experience adds a unique dimension to your visit, providing a different perspective on the ancient civilization.
#6. Try Local Food
Teotihuacan is also known for its local cuisine. You can try traditional Mexican dishes at the on-site restaurants or from street vendors outside the archaeological site. Sample local specialties such as tacos, tlayudas, or pulque, a traditional fermented beverage made from the maguey plant, to experience the flavors of the region.
#7. Stroll Through Tepantitla Palace
Tepantitla Palace is a residential complex that was occupied by the elite class of Teotihuacan during its peak period from around 150 to 600 AD. It is known for its well-preserved murals depicting daily life, mythological beings, and religious symbolism. The murals at Tepantitla Palace are considered some of the finest examples of Teotihuacan mural art.
The Tepantitla Palace murals are painted in vibrant colors and include scenes such as nobles, priests, and warriors engaged in various activities, as well as representations of gods, animals, and symbols associated with Teotihuacan's cosmology and religion. The murals provide essential insights into Teotihuacan's social structure, artistic techniques, and worldview and are considered significant cultural and historical artifacts.
Planning the Perfect Trip to Teotihuacan
Visiting the pyramids is an incredible opportunity to learn about Teotihuacan's history and the people who built these awe-inspiring structures.
Teotihuacan Packing List
If you are preparing for a trip to Teotihuacan, here are some items you may want to pack:
Sunscreen
Hat and sunglasses
Comfortable clothing
Walking shoes
Water bottle
Snacks
Insect repellent
What to Eat Near Teotihuacan
While there may not be many food options at the archaeological site itself, you can enjoy local cuisine outside Teotihuacan in the nearby town of San Juan Teotihuacan.
Sample local specialties and savor the taste of Mexico when you try:
Tlayudas: a traditional Oaxacan dish that consists of a large, crispy tortilla topped with refried beans, cheese, meat (such as grilled beef or pork), and various vegetables.
Mole: a rich and flavorful sauce made from a combination of chilies, chocolate, spices, and other ingredients. It is a base for many traditional Mexican dishes, such as enchiladas, tamales, and chicken or pork dishes, and is known for its complex and delicious flavor profile.
Agua de Jamaica: a popular Mexican beverage made from hibiscus flowers brewed with water, sugar, and sometimes other flavors like cinnamon or lime. It is a refreshing, tart drink often served chilled as a refreshing beverage.
Tips for Visiting Teotihuacan with Kids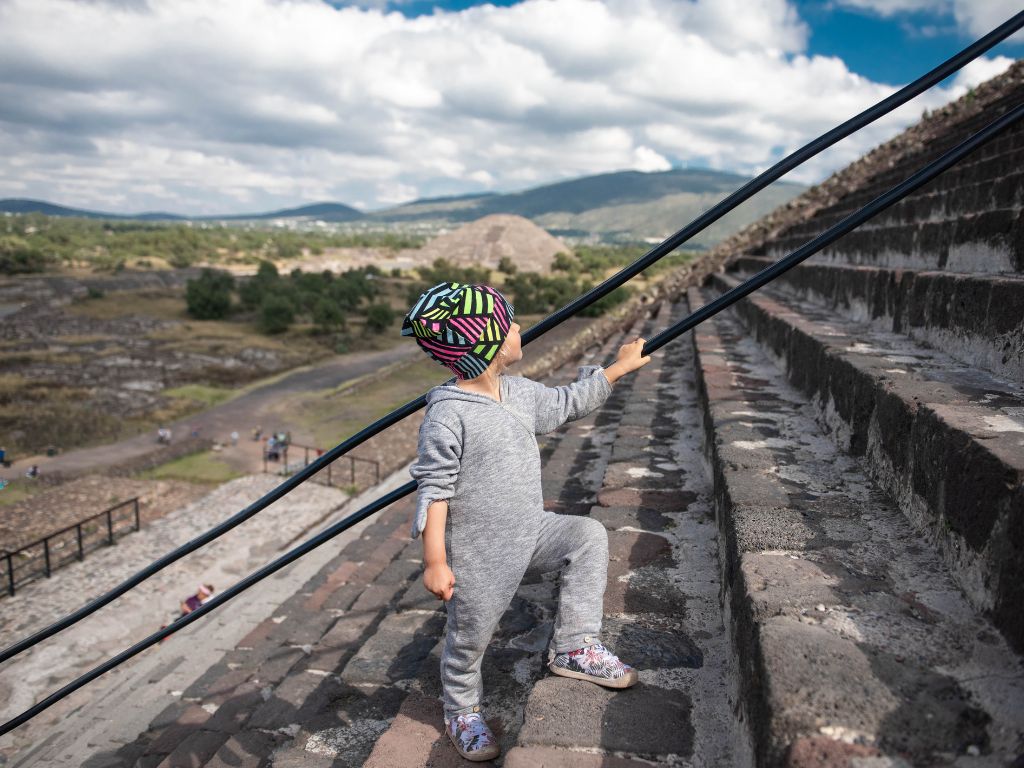 Teotihuacan's sheer size and scope make this landmark amazing – but this can also make it a challenge for younger travelers. Not to worry, with some pre-planning, you can share the wonder of this ancient city with your kids.
Book a small group tour of Teotihuacan for simplicity, ease, and education. Start your tour with a private car service at your accommodation that leaves early and features an in-depth examination of the predominant trio of Teotihuacan structures: the Moon, Sun, and Feathered Serpent pyramids.
The expert archeologist or historian leading the tour (who may be a Teotihuacan local) will dig deep into the histories, traditions, and sacred rights stemming back to the Classical Mesoamerican era. Your path will also take you to a number of important compounds with murals predating the Maya and Aztecs, and you'll learn about these palace layouts and the artistic style that permeated not just ancient Teotihuacan society but many Mesoamerican civilizations for millennia.
Here are a few other pointers for visiting the Mexican pyramids with kids:
There is very little shade, so dress appropriately and bring sunscreen.
Walking around the uneven ground with a stroller would be a challenge, so plan to put little ones in a hiking backpack or a carrier.
Bring adequate water and snacks to ensure younger visitors stay hydrated and energized for their time at Teotihuacan.
Make the Most of Your Time in Teotihuacan
Teotihuacan still holds many mysteries and secrets – many of which we'll never know. This ancient and mystical place is an amazing monument to the ingenuity of the people who built the metropolis and lived amongst its show-stopping buildings.
Teotihuacan is a must-do on your Mexico City itinerary, so don't miss out on this historic landmark. If you are looking to enhance your trip to Mexico City, check out Context's small group, expert-led tours.
If you want to deepen your knowledge of archaeology, art, or other historical topics, check out Context Learning for on-demand lectures and multi-part courses led by experts.
Here's What Other Context Travelers Are Saying about our Teotihuacan Excursion:
Alejandro is not only personable and outgoing, but he's magnificently experienced in Teotihuacan archeology and history. His breadth of experience and knowledge was hugely impressive for someone so young. Super well prepared and organized, very accommodating, entirely professional. Over the course of our six and a half hours or so with him, we felt that we'd had a semester's worth of instruction. His passion for the subject was contagious and much appreciated. – Michael



You Might Also Like: