It is a fact that Barcelona would not be the magnificent city it is today without the contributions of one particular architect. Since his first works were commissioned in the late 19th century, the name Antoni Gaudí has been forever woven into the cultural stitches of Barcelona. As you walk through its streets studded with unique buildings, you might feel as if you're sauntering through time itself. 13th century Gothic spires mingle with the candied and curving structure of Gaudí. Modern exteriors complement inundating facades. When experienced together, Barcelona's buildings create a sense of movement that is both disorienting and enchanting. Whether you have a working knowledge of Barcelona's celebrated architecture, or you're a novice in the field, you might be filled with questions about how the capital of Catalonia became so rife with beautiful buildings. We're here to answer your ponderings, with Context.
Who is the most famous architect in Barcelona (plus his hidden masterpieces)?
Antoni Gaudí set the stage for Catalan Modernism and the many talented modern architects to come after him. Born in Reus, Catalonia, a city just south of Barcelona, the designer began his first non-public commissioned work at the age of 26 in 1878 for the Exposition Universelle in Paris, creating a showcase for a glove manufacturer. While he didn't begin constructing buildings until later, his display case grabbed the attention of Eusebi Güell (the name might sound familiar to some) who would propel Gaudí into stardom. The textile manufacturer commissioned Gaudí for some of his most renowned works over the next three decades of his life: Güell Pavilions, Palau Güell, Park Güell, and more. While Antoni is recognized for the still-incomplete Sagrada Família, the breadth and depth of his genius can be found in landmarks all over Barcelona. Let's take a look at some of his early works before we dive into his more well-known masterpieces.
If you're interested in learning more about Gaudí and his many contribution to architecture, join us on our expert-led Gaudí­ Architecture Tour in Barcelona.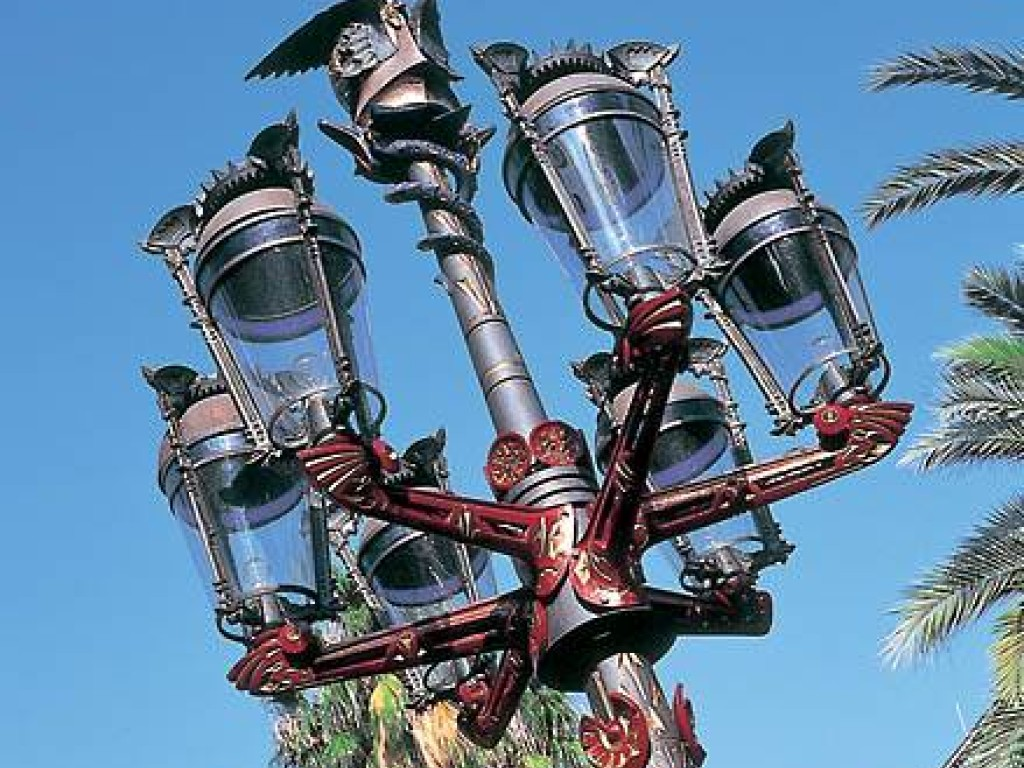 1. Lampposts for the City (1879)
Pla de Palau and Plaza Real, Barcelona, Spain
Gaudí's early works consisted of lighting and furnishing projects for bars, restaurants, churches, and other spaces. His first official commission came from the Barcelona City Council for public lampposts in 1879. Of course, our creative wonder didn't just design any ordinary light fixture. These ornate lampposts, which are still on display at Pla de Palau and Plaza Real, have three or six lights planted on them and feature a winged helmet topping its point. The winged helmet was to commemorate Barcelona's economic standing at the time. While electric power was gaining traction in the city, the lampposts were originally gas-powered. You'll also see Barcelona's coat of arms on the streetlights.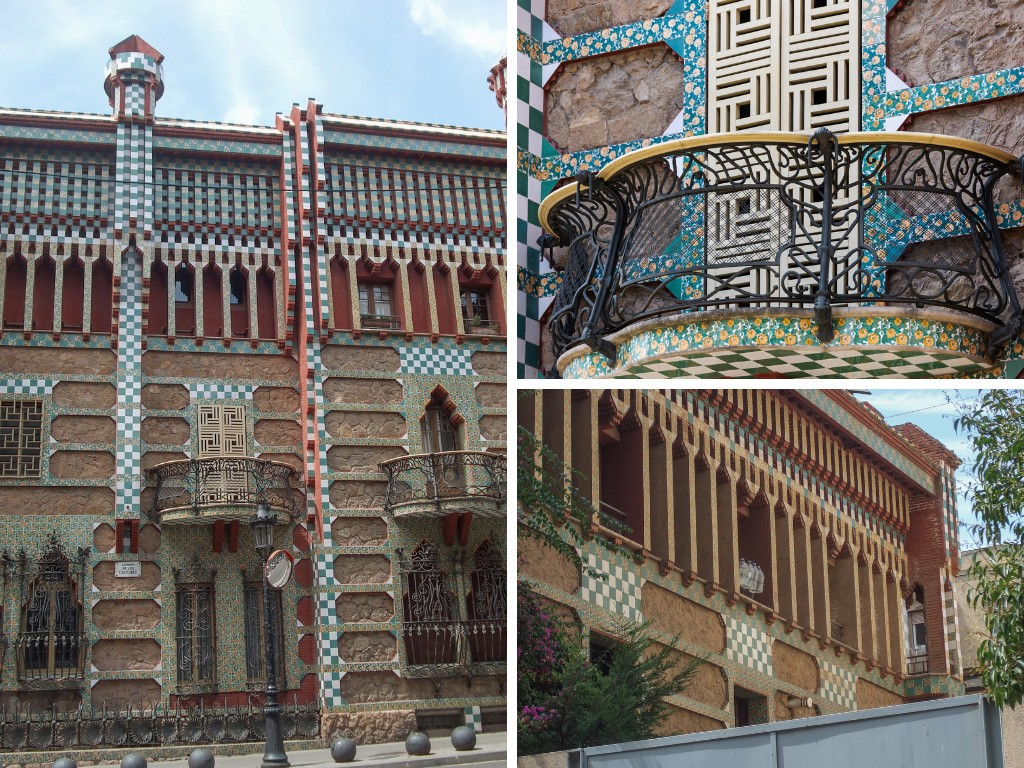 2. Casa Vicens (1878)
Carrer de les Carolines, 20-26, 08012 Barcelona, Spain
As his first building plan, Casa Vicens was sure to be an exciting project for Gaudí. Its name comes from the house's commissioner, Manuel Vicens, who wanted a summer residence. From a young age, Gaudí was inspired by the power of nature's forms, which he'll reflect on in numerous future designs as well. In the Vicens' blueprint, Gaudí incorporated gardens, geometric shapes, and facades that were inspired by local plant life. For example, he illuminates summer with this focus on foliage, forming iron grilles based on the patterns of a palm leaf. Known also for his synthesis of different styles, you can also see influences of Islamic and Arabic architecture in this early work. The house is now a UNESCO Heritage Site, and a museum open to visitors.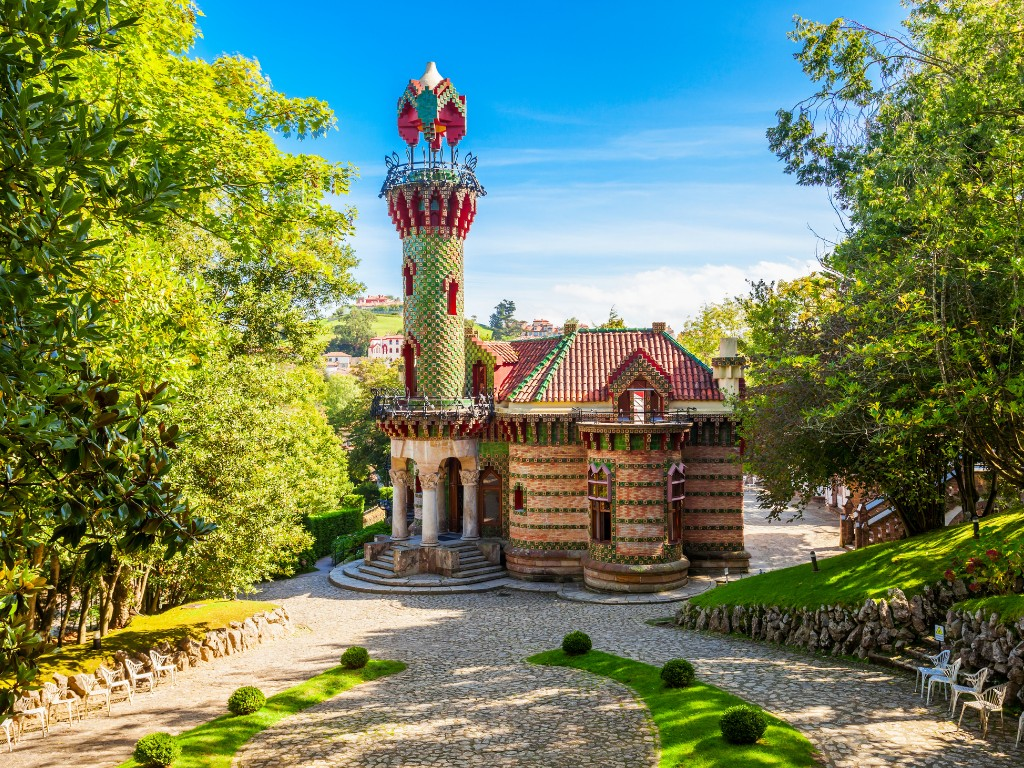 3. El Capricho (1883 -1885)
Bo. Sobrellano, s/n, 39520 Comillas, Cantabria, Spain
Gaudí's early days were no doubt busy. Already gaining fame for his work, his network became bigger and bigger. He received commision to build El Capricho, a summer villa for Máximo Díaz de Quijano while he was constructing Casa Vicens. Gaudí was connected to Díaz de Quijano through the Marquis of Comillas and Eusebi Güell, who have both seen and paid for the architect's wonderful work. Like Casa Vicens, Arab and Islamic influences shape the villa's form, especially the tower, which is reminiscent of a minaret. El Capricho, which translates to "whimsy" captures the dreamy, storybook quality of his many works. The intricate exterior, sprinkled with glazed sunflowers, stone, and brick makes this an especially whimsical design.
Unfortunately, Máximo Díaz de Quijano was not able to enjoy El Capricho as he died a year before the villa's completion. The Barcelonian elite used the space as a summer home thereafter.
Note: El Capricho is one of the few buildings Gaudí constructed outside of Catalunya.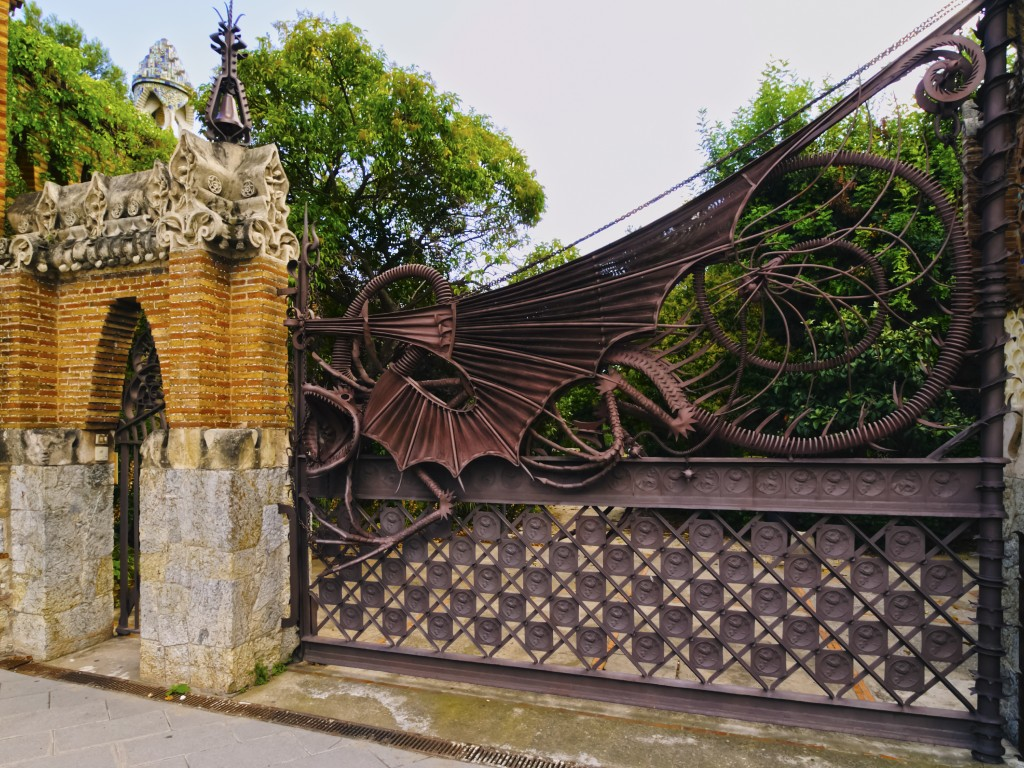 4. Güell Pavilions (1884 -1887)
Av. de Pedralbes, 7, 08034 Barcelona, Spain
The Güell Pavilions would be the first of many projects for Eusebi Güell, the wealthy textile manufacturer that made Gaudí who he is today. A complex of buildings in Pedralbes, Barcelona, the Güell Pavilions was originally an estate for the Güell family. Some notable designs in the complex include a wrought iron gate boasting the figure of a wide-mouthed dragon. Certain domes in the pavilions are impressive as well — tiled with shades of bright green and soft blues, ornamented with a series of pointed angles in the center. Gaudí didn't neglect nature in this plan either. He also planned the gardens where he planted two fountains and a few Mediterranean spices. The architect's early curious imagination continues to flourish.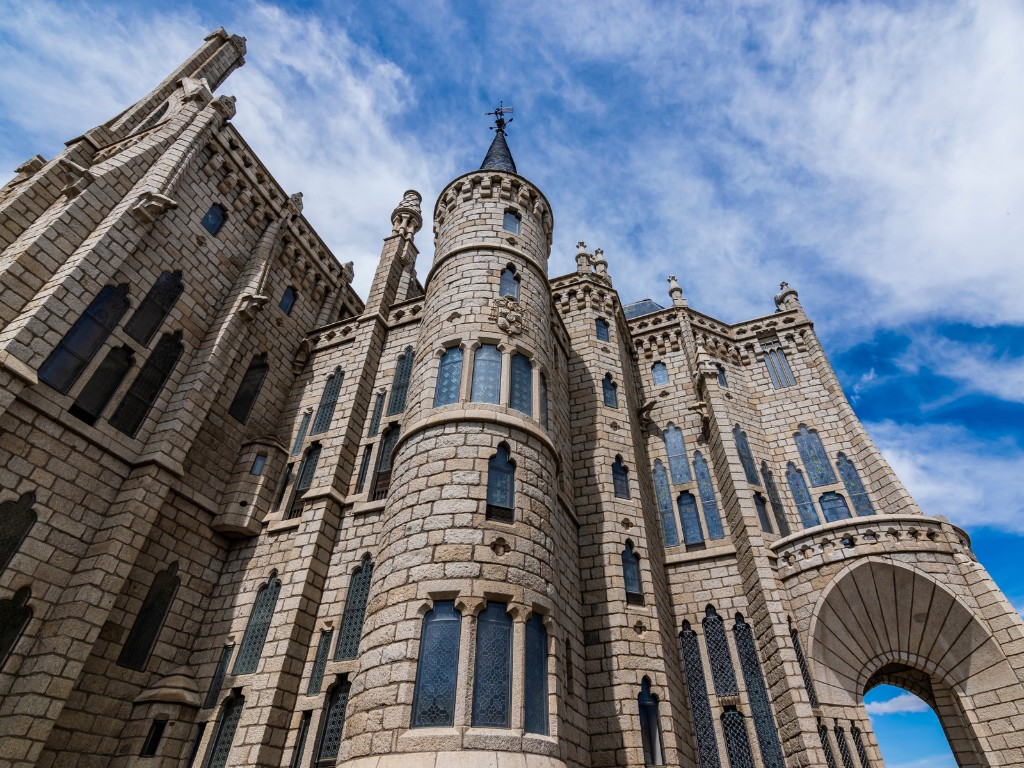 5. Episcopal Palace (1887-1893)
Pl. Eduardo de Castro, 15, 24700 Astorga, León, Spain
Compared to the previous villas, pavilions, and residences mentioned, the Episcopal Palace is less traditionally Gaudí although it still boasts elements of his style. It harmonizes elements of both Catalan Modernisme and Gothic Revival, fusing the past and the present. You might notice the slanted arches at the entrance - a particular feature unique to Gaudí. The palace was built after Joan Baptista Grau I Vallespinós, a bishop from Gaudí's hometown, lost his house in a fire. The bishop asked his good friend Gaudí to build him a new home in 1887. The Episcopal Palace was left unfinished due to disputes with the council following the bishop's death. After his resignation, Ricardo Garcia Guereta finished the project in 1915. During the Spanish Civil War, the building was the headquarters for the Falange, a nationalist political group. Now the Episcopal Palace is a museum dedicated to religious art along the Camino de Santiago.
Note: The Episcopal Palace is also one of the few works by the architect to be surfaced outside of Catalunya.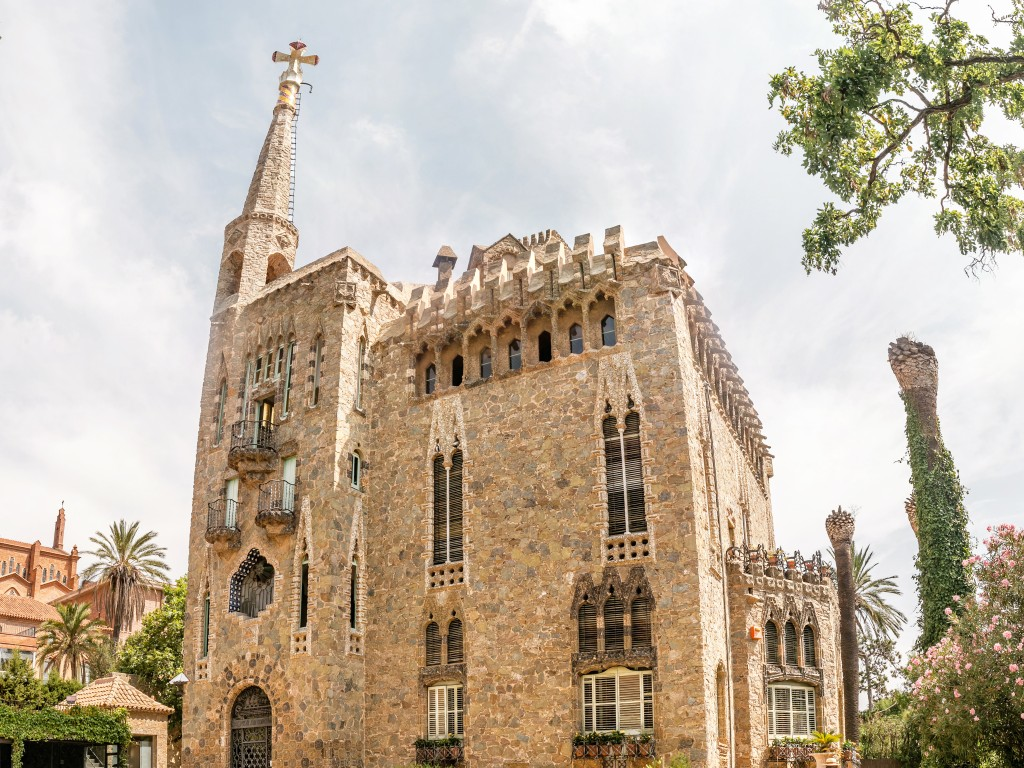 6. Torre de Bellesguard (1900 -1909)
Carrer de Bellesguard, 20, 08022 Barcelona, Spain
Like the Episcopal Palace, the Torre de Bellesguard also blends Gothic architectural characteristics with the fashionable elements of Modernisme. Gaudí constructed this work as a manor house for Jaume Figueres and his wife, María Sagues Molíns. The tower is especially unique because Gaudí crafted its features based on its historical location. Rooted in medieval importance, the site used to hold Casa Figueras (which the Torre de Bellesguard is sometimes called), a castle built for the King of Aragon in the 15th century. He was the last king of the Catalan dynasty, and he left no heir to inherit his mighty castle. After the death of his widow, Casa Figueras changed hands until Jaume Figueres bought the estate in 1900 and then commissioned Gaudí to transform it.
This original castle from the Middle Ages was Gaudí's inspiration for the tower's pointed arches, stained glass windows, spires, and other Gothic facets. As much a storyteller as he was a designer, our creative genius left symbols of the old royal family's life, bad luck, and fate of the kingdom on this project. Press an ear onto the walls, and you might hear the King of Aragon's many woes.
What are the most famous architecture and landmarks in Barcelona?
From the Sagrada Família to the Casa Mila, Antoni Gaudí fills the streets of Barcelona with architecture that is a reflection of his time period, his devotion to nature, and his general brilliance. As Gaudí's claims to fame, you may be more familiar with these art-defining wonders around the city.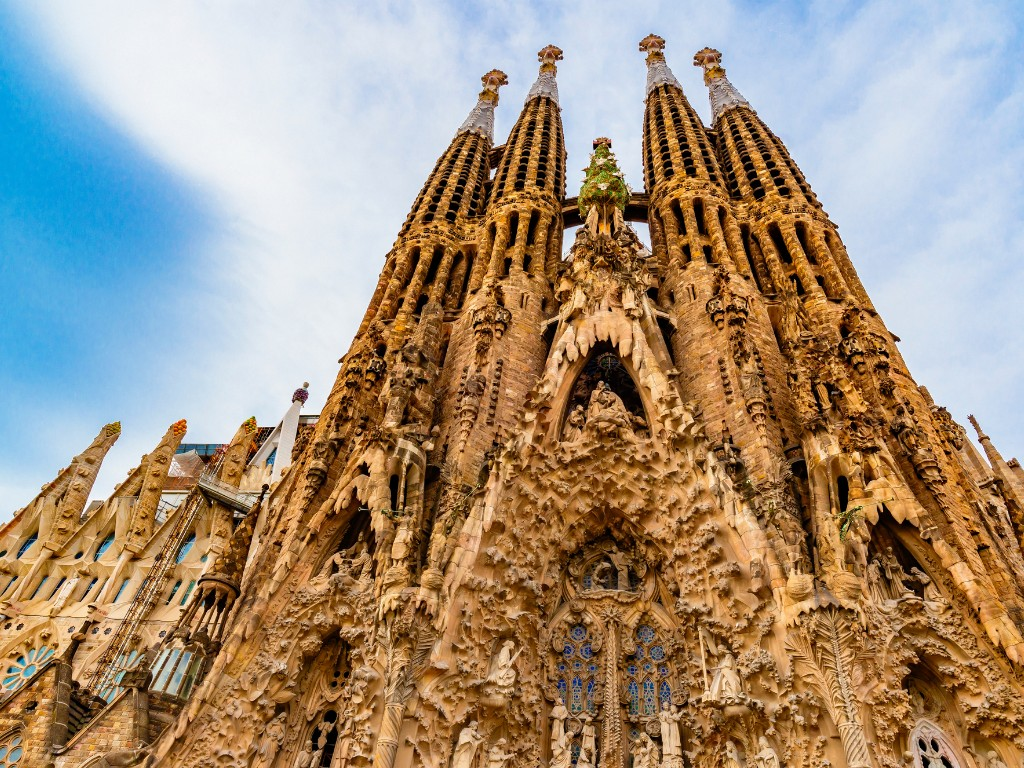 1. Sagrada Família (1909- )
C/ de Mallorca, 401, 08013 Barcelona, Spain

The Sagrada Família is not only a famous and well-recognized work of Antoni Gaudí, but it is also one of the most iconic churches in the entire world. Art historians, architects, and religious figures alike celebrate Gaudí's unfinished masterpiece for its unique mixture of different eras and movements through time. More than any other work by Gaudí, the Sagrada Família's harmonious combination of Gothic Revival, Art Nouveau, and Modernisme coalesce into one of the most stunning religious buildings today. At the time of Gaudí's untimely death in 1926, the Sagrada Família was only around 20% complete even though it was commissioned in 1883. Since then, it was delayed by world events including the Spanish Civil War, and more recently, the Covid-19 pandemic. As of now, the minor basilica is planned to be completed in 2026, just in time for the 100th anniversary of our audacious architect's death.
Among the creamy exterior, rounded spires, and ornately decorated facades, Gaudí expertly incorporated religious motifs relating to Christianity. The three facades correlate to major moments in the life of Jesus: Nativity, Passion, and Glory. Similarly, Gaudí's original plan proposed 18 spires that represented different religious figures including the apostles, Mary, the four Evangelists, and Jesus, who would take the tallest tower. As a fervent Catholic, Gaudí's devotion to religion mirrored his devotion to architectural design, the two often working in tandem. Wanting to be closer to God, Gaudí's religious incentive to work on this holy building is clear in every intricate detail of the Sagrada Família.
See the Sagrada Família in all of its spired glory on our Sagrada Família tour, led by an expert on Catalan Modernism.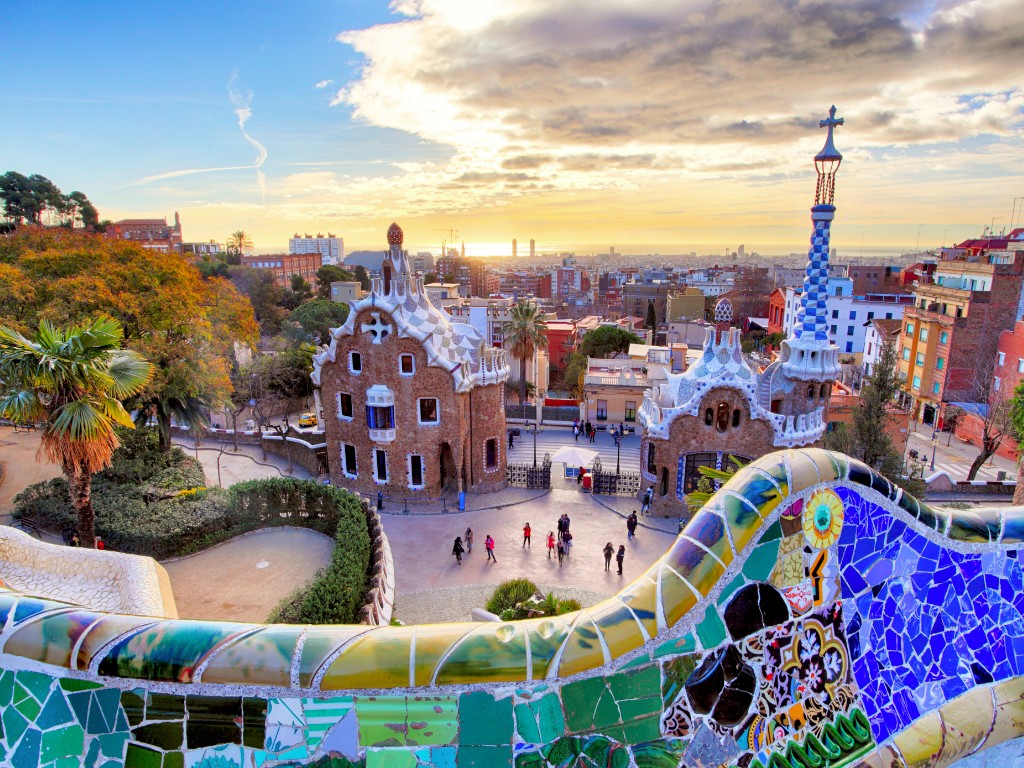 2. Park Güell (1900-1914)
08024 Barcelona, Spain
Antoni Gaudí's ability to capture fantasy and magic is perhaps most apparent in Park Güell, another project paid for by the great patron, Eusebi Güell. The private garden in northern Barcelona was originally intended to be a space for luxury residential units, but only 3 of the 60 housing plots were sold (one of which Gaudí bought himself). Based on geometric precision and inspiration from natural shapes, Park Güell is a testament to Gaudí's naturalist phase. Vibrant colors and a collage of angled mosaics adorn the park's benches, statues of animals and dragons, and other features. The two buildings that flank the park's entrance invite your curiosity from the moment you step foot through the garden. It's as if Gaudí took a pipette and iced the roof of these buildings that are reminiscent of a gingerbread house. You'll see more of this candied, surreal quality to his architecture in later dwellings too.
Park Güell also sits atop Barcelona's many hills, giving you a breathtaking view of the city. The park, combined with the city's horizon, will surely inspire your imagination.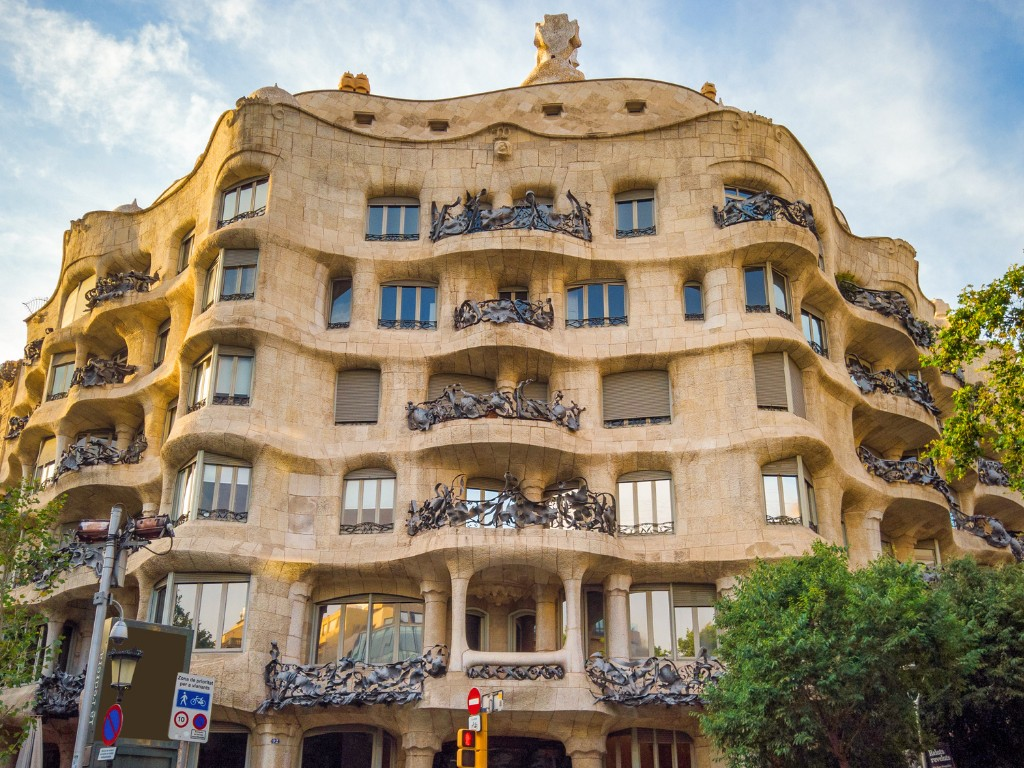 3. La Pedrera, or Casa Mila (1906-1912)
Pg. de Gràcia, 92, 08008 Barcelona, Spain
Speaking of surreal and imaginative, La Pedrera shows another side of Antoni Gaudí as he matures in his artistic endeavors. La Pedrera, also known as Casa Mila, was commissioned by Pere Milà and his wife Roser Segimon as private property for rent. Like many of his bold edifices, La Pedrera, meaning stone quarry, was inspired by Gaudí's deep fondness for nature. The iconic undulating facade mimics the rough, sloping appearance of rock formations found around a quarry. While regarded as an architectural feat today, Casa Mila's unique design was cause for ridicule at the time. In fact, the name "La Pedrera" was coined by locals who disagreed with Gaudí's unconventional approach to the private residence. Of course, now the building is highly regarded for its innovation. The use of stone and wrought iron to create a sense of waving, twisting movement is a feat full of ingenuity. We'll see that Gaudí uses the same technique to fashion the roofs of Palau Güell and Casa Batlló later on.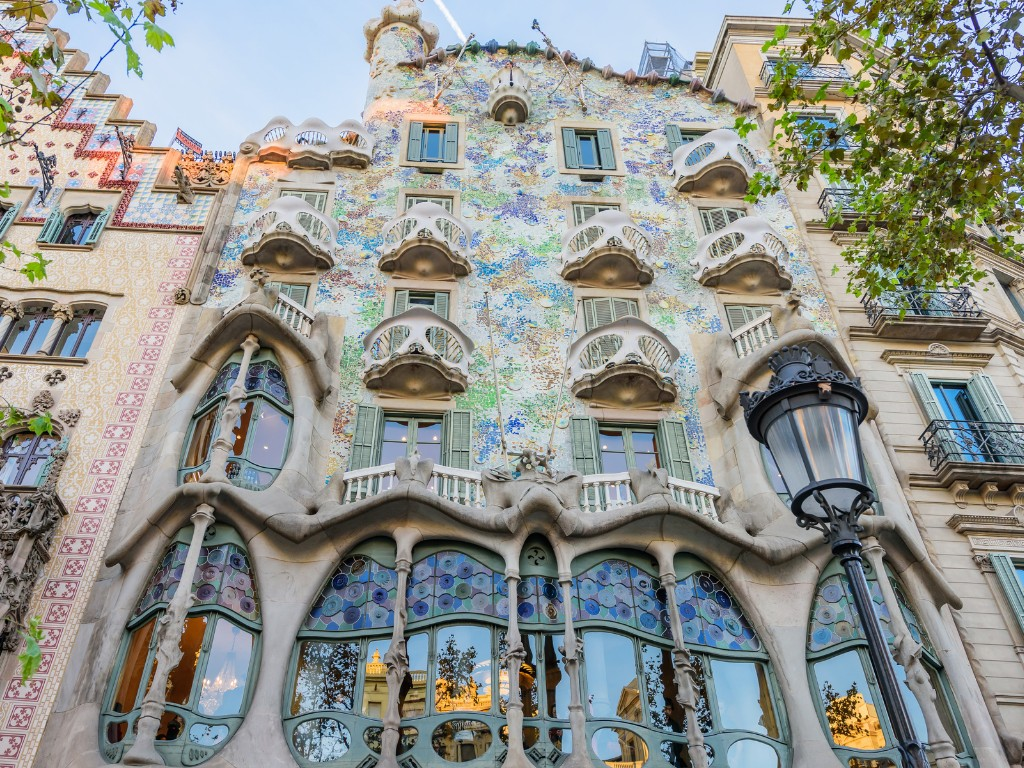 4. Casa Batlló (1904-1906)
Pg. de Gràcia, 43, 08007 Barcelona, Spain
Every time you glance up at Casa Batlló's fine exterior, you're met with another detail that you might have missed before. The experience of gazing at this remarkably patterned building will also vary depending on the time of day. There's a particular enchantment that comes out of Casa Batlló when visiting during the spellbinding hours of twilight. At this point in Gaudí's career, we're familiar with his usage of stories, magic, and surrealism in the decor of his buildings. Like the dragons, icing-topped roofs, and inundating facades in other works, Casa Batlló's allure comes from characteristics of whimsical fantasy. Masks adorn the windows, a bony frame, a roof decorated with the scales of a dragon. Colorful mosaics and a tower topped with a dollop of whipped cream. These are all elements of a fairytale or a daydream, perhaps conjured by Gaudí, in his pursuit to craft the most unique house in Barcelona.
The house was commissioned by the Batlló family who asked Gaudí to redesign an old building with an unappealing design. Gaudí was not only successful in making it appealing but also bewitching.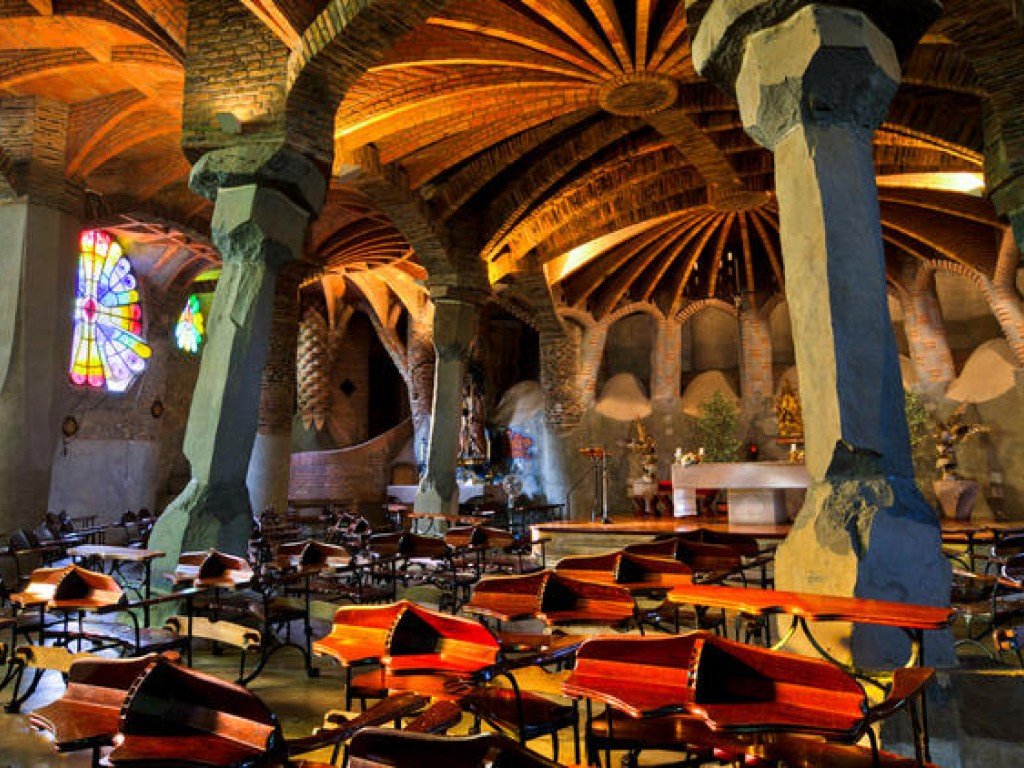 5. Church of Colonia Güell (1890-1917)
Carrer Claudi Güell, 08690 La Colònia Güell, Barcelona, Spain
Another unfinished project, the Church of Colonia Güell was originally planned as a place of worship for Eusebi Güell's textile workers in Barcelona. Gaudí used many of the same techniques on Colonia Güell that he used on the Sagrada Família, including a funicular system consisting of gravity and rope. Not the last building to make particular use of geometry, the church incorporates natural shapes for a more angled exterior. The crypt of the Church of Colonia Güell was the only portion of the building that was completed. It's partially underground and dimly lit, giving it an ancient quality. Another remarkable characteristic of Antoni Gaudí's architecture is that he tried to use materials commonly found in the surrounding areas of the building's site for a more harmonious visual appearance. For that reason, Gaudí used basalt, limestone, brick, slag, ceramic, glass, and wrought iron in the Church of Colonia Güell. A man of many talents, he also designed the furniture in the religious building.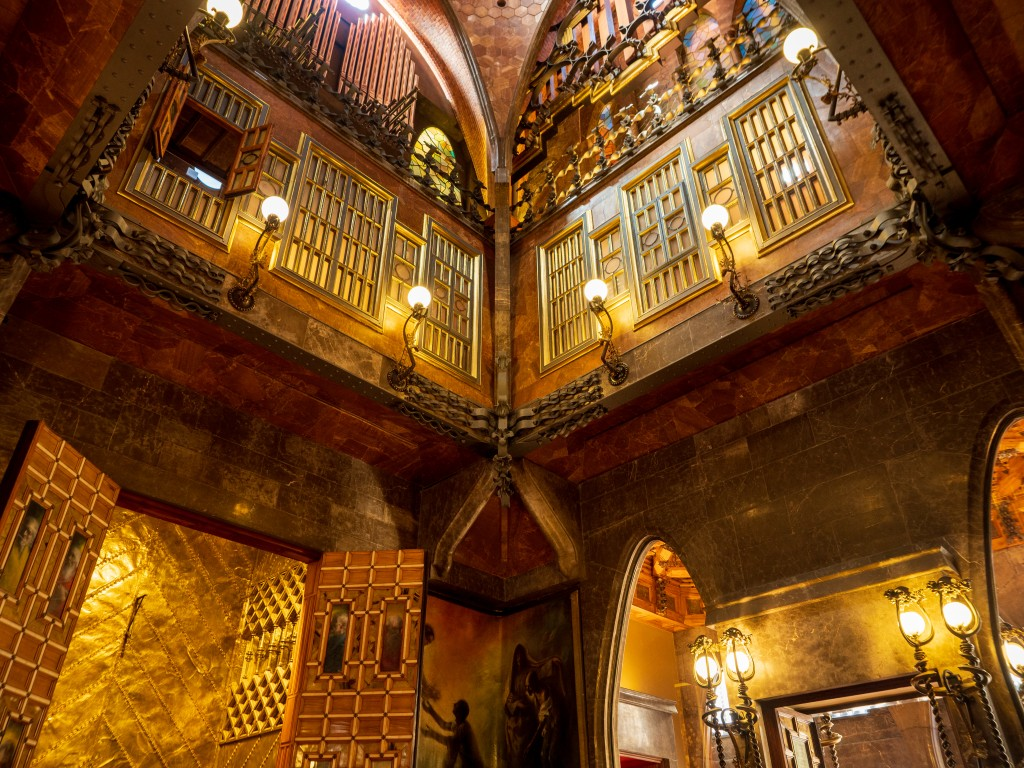 6. Palau Güell (1886-1890)
Carrer Nou de la Rambla, 3-5, 08001 Barcelona, Spain
It's only fitting that we end with Gaudí's plan for Eusebi Güell's family residence. Eusebi had many lofty projects for Gaudí happening at the same time over the course of the architect's lifetime. The mansion was no more stunning than the Güell's other commissions. Gaudí's signature is written all over the roof, and the chimneys and ventilation towers are topped with sculptures of colorful designs and mosaics. Another impressive feature of Palau Güell includes a central hall with a dome punctured by small holes to filter light in, giving the appearance of a starlit sky. The main function of the Eusebi's palace was to receive and entertain high society Barcelonian guests, so Gaudí implemented disguised windows where the family could see their visitors before greeting them.
Interestingly, Antoni Gaudí worked with rich, wealthy patrons all throughout his career. Some made their money overseas on plantations, while others came from wealthy families.
Why is Barcelona known for its architecture?
By now, maybe you've figured out Barcelona's secret for being renowned for some of the best architecture in the world. Antoni Gaudí paved the way for designers, architects, and thinkers to come after him with his revolutionary principles. He poured his whole soul into building projects, never having a family of his own. Gaudi's life was busy with one blueprint after the next, some of which we haven't even covered in this post. It's difficult to categorize his work in one neat movement, but there's no doubt that Gauid propelled Catalan Modernism forward. Modernisme's search for a distinctive Catalan culture and identity was found in Antoni Gaudi's architectural expression. Now, the architect's name and prestigious work is synonymous with Catalonia.
A city full of unique facades and ornate interiors, Barcelona is chock full of wonderful architecture outside of Gaudí as well. We'd be remiss if we didn't at least mention a few: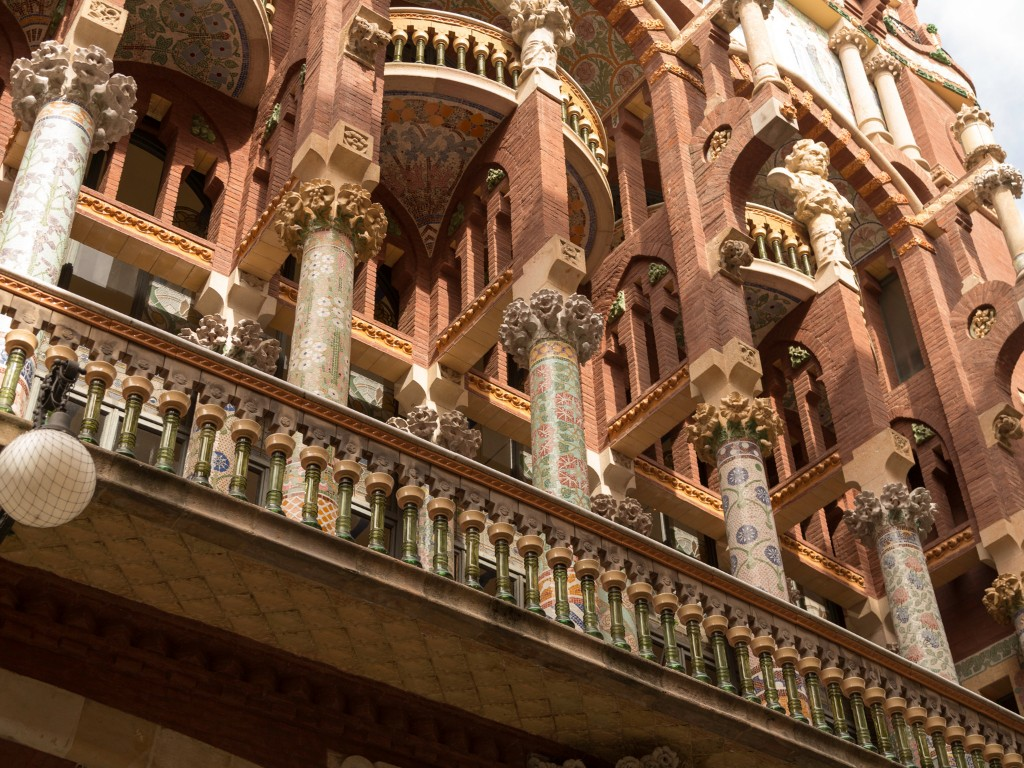 1. Palace of Catalan Music
Built by Lluís Domènech i Montaner, this concert hall was also constructed in the Catalan modernist style. Beautiful sculptural figures decorate its facade and the inside boasts a beautiful stained glass skylight.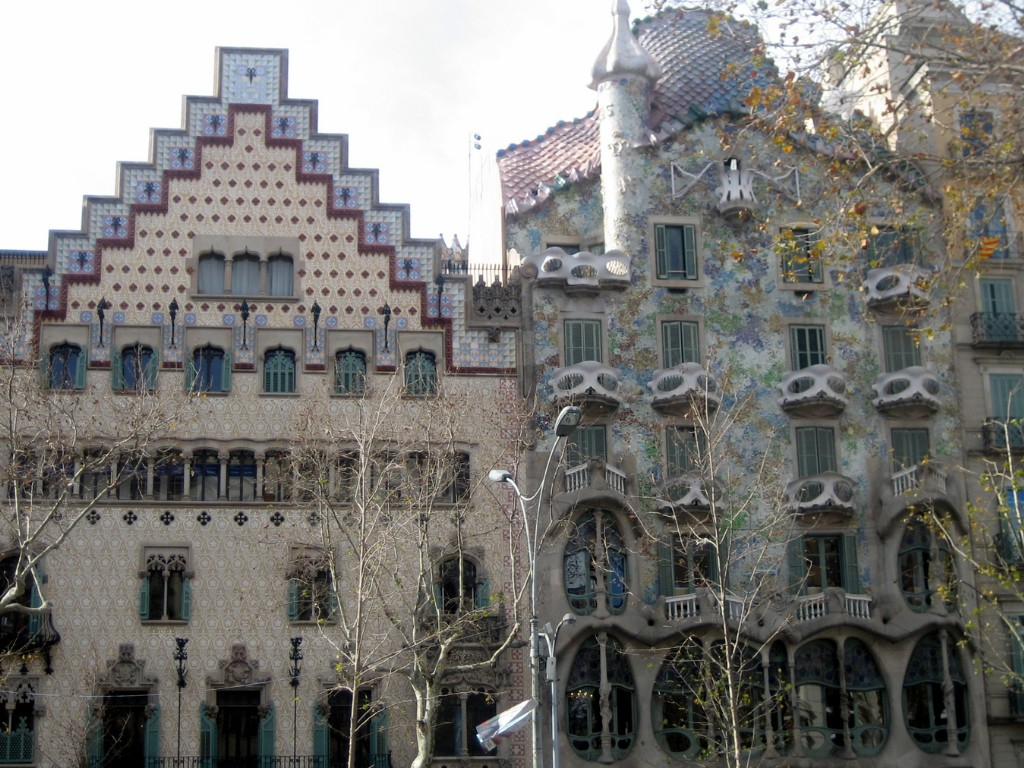 2. Casa Amatller and Casa Lleó Morera
Located next to Casa Batlló, Casa Amatller was built by Puig i Cadafalch and Casa Lleó Morera was built by Domènech i Montaner, Gaudi's contemporaries. The two buildings make an iconic duo contrasted against each other. Together, the buildings make up the "mansana de la discòrdia" or the "block of discord," named for distinctive styles existing in such close proximity.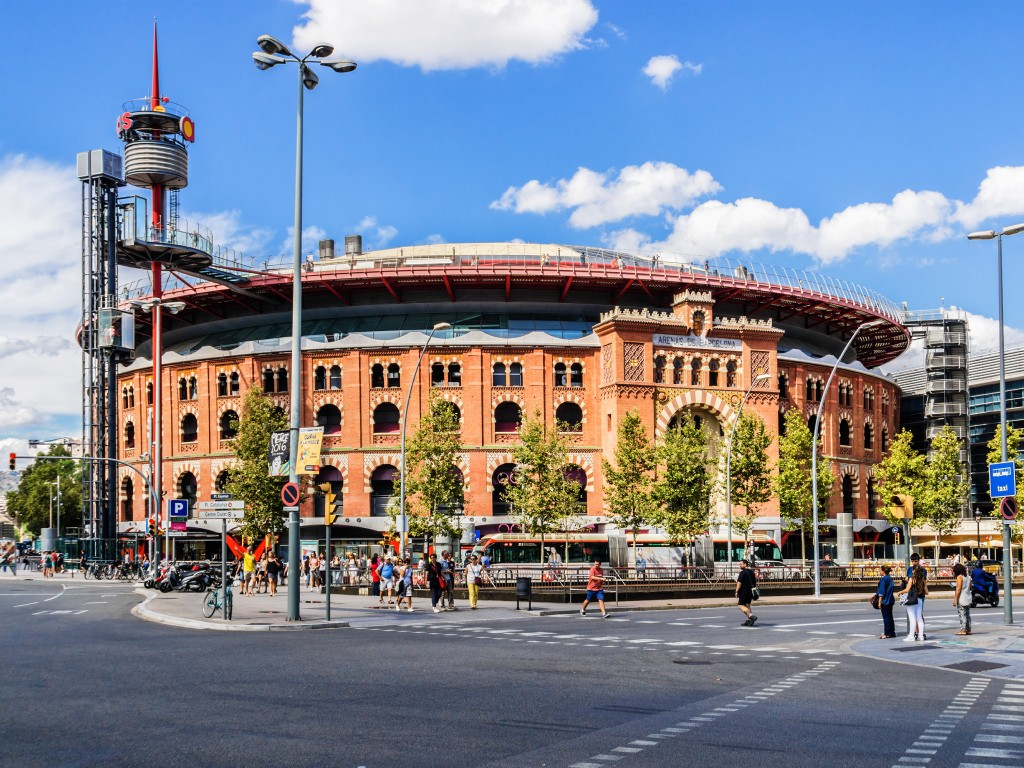 3. Las Arenas
Now a shopping center, Las Arenas used to be a bullfighting arena when it was first constructed in 1900. It closed in 1970 and then reopened in 2011, refurbished and ready for its new life as a market. The lovely arches on the exterior are reminiscent of a Mudejar style.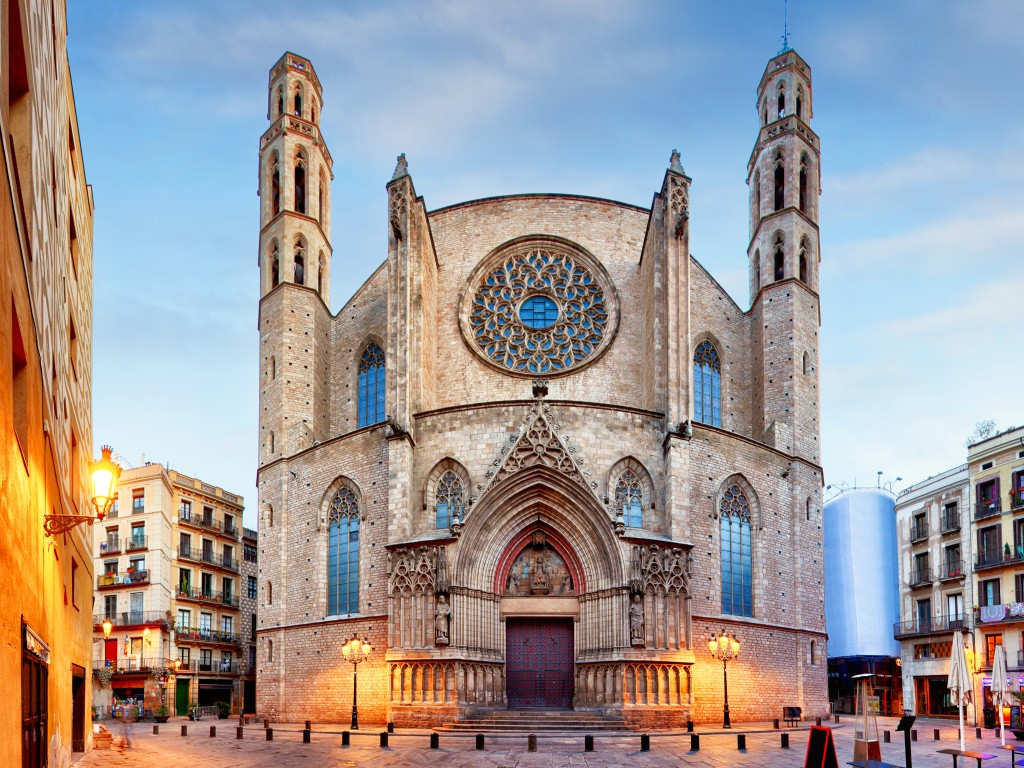 4. Santa Maria del Mar
The Santa Maria del Mar church is older than the other buildings we've discussed. Built between 1329 and 1383, its symmetry is a prime example of Catalan Gothic.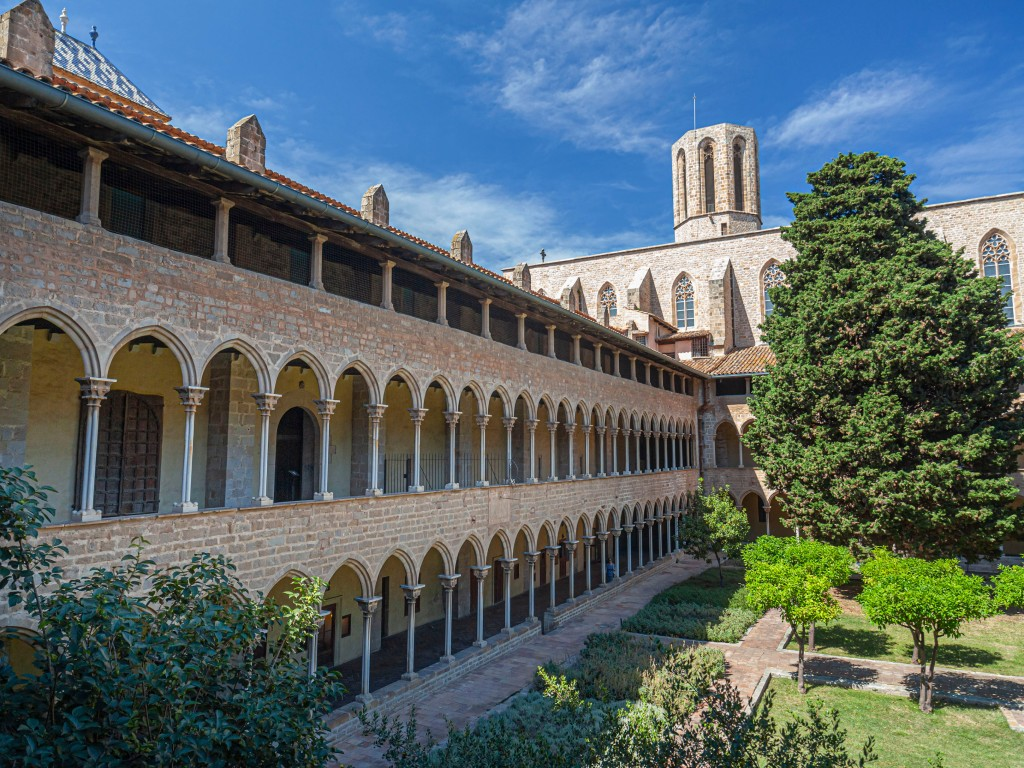 5. Monestir de Pedralbes
Another good example of medieval architecture in Barcelona is the Monestir de Pedralbes, a Gothic monastery established by King James II of Aragon for his wife Elisenda de Montcada in 1326. The old cloister has three levels and a central garden.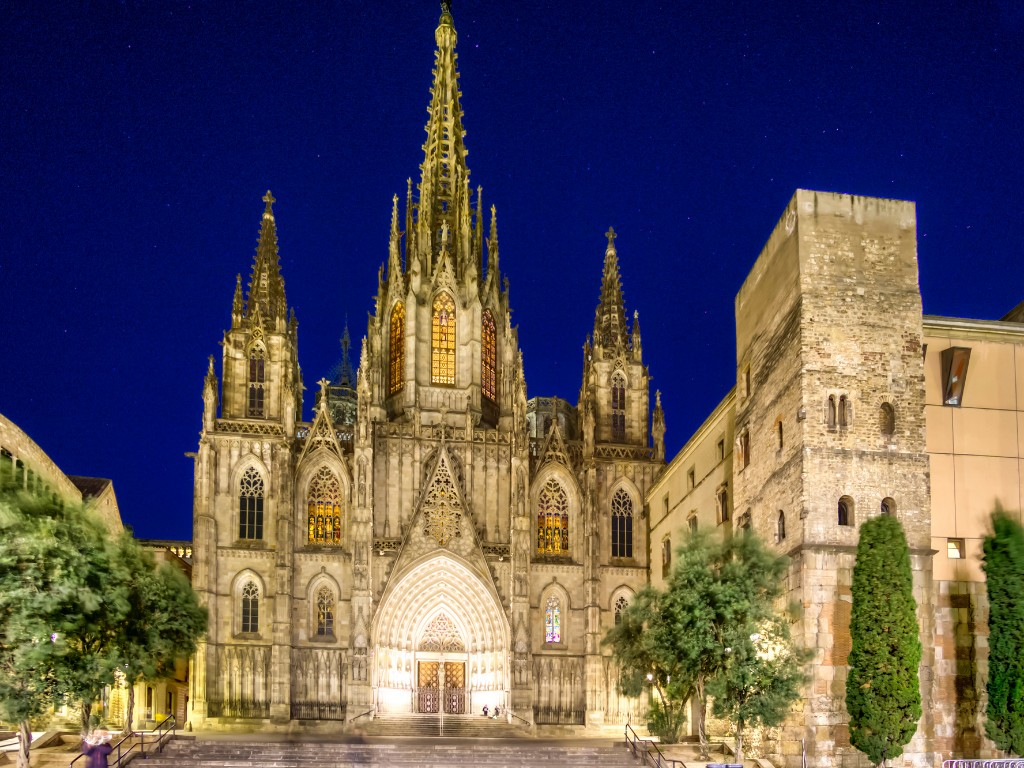 4. Barcelona Cathedral
We'll end the list on a final Gothic note with the Barcelona Cathedral. Constructed between the 13th and 15th century, the cathedral is the seat of the Archbishop of Barcelona. The city has a particular Gothic history, recognizable through its old cobbled streets, architecture from the Middle Ages, and narrow alleys that are still in use today. Learn more on our experience: Introduction to Barcelona Tour: Gothic Quarter.
Barcelona Architecture in Context
Even with a list of 18 of the best and coolest buildings, we've only touched the surface of Barcelona's incredible capacity for beauty and architecture. From Catalan Gothic architecture to other names Modernisme, there still so much out there for you to discover. Find more on our Barcelona tours where you can learn more with a real, local architect. If you're curious about more topics in Spain, head over to Context Learning, where you can learn online with an expert.
Want to learn with a true expert? Get a comprehensive view with one of Context's tours, or learn more about your favorite destination or topic with our virtual, live-taught courses and seminars.