Tour Details
Tour Description
On this Amsterdam Canal Tour, we'll join a local historian for a 90-minute cruise in a historical saloon boat and see Amsterdam from a unique vantage point. Our route will carry us through the world-famous canal belt (itself a UNESCO World Heritage Site), giving the best possible view of 17th-century architecture and quaint bridges. The small size of our group and the boat will allow us to wind easily through Amsterdam's network of waterways and avoid the worst of the traffic. Together with our expert guide, we'll dig deeper into the history of economic prosperity, strategic water management, and urban planning that defines the canal belt.
Sites Visited
Included
1.5 hours with a PhD or MA-level guide
Historical saloon boat
Itinerary Details
As Amsterdam grew and thrived in the 16th century, prospering from its location on important trade routes, an influx of immigration left city officials searching for solutions. The Dutch are known for innovation when it comes to managing natural resources and dealing with environmental challenges, and this was no exception. Three major canals—Herengracht, Keizersgracht, and Prinsengracht—were dug in 1613, marking a new era in the expansion of Amsterdam. Today, the canal belt is perhaps the single most defining and recognizable feature of Amsterdam, ingenious and endlessly charming.


Our tour begins on land, as we meet our guide and make our way to a small dock to be picked up by our captain. Setting out on the water, we'll find our perspective of Amsterdam's topography expanded. Architectural details not visible from the sidewalk are suddenly easy to spot; above us at street level, the usually rush of traffic whizzes by. Meanwhile, we can move at a luxurious pace, appreciating the brightly colored shutters and curved shapes of the gables—both serving as clues about the people who once lived there. As we sail past the historical buildings of this neighborhood, we'll learn more about the residents of these grand canal houses and the role they played in Amsterdam's prosperity. We'll take the discussion beyond superficial information and try to understand how fundamental the construction of the canal belt has been for the city of Amsterdam over the past 400 years. We'll consider the economic and industrial circumstances that laid the groundwork for developing this area. But we'll also look at how it signaled a new era of wealth and success for the city, cementing its status as a major port not only in Holland, but in Western Europe.
As we wrap up our time together, we'll return to the dock from which the boat collected us and get our bearings in the city again. But we'll now have a deeper understanding of this picturesque area and be able to interpret our surroundings, whether a certain gable style or the arch of a bridge. Our time on the water will have shown us another side of the city. Amsterdam, with all its quirks and picture-perfect angles, has never looked better.
Feeling queasy? Our
Dutch Golden Age Tour
covers the same history from the security of dry land. Or, to learn more about how the city grew and developed, try our
Amsterdam Architecture Tour
.
FAQ
What is a private tour?
Our private tours are limited exclusively to travelers in your party. They are designed to provide a learning experience that is completely tailored to you and your traveling companions. Private tours give you more flexibility with scheduling (you decide when the walk best fits in your trip), the ability to tailor your itinerary (we'll work to match the itinerary to the interests and dynamics of your group), and more personalized time with your guide.


What is a small group tour?
Our small group tours cover many of the same itineraries as our private tours, but they place you with other travelers in groups of 6 or less. They operate on a pre-scheduled calendar, and are designed to provide an opportunity to engage with and learn from other travelers.


Can we request a different pick-up location?
Yes, when booked privately, this tour can begin from other locations. Please contact us for specific requests.
Can groups larger than 8 book this tour?
Yes. Please inquire at info@contexttravel.com for a custom quote that includes a larger boat.


Is it safe to take children on board?
Yes, although the boat is partially open. Parents should keep close watch over their children while boarding/disembarking and during the cruise.
Where You'll Start
Tour Experts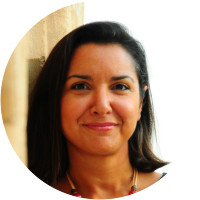 Art historian and curator Lora received her Ph.D. from the University of Amsterdam. She got her M.A. in Art History from the University of Texas at Austin and went to Knox College in Illinois, where she received her B.A. in Art History and Integrated International Studies. She was the curator at the Istanbul Museum of Modern Art (Istanbul Modern) and prior to that worked at the Dallas Museum of Art in Texas, USA. She regularly publishes on modern and contemporary art as a member of AICA (International Association of Art Critics) and as a National Correspondent for the European Museum Forum (EMF).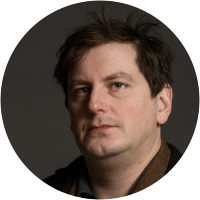 After finishing his studies in the History of Art and Archaeology at the University of Amsterdam in 2002, Sabry pursued a career in the antiquarian book trade, going on to run a fine art bookstore in Amsterdam, whilst also writing, lecturing, and teaching about art. Later he dedicated more time to his work as a writer and art historian. Coming from a Jewish background, Sabry was also always interested in the Jewish history of Amsterdam and has thoroughly studied the life and work of Jewish artists living and working in the Netherlands in this century. He is currently writing a book about German Jewish emigree artists in Amsterdam in the interwar years. The work will come out in fall 2016, published by the renowned Jewish publishing house Querido. Sabry also has extensive guiding experience, specializing in the culture of the Low Countries. His expertise has a vast thematic scope that incorporates the art, architecture, literature, and cuisine that helped shape the Netherlands as they are today.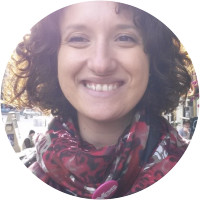 Belina is a freelance guide and art educator for several museums in Amsterdam. Prior to moving to Amsterdam, she lived for twenty-one years in Italy, where she achieved a Master's degree from the University Of Milan in History of Art and Critics. Her background includes experience in art history, cultural management, and art criticism. She is currently living in Haarlem.
Reviews can only be left by Context customers after they have completed a tour. For more information about our reviews, please see our FAQ.
Very enjoyable. I think including one cocktail within the price would make it top notch.
Jun. 24, 2022
A very relaxed river / canal tour. Our guide Lora knowledgeable.
May. 1, 2022
excellent tour. Only suggestion is to make it about 30 minutes longer.
Sep. 9, 2019