Tour Details
Tour Description
The Hagia Sophia is the gem of Istanbul's Byzantine splendors. This architectural and artistic wonder reflects the essence of Istanbul through the ages, having served as a cathedral, mosque, and museum dedicated to both Christianity and Islam. This 3-hour Hagia Sophia Tour brings this architectural wonder to life, from Roman origins and the rise of the Ottoman Empire to today's secular Istanbul. Together, we'll develop an appreciation for the city's rich, varied cultural history, and how this has not only informed this magnificent landmark, but the city's identity as well.

Please note: Hagia Sophia was converted into a mosque in 2020. Therefore, any visit is dependent upon prayer hours.


"Our guide was very gracious, warm, knowledgeable and generous. She clearly loves sharing her cultural history with others, and her enthusiasm was contagious. She did especially well at putting everything into CONTEXT! We enjoyed her so much that we extended our tour with her into the afternoon, in order to have her guide us on a walk into the Grand Bazaar, the neighborhood with traditional hans, and the Spice Bazaar."
Hagia Sophia Tour
Our tour of Hagia Sophia begins outside the walls, walking amongst the 4th century ruins of the Roman empire. The ancient hippodrome, hidden cisterns, crypts and artifacts frame the backdrop of civilization during the rise of Constantinople. Masters of urban planning, it was here that the Romans laid the foundation for the rise of the Byzantine Empire.


An Evolving Building For An Evolving City
Just beyond the ruins lies the magnificence of
Hagia Sophia
itself. Built by Constantine the Great in the sixth century, this was the largest church in the Roman empire, and held the title as the largest cathedral in the world for more than a century. Underneath Hagia Sophia's impressive dome, discover Byzantine architecture at its finest, boasting rich mosaics of religious importance, remnants of the church's transformation to a mosque in the 15th century, the Weeping Column, the Sultan's Lounge, and the Omphalion, where Byzantine emperors were crowned. Touring this singular building will provide a deep appreciation of Istanbul's vibrant history.
FAQ
Is there a dress code for your tours in Istanbul?
Yes, sites visited on this tour are considered holy places. Shoulders and knees must be covered. Dresses and shorts must be below knee level, and shoulders must be covered (zip-on jackets or scarves are acceptable). We recommend bringing along scarves or shawls to be able to cover those body parts.
These rules may seem unduly strict, but remember, you are a guest visiting sites that are regarded as a religious sanctuary.
Is this tour suitable for children?

This tour isn't part of our official family program, however, we can assign a family friendly guide for family tours. Please indicate the ages of your children when booking. If you're traveling with children, you may prefer to book our
Topkapi Palace Tour for Kids
, which has been specifically designed to engage younger learners.
Is this tour suitable for visitors with mobility issues?
Yes, the Hagia Sophia is wheelchair accessible and this tour isn't walking intensive for clients with reduced mobility. We recommend that clients with mobility issues contact us so we can create a tour adapted to your concerns.
Where You'll Start
Tour Experts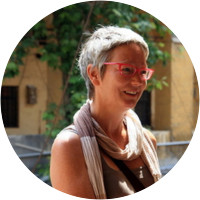 Claire has dual degrees in English (University of Michigan) and medieval art history (Università di Roma "La Sapienza"). She lived in Rome for a decade where she taught art history at Trinity College and study abroad programs for other American universities. She has lived in Istanbul for the last twelve years. She is presently an adjunct instructor at Yeditepe University and a freelance translator. Originally from Washington, DC, Claire is very interested in social history. She is the author of "Topkapı Palace: Inside and Out", published by Citlembik in 2004.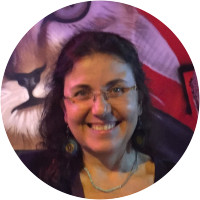 Ebru has a BA in English Literature at Bosphorus University. After finishing her studies, she worked as an arts correspondent for a local newspaper, and then had a career as a managing editor for a monthly travel magazine: Gezi / National Geographic Traveler. A native of Istanbul and a licensed guide, she has a broad range of knowledge, and is extremely interested in history of art, architecture and religions with special emphasis on Greek Orthodoxy and Byzantine history. Ebru finished an MA program in the history of religions at the School of Theology and has been working on her thesis on prophecy in ancient Greece. Apart from guiding, she gives seminars on early Christianity, origins of Christmas, ancient Greek mythology and Vikings of the Byzantine Empire: the Varangian Guards. Currently she is studying art history at Istanbul University, and taking modern Greek and Ottoman script classes in her free-time.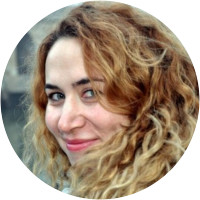 Melike holds degrees in Tourism and Guiding from Marmara University and Art History from Mimar Sinan Fine Arts University in Istanbul. Studying (MA) Museology in Mimar Sinan Fine Arts Universiy. Her special interests are Late Antiquity period in Istanbul and Clasiccal Period of Ottoman Empire.
Reviews can only be left by Context customers after they have completed a tour. For more information about our reviews, please see our FAQ.
During this trip our context tours were very "lecture driven". The joy of a private guide is a knowledgeable person to stimulate and answer questions. Instead we always felt as were in school and the teacher was under pressure to present a lecture. A 5 minute background presentation is fine, and the rest should probably be spontaneous material based solely on questions (with your EXCEPTIONALLY educated guides this would be very possible). We consider ourselves somewhat nerdy and academic, but it was hard to stay engaged for a multi hour dense information lecture format type tour. Compound this with jet lag and it was not particularly enjoyable.
Dec. 20, 2022
Claire's lovely disposition and depth of her knowledge allowed teens and parents to engage in questions and enjoy the dialogue. It was a delightful three hours.
Sep. 13, 2022
Clair was very knowledgeable. Nothing to improve.
Aug. 29, 2022