Tour Details
Tour Description
The Japanese tea ceremony is steeped in history and tradition, serving as one of the best manifestations of Japan's rich culture. During this 2.5-hour Kyoto Tea Ceremony with a tea master we will learn about both the intricacies of the ceremony and the role that tea plays in Japanese culture. We'll also taste some excellent tea along with wagashi, traditional Japanese sweets meant to enhance the flavor of the tea, deepening our appreciation for both the nuanced flavors and rich traditions of tea in Japan


"We learned a lot. His shop, his garden, his explanation, his story and the fact that we all had a chance to try to make, serve and sip the gorgeous tea. Also, loved the neighborhood!"
Kyoto Tea Ceremony
What really differentiates a Japanese tea ceremony from the way tea is served in the West, such as the UK, is the degree of precision with which each aspect of the ceremony is undertaken. During this two-and-a-half hour workshop in a 100-year-old house, under the guidance of a tea master who has been in Japan for 30 years, we'll learn about the Way of Tea and the proper etiquette involved in partaking of traditional tea and sweets.
About the Ceremony
The tea workshop takes place in two parts. We begin with a brief lecture from our tea master before moving downstairs to his tranquil tea garden, where the lesson continues. This lush setting provides the perfect ambiance for learning the differences between formal and informal tea gatherings, how what's served changes seasonally, and about the different types of tea. We'll then be served a wagashi and learn more about their significance, as well as prepare our own bowl of tea.
Take Aways
Although traditional Japanese tea ceremonies can be quite formal, our instructor's philosophy is that tea should be fun! We'll leave this tea workshop with an in-depth understanding of what makes this such an essential piece of Japanese culture. To learn more about Japanese cuisine, try our popular
Kyoto Food Tour
, or to explore Japan's traditions through a different lens, see our
Kyoto Temple Tour
.
Where You'll Start
Tour Experts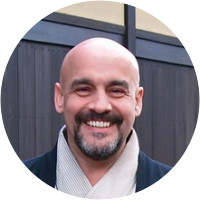 Randy came to Japan in the early 80s to study martial arts. He began his studies in chanoyu (the way of tea) shortly thereafter to balance his martial training, but as time went on tea came to take over as the main focus of his studies. He attended the Urasenke Gakuen Professional College of Chado. Since graduating, he has been involved in thousands of tea gatherings, conferences, demonstrations, lectures, and galleries. He presently teaches the Way of Tea in Kyoto at a shrine on the east side of the Imperial Palace and owns ran Hotei, a small Japanese café/gallery near the Nijo Castle. Besides teaching at Kyoto's Doshisha University, he also lectures at many other Japanese universities and colleges. He has lectured for visiting groups from abroad including those from Yale, Harvard, and, Georgia University to name but a few.
Reviews can only be left by Context customers after they have completed a tour. For more information about our reviews, please see our FAQ.
Randy was amazing. He's exceptionally well connected and has so much background. He's a very important person in Japan I'm the world of tea and I felt lucky to habe a tour by him.
Jul. 26, 2017
I wanted to let you know that I finally heard back from the clients. They loved EVERYTHING. Particular shoutout to Randy. Thank you for making this perfect for them.
Dec. 2, 2016
Directions to shop in instructions--no street address in english, and tea shop is not really well marked. Confusion about whether tasting fee paid or not, so we paid again. Tasting fee seemed excessive for what we got($53.81 for 2--2 cups of tea and 2 pastries total!, and tea could reasonably be expected to part of the ceremony). Some basic questions about tea(how much caffeine in green vs. black, importance of terroir to how tea tasted) seemed to stump Randy, which was odd for someone with his tea education.
Oct. 28, 2014