Tour Details
Tour Description
Frida Kahlo and Diego Rivera helped define not only Mexican modernism, but also the politics of the country, all while engaging in a tumultuous romance. On this 3.5-hour Frida Kahlo and Diego Rivera art tour, we'll join a local artist or art historian to get a glimpse into the life, artwork and times of Mexico's most enthralling and groundbreaking artists. Our tour will visit Casa Azul, also known as "the Blue House" and the Frida Kahlo Museum, Leon Trotsky's house, and "Casa Estudio Diego Rivera y Frida Kahlo" to see where this compelling and colorful couple created some of their most enduring works and dramas.
"Wow! This tour exceeded expectations due to our wonderfully informative guide. We were delighted to learn the little details of Frida and Diego's life that really gave us insight beyond what we have all read."
Frida Kahlo Tour
Our tour starts at the Frida Kahlo Museum, known as the Casa Azul for its deep blue walls. The historic building is the artist's former home and where many of her self-portraits were created. We'll explore her most intimate spaces, filled by her artwork, photos, clothing, and even corsets she wore as a result of childhood polio and a horrifying bus accident in 1925. Our expert guide will lead you through the artist's charming courtyards, gardens, and fountains and discuss the major influences on her work: the tragic accident, her personality, her identity as a Mexican woman and of course, Diego.
A Communist Counterpart
Next we'll take a pleasant stroll through the Coyoacan neighborhood to exiled Marxist and theorist Leon Trotsky's home, which is still today much as it was when he was assassinated here in 1940. Our expert will discuss the rocky political climate of the 1920-40s and how Mexican elite like Frida and Diego— devoted to communism and confidants of Trotsky's— helped steer the governance of the country.
Tour of Museo Estudio Diego Rivera y Frida Kahlo
We'll then shift our conversation to focus more on Diego as we jump in a taxi for a quick look at one of his few tiled mosaics, which tells the story of Mexican performing arts. After the mosaic, we will reach our final stop: the Museo Estudio Diego Rivera y Frida Kahlo, or the dual homes and studios of the lovers Diego Rivera and Frida Kahlo. Our expert will enliven the notable modern architectural space, the objects and artwork within through stories of Diego's intense interest in native Mexican cultures as well as the couple's epic love affair, tumultuous marriages (yes, they married twice), and the impact that they had on their city, country and the world.
Takeaways
By the conclusion of the tour, we will have emerged with a better understanding of the life of the famous lovers, artists, and activists. We'll have walked in their footsteps in the neighborhoods of Coyoacan and San Angel, exploring the key sites that paint the colorful picture of these revered characters.
FAQ about Frida and Diego Art Tour
What is included in the price of the tour?
You will notice a 425MXN per-person ticket fee applied to the order during checkout. This is so we can purchase your Casa Azul ticket in advance to reserve your entry time and have the guide coordinate all transactions on your behalf during the tour.
Why do we take a taxi to San Angel?
The distance between the two sites is not walkable. Your expert will be able to answer any questions you've had so far and continue the discussion within the vehicle. We will also use the taxi to make a quick stop at a Diego Rivera mosaic on the way.
Where You'll Start
Tour Experts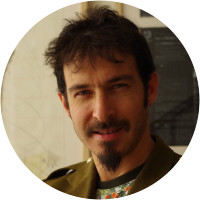 Born and raised in Mexico City, Julio Pastor is a proud pedestrian of his native city. He completed a BA in Fine Arts at UNAM. In 2008, he moved to the Netherlands where he completed his MFA, specializing in the Urban Landscape. After seven years, he returned to Mexico and turned the focus of his art production to the city that he roams every day. His art production is thoroughly inspired on what he encounters during his everyday walks, but also by a great deal of reading on topics related to architecture and urbanism. When not working at his art practice, Julio can be found teaching undergraduate drawing courses in the architecture department at the Universidad Iberoamericana, or enjoying the city with his wife and two children.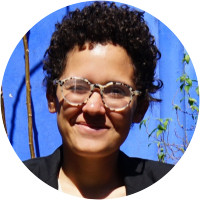 Natalia is from Rio de Janeiro, Brazil, but chose Mexico as her home and her field of research. During her 'Production and Patterns' degree at SENAI/Cetiqt in Rio, much of her studies focused on Mexican arts and costume to complement her research on Frida Kahlo's clothes. In 2014 she officially moved to CDMX after finishing her final project on the Tehuantepec dress. While in Mexico, Natalia has worked with fashion designers and has studied Mexican arts, history and literature. In 2021 she graduated with honors at the National Autonomous University of Mexico (UNAM) with an MA in Art History presenting a project about the clothing and the creative process of Georgia O'Keeffe. Alongside being an expert guide, she currently works with Alejandra de Coss, a Mexican fashion designer.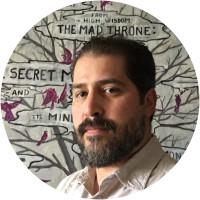 Rodrigo Farias is an artist born and raised in Mexico City, fluent in English and Spanish. He started painting from a very early age and then majored in Visual Arts at Mexico´s Escuela Nacional de Pintura, Escultura y Grabado "La Esmeralda" as well as Philosophy at the Universidad Nacional Autónoma de México. Although focused on painting he is also a musician and an essayist. He has long been a student and a fan of the popular traditions and culture of his country. In his work he renews representation and figurative painting by incorporating elements from Mexico´s rich Rotulista (signpainter) tradition, from the world of Comics and punk illustration (underground comics such as the Spanish La Comictiva and the Mexican El Gallito comics magazines being a particularly important influence on him) and from the Bad Painting movement. His work ponders the disappearance of the subject and the worrying emergence of a post-human world, as well as the complex relationship between word and image, and between what is known and what is unknowable.
Reviews can only be left by Context customers after they have completed a tour. For more information about our reviews, please see our FAQ.
Natalia was an excellent guide- she was knowledgeable and engaging- and interesting- we will highly recommend her to our friends!
Sep. 4, 2022
Luis was perfect. His level of expertise and knowledge of the subject was impressive and his manner very friendly and easy. I have visited some of these places previously and studied the artists and yet Luis taught me new things and got through to my 13 year old daughter who is tough to reach sometimes. Thank you for an enjoyable day.
Aug. 2, 2022
Natalia was very knowledgeable about Frido Kahlo and Diego Rivera, but also proved to be an interesting commentator on Mexico more generally. Highly recommended
Jul. 23, 2022