Tour Details
Tour Description
Discover Osaka on our 3-hour introductory tour with a local expert or East Asian scholar. Designed to provide a perfect introduction to Osaka for first timers or reorient returning travelers to the history and culture of this vibrant city, this tour will explore Osaka's growth from an early mercantile center to a bustling economic Asian powerhouse.
Sites Visited
Osaka Castle (interior & exterior)
Dotonbori neighborhood
Namba
Hozen-ji
Kuromon market
Included
Castle entrance fee
Transport from Osaka castle
Itinerary Detail
Our tour will move across the city to various interesting locations such as Osaka Castle, Dotonbori, Namba and Hozen-ji. This tour offers a solid introduction to a fascinating city (often wrongly overlooked and instead replaced by its cousins, Tokyo and Kyoto).
We'll start near Osaka Castle as we begin with learning about the rule of Osaka after the unification in the 16th century. Although not the original structure, the site offers an important location to discuss the rule of Toyotomi Hideyoshi and the violent emergence of the Tokugawa shogunate. We'll visit the interior of the castle and view Osaka from up a great vantage point before we venture across the city to other sites leaving the lush green park area behind us. We'll hop in a taxi or use public transport as our route takes us to a buzzing district in Osaka: Dotonbori. Named after a 17th-century merchant, Yasui Doton, the area has a 400-year long history of entertainment which we'll touch upon. We may pop to a nearby temple tucked behind the bustle of the surrounding area as we step back in time to a more traditional Osaka. We'll stroll through the warren of streets and finish our time together at Kuromon market - an arcaded local haunt with shops specializing in anything from fresh urchins to seasonal vegetables. This will give us an opening to talk about the history of the market (which dates back to the Edo period) and the gastronomic scene in Osaka today.
We will finish our introductory tour with a deeper understanding of this electric Japanese city. We'll have traveled to a number of important locations, immersing ourselves in feudal history, Japanese entertainment tales and local customs, traditions, and gastronomy with our expert guide. We'll say
Sayōnara
(goodbye) with a more contextualized approach to Osaka.
To continue your explorations of the city with Context, we recommend our
Savoring Osaka Food Tour,
or are happy to assist in assembling a
Custom Osaka
tour geared to your specific interests.
FAQ
What is a private tour?
Our private tours are limited exclusively to travelers in your party. They are designed to provide a learning experience that is completely tailored to you and your traveling companions. Private tours give you more flexibility with scheduling (you decide when the walk best fits in your trip), the ability to tailor your itinerary (we'll work to match the itinerary to the interests and dynamics of your group), and more personalized time with your guide.
Where do we meet? Where does it end?
We meet near Osaka Castle and we may end near Kuromon Market. Your route may differ according to your guide. Your confirmation email will have the exact meeting point details along with a map, and 24-hour phone number for any last-minute issues.
What if it's raining?
Tours operate rain or shine. The majority of this walk is outside, so please be prepared with either an umbrella or a hat/sunscreen.
Can children join this tour?
Yes, we can adjust the time to 2 hours and the content to be more appropriate for younger learners.
Is this tour walking intensive, and/or wheelchair accessible?
We do cover quite a bit of ground on this tour and therefore we recommend contacting us with any mobility questions; we will be happy to advise if the itinerary will be appropriate for you or propose modifications where necessary. Please feel free to contact us.
Where You'll Start
Tour Experts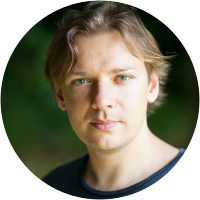 Marcin is a Ph.D. Candidate at Kyoto University, studying Folk culture in contemporary Japan. Marcin's Ph.D. studies are a continuation of his Master's thesis, which he also completed in Kyoto. His studies focus on the depictions of Japanese Otherworld and Buddhist Hell, but also usage of these traditional motifs in present-day Japan's culture and tourism. Marcin also has a Master's degree in Japanese studies from Warsaw University, Poland. There he specialized in Japanese folklore, ancient culture, religion and history. He published the book "Kaidan - Strange Tales of Edo period" (2011) in which he introduces Japanese ghosts, demons and goblins in 17th- &18th-century Japan. He also co-wrote "The Culture of Heian Imperial Court" (2008) about Japanese culture in the 9th and 10th Centuries. Marcin has a wide knowledge of Japan, starting from its history, folklore and religion, through its politics and post-war society, but also has an interest in its more recent pop culture and media. In his spare time, he enjoys walking through Kyoto's streets rediscovering its secrets. He also enjoys riding his Kawasaki motorcycle, seeking more remote and hidden places. Marcin has lived in Kyoto for 10 years.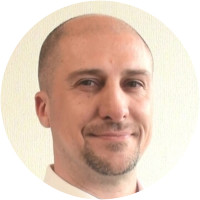 Marc enjoys sharing the understanding and the knowledge he gained over the years regarding traditional Japanese culture, Kyoto's historical patrimony and Japanese society. After earning a Ph.D. in Biology and an M.A. in Psychology in France, he originally came here to carry out postdoctoral research. Passionate about the history and culture of Japan since childhood, he decided to stay in order to learn and study it first-hand. He studied several crafts including pottery, as well as several traditional arts. After many years of study, Marc was granted a 2nd degree tea ceremony instructor certificate and obtained a 3rd Dan in iaido. He also became a connoisseur of Japanese antiquities which he has been collecting and restoring. Before settling in Kyoto, he lived all around the country, in the countryside as well as in large cities for more than 12 years; a rich experience providing him with a wide knowledge of Japan. Marc now lives in the heart of Kyoto with his family in a 100-year- old house he is currently restoring. He presently teaches foreign languages at university and instructs local Japanese guides.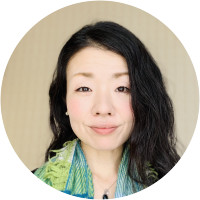 Kana holds a BA in English from Doshisha University, Kyoto, and another BA in Japanese Classical and Traditional Arts from Kyoto University of Arts and Design. She is also qualified as a tea master from Urasenke school of tea ceremony and is an experienced government-licensed guide. Kana has been studying and working in Kyoto since 2000. During her leisure time, she loves playing the shamisen, and she also performs Kyogen (Japanese 650-year-old UNESCO heritage theater). The Zen Buddhist philosophy, "live in the moment", has been always the core tenet of her life.
Reviews can only be left by Context customers after they have completed a tour. For more information about our reviews, please see our FAQ.
Aki is a great ambassador for context. Her knowledge of Osaka helped give us a deeper appreciation. For the sights we experienced today. Aki is personable, engaging, accommodating and went out of her way to ensure we had a great experience. Thank you!
Nov. 18, 2019
From start to finish, our experience with Context Travel was pleasantly smooth and efficient. My pre-tour questions were answered promptly, we received confirmations and helpful reminders of our appointment. Our guide, Aki, shared what she loved about her city and pointed out the significance of various areas to fellow "locals." Without her, we would have missed so much that the eyes can see but the mind cannot comprehend because of our lack of familiarity. Aki truly listened to us describe what we wanted from our tour experience and she delivered with grace, courtesy and humor. We felt that Aki herself became an integral part of our experiencing a sense of Osaka and what makes it different from Tokyo and other cities of Japan. For improvements, I would have liked links to websites or readings that provide basic information on Osaka, so that the tour could presume some "fundamentals," such as population, economy, etc. of the city. That way, we could enjoy the subjective insights of the guide alongside some basic facts.
Nov. 5, 2019
The tour would have perfect if the guide met us in our hotel! The taxi dropped us off on the other side of Osaka castle. This is the big negative for us. Other than that, Yoko was great!!!
Oct. 18, 2019