Tour Details
Tour Description
On this three-hour tour, we will join an art historian to explore the Louvre's special temporary exhibition of the work of perhaps the most celebrated artist in the world: Leonardo da Vinci. Leonardo helped define the style of the Italian Renaissance, one of the most influential artistic movements in history. Organized on the occasion of the 500th anniversary of Leonardo's death, the exhibition—running from October 24, 2019 to February 24, 2020—presents an unprecedented collection of the artist's works, bringing together almost all of the nearly twenty paintings now attributed to him, as well as many of his drawings and sketchbooks.
For other options to discover the Louvre, check out our
Louvre for Kids Tour
or our
Evening Louvre Tour
.
Sites Visited
Leonardo da Vinci Exhibit at the Louvre
Included
3 hours with a PhD or MA level guide
Fast-track access for the da Vinci Louvre Exhibit and the permanent Louvre collection
Itinerary Details
Our guide will take us through the Louvre's unprecedented retrospective of Leonardo da Vinci's works in this special exhibit. Though Leonardo was an Italian master, he spent the final years of his life in France. In 1516, he moved to Amboise in the Loire Valley, where he became the "First Painter, Engineer, and Architect" of the French king, Francis I. This helps to explain how nearly a third of the paintings attributed to Leonardo—including the Mona Lisa and the Madonna of the Rocks—ended up at the Louvre. When Leonardo died in May 1519 at the Château du Clos Lucé, these works passed directly into the French royal collections. The Louvre is thus a fitting setting for this blockbuster retrospective exhibition, which provides a comprehensive vision of Leonardo's life and works.
Our tour wouldn't be complete without one of the most recognizable pieces of Leonardo da Vinci— the Mona Lisa. We will end our journey with a trip to the Salle des Etats, where La Gioconda or La Joconde has her permanent home. A quintessential example of Renaissance ideals—realism, secularism, and individualism—the Mona Lisa remains one of unsolved mysteries of all time.
Throughout the whole tour, we will delve into Leonardo da Vinci's genius and discuss his art techniques, innovations, and lasting legacy.
Customize this Tour
Our Leonardo da Vinci Tour will focus on the temporary exhibition dedicated to the work of the artist. We might also include a selection of works from the permanent collection.

If you'd like to extend and customize your tour to include more works from the permanent collection of the Louvre please contact us to discuss the details. Whether you already have something in mind or would like to craft something entirely new, our dedicated planning specialists are on hand to help you develop a tour that will be just right for you. Context planners, all travelers in their own right and experts in their dedicated territory, will partner with you to create an itinerary suited exactly to your needs and schedule.


FAQ
What is a private tour?
Our private tours are limited exclusively to travelers in your party. They are designed to provide a learning experience that is completely tailored to you and your traveling companions. Private tours give you more flexibility with scheduling (you decide when the walk best fits in your trip), the ability to tailor your itinerary (we'll work to match the itinerary to the interests and dynamics of your group), and more personalized time with your guide.
There are 6 in my family but your website won't allow me to include more than 5 participants. Can't you make an exception?
For this exhibition, the Louvre requires special reservations for groups larger than 5 persons. Please contact us for information on pricing and availability. Note, availability is limited for large groups due to the high demand. Please book far in advance and we will do our best to secure a group reservation.

Where do we meet? Where does the tour end?
Generally speaking, the walk begins at a café near the Louvre. Your confirmation email will have the exact meeting point details along with a map and 24-hour phone number for any last-minute issues. The walk ends inside the Louvre near the Salle des Etats where the Mona Lisa is displayed. You are free to stay on after the tour is over and continue exploring the museum's collection.


When is the best time to visit the Louvre?
The ideal time to visit the Louvre is on Wednesday and Friday evenings when the museum is open until 9:45 pm, as there are fewer visitors. Note, not all rooms are open every day of the week, so if you are looking to book one of our more specialized tours and it's not available on Wednesday or Friday evenings, it's because those rooms are closed.
Will you pre-purchase tickets?
We pre-purchase dated and timed Louvre tickets for all visitors, which give access to the museum within half an hour of the time shown on the ticket. There is a security check through which all visitors to the museum are required to pass, and there is sometimes a line for this. Because we have advance tickets, we have access to a special ticket holder security line, which is very short. These tickets will only allow you to enter the museum once. Any exit is final. Your guide will have the tickets with him/her on the day of the tour. Unfortunately, we will not be able to refund your Louvre tickets if you have Museum Passes. The tickets are mandatory for all participants no matter the age.
Louvre tickets description:
Fast-track access to the Louvre
Tickets are dated, timed and named
Enter via a special entrance, using the line for ticket holders with a timeslot
Admission within 30 minutes before and after the timeslot received
If you leave the museum, you will not be allowed back in with the same ticket
Ticket holders may be asked to present a valid photo ID. Without it, access to the museum could be refused
Is the Louvre wheelchair accessible?
The Louvre is wheelchair accessible and you can request a temporary wheelchair loan from the information desk. You can print a wheelchair accessibility guide from the site. We are happy to custom design visits to the Louvre for visitors with mobility concerns.
Is this tour appropriate for children?
Yes. We can adapt the content of our Leonardo da Vinci Tour to the needs of your family and assign scholars specially trained in working with children.
Where You'll Start
Tour Experts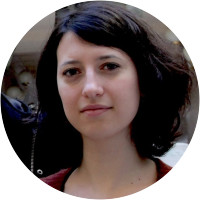 Marie
The daughter of a sculptor, Marie has been surrounded by art ever since she was born. A native Parisienne, she holds an undergraduate degree in history and art history, with a specialty in iconography and French and Flemish paintings from the 16th to the 18th centuries. She also holds a Master's degree in museology from the Ecole du Louvre and one in Art History from the Sorbonne. She currently works for the French National Art History Institute on special cultural events. Since she loves literature, ballet, theatre, opera, jazz clubs, and classical concerts—she has been playing the piano since she was 9—Paris and its artistic life are a perfect fit.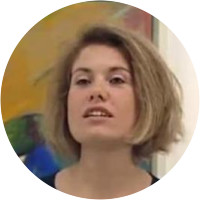 Laure-Caroline
A native Parisian, Laure-Caroline completed her Ph.D. at the Sorbonne, with a focus on Paul Cezanne and other impressionists. She has published three books on these subjects: Lire la peinture de Cezanne (Larousse 2006), Les oeuvres de l'Impressionnisme (Larousse 2007), and l'Art Abstrait (Larousse, 2010), in addition to contributing to various French publications on art history. She currently teaches art history at the Sorbonne University, the University of Connecticut study abroad program and also fine arts at the Ecole de Communication Visuelle. Laure-Caroline is extremely passionate about art and art history and tries to convey this passion to the people she teaches.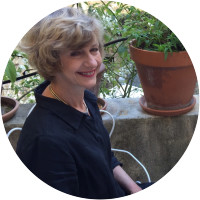 Marie Theres
Marie Theres is a painter who has made Paris her home for more than two decades. She works in her studio in Montmartre and shows her paintings in galleries in Europe and the United States. She studied history at the University of Cologne, Germany and painting at the Pennsylvania Academy of Fine Arts in Philadelphia before coming to Paris to study art history at the Ecole de Louvre. Her knowledge of art history is enhanced by her practical painting experience. Beyond a purely academic approach, this enables her to convey the emotional dimension of the artwork and to focus attention on the act of creation. She loves to share her passion for art and painting and is fascinated by the 19th-century artistic heritage of Paris, its art movements, and urbanism.
Reviews can only be left by Context customers after they have completed a tour. For more information about our reviews, please see our FAQ.
Iveta was great, friendly, inquisitive about our knowledge of art, our interests in art as a means of how to offer her tour information. She was forthcoming about art piece that may have been expected and that would not be available to see. She offered this information very early in the tour to adjust expectations, this was great. Her pacing of us during and through the exhibition was excellent.
Jan. 21, 2020
Laurent is a very, very nice person and really knew about Da Vinci and explained it so well. I don't know how anyone can view an exhibit like that without the help of someone like Laurent.
Jan. 16, 2020
Professional, Substantive, Knowledgable, Articulate, Fun. Whole process was easy and dependable. 10 out of 10!
Jan. 16, 2020