Tour Details
Tour Description
This private 2.5-hour Louvre for Kids Tour, led by a specially trained family-friendly art historian, provides an interactive learning experience for children exploring the Louvre Museum's many famous works of art. Innovative and engaging, this tour is tailored to the children's interest to encourage curiosity and abstract thinking and change the way they experience museums.
Sites Visited
Included
2.5 hours with a family-friendly Ph.D. or MA-level guide
Fast-track access into the museum
Itinerary Details
Accompanied by an expert in art history, we'll begin at the beginning—the building itself. We'll discuss its origins as a fortress to its role as a palace of the French Kings and Queens and share the stories surrounding the building. Then, we might journey off to ancient Egypt to investigate the pharaonic legends told through their hieroglyphs. We'll certainly venture to ancient Greece, perhaps first through the elusive Winged Victory of Samothrace or the famous Venus de Milo, asking questions like, Why doesn't she have arms? What else can we learn from her pose? Next, we'll travel through the painting wings, where we might see the curious smile of the heroine Mona Lisa or get into the nitty-gritty of the Romantic or Neoclassical movements in French and Italian painting.
At each stop, our expert guide, trained in visual thinking strategies, will keep the young adventurers interested with inquisitive questions and activities to bring the artwork to life, while also engaging parents in the learning process. Our finale will be an introduction to Leonardo Da Vinci's Mona Lisa. By the end of the tour, your family will not only have discovered fascinating characters and stories behind the masterworks in the Louvre's extensive collection but also have acquired a grasp of the evolution of art history.
Interested in a different kids tour in Paris? Check out our
Notre Dame Tour for Kids
or
Musée d'Orsay Tour for Kids
.
Customize this Tour
Whether you already have something in mind or would like to craft something entirely new, our dedicated planning specialists are on hand to help you develop a tour that will be just right for you. We can arrange private visits with a precise focus:
Louvre Antiquities Tour
Louvre Dutch and Flemish Tour
Louvre French Masters Tour
Louvre Architecture Tour
Louvre Italian Masters Tour
Context planners, all travelers in their own right and experts in their dedicated territory, will partner with you to create an itinerary suited exactly to your needs and schedule.
Please contact us to discuss options and pricing.
FAQ
What is a private tour?
Our private tours are limited exclusively to travelers in your party. They are designed to provide a learning experience that is completely tailored to you and your traveling companions. Private tours give you more flexibility with scheduling (you decide when the walk best fits in your trip), the ability to tailor your itinerary (we'll work to match the itinerary to the interests and dynamics of your group), and more personalized time with your guide.

Where do we meet? Where does the tour end?
Generally speaking, the walk begins at a café near the Louvre. Your confirmation email will have the exact meeting point details along with a map and 24-hour phone number for any last-minute issues. The walk ends inside the Louvre, and you are free to stay on after the tour is over and continue exploring the museum's collection.


There are 7 in my family but your website won't allow me to include more than 6 participants. Can't you make an exception?
Unfortunately, no. The group size restriction is imposed by the museum. Please contact us to work out an alternative solution.
Will you pre-purchase tickets?
We pre-purchase dated and timed Louvre tickets for all visitors, which give access to the museum within half an hour of the time shown on the ticket. If you have one of our pre-purchased tickets, you will not be required to wait in any ticket line. There is a security check through which all visitors to the museum are required to pass, and there is sometimes a line for this. Because we have advance tickets, we have access to a special ticket holder security line, which is very short. Your guide will have the tickets with him/her on the day of the tour. Unfortunately, we will not be able to refund your Louvre tickets if you have Museum Passes. The tickets are mandatory.
Louvre tickets description:
Fast-track access to the Louvre
Tickets are dated, timed and named
Enter via a special entrance, using the line for ticket holders with a timeslot
Admission within 30 minutes before and after the timeslot received
If you leave the museum, you won't be allowed back in with the same ticket
Ticket holders may be asked to present a valid photo ID. Without it, access to the museum could be refused
Are strollers allowed in the Louvre?
Strollers are allowed in the museum. You can bring your own or request a temporary stroller from the information desk. There are elevators throughout the museum as well to facilitate your visit. You can find more information on the Louvre website.
Where You'll Start
Tour Experts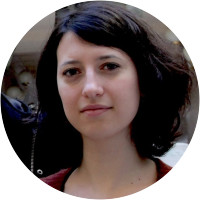 Marie
The daughter of a sculptor, Marie has been surrounded by art ever since she was born. A native Parisienne, she holds an undergraduate degree in history and art history, with a specialty in iconography and French and Flemish paintings from the 16th to the 18th centuries. She also holds a Master's degree in museology from the Ecole du Louvre and one in Art History from the Sorbonne. She currently works for the French National Art History Institute on special cultural events. Since she loves literature, ballet, theatre, opera, jazz clubs, and classical concerts—she has been playing the piano since she was 9—Paris and its artistic life are a perfect fit.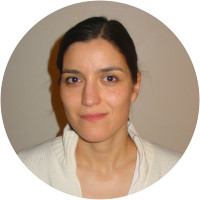 Iveta
Iveta is Senior Lecturer at the American University of Paris (AUP). She was born in Sofia, Bulgaria to a family of French culture lovers, and always dreamed of living in Paris where she came to study art history in 1999. In 2006 she defended a PhD at the Sorbonne treating the European avant-garde around World War I. She has published many articles and is preparing a book to be published in the Fall 2017, an adapted version of her PhD. A passionate museum goer and city stroller, she likes sharing the more or less known charms and secrets of Parisian museums and neighbourhoods where she has guided many students and visitors.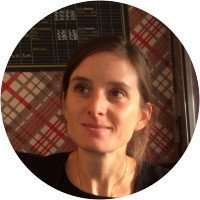 Caroline
Caroline is an adoptive flâneuse and has been wandering Paris' narrow streets and leafy boulevards since 2003. She holds an undergraduate degree in French and Art History with a specialty in 19th-century art and literature, and pursued graduate studies in Art History at Paris IV La Sorbonne, writing a thesis on popular imagery and caricature in Revolutionary and Napoleonic Paris. Her research was published in the journal European Comic Art. She also writes exhibition reviews and features. Her writing has been published in Apollo Magazine, the TLS, Condé Nast Traveler and WSJ Magazine.
Reviews can only be left by Context customers after they have completed a tour. For more information about our reviews, please see our FAQ.
Marine was great. Engaging, great information, and very well informed. The kids loved it!
Jan. 6, 2020
Kotryna was a wonderful guide! She engaged our 7 year old son for 3 hours while providing an excellent overview of history and art from Egypt through the Renaissance. We would certainly tour with her again and strongly recommend to any other family looking for an engaging and educational tour!
Dec. 29, 2019
Camilla was nice, and perhaps for French or Italian-speaking adults she would have been great. But for English-speaking kids - the entire point of paying for this private family tour - she was not good at all. The tour was incredibly slow. It was as though she was contemplating every step of the way what she would take us to next instead of having at least some edited plan thought through. It was as though she had left it all up to chance. She was not good at engaging the kids (ie she brought passports, but never used them once. And she didn't think to get a map of the museum so that we could reference our orientation as we went.). My kids often knew more information about some of the pieces she showed, and it was as if we were giving ourselves our own tour. She lingered unnecessarily at pieces, or talked on, redundantly, at others. What could easily have taken one hour took two. In fact twice I became so impatient that I was the one to move us on. And her english was not strong enough for kids. She was grasping for words, which added to the time it took to get a description for each piece she showed, and her word choice required clarification from us. Again, she was sweet. I'm sure a very nice person. But for what we paid, and what we expected... I can say that given our experience with two amazing guides in Italy, I had no reservation about paying for the two tours we booked in Paris. Now I'm holding my breath about the revolutionary tour we booked for Tuesday, and I really feel today's Louvre tour unnecessarily took from our budget. I'm sorry to be so harsh, but it's true. We could have done just as good, or better, on our own.
Dec. 27, 2019
Introduce your kids to the Louvre with Context
Get to know one of the art historians leading this tour