Tour Details
Tour Description
During this three-hour Montmartre walking tour we will look at the traditions, lifestyle, and bohemian character of this storied neighborhood over the centuries. Situated on a hill above Paris' Right Bank, Montmartre has always stood apart from the rest of the city, known for the artists, writers, and bohemians who transformed a sleepy district into one of the most important centers for art and radical thought in the world. Accompanied by a local historian, we'll steep ourselves in the history and culture of this illustrious quartier.
We'll begin near the Abbesses metro, one of Montmartre's most central points, where we'll learn about the area's religious background and its importance in the history of Christianity. Climbing the butte to the Moulin de la Galette, we'll reflect on how Paris' rapid urban growth in the 19th century pushed the city's boundaries until it pressed into the sleepy villages on its outskirts. By the time the 20th century arrived, convivial venues like the Moulin de la Galette sprang up in droves, making Paris famous for its nightlife. Immortalized by artists like Toulouse-Lautrec, Van Gogh, and Renoir, the Moulin de la Galette was once home to the down-and-out bohemians that lived here, giving it its radical reputation and making Montmartre the perfect place to contemplate the modern revolution taking place in art and society at the turn of the 20th century. (For a deeper look at Impressionist and Post-Impressionist artists in Paris check out our
Musee d'Orsay Tour
.)
Continuing to the top of the hill, we'll stop at Sacré Coeur, the basilica that has since become the symbol of the quartier. With its Romano-Byzantine features, Sacré Cœur stands in sharp contrast to the Gothic architecture explored on our
Notre Dame tour
or at Saint Eustache, both visible from its belvedere. Now a gathering point for street musicians, the steps of Sacré Coeur are an excellent place to see the contrast between Montmartre's bohemian atmosphere and its religious history. Throughout our walk, we'll strive to put Montmartre into an urban and social context, painting a vivid portrait of the key figures who have made the dynamic neighborhood their home, causing a shift from provincial town, to religious epicenter, to bohemian paradise, and have in turn been inspired by its unique atmosphere.
FAQ
What is a private tour?
Our private tours are limited exclusively to travelers in your party. They are designed to provide a learning experience that is completely tailored to you and your traveling companions. Private tours give you more flexibility with scheduling (you decide when the walk best fits in your trip), the ability to tailor your itinerary (we'll work to match the itinerary to the interests and dynamics of your group), and more personalized time with your guide.


What is a small group tour?
Our small group tours cover many of the same itineraries as our private tours, but they place you with other travelers in groups of 6 or less. They operate on a pre-scheduled calendar, and are designed to provide an opportunity to engage with and learn from other travelers. Most of our small group tours require at least three (3) participants to run, although there is some variation from walk to walk. However, there is some variation from walk to walk. As you sign up for a tentative walk we display the minimum number required in order to confirm.
Is this tour walking-intensive, and/or wheelchair accessible?
While we don't cover a large distance on the tour, Montmartre is a veritable hill, and we will be walking up stairs and inclines, as well as on cobblestoned streets. If you have mobility concerns, please feel free to contact us before booking; we can help you decide if our group walk or a private walk, with a modified route, will be best.
Will I get to see the Sacré Coeur basilica?
We will spend time at Sacré Coeur discussing its contribution to the neighborhood's overall narrative. Some guides do enter the cathedral; others don't. We often end nearby so that you can do a more in-depth visit on your own after the tour.
Where do we meet? Where does it end?
The walk begins and ends in the Montmartre neighborhood in the 18th arrondissement. Your confirmation email will have the exact meeting point details along with a map, and 24/7 phone number.
What if it's raining?
Tours operate rain or shine, but in the case of inclement weather, your guide will modify the tour so more time is spent indoors. It never hurts to have an umbrella on hand.
Is this tour good for kids and teens?
Yes! We have some excellent family friendly guides who can appeal to the learning styles of children. We have a separate walk called
Montmartre for Families
just for families with children 12 and under. When booking, please provide us with information about your children such as favorite school subjects, and hobbies. This way we can match you with the best possible guide.
Where You'll Start
Tour Experts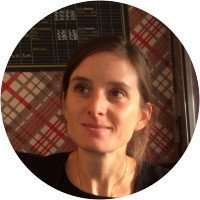 Caroline is an adoptive flâneuse and has been wandering Paris' narrow streets and leafy boulevards since 2003. She holds an undergraduate degree in French and Art History with a specialty in 19th-century art and literature, and pursued graduate studies in Art History at Paris IV La Sorbonne, writing a thesis on popular imagery and caricature in Revolutionary and Napoleonic Paris. Her research was published in the journal European Comic Art. She also writes exhibition reviews and features. Her writing has been published in Apollo Magazine, the TLS, Condé Nast Traveler and WSJ Magazine.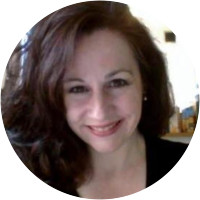 Rebecca has been a lifelong Francophile. Receiving her Bachelor's degree in 1991 in French and international relations, she has worked in French language environments since her career began. She received her Master's degree from the Professional French Masters Program at the University of Wisconsin-Madison in 2008. A resident of Paris since 2003, she has lead walking tours in Paris and other parts of France for the past eight years. In addition to her specialty of Montmartre, she provides custom walks on various historical and cultural themes.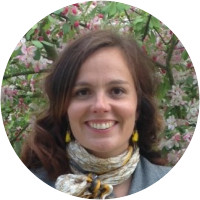 After traveling around Australia and America, Marie decided upon return to her home country of France that she wanted to share the richness of French history and culture with others. She now has a degree in cultural heritage from ESTHUA in Angers, France and has also received her French National guiding license. Marie perfected her guiding skills in the Loire Valley of France, specializing in the cultural history of the Châteaux at Blois, Amboise, and Cheverny. She later worked in Normandy, leading walks of the WWII landing beaches and the UNESCO world heritage site of Mont St. Michel. Marie has recently relocated to the city of light and looks forward to sharing her enthusiasm and passion for the "open history book" that is Paris with travelers.
Reviews can only be left by Context customers after they have completed a tour. For more information about our reviews, please see our FAQ.
Lily was very warm, knew this neighborhood well, and showed us all the hidden jewels of Montmartre. I found her to be especially organized, and her iPad images giving us glimpses to the past, and that was the perfect bridge between the times. Well done!
Jul. 4, 2022
We loved the Montmartre neighborhood and Lily was flexible in leading our group throughout the area showing and telling about the highlights
Jun. 28, 2022
Hi there Our Monmartre tour with Rebecca was awesome. The three of us really enjoyed it. Rebecca was very knowledgeable and professional but so friendly and fun to be with. We will recommend Context tours to any of our friends. Thanks so much.
Jun. 22, 2022