Tour Details
Tour Description
This 2.5-hour tour, led by either a professional chef or food writer, will explain how Paris came to be the center of the chocolate world and why that matters. As we visit chocolate shops, we'll learn the history behind this delicacy. The stops along this chocolate walk will vary depending on our culinary expert's personal favorite places to indulge.

Truffles, pralines, ganache...What's the difference? Our walk, beginning in Saint-Germain-des-Prés, will answer these questions and more, delving into the sweet world of chocolate in Paris, which is home to some of the world's best chocolate makers. We'll indulge our sweet tooth at several chocolate shops, and maybe even stop to admire the whimsically detailed chocolate sculptures at a classic chocolaterie. As we taste their wares, we'll discuss the process behind the transformation from cocoa bean to the various chocolate delicacies sold in shops today, and maybe touch on chocolate's transformation from luxury good to affordable treat.

Next, we'll go on to discuss the rich dessert history associated with Paris and, more importantly, the evolution of the celebrated Parisian treat, the macaron. Stopping at a variety of these confectionery shops, we will compare and contrast the flavors, products, and techniques used. We may visit a top boutique to sample their flavorful take on the macaron, or try a colorful array at a family-owned boulangerie. From marvelous meringue and tartes to rich pure chocolate, this walk will tantalize every one of our senses. This edible adventure through an upscale and iconic Left Bank neighborhood will enhance your appreciation for this sweet treat, as well as open your eyes to the complex science involved in the chocolate-making process. Our guide will also be available to facilitate transactions and individual purchases for guests.


Note: Please indicate any food allergies or intolerances in the Notes box when booking.
Customize this Tour
Whether you already have something in mind or would like to craft something entirely new, our dedicated planning specialists are on hand to help you develop a tour that will be just right for you. Context planners, all travelers in their own right and experts in their dedicated territory, will partner with you to create an itinerary suited exactly to your needs and schedule.


FAQ
What is a private tour?
Our private tours are limited exclusively to travelers in your party. They are designed to provide a learning experience that is completely tailored to you and your traveling companions. Private tours give you more flexibility with scheduling (you decide when the walk best fits in your trip), the ability to tailor your itinerary (we'll work to match the itinerary to the interests and dynamics of your group), and more personalized time with your guide.


What is a small group tour?
Our small group tours cover many of the same itineraries as our private tours, but they place you with other travelers in groups of 6 or less. They operate on a pre-scheduled calendar, and are designed to provide an opportunity to engage with and learn from other travelers. Most of our small group tours require at least three (3) participants to run, although there is some variation from walk to walk. However, there is some variation from walk to walk. As you sign up for a tentative walk we display the minimum number required in order to confirm.

I have some allergies. Will I still be able to participate in the tastings?
We will do our best to accommodate you! Please let us know about any allergies or intolerances in the notes section when placing your booking.

Is this tour wheelchair accessible?
Some of the shops we visit are small and many will have a step up to access them. The general route may include small streets with narrow sidewalks; please contact us if you have any questions regarding accessibility. We are also happy to design a private, customized tour for visitors with mobility concerns.

Where do we meet? Where does it end?
The walk begins near the Église St-Germain-des-Prés in the 6th arrondissement on the Left Bank, and stays in a concentrated area in the neighborhood. Your confirmation email will have the exact meeting point details along with a map, and 24/7 phone number.

What if it's raining?
Tours operate rain or shine, but in the case of inclement weather, your guide will modify the tour so more time is spent indoors. It never hurts to have an umbrella on hand.

Is this tour good for kids?
Yes! We have some excellent family friendly guides who can appeal to the learning styles of children. Please book privately if you have children under 13. Feel free to provide us with information about your children such as favorite school subjects, and hobbies. This way we can match you with the best possible guide.
Where You'll Start
Tour Experts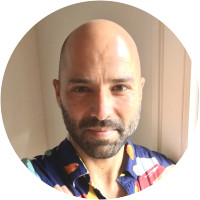 Andrés has spent more than 12 years in Paris honing his culinary skills & knowledge. Starting in 2008 at the famous FERRANDI, L'école de cuisine et hôtelière, he learned the hard way the fine art of pastry & cuisine, apprenticing in noted Michelin-starred restaurants. Inspired by French cuisine, he then had the opportunity to study alongside European champion chef Olivier Boudot to discover secrets of French bread-making at the international Cordon Bleu school. Discovering a more epicurean penchant, he then left to study for the globally recognized Wine & Spirit Education trust (WSET) level 4 qualification, the French Wine Scholar and the Champagne Master Level program with the highest honors at the French Scholar Guild. Now, armed with both the skills of a Sommelier & culinary nous, he is bringing the disciplines together as a food & wine editor, leading bespoke, fun, relaxed, 'under the skin of the city' tours around Paris' independent delicatessens & vintners and co-founded his secret cellar cheese & wine experience www.wetasteparis.com Join him in sharing his passion for the traditions, methods & history of arguably the finest cuisine and wine in the world.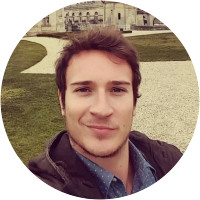 Eric is a young entrepreneur with a passion for travels and discovery. Originally from Orléans in the Loire valley, where he first studied Geography and City Planning, Eric then moved to Paris to study at Sorbonne University where he graduated with a Bachelor's degree in Econometrics. He then got the opportunity to expatriate to Philadelphia to study at UPenn within the framework of a joint degree in Business and Law with Sciences Po, Paris. Recently, he moved back from the USA after two years, and now enjoys rediscovering Paris. You will often see him randomly wandering around the city or strolling museums and other monuments. For instance, he recently went back on top of the Eiffel tower for the first time in 14 years! Spontaneous, he's constantly exploring, and loves to discover lesser known areas and spot out new nice walks, unexpected buildings or quaint views.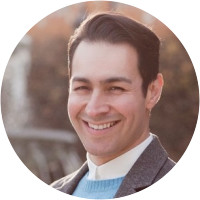 Frank earned his B.A. in Art History from U.C. Berkeley in 2008. His interest in art education led him to work in various museums in California including the deYoung Museum of San Francisco. After moving to Paris in 2012 he started a small cake pop-up project called, Cake Boy Paris, providing American style cakes to a few select cafes throughout the city. His passion for pastry makes him an ideal guide to share the sweet side of the City of Light.
Reviews can only be left by Context customers after they have completed a tour. For more information about our reviews, please see our FAQ.
You did EVERYTHING right. First of all, Laurie was an absolute TREASURE. We loved her - she was so warm and knowledeable. We love the stores she selected, and the experiences in each of the stores. The service was simply fantastic and we learned so much. The area in which we walked was perfect and the amount of walking was also just right. We loved it and will recommend it as well as taking another Context tour in the future.
Aug. 19, 2019
The tour was absolutely wonderful and Frank was a marvelous guide. I believed we went to all the shops intended. The tour did, however, run quite a bit less than the allotted 2.5 hours.
Aug. 12, 2019
What a fantastic outing! Laurie was amazing and so engaging and fun to spend a few hours with — she was knowledgeable and explained a lot of history in a way that all from our 9-15 year old kids could understand and enjoy! The ease of going in/out of shops was super enjoyable and we all had a great day out! Thank you!
Jul. 31, 2019