Tour Details
About the Tour
Duration

8 hours - Full-Day
Tour Description
Meet Marie, your Paris private guide to the art and history of the city of light.


A native Parisienne, Marie developed her love of art and history early on with the entirety of her childhood and teenage years spent living in a museum. While her father is a sculptor, she has chosen to dedicate her artistic talents to music and her career to art history. Having studied at the University of Dijon, the École du Louvre and the Sorbonne, Marie holds three Master's degrees in French history, museology, and art history. Her academic work focused primarily on the iconography of European art from the 15th through 18th centuries, with dissertations on the renovation and new scenography of the Musée du Petit Palais, and the iconography of the Crucifix aux Anges by Charles Le Brun. Marie's ability to read the subject and context that surrounds the creation of a work of art allows her to fluidly mix history, literature, philosophy, and art to illuminate the time and place from which the piece emerged.


A client favorite, Marie has been working with Context since the company launched its programs in Paris in 2005. Her vast cultural knowledge makes her versatile, but she particularly enjoys going in-depth at the Louvre and Versailles, deciphering the iconography secrets of each. From the French Revolution to Nazi occupation, luminous gothic stain glass windows to aristocratic architecture in the Marais, art nouveau to art déco masterpieces, Marie brings to life the smallest details and monumental sites of Paris, imparting a deep understanding of the history and culture of this most fascinating city. Having quite a sweet tooth, she won't mind making a tiny detour to show you her favorite chocolatier in Paris.


Marie is a family expert and a great hit with children. She enjoys exploring Paris with travelers of all ages. Marie has been asked to share her expertise in numerous television documentaries on Paris, co-curated an exhibition at the Louvre Museum on 16th century Parma drawings, taught an art history class on American photography at the University of Paris-8, and worked for 8 years at the French Institute of Art History (INHA). Since 2017, she has been living her dream life, traveling around the world, trekking the Himalayas or the Andes, learning new skills such as Thai massage, meditation, Argentinian tango, Indian drums, and Spanish, and discovering iconography secrets outside of European cultures. When in Paris, she enjoys martial arts, jamming with friends (piano, guitar, and voice), salsa dancing, and the amazing cultural life that the city has to offer.


Languages: French, English, German, Spanish


An Inspired Itinerary - Paris Through the Ages
Join Marie on her favorite route through Paris on this full-day exploration of history, art, and French culture, and of course, a stop for lunch in one of her favorite local spots!
Start the day at the origins of Paris, or Lutetia Parisiorum, at the Roman baths that show the reach of the Roman Empire and help tell the foundation story of the capital city of France. Located in the heart of the Latin Quarter, this important archeological site sets the stage for a full-day chronological exploration of the City of Light.

As we move from ancient history to the Medieval era, we will trace history through important cultural and architectural sites, stopping to admire the Gothic church of Saint Severin, one of the oldest on Paris' Left Bank, on our way to see the Ile de la Cite and the magnificent Notre Dame Cathedral and Sainte-Chappelle. The leafy Place Dauphine gives us a moment to pause and discuss 17th-century architecture and urban design and the role of the aristocracy in the development of the city we see today.

After lunch, we will spend the afternoon on a deep-dive into the incredible collection of the Louvre Museum. A highlight to any visit to Paris, a tour of this monumental collection with Marie as our guide will help us pick out the most important works to view but also will teach us how this collection came to be assembled and how its layers fit together into the larger history of western art.
FAQ
What is included in the itinerary?
Paris Private Guide itineraries include the cost of your time with your private guide and usually include museum or monument entrance tickets. Lunch and refreshments are at your expense. Accommodation is not included.

There are 7 in my family, can we take this tour?
Our Louvre tours are capped at 6 due to venue reservation restrictions, this also helps your tour experience in order to best navigate the museum and crowds. Should you have a larger group, we suggest splitting into multiple groups.
Is this suitable for children and/or travelers with mobility challenges?
Yes. We can adapt the itinerary based on the ages, needs, and interests of travelers in your party.
Where You'll Start
Tour Experts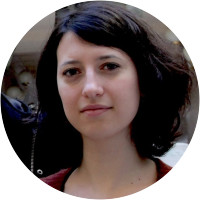 The daughter of a sculptor, Marie has been surrounded by art ever since she was born. A native Parisienne, she holds an undergraduate degree in history and art history, with a specialty in iconography and French and Flemish paintings from the 16th to the 18th centuries. She also holds a Master's degree in museology from the Ecole du Louvre and one in Art History from the Sorbonne. She currently works for the French National Art History Institute on special cultural events. Since she loves literature, ballet, theatre, opera, jazz clubs, and classical concerts—she has been playing the piano since she was 9—Paris and its artistic life are a perfect fit.
Reviews can only be left by Context customers after they have completed a tour. For more information about our reviews, please see our FAQ.
Marie was amazing! She made our day so special. She is so kind & fiercely brilliant. 100/10 recommendation!!!
May. 25, 2023
Marie is fantastic. Her knowledge is incredible. The day just flew by.
May. 5, 2023
Marie is one of the most informed, thoroughly knowledgeable guides I have ever experienced. Her knowledge seems limitless, and no question we asked was a problem. To the contrary, when you do ask a question, the amount of background and historical information that seems at her fingertips speaks to how much study she has and how thoroughly she retains it all in the context of countries, and monarchies. Everything seems to flow very naturally. My wife and I were 'blown away' by the contrast with other guides we have experienced. Well done!!! I would suggest that the meeting point be more currently described, because ours was under restoration and without any markings, or name… a bit anxiety producing. As of today… 2 Rue Danton…no longer actually exists!!
Jan. 2, 2023
Paris with Marie
Get to know Marie, Paris art historian