Tour Details
Tour Description
Just outside Paris, the palace of Versailles and its surrounding gardens offer a magical world of historical discovery. Covering almost 1,000 acres, the vast grounds include perfectly landscaped jardins à la française, whimsical fountains, colossal statues, and hidden groves, perfect for young royals to play hide-and-go-seek. Our four-hour Versailles Palace Tour for Kids, led by a family-friendly scholar, explores the many wonders of the château and its world-famous gardens, tying both into the story of their grandiose creator, King Louis XIV of France.
Sites Visited
Versailles Palace
Versailles Gardens
Included
4 hours with a family-friendly historian
Skip-the-line entry tickets into Versailles Palace and grounds
Itinerary Details
Our adventure begins on the short train journey from Paris to the royal estate, during which we will learn about the Sun King. Though we will focus on the estate Louis designed as an adult, by beginning with his childhood we can get a better look at the factors that shaped his future identity as King of France. Louis XIV became King at the very young age of five, in 1638. What's it like to be King before you're ten? Do you have to listen to the adults?
Together, we'll begin with the palace grounds, and learn about the carefully kept fountains, statues, and plants. We'll learn how head landscaper André Le Nôtre designed the gardens to reflect Louis XIV's famous Sun King myth. Then, we'll go into "explorer mode," tracking down the secrets of the gardens and taking in the beauty of Le Nôtre's landscaping. On our journey through the gardens, our guide will introduce interactive games geared towards bringing the history of Versailles to life.
Finally, we'll make our way to the interior of the palace, imagining how this immense 2,300 room structure could once have been a small countryside residence. While exploring the eternal halls and sumptuous apartments, we'll picture life within the château, the fashions, the opulent balls, and the passion for art and music.
As our visit together comes to a close, we will leave with an understanding of the role Versailles played in maintaining the Sun King's persona. Additionally, we will know the stories behind various sculptures and landscaping in his manicured gardens. With our adventure at its end, we'll return to Paris or wander through the rest of the grounds with our family, stories of kings and queens floating through our heads.


FAQ
What is a private tour?
Our private tours are limited exclusively to travelers in your party. They are designed to provide a learning experience that is completely tailored to you and your traveling companions. Private tours give you more flexibility with scheduling (you decide when the walk best fits in your trip), the ability to tailor your itinerary (we'll work to match the itinerary to the interests and dynamics of your group), and more personalized time with your guide. We also include a hotel pick-up on our private tours.
Where does the tour start? Where does it end?
The tour meets in Paris either at your hotel or at a fixed meeting point. Your confirmation will have the exact meeting point location and details. Unless you've booked a car transfer back to Paris with us, the tour will end in Versailles. You can return to Paris at your leisure by train or taxi.
Will the fountains be turned on?
Fountain shows are scheduled on Saturdays and Sundays, April 1-October 31. There are also fountain shows on certain Tuesdays during this period. On all other Tuesdays and Fridays, April-October, there is music in the gardens, but no fountain show. On Wednesdays and Thursdays, April-October, there is no music or fountain show. In the winter months, there is no music or fountain shows on any day.
Can we take a car instead of the train?
For private tours starting in Paris, yes. Please contact us for pricing. The guide and driver will meet you at your hotel.


Is this tour wheelchair accessible?
This tour is designed to use public transportation to travel to and from Versailles, and unfortunately not all of the RER stops are wheelchair accessible. Please contact us to discuss in more detail your mobility concerns so that we can best advise. We are also happy to design a private, customized tour using car service for visitors with mobility concerns.

There are 9 in my family but your website won't allow me to include more than 8 participants. Can't you make an exception?
Contact us about the possibility of doing a larger group!
Where You'll Start
Tour Experts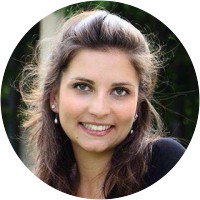 Jessica is an art lover. Interested in Art History since high school, she decided to study Art History at the Paris West University and later followed courses at a specialized school in art to become an Art Dealer. With an Art Expert degree, it was not enough to give a price to the priceless, so she decided to move to New York and study English at the New York University. After a few fantastic years spent on the other side of the Atlantic, meeting people from all over the world, discovering the amazing city of New York and travelling around the USA, she came back to Paris and obtained a Master's degree in Art History at the Paris West University. Jessica specialized in art of 17th century with a focus on art during the reign of Louis the XIVth. She is today a licensed tour guide. Becoming a tour guide was a way for her to combine her love for art and her love for meeting new people from all over the world.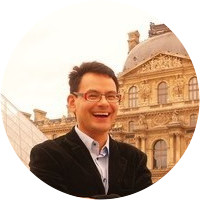 Dony holds an MA in Communication and Culture from the University of Sao Paulo, Brazil and a Ph.D in Art History from the University of Granada, Spain. He has lived and traveled extensively throughout Greece and the UK, where he researched Ancient Greek and Roman Art, delving deeply into Aesthetics. He has taught at the University of Faesa, in Brazil. There and in Spain he has enjoyed working as a media journalist, as well as for the radio. He is now based between Rome and Paris and leads Context walks in both cities.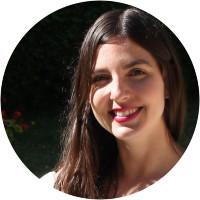 Marine comes from Marseille in the South of France but has been living in Paris for 12 years. A licensed tour guide since 2014, she first studied Art History at the Ecole du Louvre and then History at Nanterre University, from which she was awarded a Master's degree. She also spent a semester in Italy, at the Scuola Normale Superiore di Pisa. In addition to her academic work in history and art history, she has a diploma in enology from the Wine and Spirit Education Trust. Before becoming a tour guide, Marine worked for museums and art foundations. Now, in addition to guiding, she teaches History of Architecture at the Ecole du Louvre. She is passionate about architecture, the history of fashion and street art.
Reviews can only be left by Context customers after they have completed a tour. For more information about our reviews, please see our FAQ.
Sandra was awesome! Very knowledgeable, friendly, and able to connect with each member of our family. Made the tour very enjoyable!
Aug. 25, 2019
When working with kids you have to have a super upbeat dynamic personality and a lot of knowledge
Aug. 21, 2019
The Versailles tour was amazing. It was our first morning in Paris and the kids were still adjusting to the time change, but we all enjoyed the tour so much. Seeing Versailles will amaze anyone, but having Laurent guide us through the grounds and the history is what made it accessible. We loved that he met us in Paris and took the train with us, because by the time we arrived at Versailles we already had a good sense of the history of the place due to our conversation on the way down. Laurent was so accessible, both to the kids and us, and was such a pleasure to tour with. His knowledge of Versailles and its history is unmatched, but his humor and delivery of relevant stories made the day a truly memorable experience. We are so lucky we had Laurent as our guide. Couldn't imagine it being any better than it was.
Aug. 15, 2019