Tour Details
Tour Description
Explore with Context the beauty of Sicily's Mount Etna on a full-day tour. With your expert guide, we will discover the geographic history of Europe's largest active volcano and how it continues to shape the landscape and communities surrounding this imposing wonder. Afterward, we will visit a local winery to taste some of Mount Etna's famous wines that derive their structure from the environment's volcanic soil. Your guide will be an agronomist expert or nature specialist.
Sites Visited
Mount Etna
Local Etna winery
Included
8 hours with a local expert on Etna
Private car to and from Mount Etna
Wine Tastings
Optional donkey ride
Optional picnic basket
Itinerary Detail
Beginning at your accommodation (in Catania or Taormina), your expert in archeology or history will pick you up before heading towards the smoldering Mount Etna, which dominates the entire northeastern region of Sicily. With your expert guide, you will embark on a magnificent walk on the edge of extinct craters in order to understand the geological structure of the volcano and its eruption lifecycle. To understand this (
literally
) in more depth, and equipped with lights, we will descend into a lava cave to explore the mountains formation and historical activity. Returning to your 4X4, we then transcend an ancient lava flow in order to reach one of the most breathtaking views Mt Etna provides: the
Valle del Bove
.
After taking in the breathtaking scenery, you and your expert guide will continue to a well-regarded local winery for an introduction to Etna wines and a much-needed gastronomic break. We'll take some time to discuss Etna wine production whilst tasting its finest bounty. At the end of our tour, we will be dropped off at our accommodation or hotel.
For those interested in a shorter Etna experience, try our
Half Day Etna
tour.
FAQ
What is a private tour?
Our private tours are limited exclusively to travelers in your party. They are designed to provide a learning experience that is completely tailored to you and your traveling companions. Private tours give you more flexibility with scheduling (you decide when the walk best fits in your trip), the ability to tailor your itinerary (we'll work to match the itinerary to the interests and dynamics of your group), and more personalized time with your guide.
Where do we meet? Where does it end?
We meet at your accommodation. Your route may differ according to your guide. Your confirmation email will have the exact meeting point details along with a map, and 24-hour phone number for any last-minute issues.
What if it's raining?
If the weather forecast is such that the hike can't take place in reasonable conditions, we will try to reschedule it.
Where You'll Start
Tour Experts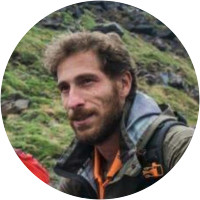 A Taormina native, Guglielmo is a professional guide certified AIGAE (Associazione Italiana Guide Ambientali Escursionistiche). An off-road instructor with a NCC driver license, Guglielmo is also a fine photographer. His passion for photography leads him to continuously explore new facets of Etna and other areas of Sicily, and this feeds his inspiration to explore and share unknown or little-known hikes with travelers.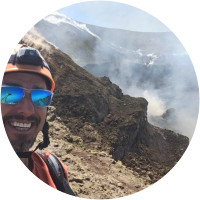 After years spent in France and the United Kingdom, Roberto returned to his native land, Sicily. Passionate about the Etna and its history, and with his adventurous spirit, Roberto leads a great variety of hikes and activities on the Etna, from mild to demanding excursions in the summertime, to skiing, snowboarding and snowshoeing in winter. Roberto also holds an NCC driver's license.