Tour Details
Photos & Highlights
Gain in-depth insight into Venice's history and culture with a comprehensive exploration of its main sites - by foot and by boat
Led by a local scholar specializing in history, art, or architecture
Basilica San Marco, Rialto Market, Doge's Palace, Rialto Neighborhood, and Grand Canal
Tour Description
Enjoy a full-day tour through the magical floating city of Venice. This tour includes a short Venice briefing, St. Mark's Basilica (with skip-the-line tickets), Doge's Palace, Rialto Market, and a local Italian lunch. After lunch you will enjoy the afternoon with a private canal boat tour. Together with a local expert, we'll spend 7 hours discovering the cultural, historical, and aquatic heart of Venice.
Sites Visited
Basilica San Marco (exterior and interior)
Rialto Market (exterior and interior)
Doge's Palace (exterior and interior)
Rialto Neighborhood
Grand Canal by boat
Included
Skip-the-line tickets to St. Mark's Basilica
Doge's Palace
Grand Canal Afternoon Boat Cruise
Itinerary
Your full day exploration of Venice starts in the city's heart with a tour of St. Mark's Square, the political and cultural center of the city. Here you'll learn about Venice's ascension to power, its link with the Eastern empires, and the power of the Doges. You'll continue this discussion as you examine the central Basilica, a powerful symbol of the city's former opulence and power.
From here, you will move inside Doge's Palace, a spectacular architectural masterpiece, and the perfect backdrop to discuss Venice's political history. Continuing your comprehensive tour of Venice, you will visit the Rialto Market, as your expert guide shows you a different side of Venice through its unique gastronomy. Stopping for lunch in the market or at a local restaurant (at your own expense), you will have the opportunity to talk with your guide about anything from what you have seen earlier to modern life.
After lunch, you´ll see the city through what is arguably its main attraction: the waterways. With this, you'll enjoy two hours floating down the charming canals on a private boat, a unique vantage point from which to discuss the city's architecture, design, and ecology.
You'll come away from your full day tour with a deep understanding of all aspects of the city: unique geography, fascinating history, world-class art, breathtaking architecture, and modern local life.
FAQ
For more information
about Context tours, please visit
our FAQs
.
Book with confidence
— see Context's flexible cancellation policy
here
.
Where do we meet? Where does the tour end?
You'll meet your expert guide at Bar Al Todaro. Your tour ends at shore after cruising down the Grand Canal. Your confirmation email will have the exact meeting point details along with a map.
Is this walk suitable for families?

Yes, this tour works well with multi-generational groups. It is a very full day, so please consider your family's interests. We offer shorter tours with kids in mind if you would like to opt for something geared specifically to a younger audience. Please see our
Venice Tour for Kids.
Is this tour wheelchair accessible?
Venice is a city that is built on a series of canals, crossed by bridges. If your group includes a member who uses a wheelchair, please reach out by email and we can discuss mobility options.
What costs will I need to cover on the day?
We will pre-purchase your tickets for St. Mark's, Doge Palace, and the private boat. You will be expected to cover the cost of your lunch and any additional refreshments.
Can I start the tour later?
We have a busy day and venue opening times to consider but we can start this tour as late as 11:30 am most days of the week - later would not be possible.
Can we book Doge's Palace secret itinerary tour?
Please contact us and we can help to arrange this if you are in a group of a minimum of 10 people.

Do you reserve headsets for this tour?
Depending on your group size, we may be required by the venue to order headsets in which case you'll see a "Headset Fee" added to your order. If you would like to guarantee headsets for your tour regardless of your group size, please email us and we'll be happy to get them reserved for you.
Where You'll Start
Tour Experts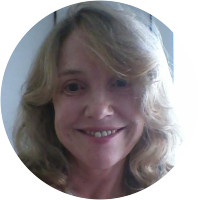 Susan has over ten years of experience teaching the History of Art for prestigious university programs in the UK and Italy. After graduating in the History of Art and Italian in 1998, she took an M.A. concentrating on art and architecture in Venice, and in 2004 she completed her specialization with a Ph.D. on Venetian Renaissance altarpieces. As a post-doctoral researcher with the University of Glasgow and London's National Gallery, she worked as a researcher and editor on the National Inventory of European Painting, the on-line catalog of European paintings in British museums. Susan has also contributed articles to the Burlington Magazine and Artibus et Historiae. Susan met her Venetian husband Paolo in 1997; they have a young son and divide their time between homes in Italy and the UK.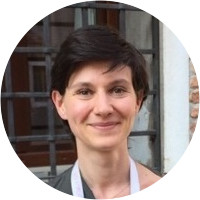 Originally from Genoa, Erika moved to Venice ten years ago to study Oriental languages at Ca' Foscari University, where she graduated with a thesis on Japanese art and architecture. She has a keen interest in the art and history of Venice and worked for some important cultural institutions, such as the Peggy Guggenheim Collection, where she was in charge of special events, and the National Oriental Museum at Ca' Pesaro, where she studied and cataloged part of the collection. Her time at the Guggenheim collection sharpened her knowledge of contemporary art, which she continues to study. She is now a licensed tourist guide for the city of Venice.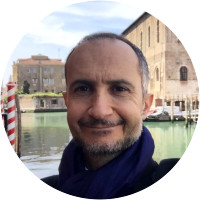 Originally from Venetian mainland, Matteo has lived in different countries, which sparked his interest in art history and archaeology. He holds a B.A. in Cultural Heritage Preservation and an M.A. in Archaeology - specializing in Islamic Archaeology - from the University Ca' Foscari, Venezia. Matteo chose to specialize in Islamic Archaeology, due to his personal passion and curiosity for the Islamic World: this particular interest was developed after several travels and stays in different Middle Eastern countries. He has worked as a freelance archaeologist following projects in different locations of the Veneto Region in Italy and in Cairo, Egypt. Matteo became a qualified tourist guide for the City of Venice in 2009, and he has been collaborating with Context since then.
Reviews can only be left by Context customers after they have completed a tour. For more information about our reviews, please see our FAQ.
Matteo sculpted a perfect day for us in Venice! He kept the attention of everyone in the group from 70+ to 10 years old. It was interesting, a perfect pace, and everything we could have wanted in a day tour of Venice. We would highly recommend.
Jun. 18, 2022
Matteo was outstanding. He was welcoming, informative, and thoughtful. We learned so much, and he kindly catered the pace of the tour to our interests. He ensured our teenage sons were engaged and learning, as well as comfortable during the full day tour. Capping our day with a two hour boat ride through the canals of Venice was a particular pleasure. This tour was a perfect start to our holiday.
Apr. 9, 2022
This is our fourth Context tour in Europe and the company consistently has provided us with guides of highest caliber. Our tour guide today, Matteo, was extremely knowledgeable and explained to us the history of Venice in a vivid, understandable and in-depth way, even keeping our 12-year-old daughter interested throughout the full-day tour. We especially liked how he incorporated aspects of his daily life to explain how locals live in this unique city. We had no idea about the historical significance of Venice prior to the tour. The experience has been extraordinary.
Aug. 5, 2021