Scotland is famed for its rugged landscape, ever-changing climate, and rich history. Scattered among its rolling hills and winding roads the average explorer can find an array of castles that tell individual stories and tantalizing tales. Touring some of the oldest castles in Scotland is a fascinating way to understand Scottish history and the country on the path less traveled. These living museums are certainly worth the hours they might take to drive to. We've come up with a list of our essential castles in Scotland for any visitor wanting to admire medieval ramparts, romantic ruins, and spooky staircases.
Eager to explore the charms of Scotland from the comfort of home?
Check out our latest Context Lecture: The Scottish Highlands and Skye: An Introduction. Led by the same world-class experts as our walking tours, Context Lectures are great to inspire your future travels, or the perfect accompaniment to learn about the destination of your upcoming trip.
Edinburgh Castle
It wouldn't be a Scottish castle list without the King/Queen of the castles at the heart of Scotland's capital, Edinburgh. Name a cooler setting than an extinct volcano for a castle? Perched atop this craggy mass, Edinburgh castle is the castle in Scotland. Legend has it that if students visit in the first year of University, they'll fail their degree. Get there at 1 pm so you can hear the atmospheric One O'Clock Gun performance. (See our collection of expert-led Edinburgh tours or check out our selection of online seminars all about Scotland to see if we're running any Edinburgh seminars).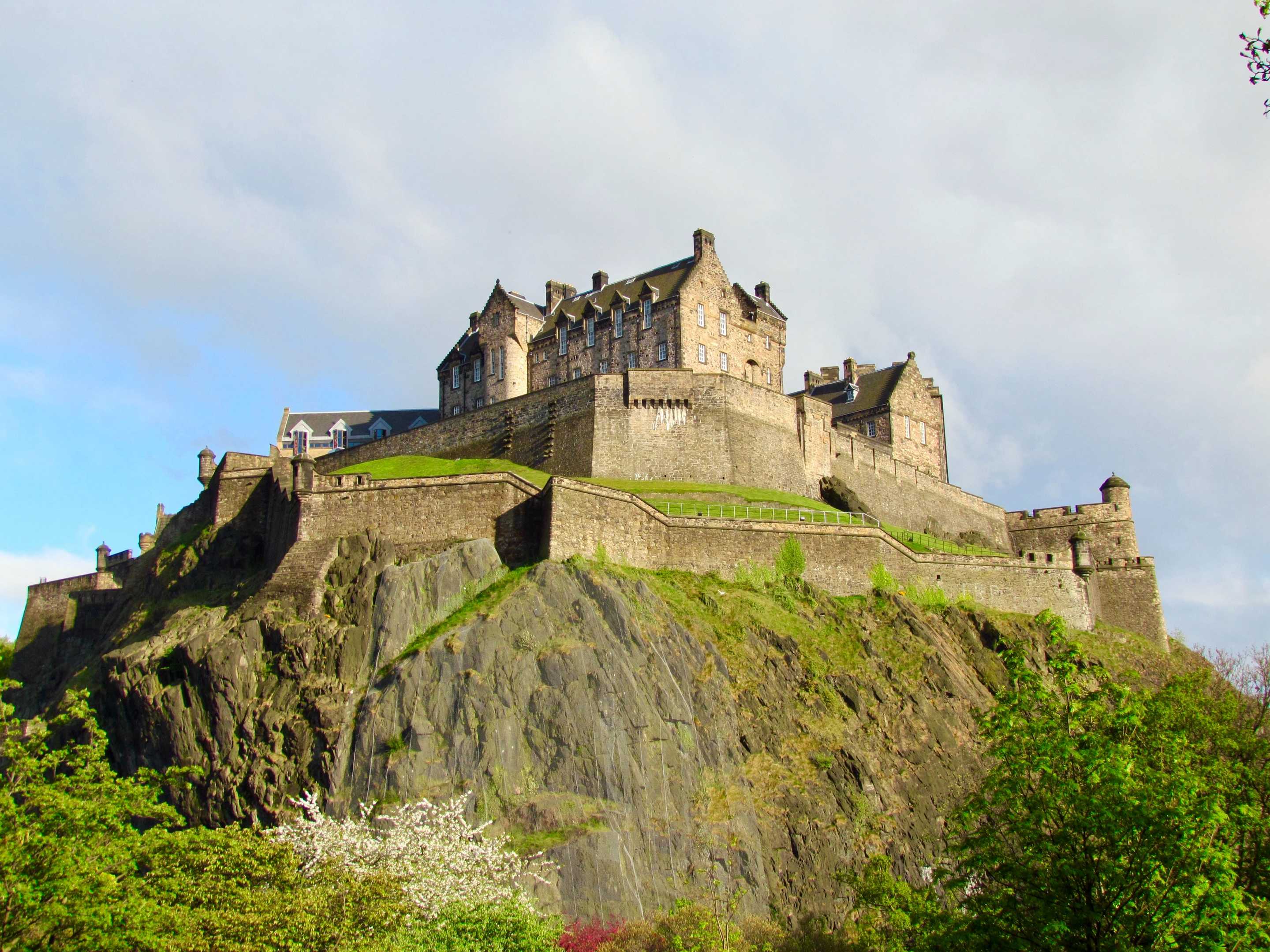 Inveraray Castle
This neoclassical/Gothic revival beast of a structure boasts epic views of Loch Fyne and even more impressive Beauvais tapestries in its drawing-room. Since the 18th century, Inveraray has been the seat of the Dukes of Argyll and the 13th Duke of Argyll and family still live in a part of the building. The remaining sections are open to the public (and you may recognize some of its architecture from the Downton Abbey set.)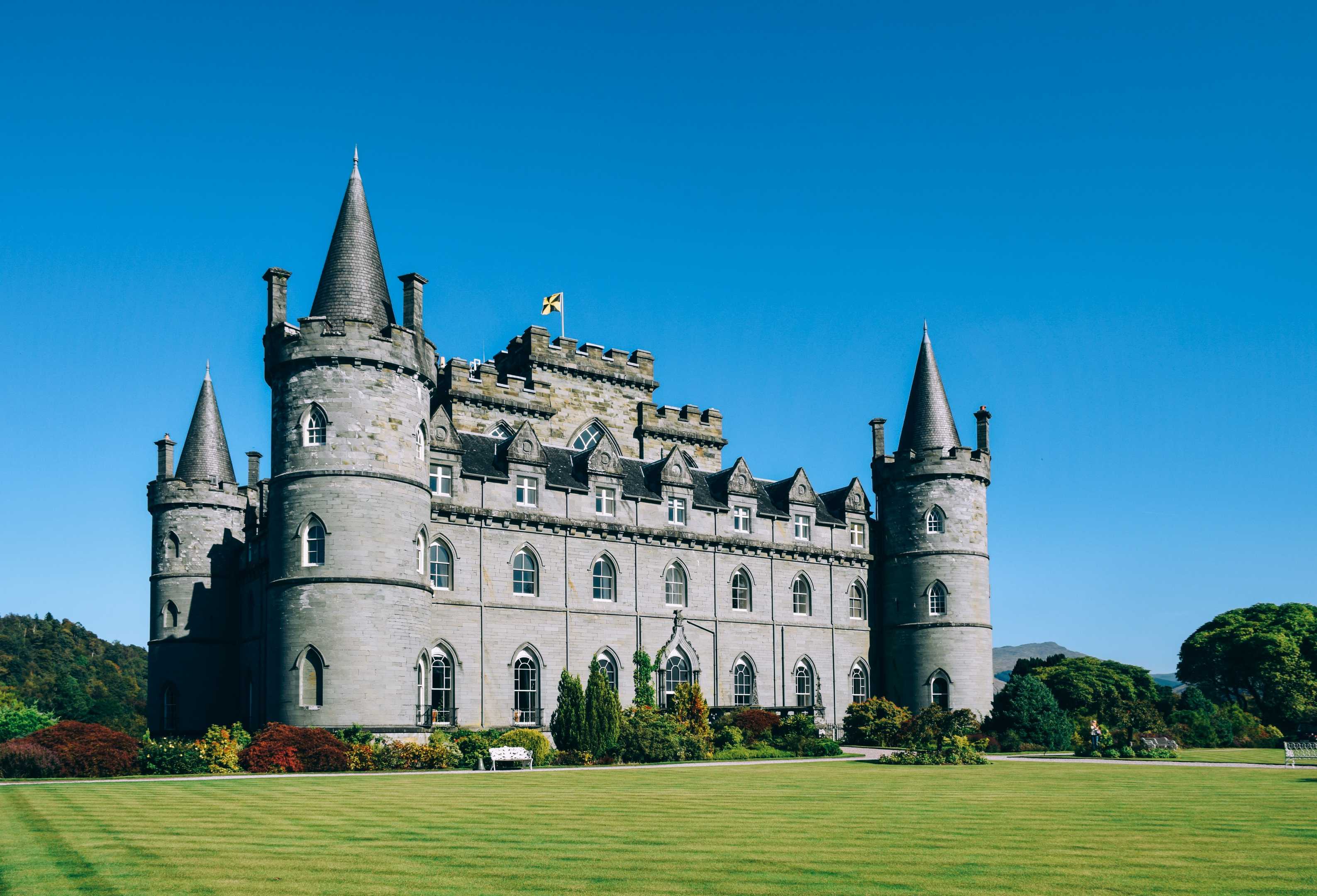 Glamis Castle
For the Shakespeare fans, this castle dates back to the tenth or eleventh century and was a key feature in Macbeth. It's been in the Lyon family since the 14th century and was once a hunting lodge before it was repurposed as a castle. Visitors can admire the red sandstone walls, pointed turrets, and grandeur style of the late Queen Mother's residence.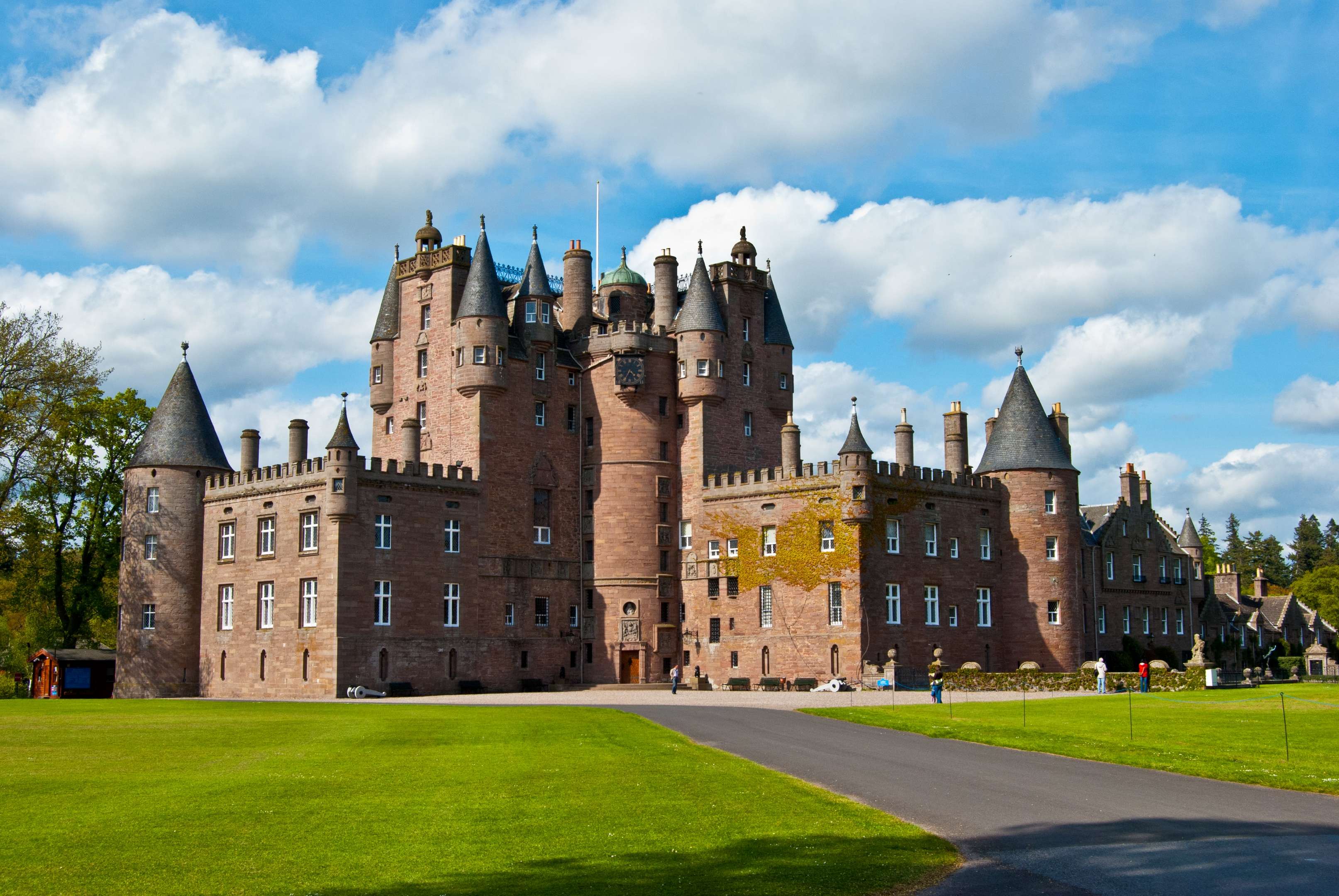 Drummond Castle Gardens
These gardens are perhaps more recently known for their star role in the TV series Outlander or the film Rob Roy (1995). Although the 15th-century castle is not open to the public, the Perthshire gardens are worth a trip. The expansive space is one of Europe's (yes, not just Scotland) most impressive and important gardens. The lush landscape has been described by Historic Environment Scotland as "the best example of formal terraced gardens in Scotland". Note the 17th-century sundial at the center of the unusual St Andrews Cross design. Best to visit in full summer or autumnal bloom.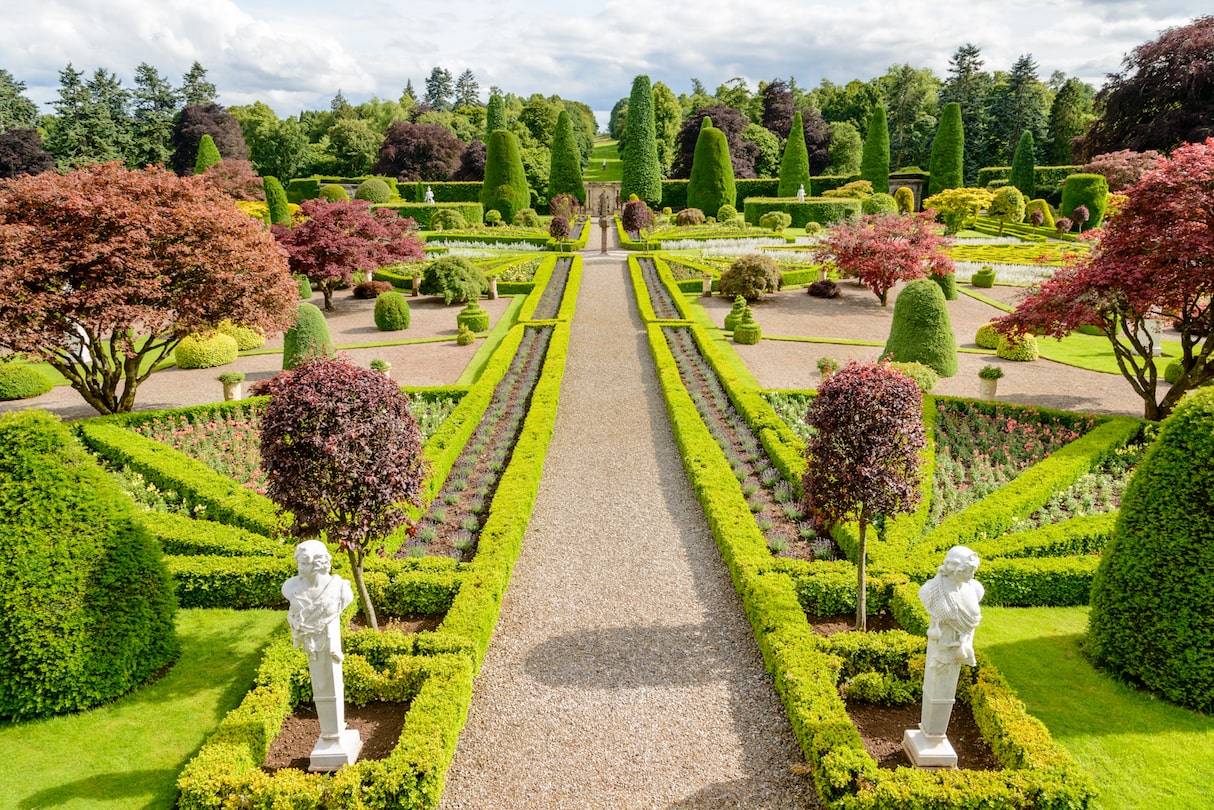 Dunrobin Castle
This mighty structure has donned many architectural hats, with the first fortifications dating back to 1401. It's also been the site of conflict and conquest, most notably a siege during the Jacobite Uprising of 1745. Today, the seat of the Clan Sutherland is renowned for its fairytale-like appearance after adopting a French design in 1845. It wins the prize for its uniqueness and the largest number of rooms in the Northern Highlands (189 in total). This alone makes it an important contender for castles in Scotland the eager tourist should visit.
For the Scottish history buffs, the The Secret Language of Fans: Jacobite Women in Scotland with Irene Mariani seminar might be for you.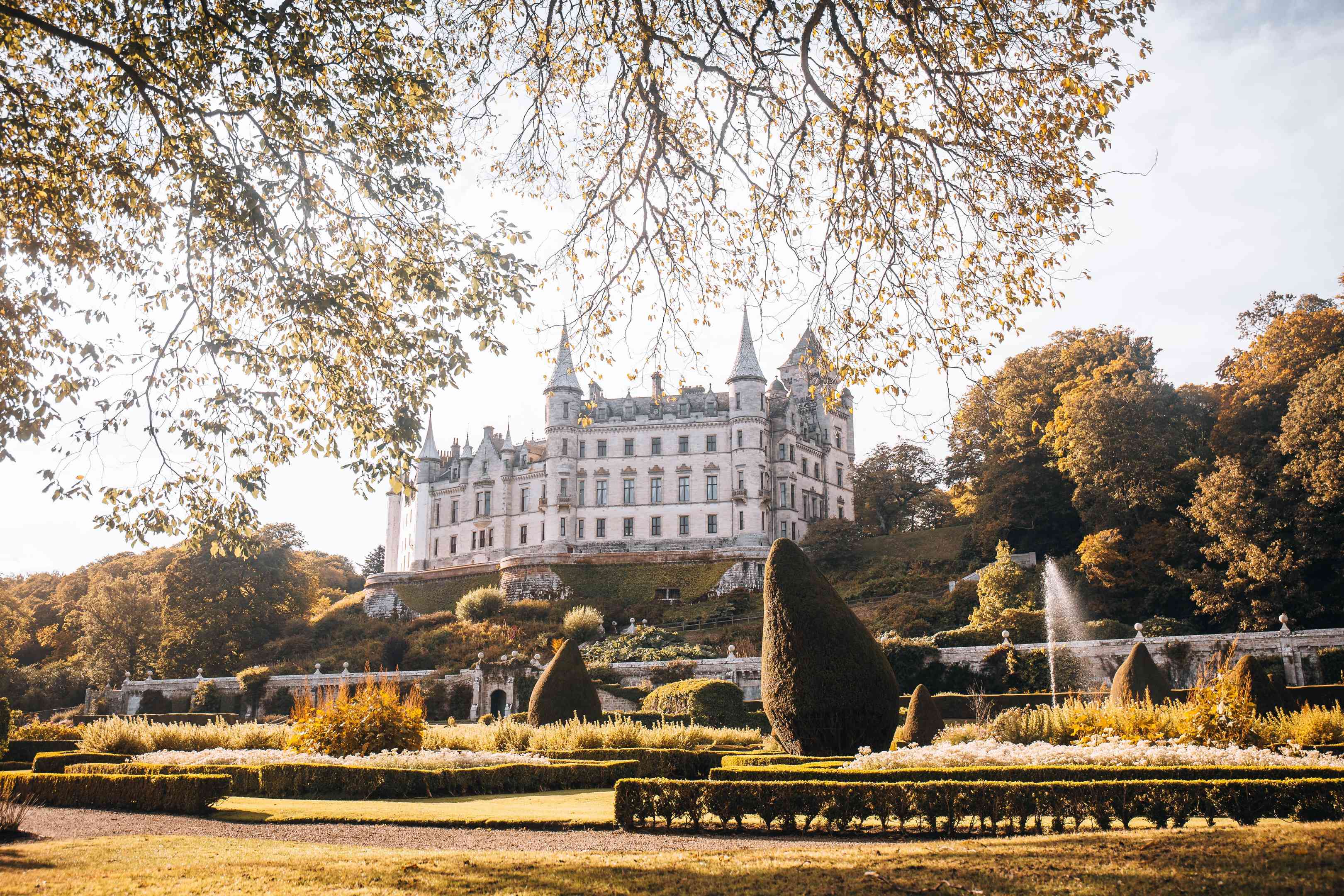 Image Credit: Connor Mollison

Craigievar Castle

Admire the pink hues of this 17th century Scottish Baronial castle, nestled in the foothills of Grampian Mountains, Aberdeenshire. This elegant castle adorned with turrets, corbelling, gargoyles, and a demure seven stories, is a perfect example for architectural lovers to admire the Scottish Baronial style.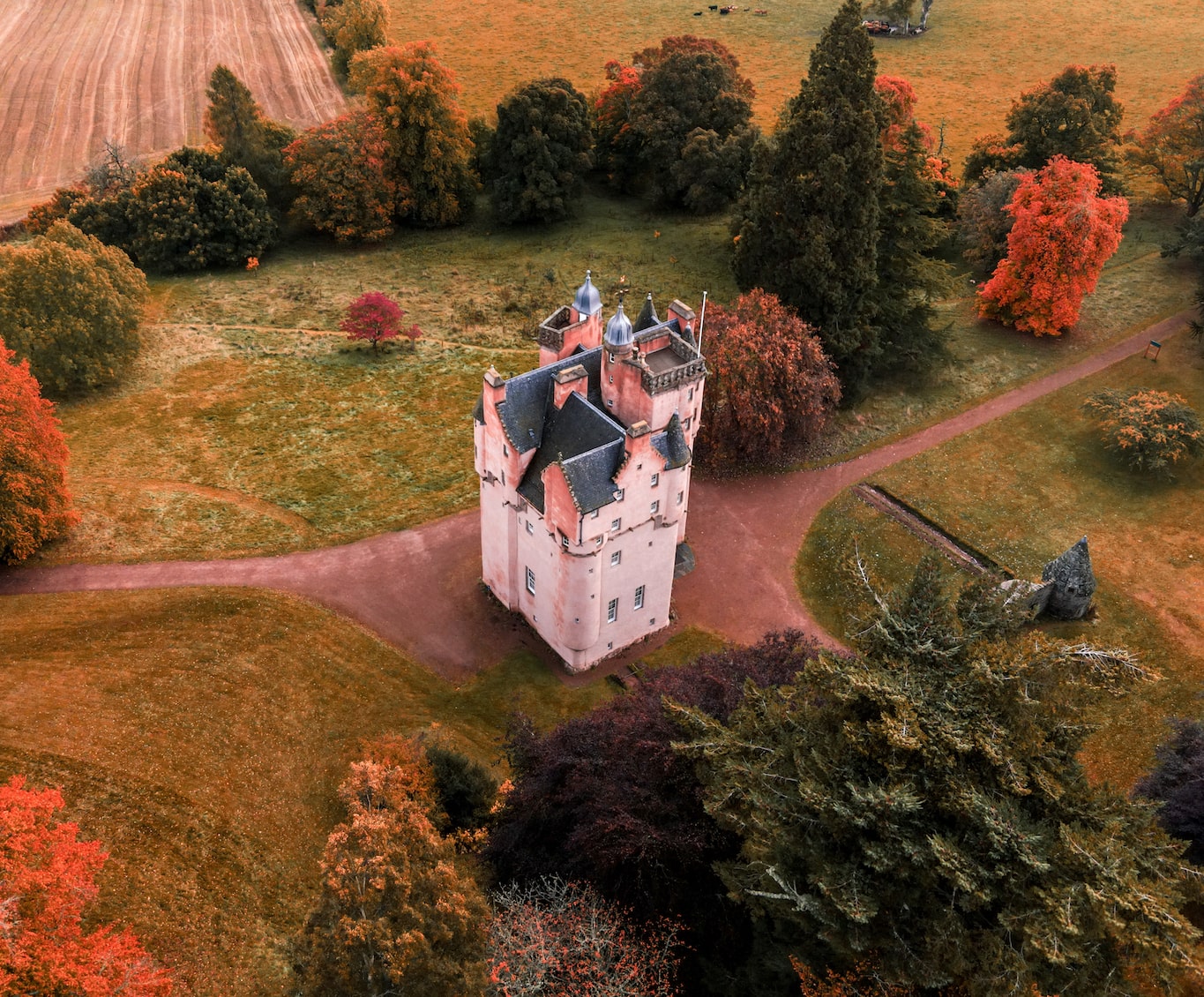 Eilean Donan Castle
This medieval castle lay in ruins until the mid-1900s when it (fortunately) was restored to its spectacular medieval state. The castle stands majestically on an island overlooking three picturesque sea lochs: Loch Duich, Loch Alsh, and Loch Long. Eilean Donan has played a significant role in Scottish history with the castle acting as a stronghold for the Macrae and Mackenzie clans. It was partially destroyed in the Jacobite Uprising of 1719. Not all visitors flock to Eilean Donan Castle for its iconic history, however; many recognize the castle landscapes from films such as James Bond or Highlander.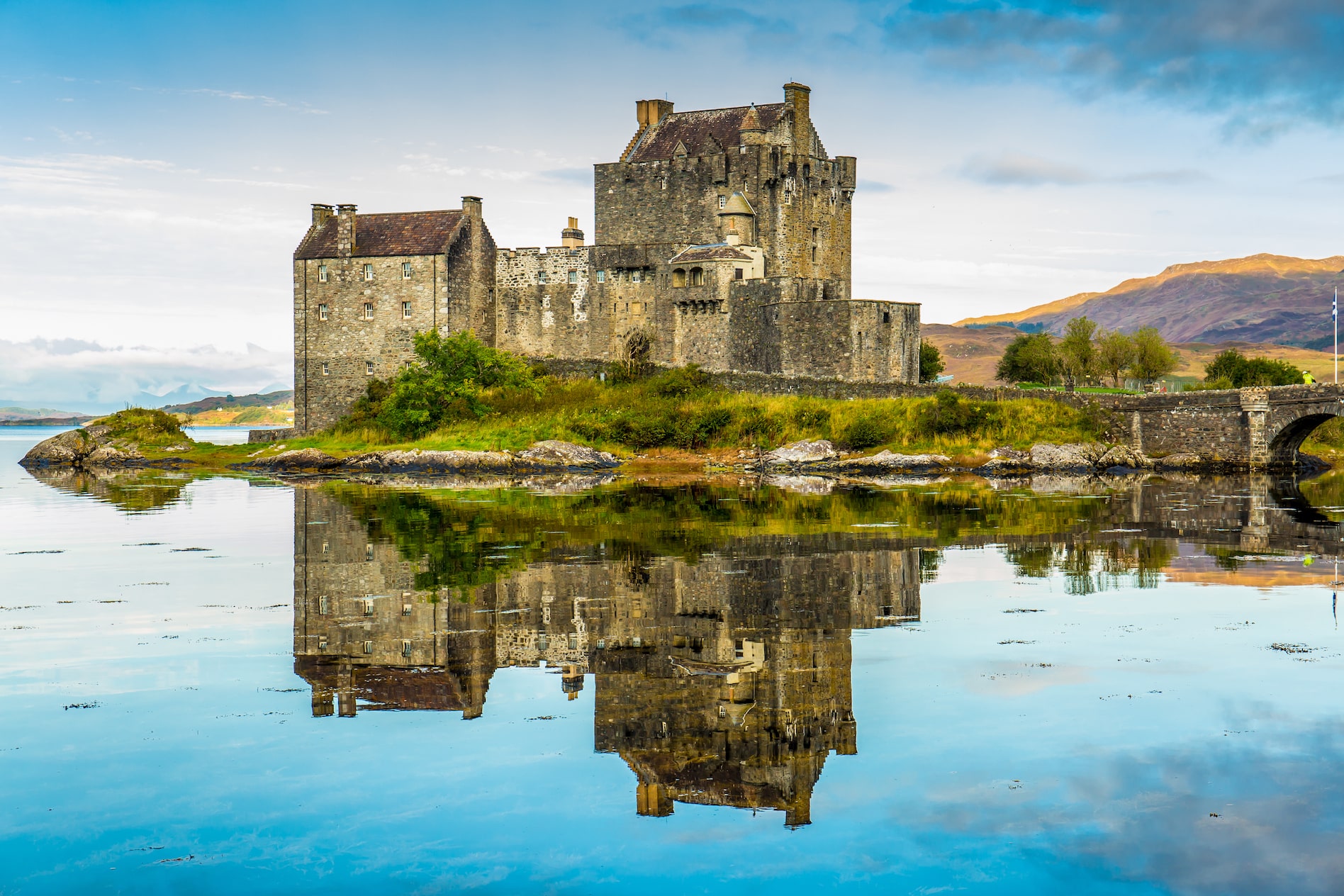 Duart Castle
Located on a hill overlooking the Sound of Mull (on the Isle of Mull), this castle has its historic roots in the 13th century. Its strategic position perched upon a high crag allowed it control of the surrounding waterways. In the 14th century, the castle was gifted to a Scottish chief, Lachlan Maclean as part of his bride-to-be (Mary MacDonald)'s dowry. It lay in ruins from the 18th century onwards until it was saved by Sir Fitzroy Maclean in 1910 and thankfully reconstructed thereafter. Be sure to absorb the stunning surroundings of one of the best castles in Scotland and head indoors to marvel at the Clan exhibition, the impressive Great Hall, and some bedrooms.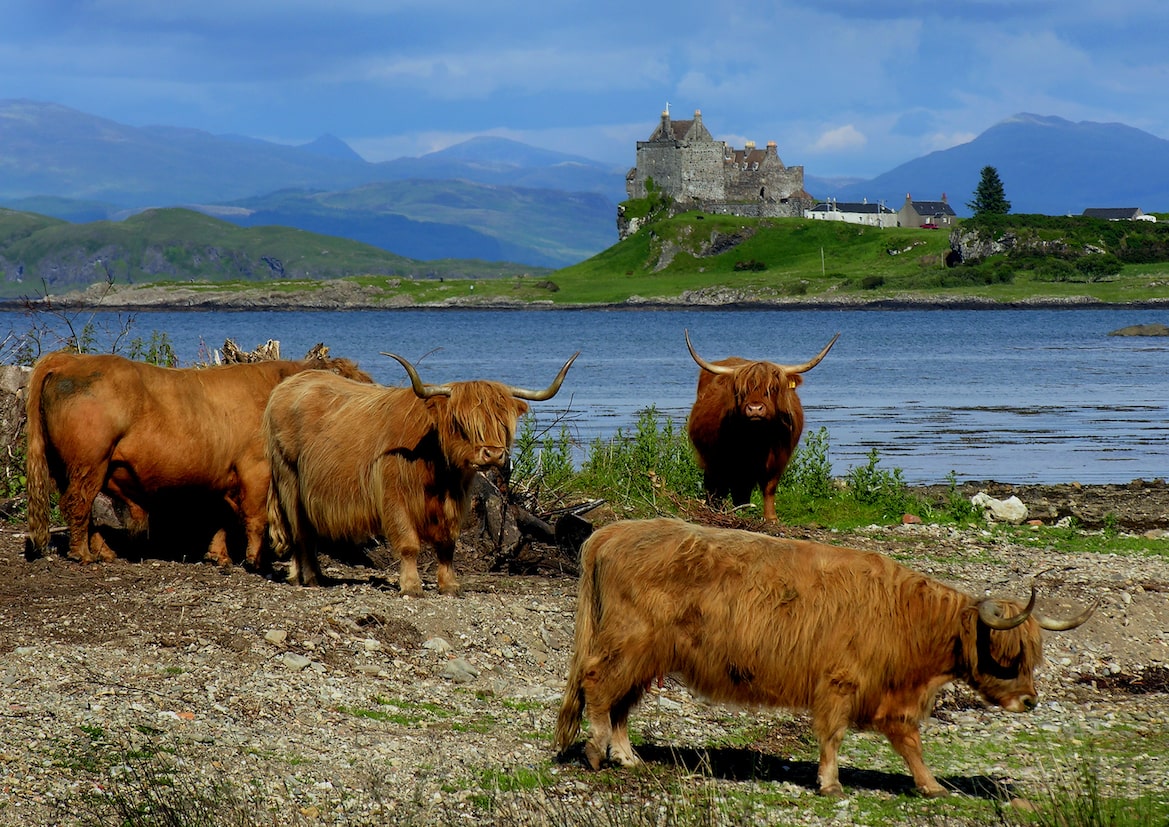 Balmoral Castle
The official Scottish residence of the British Royal Family since 1852 when the estate was purchased by Prince Albert. The existing castle was considered too small for Queen Victoria and Albert, so a new royal residence was constructed and the old castle was destroyed. Today, visitors can admire pepper-pot turrets and a large tower. It's easy to see why the Royals head up north to Aberdeenshire when they want a change of scene from London's Buckingham Palace and a good dose of Scottish fresh air. The grounds and a number of rooms are open to the public during the summer.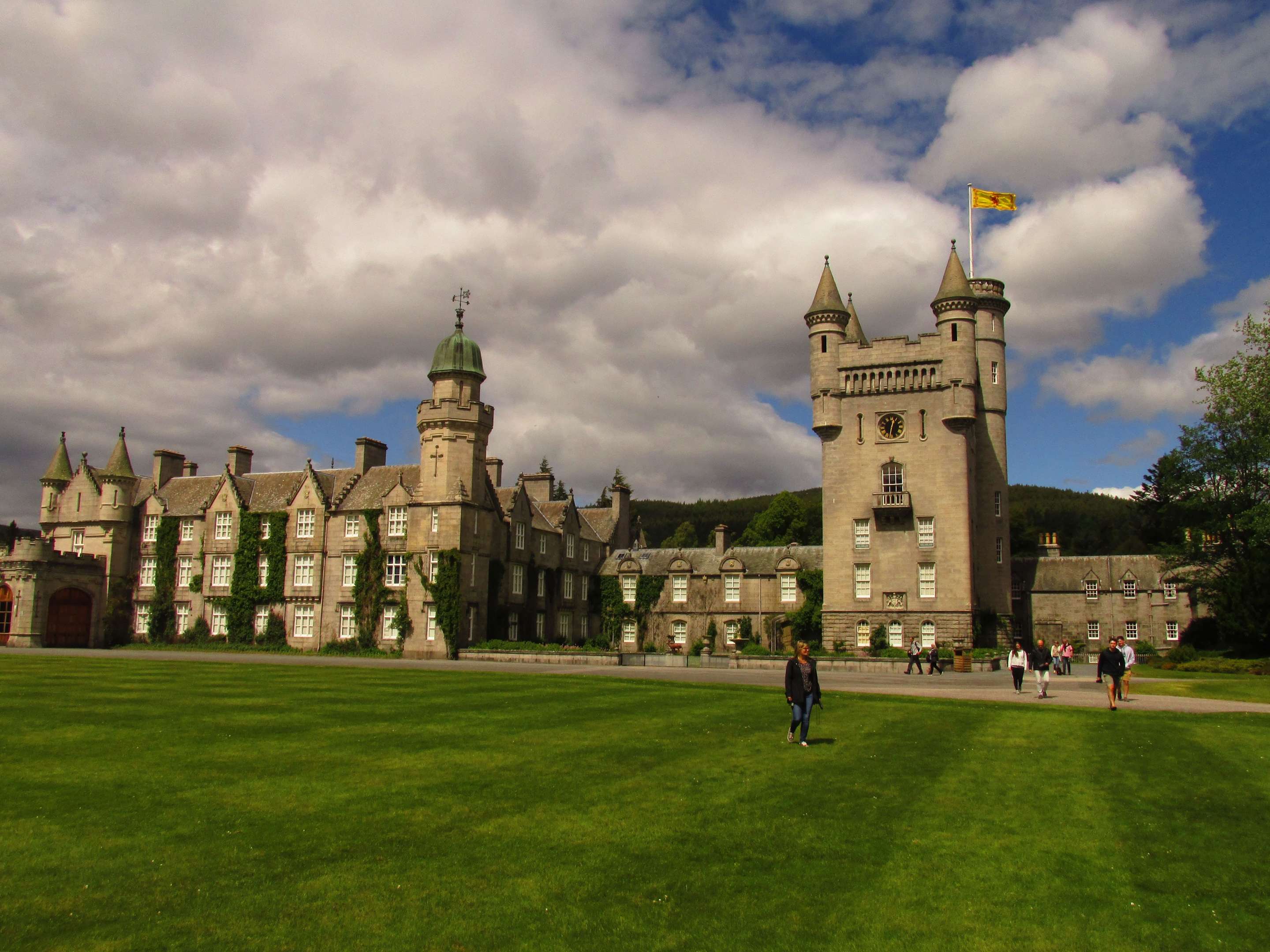 Floors Castle
A Southerly Scottish castle and another significant house with royalty associations, Floors is the largest inhabited castle in Scotland and home to the Duke and Duchess of Roxburgh and family. The castle was first built in the 1720s and serves as a fine example of Georgian architecture thanks to its symmetrical style. The 19th century saw later additions of battlements and turrets which give the castle an added effect. Floors is filled with fine art collections, intricate tapestries, and impressive porcelain. It's even said that a holly tree marks the exact spot where King James II was killed in a siege in 1460.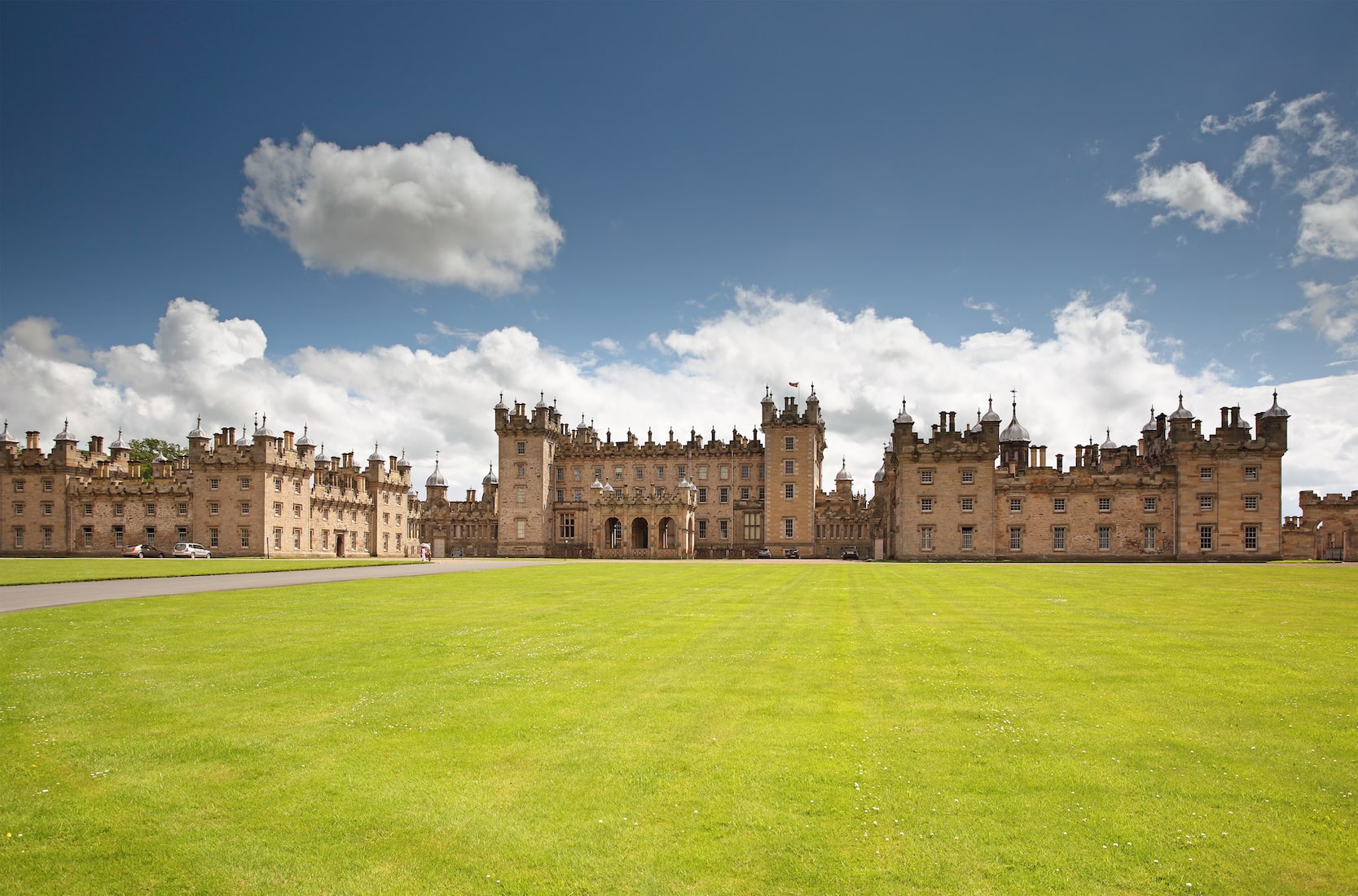 Castle Fraser
Construction on this fine Scottish Baronial castle began in 1575 by the 6th Laird of Fraser and was completed in 1636. After a bout of modernization in the late 1700s to be in a more classical style, the castle is one of the grandest Castles of Mar. This five-story tower house is known for its romantic look and a star appearance in The Queen (2006) starring Helen Mirren. Rumour has it the ghost of a murdered princess roams the castle and the tinkling of an unaccompanied piano can be heard. Spooky Scotland - we dare you to visit.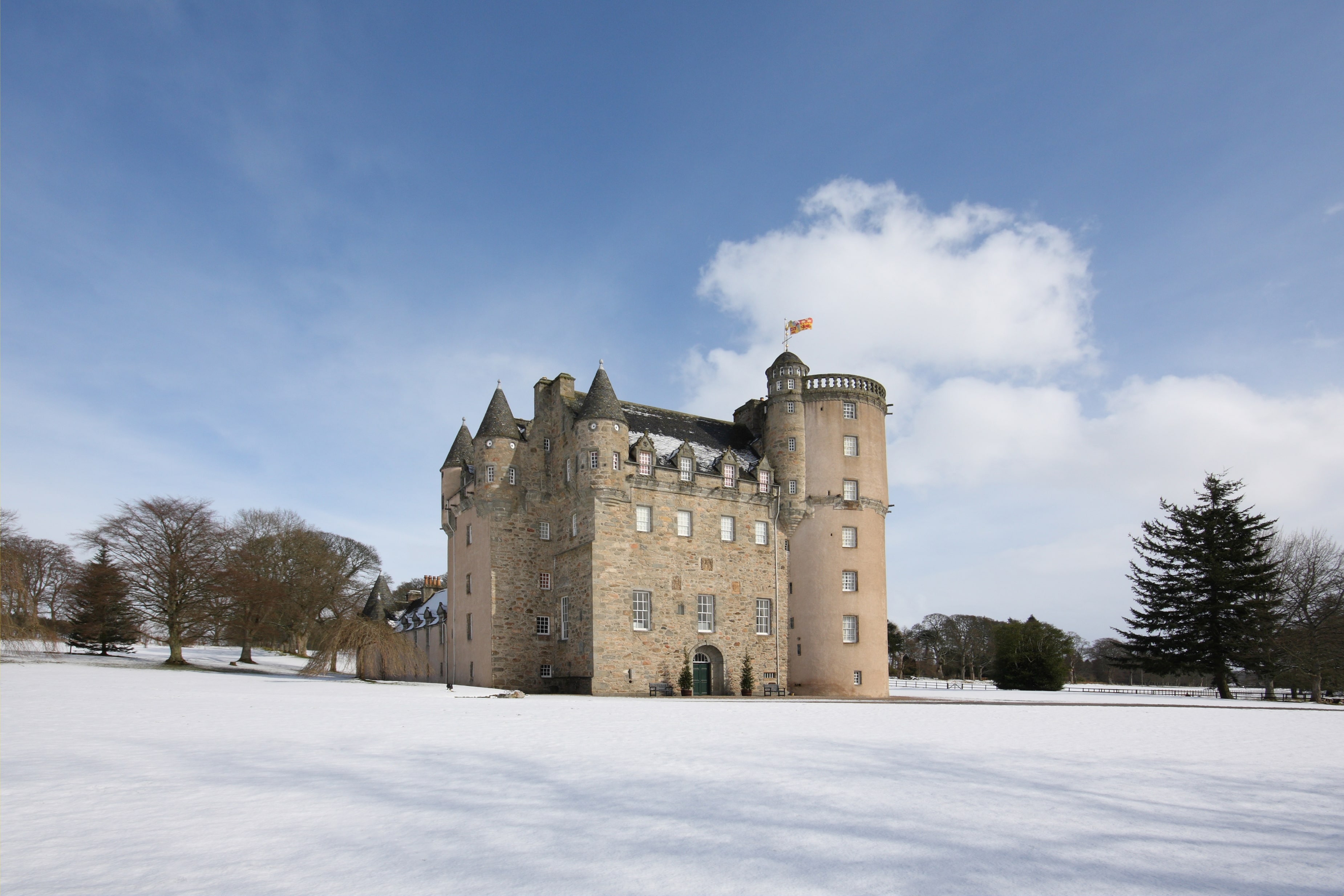 Dunnottar Castle
The setting of this Scottish masterpiece is nothing short of spellbinding. Perched atop a cragged headland, the ruins of this medieval fortress offer a glimpse into how strategically placed and impenetrable this castle was. Dunnottar has played a crucial role in Scottish history, perhaps most known for hiding the Scottish crown jewels from Oliver Cromwell and his invading army during the Civil War in the 17th century. Its been the home of the Earls of Marischal, William Wallace, Mary Queen of Scots, and the Marquis of Montrose.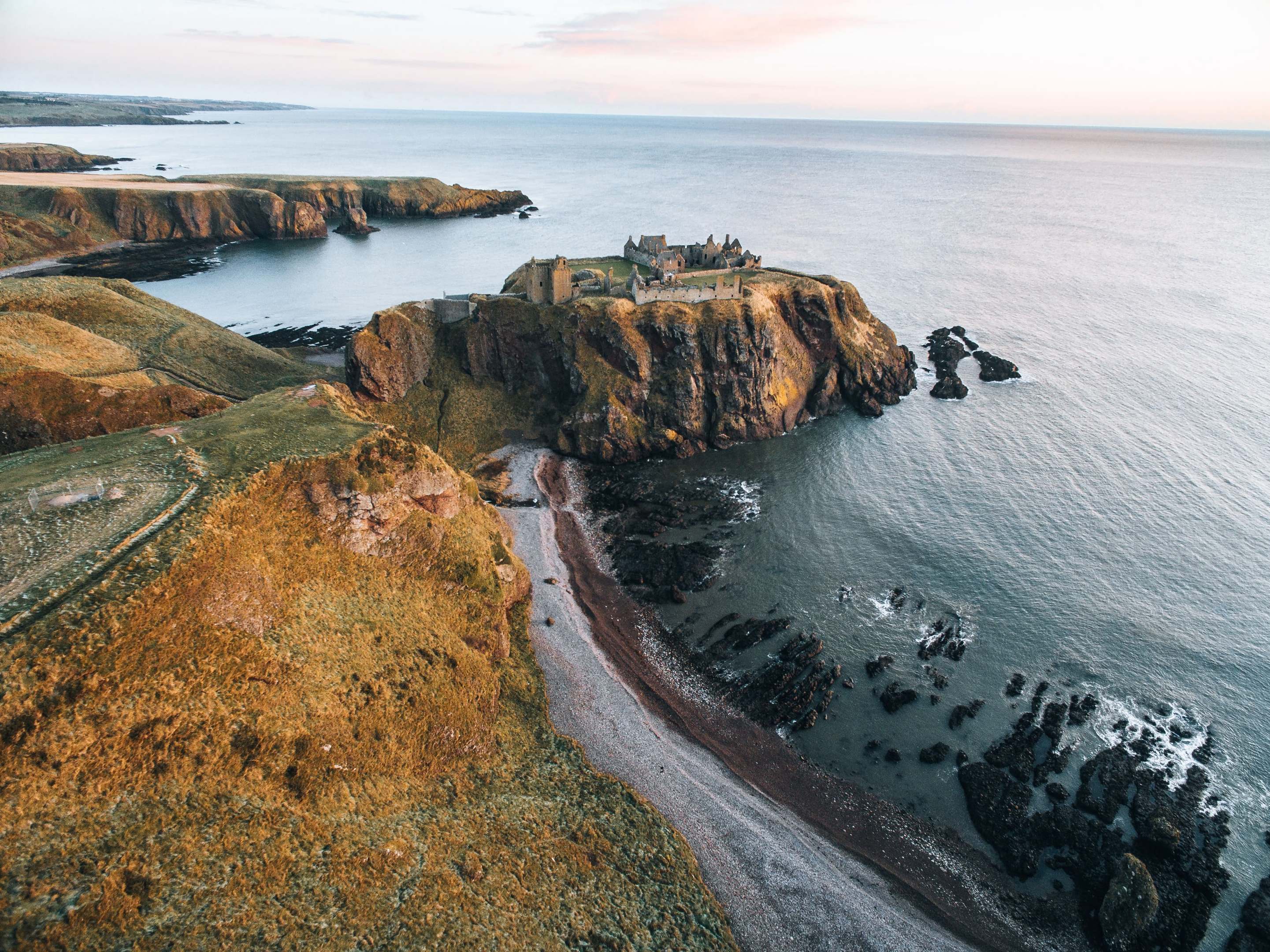 Image Credit: Connor Mollison

Stirling Castle
This beast is not only one of the most important castles in Scotland, but one of the largest too. There's a Scottish saying "He who holds Stirling holds Scotland" and there's no wonder why this castle perched atop Stirling Sill garners such acclaim. Stirling Castle has survived eight sieges and multiple coronations, including Mary Queen of Scots. Visitors are welcome to climb up to reach its lush gardens and admire the medieval architecture dating back mainly to the 15th and 16th centuries. It's particularly easy to visit given its location to Stirling itself and a hop and a skip from the train station.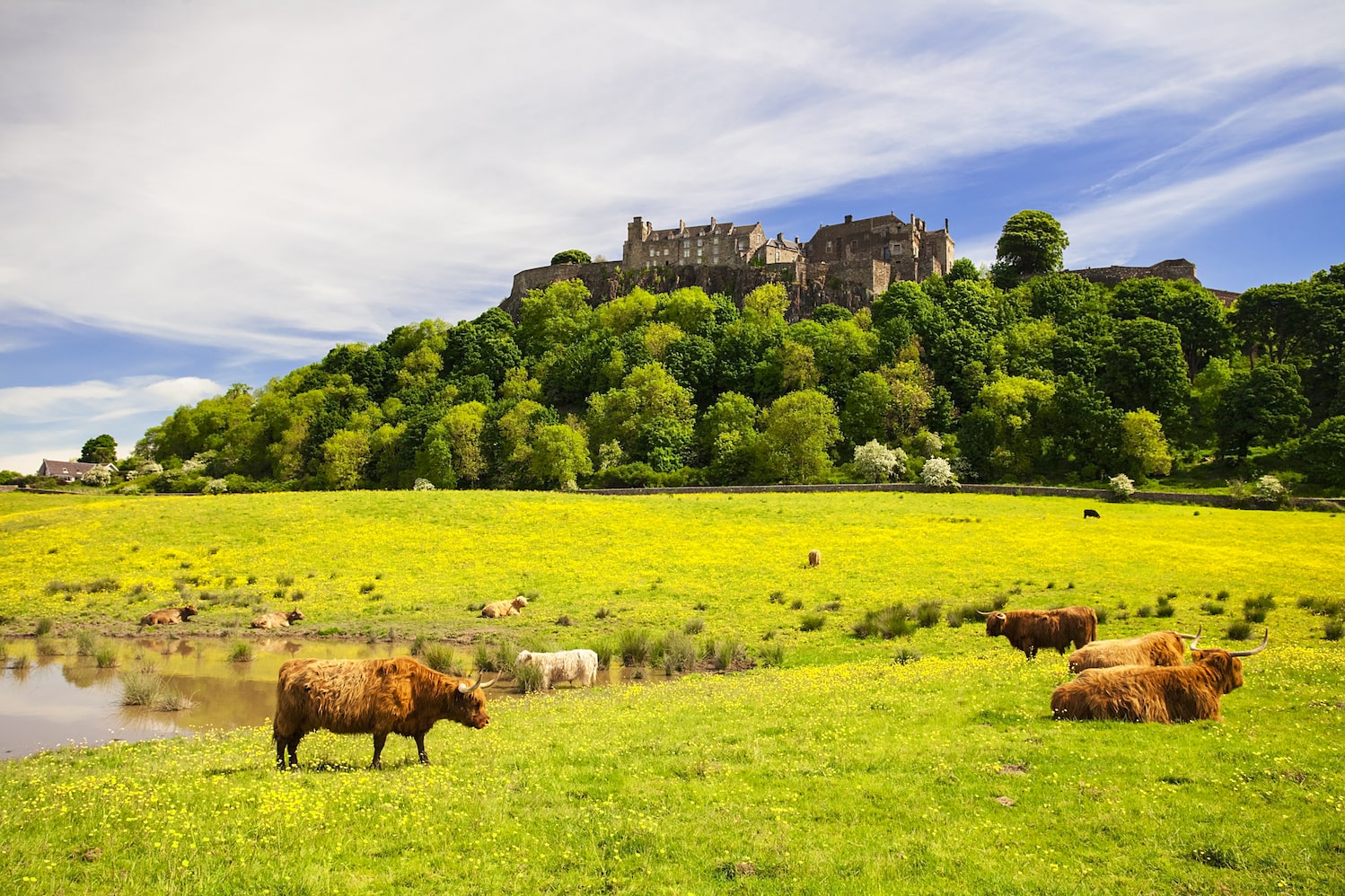 Fyvie Castle
Edwardian interiors containing spectacular paintings and arms and an intact Scottish baronial castle on the exterior make for an impressive duo as we welcome this castle to our favorite castles of Scotland list. One of the most intriguing architectural facts is that each powerful family owner of this castle - Preston, Meldrum, Seton, Gordon, and Leith - added a new tower. The tower's dates span from 1400 to 1890 and this sturdy Aberdeenshire castle is famously known to be haunted. Visit at your own risk (and be sure to admire the stunning sweeping staircase when you're inside).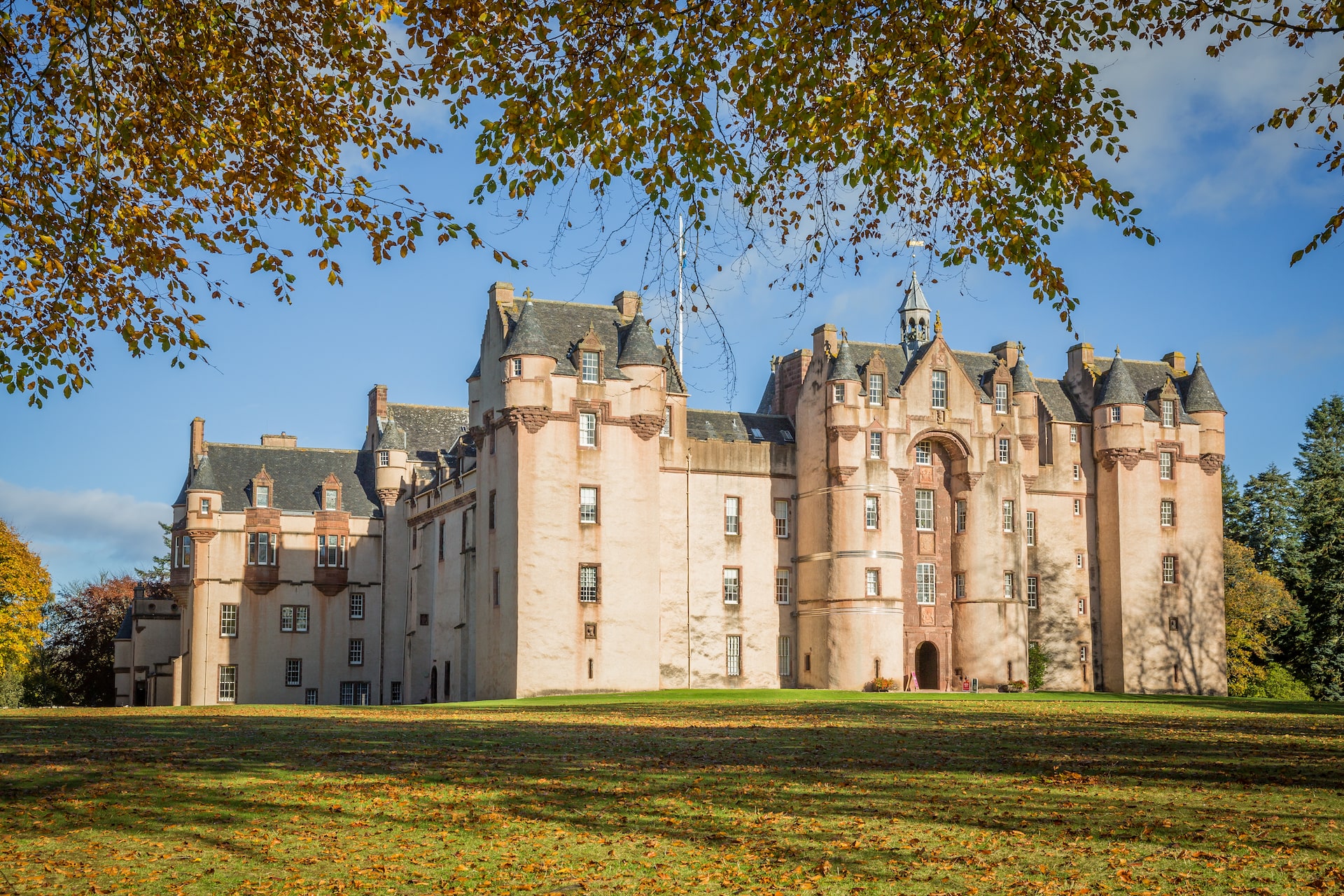 Castles in Scotland Map
We hope this map is helpful in order to find out more about the locations of whichever castles in Scotland remain on your list. So with that in mind, pack your bags, your wellies, and your waterproofs and get ready to explore the Scottish countryside and some of the most famous Scottish castles.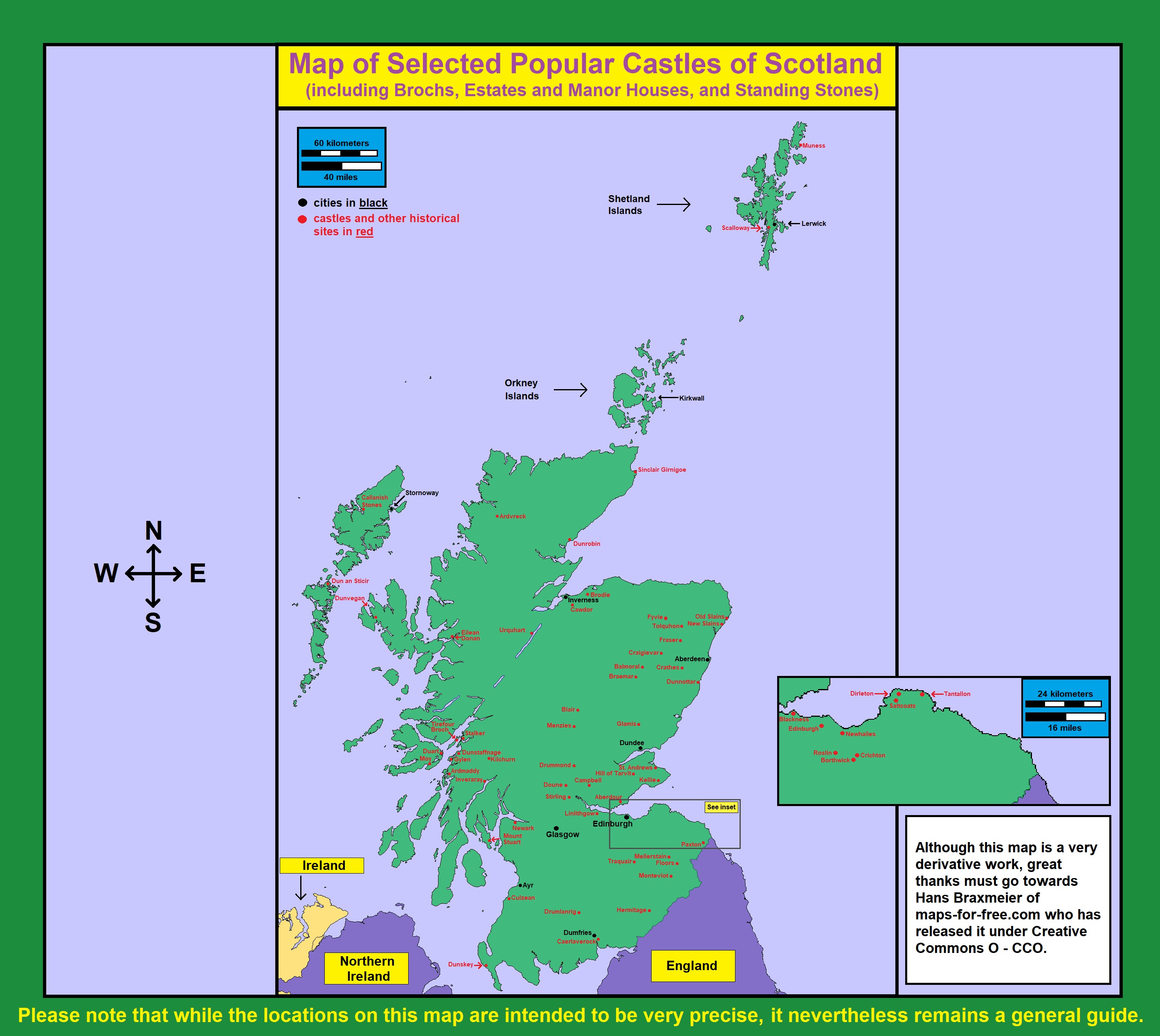 Traveling to Scotland and looking to brush up your knowledge pre-trip? Whether you're looking for an introduction to the Scottish Highlands or want more on the history of Edinburgh, Context online seminars and courses has you covered. If you're after the real deal and are seeking Scotland tours, we have a team of experts and scholars who would be delighted to show you around their wonderful country.
Want to learn with a true expert? Get a comprehensive view with one of Context's tours, or learn more about your favorite destination or topic with our virtual, live-taught courses and seminars.
Other stories you may be interested in: