We think all of our cities are great for those traveling with kids, but forced to choose, we might admit that Rome is one of our favorite destinations to visit with youngsters. Replete with ghosts of emperors, stories of brutal betrayals, and—ovviamente—gelato as far as the eye can see, Rome has no shortage of things to spark the imaginations of kids and adults alike.
Yet traveling to Rome with kids isn't always easy—especially in summer months when heat, lines, and crowds can combine into the perfect meltdown cocktail. To help you and the family substitute those tears of frustration for tears of joy, below are our ten best things to do in Rome with kids, all thoroughly tested and approved by our founders and Roman staff who have raised kids in the Eternal City.
1. Swap the Vatican for Castel St. Angelo
It's heresy, we know, but the extreme crowds at the Vatican can be challenging to navigate for families, especially those traveling with kids under 12. (Not to say a pleasant visit is impossible—for brave souls willing to give it a go, prepare with our Visiting Vatican with Kids blog.) However, just a hop down the Tiber is the Castel St. Angelo. Formerly the palace of emperors, tomb of the Popes, and a notorious prison, the Castel is full of histories that will fascinate young visitors—not to mention the often overlooked playground hidden at the back of the Castel.


2. Hunt for i nasoni
One of Rome's most charming features, nasoni are the over 2,500 fountains sprinkled around the city that supply free drinking water for Romans and tourists alike. Nasoni—which literally translates as "large noses"—provide the perfect treasure hunting opportunity for kids as they wander the cobblestoned streets.


3. Consider Ostia Antica instead of the Forum or Pompeii
A quick day (or half-day) trip from Rome, Ostia Antica is one of the city's best kept secrets. We find it's the perfect substitute for the oft-crowded Forum, and its well preserved baths, latrines, and mosaics never fail to delight young travelers. For a full guide of what to do once you arrive in the ancient Roman port, take a look at our Ostia Antica with kids post. (Or, for those set on visiting the Forum and the Colosseum, read our tips on doing so with kids.)
4. Explore the aqueducts
A lasting testament to Roman engineering, the city's Acqua Vergine aqueduct still feeds fresh water into the city's nasoni and decorative fountains (including the Trevi Fountain and the Fountain of Four Rivers in the Piazza Navona). One of our favorite spots to view the Acqua Vergine is from the shops at on Via del Tritone—stop in to see the aqueduct and fuel up the little ones with tasty treats.


4. Take a green getaway
Rome's generally pleasant weather and plethora of public gardens make it the perfect place for afternoon picnicking and outdoor lounging. To do as the Romans do, skip the Villa Borghese and head instead to the Villa Pamphili, a park that's loved by locals for its playgrounds, fountains, and open spaces perfect for football (of the European variety, of course).


5. Visit the Capitoline Museums
The oldest public museums in the world, the Capitoline's collections provide a unique opportunity to trace the entire history of Rome through eclectic art collections and artifacts, covering Roman and Italian treasures ranging from antique bronzes and marble busts to Renaissance paintings and frescoes. Best of all for families, it's usually blissfully empty, allowing you to wander entirely at your (and your kids') own pace.


6. Fritti e dolci
No matter the age, no traveler's trip to Rome is complete without a thorough investigation of Roman food. There's gelato of course—take a peek at our blog post on our favorite gelato in Rome—but there's also plenty of time for pizza (al taglio, or by the slice) and fiori di zucca, zucchini flowers that are fried and often cheese-stuffed. One of our personal favorite family-pleasers are suppli al telefono, fried balls of cheesy rice named for the long strings of mozzarella that emerge when the croquettes are pulled apart, much like the white cords of a telephone of yore.
7. Peruse Italian fashion
An exploration of Italian fashion—often so distinct from the styles in the U.S.—can be a delight for tweens and teens in Rome. For high street shops and styles, a stroll down the Via del Corso will do; for thrift-shop treasure hunting, a meander through the Monti neighborhood should fit the bill. In fact, we'd recommend a stroll through Monti to any visitors—as Rome's very first neighborhood (noted by its "Rione 1" designation), Monti's nest of cobblestoned streets are home to some of the most charming restaurants and piazzas in the city. A couple of our favorite spots are the Mercato Monti (for local wares and fashions) and Al Vino Al Vino (Via dei Serpenti 19) for a glass of wine and some of the best caponata north of Sicily.


8. Bike the Appia Antica
When the sun is shining (and it almost always is in Rome), we're partial to renting bikes to explore the great Appian Way. Rome's first long-distance road, la Via Appia Antica was originally intended for military use, and stretched all the way from Rome to the Adriatic port of Brindisi. Today, the road is nearly a mind-boggling 2500 years old, and provides access to ancient towers, cisterns, and the San Sebastiano and San Callisto Christian Catacombs. For more underground adventures, check out our Underground Rome Tour.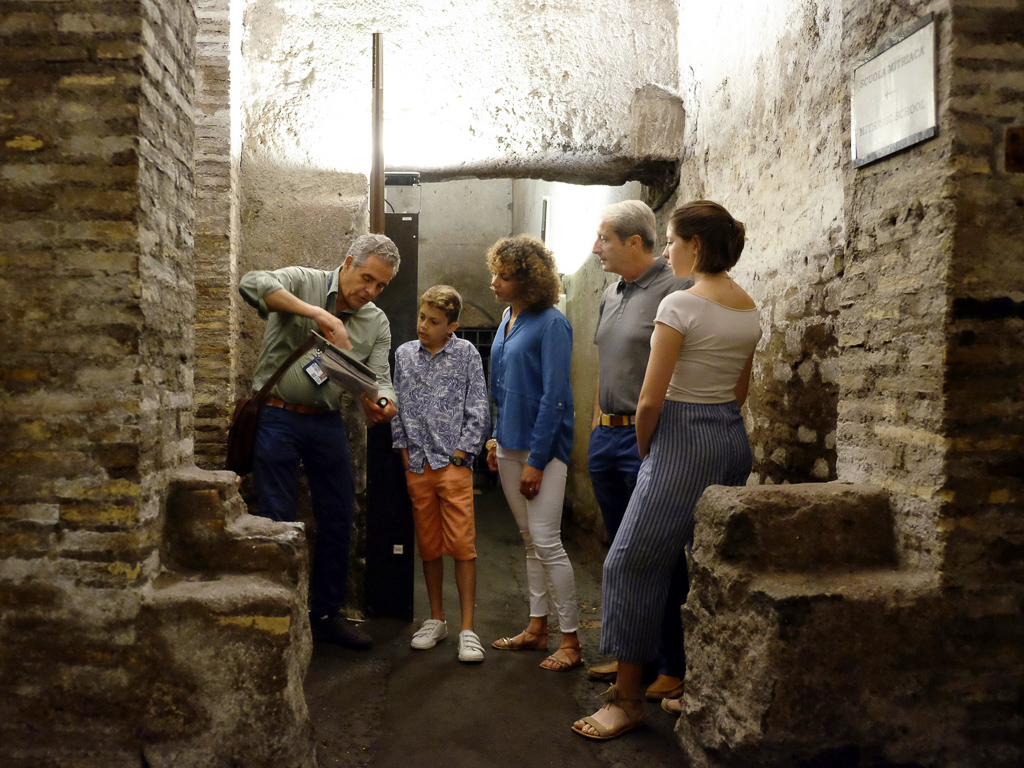 9. Visit Mussolini's Bunker
Closed to the public for nearly 70 years, Mussolini's secret air-raid bunker beneath his home in the Villa Torlonia opened again in 2014. Equipped with reproductions of newspapers, wartime propaganda, and film footage, Mussolini's shelter recreates a rather unnerving "air raid experience"—and can bring to life the WWII studies of most high schoolers. (Note that tickets and guided tours of the bunker must be booked in advance.)
10. Plan Ahead with a Tour
While it may sound self-serving, we've honestly found that the main way to ensure a seamless family trip to Rome is with a little planning ahead. Tours of any kind—though we're partial to our own scholar-led options—are a great way to give yourself a break by passing the reins over to an expert for a few hours. We offer a wide variety of tours geared towards families in Rome, including our Vatican with Kids tour and Ancient Rome with Kids tour. We're also always happy to design a custom itinerary of Rome that's exactly suited to your family's interests—just drop us a line at info@contexttravel.com.
Other blog posts you may enjoy: