Tour Details
Photos & Highlights
Let our expert guide spark your children's curiosity and imagination – and create memories that will last a lifetime.
Experience the thrill of learning about masterpieces created by legendary artists like Caravaggio, Titian, Raphael, and Bernini. Our tour includes works such as:
Sacred and Profane Love, Apollo and Daphne, The Rape of Proserpina, and Borghese Gallery
Tour Description
Looking for a fun and educational activity for your kids during your trip to Rome? Look no further than our Borghese Gallery Tour for Kids, hosted by a family-friendly art historian who will bring the art to life and spark their curiosity and imagination. Your children will learn about the famous artists who created the masterpieces in the gallery, including Caravaggio, Titian, Raphael, and Bernini – and discover the fascinating stories behind each work of art.


Your Context guide will use fun and creative teaching methods to help your kids connect with the art, including games, quizzes, and storytelling. They will also tailor the tour to your children's interests and age level, ensuring that everyone has a great time.By joining our Borghese Gallery Tour for Kids, your children will gain a deeper appreciation and understanding of art and history, and create memories that will last a lifetime. Book now and give your kids an experience they'll never forget!
Borghese Gallery Tour for Kids
During this walking tour, you'll travel back in time to 17th-century Rome to explore the magnificent art collection of Cardinal Borghese. Housed in a beautiful garden villa on the edge of Rome, our tour includes highlights by famous artists like Raphael, Bernini, Caravaggio, and Titian. Your family will learn all about the history of these masterpieces while enjoying a fun and interactive tour led by a family-friendly art historian. Even though Napoleon tried to take it all away, this incredible collection still remains one of the best in Rome and is the perfect place to discover the iconic artists who shaped Italian art history.
Uncover Hidden Meanings in Historic Masterpieces
Themes such as mythology and history are predominant, allowing families to draw upon their own knowledge and participate in the storytelling, while our guide takes care to point out hidden details and symbols in the works. These details can aid in your understanding and identification of the meaning behind the art. In this way, our aim is to not only have your family understand the works in the Galleria Borghese but to equip you with the basics for understanding other historical art sites and museums during your travels.


Looking for this tour for grown-ups? See our
Borghese Gallery Tour
. Looking to see more art with kids? Try our
Vatican for Kids Tour
.
Please Note:
Our team will pre-purchase timed admission tickets on behalf of your party. However, due to enhanced COVID-19 safety precautions at this venue, there will be a mandatory security line which we must wait in together.
Where You'll Start
Tour Experts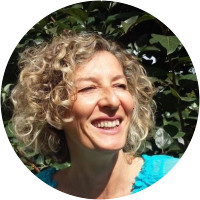 Cecilia is an art historian and a native Roman with a Master's degree in Medieval and Renaissance art from the Sapienza University of Rome. Although her specialty is painting and decorative arts, she has a broad knowledge of the history of Rome and a personal passion for ancient history, which she shares on many antiquity-themed itineraries. Cecilia has worked actively in the past as a lecturer, teacher, and curator of exhibitions. She had been a staff member of the didactive service of the Vatican Museums, the Galleria Doria Pamphili and the Galleria Colonna where she still frequently consults. As a licensed guide for Rome and Florence and with a specialized teaching degree, she has more than 20 years of experience in leading highly-qualified tours.
Francesca is an art historian with a master degree in art from the Sapienza University of Rome. She specialized in the art and culture of the Baroque period and in decorative arts, subjects on which she has published several essays. Her publications include a book on the Holy Years in Rome in the 17th century, a book on cameos engravers in Rome in the 19th century, and a book on Baroque silver and silversmiths. She is a licensed guide since 2001 and leads itineraries all over Rome, a city she truly loves. She is also an officilal guide of the Vatican Museums and Vatican City. She lives in Rome with her husband and three daughters.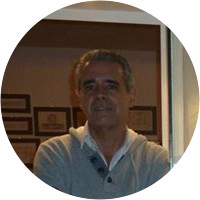 Jose brings an unusual combination of theoretical knowledge and practice to his walks, which he has led in Philadelphia and in the New York Metropolitan Museum of Art, as well as in Rome, Naples, and Florence. A professional fine artist with an art studio in Rome near the Church of Santa Maria sopra Minerva and a graduate in classical studies of St. John's College in Annapolis, Maryland, Jose knows how to read the almost forgotten languages of Greek and Roman mythology embedded in the art and architecture of Rome. His studies of Plato's dialogue, TIMAEUS, for example, open up dimensions of Raphael's School of Athens fresco and of Michelangelo's Sistine Chapel ceiling frescoes otherwise unsuspected by visitors to these two sites. In addition, his own native Cuban background and master's degree in Spanish literature from the University of Delaware in Newark give his walks a flair and sense of humor that can be most welcome elements. Jose also studied fresco painting, history, and restoration at the Spinelli Institute of Art and Art Restoration, in Florence, but his St. John's College "Great Books" education earned him a rich 20-year-plus teaching career at the University of Miami, first in the English Department (specializing in Composition), followed by art history and freehand drawing in the School of Architecture. During the summers, this docent has taught "plein-air" drawing for the Rome Art Program directed by artist Carole Robb. Jose holds the official Italian tour guide license for Italy, issued in Rome (Province of Lazio) in 2017.
Reviews can only be left by Context customers after they have completed a tour. For more information about our reviews, please see our FAQ.
Dony was a great guide. He taught us a lot of new things. We would definitely recommend him to other visitors. Thank you, Dony.
Apr. 7, 2023
Francesca was perfect for the kids. She sat right on the floor, told stories, kept the kids attention and noticed when we needed to move on (kids lost interest.) she was our favorite guide for kids!
Mar. 24, 2022
Dony was very good with my children explaining everything in details for them to understand better. And he speaks Portuguese which was perfect for them
Aug. 12, 2019