As I was planning a two week long trip to Italy for my fiancée and me, the response from friends and family alike was pretty consistently "wow", "I'm jealous", and "you're so lucky, I love Italy." But when it came time to pick specific cities to visit, Naples in particular got mixed reviews. Some people said to skip it entirely, while others said Naples is a city full of character and culture that shouldn't be missed.
Well I can unequivocally say that spending two days in Naples was an absolute highlight of our trip (even when compared to time spent in Rome and in various cities along the Amalfi Coast). From making authentic Neapolitan pizzas in an active pizzeria, to exploring the Pompeii ruins, to even meeting Jago, a local sculptor often referred to as the modern day Michelangelo, we had experiences in this city that we will never forget.
But I'd be lying if I said that these memories were the result of just being in the city itself. In fact, we spent a day and a half touring with local Naples expert, Fiorella, who really made us feel like VIP insiders as she brought the city to life and filled our time together with one of a kind experiences tailored to our interests.
We arrived in Naples via ferry refreshed and eager to explore. We had just enjoyed a few relaxing days on the Amalfi Coast – soaking in the sun and the sights. We used the Naples metro system (which has been referred to as "the most beautiful metro station in Europe" although I'm not sure I would agree) to arrive at our AirBnB. From there it was just a quick dropping of our bags and heading out the door to sync up with Fiorella, our guide for our afternoon food tour.
Fiorella's energy and excitement was immediately infectious. She greeted us with a warm buongiorno, asked us about our trip thus far, our interests, and got us excited to explore the city of Naples through its street food. By profession Fiorella is an art historian who works in many of the museums across Naples and has also authored the popular guide book Naples in 3 Days. She is president of her own cultural association, Fine Arts, which organizes private viewings, visits to stately homes, and cultural themed tours in Naples and the surrounding Campania. But in her attitude, spirit, and relationships with the various people across the city, she felt less like the scholar that she is and more like an embodiment of the city coming to life. To Hannah, Fiorella felt more like a modern day Gertrude Stein.
While our food tour was supposed to begin immediately heading down one of the main streets in Naples, our meeting point outside of the Duomo (Cathedral of Naples) prompted a question from me about the building we were standing in front of. Fiorella, wanting to play off of my interest, immediately asked if we wanted to go in for a quick visit. Sure, why not! This sort of ad hoc willingness to take us where our interests rested but then being able to follow up with detailed explanations on the history and customs of whatever we were seeing really defined our time in Naples with Fiorella.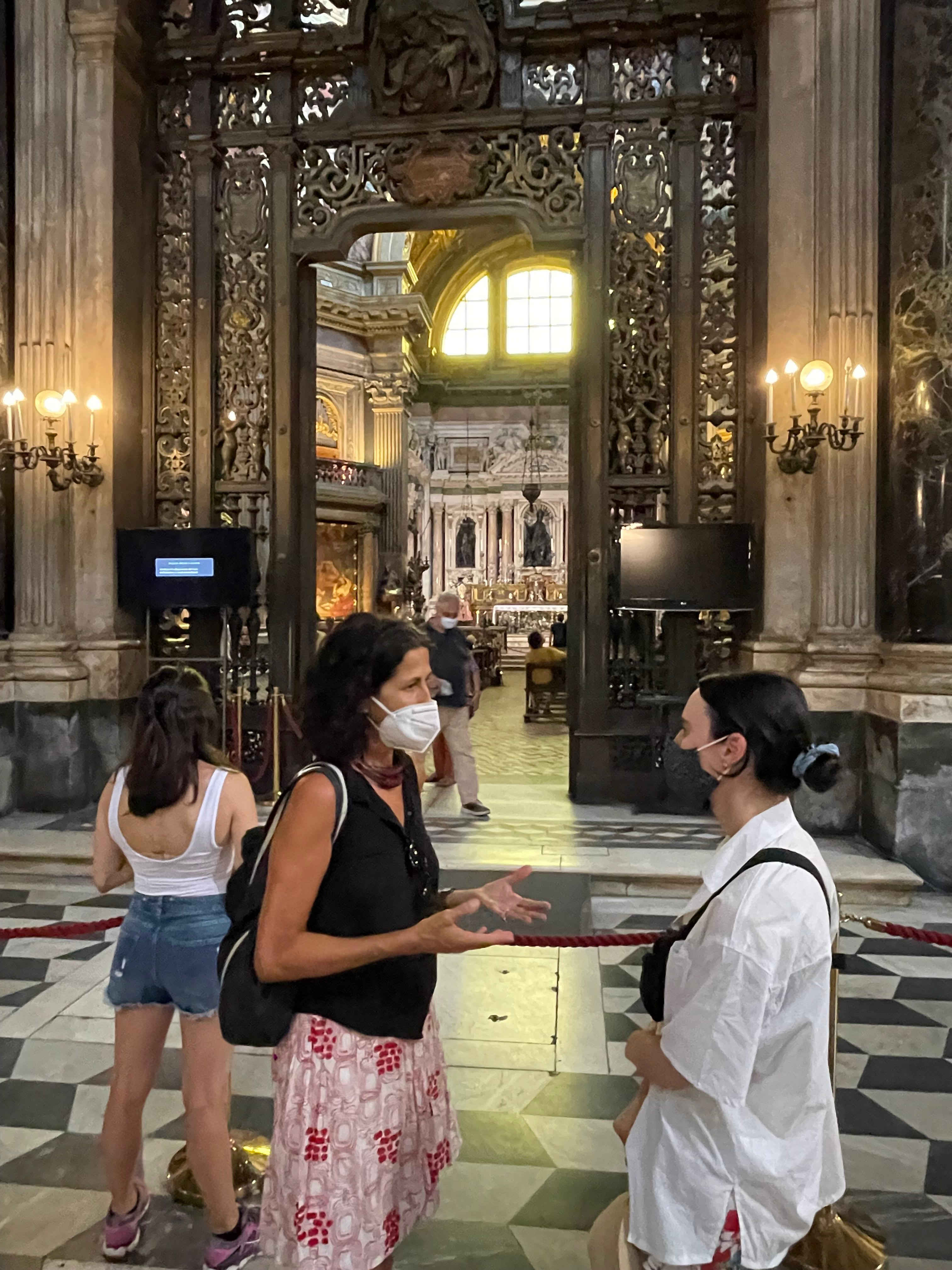 Fiorella explains to Hannah the Napolianic tradition of gathering to witness the liquefaction of a solidified sample of the blood of Januarius with tidbits about nuns yelling if the blood doesn't liquify fast enough . She also tied this back to The Feast of San Gennaro in Little Italy in NYC - who knew!
After our initial detour it was off to the races, heading down the streets and in and out of shops, tasting different fried snacks, grabbing a quick espresso, and taking a note of the different items frequently sold along the streets. Fiorella seemed to know everyone and made sure to skip the crowded tourist spots with the flashy storefronts in exchange for hidden gems buzzing with locals. At the coffee bar, where Fiorella insisted that we only drink our espresso standing at the bar up like a true Napolitano, the server at the counter encouraged us into a hilarious rendition of Frank Sinatra's "New York, New York." We all got a good laugh out of that.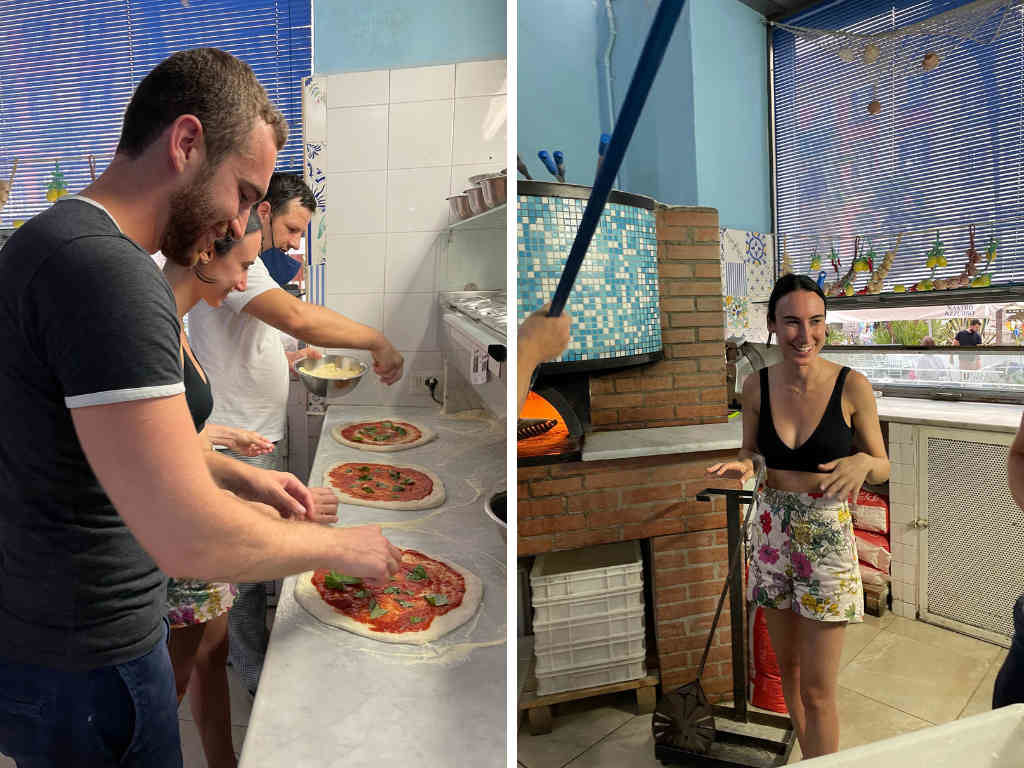 From there it was time for the real highlight of this tour–making an authentic pizza Napoletana in a local pizzeria. Alongside their head "pizzaiolo", we mixed and rolled out fresh dough, added tomato sauce, basil, our choice of toppings (I chose mushroom and olives) and fresh mozzarella cheese. One important master tip: the dough we made was not the dough we used for our personal pizzas - proper pizza dough is given 24-48 hours to rise before it is used. After inserting and removing our pizzas from the 900 degree brick oven we were ready to eat. As we chowed down on our master creations, Fiorella explained to us the history of pizza and its importance to the people of Naples.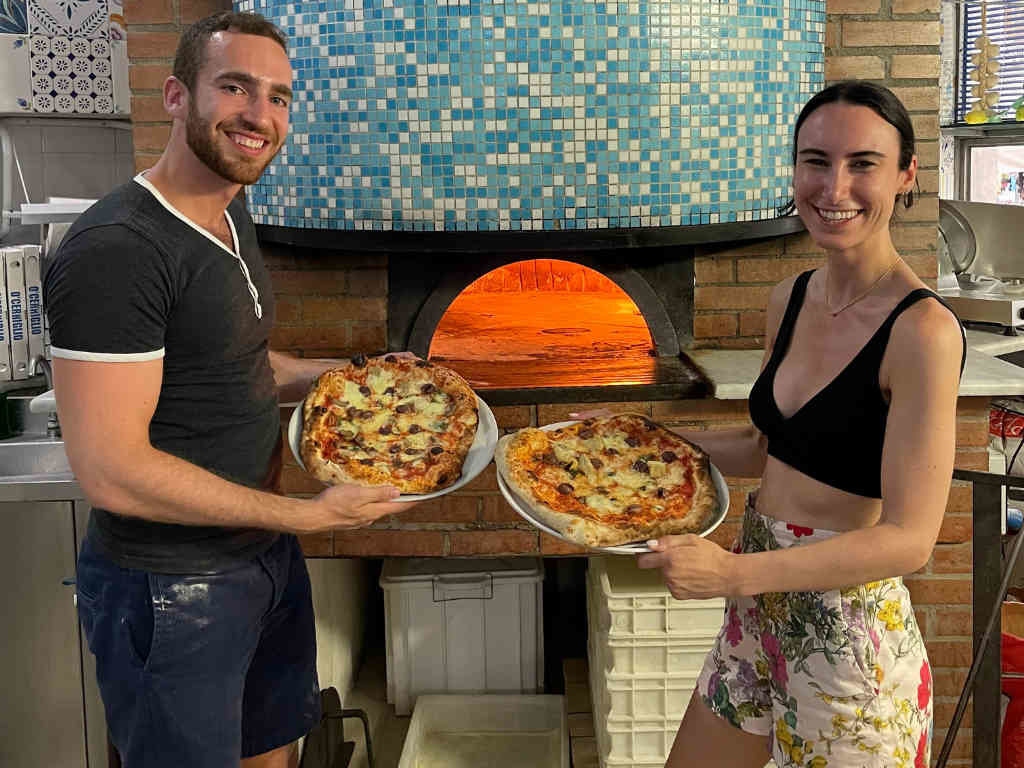 Dinner was followed by a traditional gelato dessert (not sure how we had any room for more food!) and we said goodbye to Fiorella. As we parted ways, Fiorella directed us to the historic Castel dell'Ovo for a nice evening stroll to walk off some of those food tour calories. It was a beautiful area filled with people enjoying the evening breeze along the coast. By the time we got home, we were definitely ready for bed. And we would need it - the next day we had a full day tour booked which included an excursion to the incredibly preserved volcanic ruins of Pompeii and the Naples Archaeological Museum. Much to our pleasure it turned out Fiorella would be our guide again and, boy, did she have some unexpected detours that really made our full day together special.
The next morning Fiorella greeted us outside of our AirBnB with her typical big smile and warm hello. She had ridden over in a black car taxi that was waiting at the corner to take us to Pompeii. Pompeii is an incredible archaeological site that was created by the eruption of Mount Vesuvius back in 79 A.D. The uniqueness of how the tragedy of the eruption resulted in one of the most well preserved archaeological sites in the world was particularly exciting to me.
As we drove the 30 minutes to the site, Fiorella set the scene for the morning, explaining aspects of daily life in historical Pompeii, and the role the nearby cities in Campania served for the ancient Greeks and Romans. Her narrative was only interrupted when we would pass a Naples landmark of note that she couldn't resist quickly pointing out. We could tell Fiorella was just as eager as we were to catch it all. Once we arrived at Pompeii and entered the site, I was amazed at the sheer size of it. It's hard to believe a 160 acre city was completely covered by volcanic debris and hidden from the world for centuries.
We spent the next 3 hours diving deep into the ruins, seeing individual homes, bath houses, forums, and amphitheaters. Fiorella doubled as our personal photographer as Hannah and I explored the site. I've included two pictures of things that truly stood out - the color preservation of the murals and the plaster casts of the people captured in their last moments. Fiorella, Hannah and I debated what this captured last pose meant about what this person was doing in their last moments. Like Fiorella's archeologist friends, we had a range of different ideas.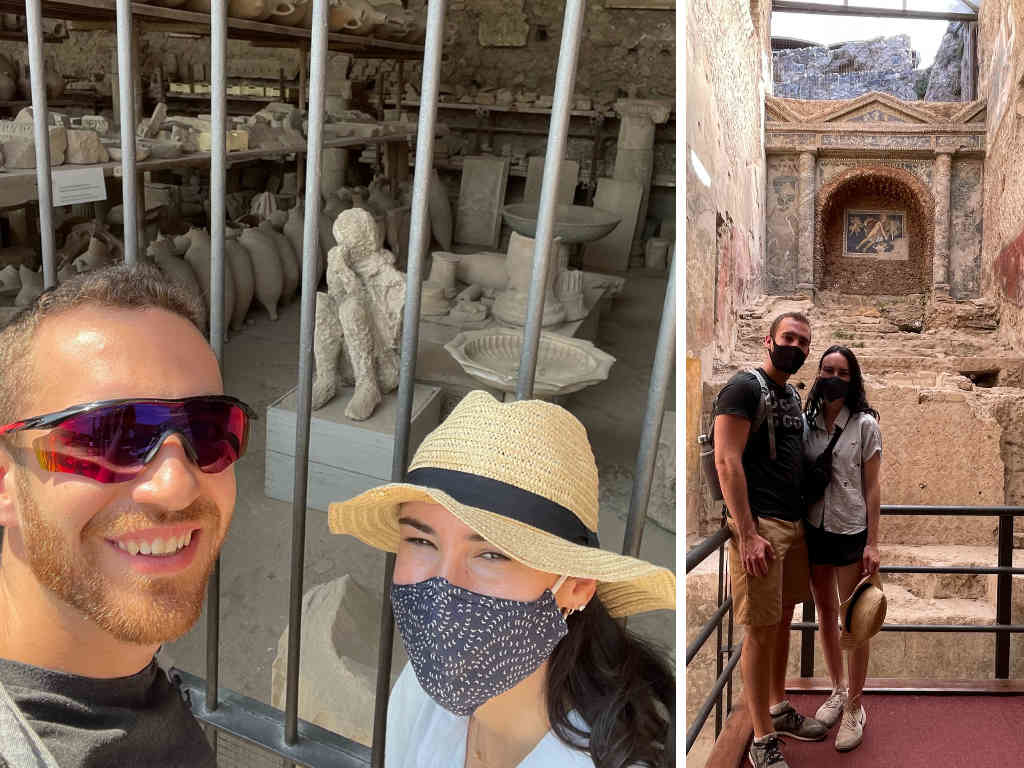 Fiorella did a great job checking in and seeing how we were feeling throughout the morning. It was a hot day in Naples (95 degrees) and she made every effort to find spots to sit in the shade and places to refill our water bottles. By the time we got back in the car to head back to Naples though, we were certainly ready for a bit of a break. The lunch we'd originally planned was supposed to be quick (in order to allow us plenty of time in the Naples Archaeological Museum) but Fiorella suggested we instead go to a local spot that she knew we'd love and take our time relaxing over our meal. We happily agreed, and she could tell by Hannah and my smiles that she had successfully read the room.
As we ate our delicious Italian lunch, Fiorella had another suggestion that would end up being a highlight of the day. Instead of rushing to the archaeological museum, there was a nearby church that was home to her friend, Jago, a renowned local sculptor. She was curious if we'd be interested in meeting him - I mean how could we resist?! A quick couple of texts and we were on our way. I can't fully describe what it was like standing inside Jago's church being face to face with his latest masterpiece, a modern take on Michelangelo's Pietà. Seeing the intricate details in the life size marble sculpture side by side with the living artist was surreal. We spent the next 45 minutes chatting with Jago, learning about what it's like being a modern day sculpture, his techniques and his methods, his inspirations and his upcoming projects. The conversation and the feeling of being there is something Hannah and I both agreed we won't soon forget.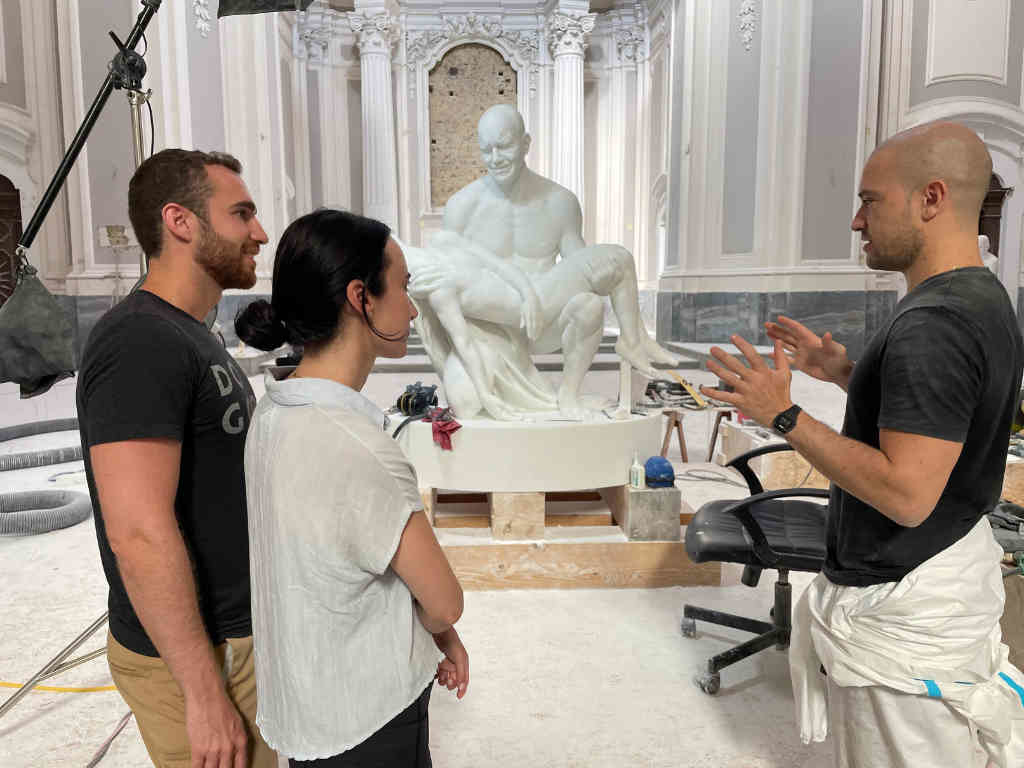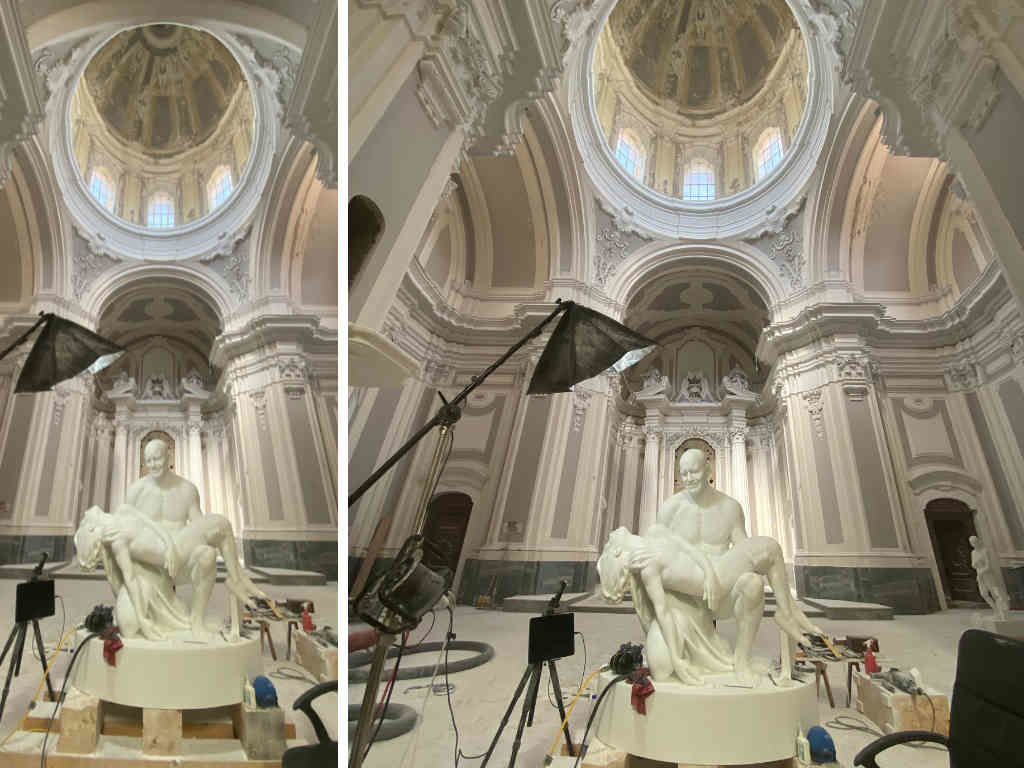 As we left Jago's workshop, our remaining time with Fiorella was running short but between the relaxed lunch, espresso shot for dessert, and our conversation with Jago, Hannah and I were reinvigorated. Earlier in the day Fiorella had mentioned Naples having archaeological ruins running directly underneath the main street of the modern city. It sounded exciting and we wanted to see it. At the same time there were still some highlights in the archaeological museum that Fiorella said we shouldn't miss. We debated what to do. Ultimately we couldn't choose, so with 90 minutes left, and this being our last day in Naples, we went for broke and hit them both! Having Fiorella lead us on this second half of our day was a treat as she could seamlessly tie what we were now seeing with everything that we discussed earlier in the morning. It not only added to what we learned, but also helped reinforce some of the topics that we had previously spoken about.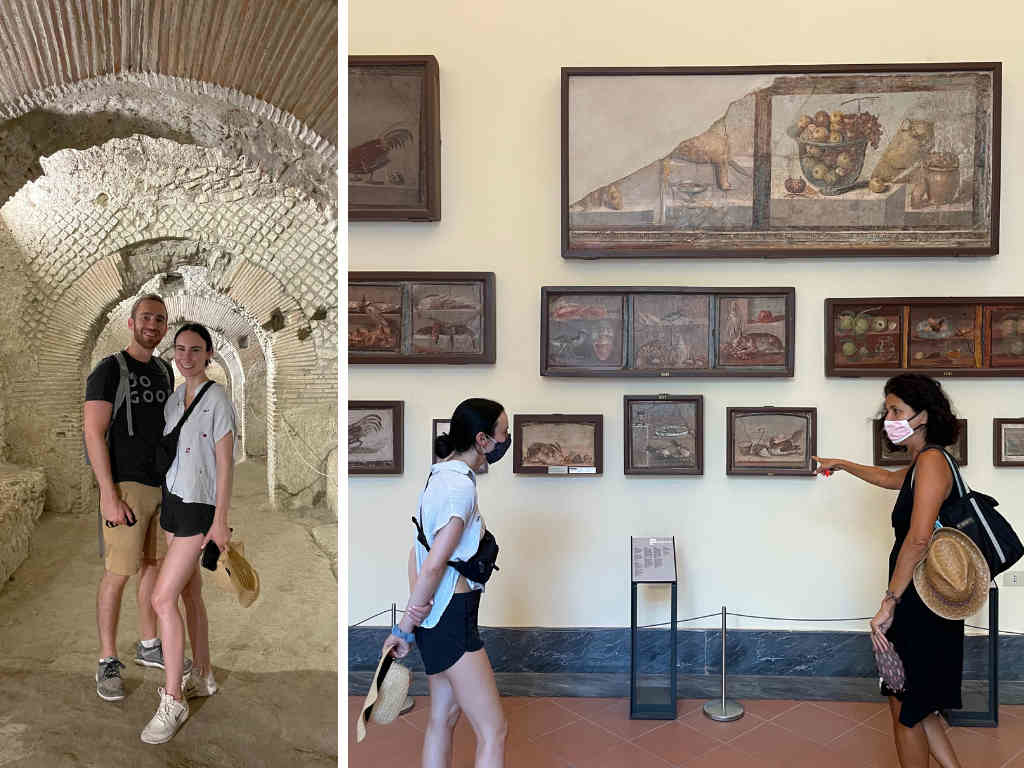 Parting ways with Fiorella was bitter sweet. It truly felt like we had made a friend over the last couple of days and we were sad to think that our time together in Naples had come to an end. On the ferry out of the city the following morning, Hannah and I got the chance to go through our pictures and truly reminisce on our time in Naples. I decided I'd write a blog post (that now you've gotten the chance to read :)) and we both agreed that next time we visit Italy, Naples would absolutely be on the itinerary again.
The city of Naples is so rich with history and culture and we felt that we had just scratched the surface. Upon reflection though, I'm not sure if we had been left to our own exploring we would necessarily feel the same way. Coming out of these couple of days, I have a newfound appreciation for what visiting a city with an expert could really mean. Whether in Naples with Fiorella, or in another city with a different expert Context guide, I'm sure to want to do it again.
Did you know that Italy is open to Americans? Here's what you need to know.
Eager to meet Fiorella for yourself? Check out our seminar An Introduction to Naples, Italy with Fiorella Squillante!