Few cities in Italy have been as fraught with turbulence as Naples. If you've ever read Elena Ferrante's My Brilliant Friend series, you'll know that the history of the city is complicated. In spite of everything it has been through, Naples has regenerated into a thriving center, only growing stronger from its stormy past.
For centuries, Naples was passed from empire to empire and civilization to civilization. Greek, Roman, Norman, Bourbon, French, and Spanish cultures have all occupied the region at one point in history. In previous eras, Naples enjoyed a certain degree of economic and political prosperity, but since the 18th century, Naples has experienced many events with adverse consequences. Cholera epidemics, fascism, the Great Depression, Nazi occupation, a volcanic eruption, an uptick in unemployment, and organized crime have bubbled to create quite a bit of challenges for the city.
Naples, however, has only grown stronger from these setbacks. Today, tourists from all over the world come to the city to behold its unique landmarks. The Bay of Naples and the looming figure of Mount Vesuvius make Naples a city rich with natural views in addition to historical sites.
From seeing the ancient ruins of Pompeii to experiencing the modern cuisine of Naples (the birthplace of Napolitano pizza), there's plenty to do in this old region.
So the question is — should you stay for a day, a weekend, or even longer to see all the sites? This decision can be overwhelming considering how much there is to absorb here! Not to worry, Context has the information you need to visit Naples in the timeframe you want.
Things to do in Naples, Italy for a Day
If you only have the day, you'll have to make sure to check out the coolest, most interesting historic sites of Naples that make it the unique city it is today. And lucky for you, you can experience Naples in a day and see exactly what you need to in our La Vita Napoletana walking tour! In three hours, you'll see Castel Nuovo, Palazzo Reale, Castel dell'Ovo, Quartieri Spagnoli, and Piazza del Plebiscito all with an expert guide.
Here's what we recommend if you're seeing Naples in a day:
1. Check out Ancient Naples in Napoli Sotterranea
Considering this southern Italian city set its roots as a Greek settlement as early as 600 BCE, it isn't too surprising that you'd find a goldmine of ancient historic spots here. Get the most accurate depiction of what Naples is by going underground at Napoli Sotteranea. Since Italian cities are often built on top of the ruins of previous civilizations, you can see the city exactly as it was centuries ago.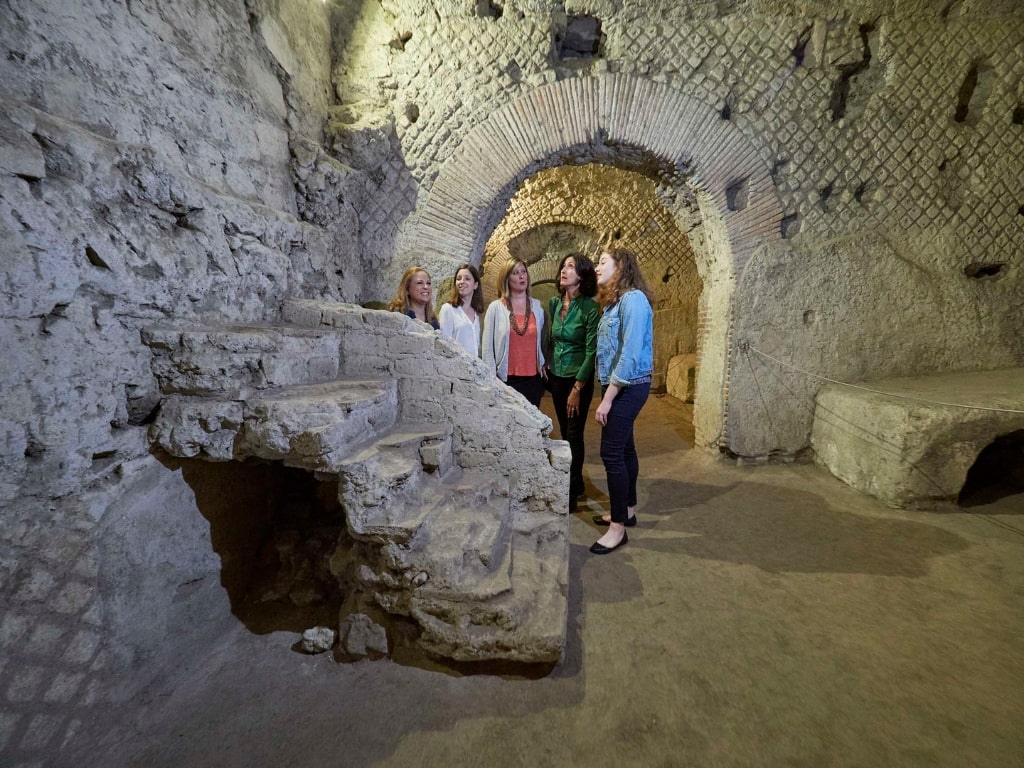 Discover the secrets of the Greeks and Romans with Context. During our Ancient Naples: Above and Underground Tour, you'll get a sense of how the past lends to the present in Naples. You'll start in the city center and follow the decumani, ancient Roman roads originally laid out 2000 years ago that are still in use today. Then you'll make your way below ground where Naples' ancient forum was once. And the best part? You'd be exploring this archaeological complex with a true archaeologist to get the best, in-depth experience. If you're traveling with the family, we also have the tour available for kids.
If you have some time, you can also check out the San Gennaro Catacombs, a network of tunnels and passageways that contain over 3000 ancient graves, crypts, frescoes, and art.
2. Walk through Castel Nuovo and Castel dell'Ovo
Castles are another remnant of Naples' occupational history. Did you know there are seven castles in the city? In fact, Naples used to be referred to as the "city of the seven castles" since it was the only place in the world to have so many castles. The two we suggest seeing are Castel Nuovo and Castel dell'Ovo.
Castel Nuovo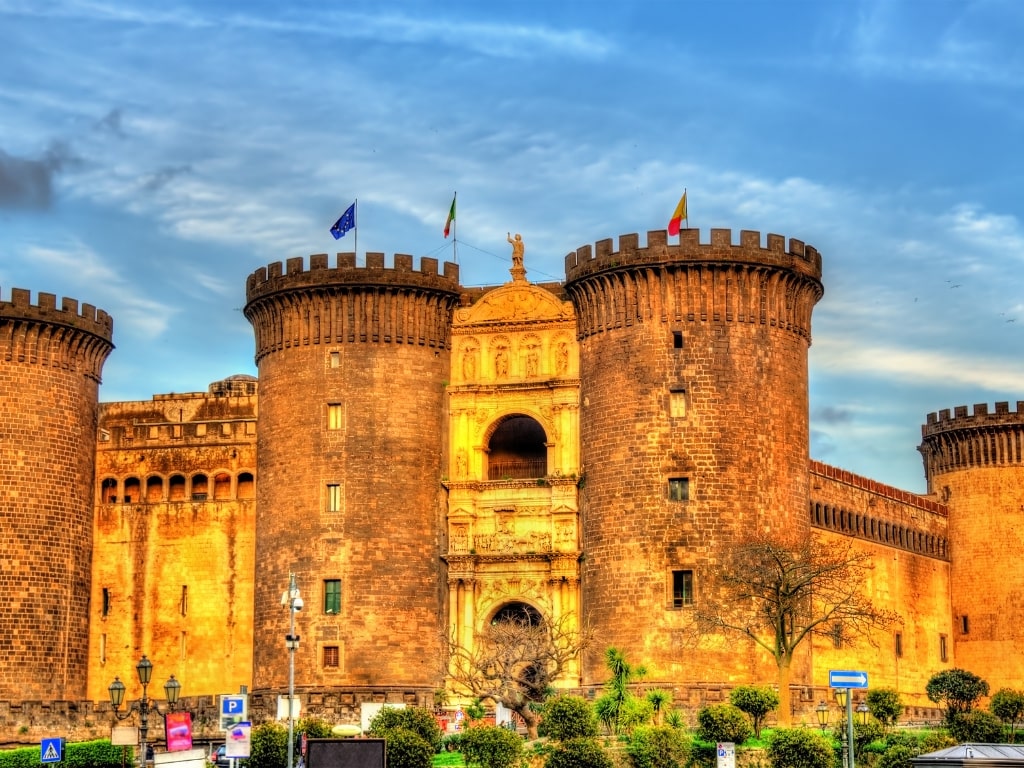 Built in 1279 for the Aragon and Spanish rulers, Castel Nuovo is one of the most scenic and recognizable architectural landmarks in Naples. This imposing fortress feels like a true castle with its isolating moat and rook-like structures adorning its facades. The castle houses the Civic Museum and the library of the Neapolitan Society of Homeland History. People especially are drawn to the frescoes of renowned Late Middle Ages painter Giotto di Bondone. Be sure to also look out for the Roman ruins that lay under a glass floor in the Armoury Room.
Castel dell'Ovo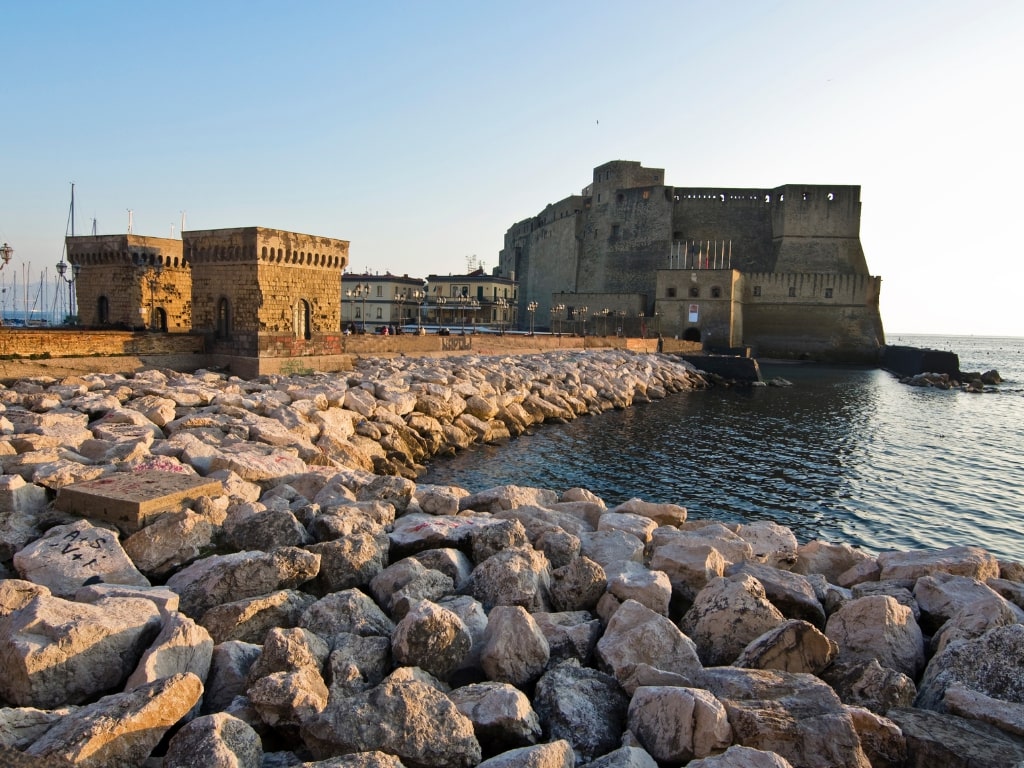 Castel dell'Ovo, or Egg Castle, is the oldest castle in Naples. Its strategic location on the waterfront, looking out to the Bay of Naples, has offered safety to the Greeks and Romans that first built the fortification. Castel dell'Ovo's curious name comes from a legend involving the poet Virgil, who was known to be a great sorcerer in the Middle Ages. As the legend goes, Virgil buried a magical egg around the castle to support its foundation. He warned that if the egg broke, the castle would crumble and Naples would experience disastrous events. The castle remains standing to this day, so thankfully, nobody has crushed the egg.
Castel dell'Ovo is definitely worth a visit because it's completely free! It also includes access to exhibitions and other special events.
3. Piazza del Plebiscito
Not too far from Castel Nuovo, the Piazza del Plebiscito is a beautiful, must-see city center plaza. It was named after the referendum, or plebiscite, that pulled Naples into the unification of Italy in 1860. The bold square stands as a symbol of a rejuvenated Naples, reinvented to crown its historic landmarks. The four buildings that surround the Piazza del Plebiscito include the Royal Palace, the Basilica of St. Francis of Paola, and the Prefecture and the Palace of Salerno, two symmetrical buildings that bring harmony to the place.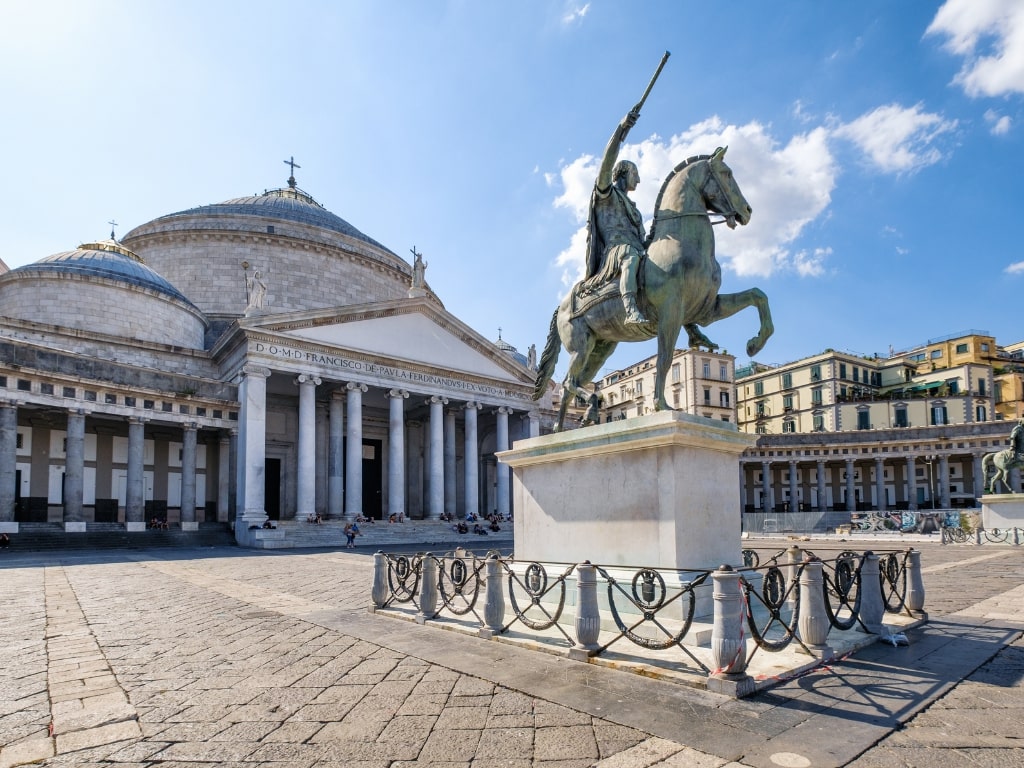 Fun fact: in 1963, the Piazza del Plebiscito was transformed into a parking lot to deal with the chaotic increase of cars in Naples. It was reverted back to a pedestrian plaza in 1994.
The large public gathering site also holds outdoor events and concerts. International singers and bands like Elton John, Bruce Springsteen, Maroon 5, Muse, and others have played at this grandiose piazza!
Things to do in Naples, Italy with Family
4. Museums in Naples:
There are many museums in Naples to experience, but the best one to check out with the family is the Archaeological Museum of Naples.
Archaeological Museum of Naples: This renowned museum in Naples holds the world's most important and richest collections of Roman artifacts. Founded in the 18th century by the Bourbon King Ferdinand IV, the museum was originally intended to store his vast collection of statues left over from the Roman Farnese family. With its throngs of paintings, mosaics, and sculptures, this museum is especially important in understanding the ancient Greco-Roman history of the city. Even more fascinating, you'll be able to see the archaeological archives of Pompeii and Herculaneum, Roman cities frozen in time by the nearby volcano, Mount Vesuvius. The whole family is sure to stare in awe at the antiques of Naples' past.
5. Visiting Pompeii & Herculaneum
If you're in Naples, Pompeii and Herculaneum are archaeological sites you just have to see. It's one of the few places in the world where you can actually see an ancient city as it stood over 2,000 years ago. Archaeologists have unearthed these legendary places from the ashes of Mount Vesuvius' explosion centuries ago. These findings have given us remarkable insights into the civilizations that might even surprise you. Walk through ancient cobblestoned roads, explore old homes, temples, shops, civic buildings, and public spaces that intricately illustrate everyday activities in the city.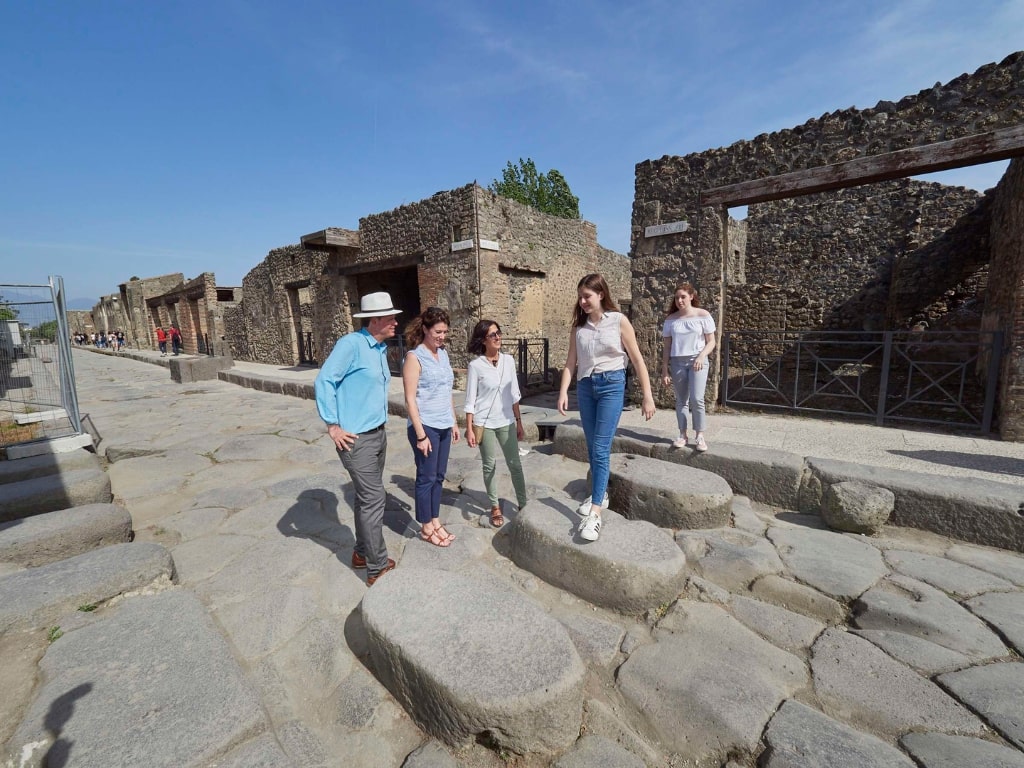 Our Full Day Pompeii Tour for Kids tour has been specifically designed with your family in mind. Engaging for both kids and adults, you can marvel at Pompeii with a true expert in archaeology or history, giving you a more in-depth experience.
Best Pizza in Naples, Italy
When in Naples, Italy, you have to eat the original Neapolitan pizza! Pizza Napoletana is fresh and simple: basic dough, raw tomatoes, fresh mozzarella cheese, fresh basil, and olive oil. These famous pies often have more sauce than cheese and are cooked at very high temperatures for no more than ninety seconds. First opened in 1916, we recommend going to Glorizia for a taste of tradition.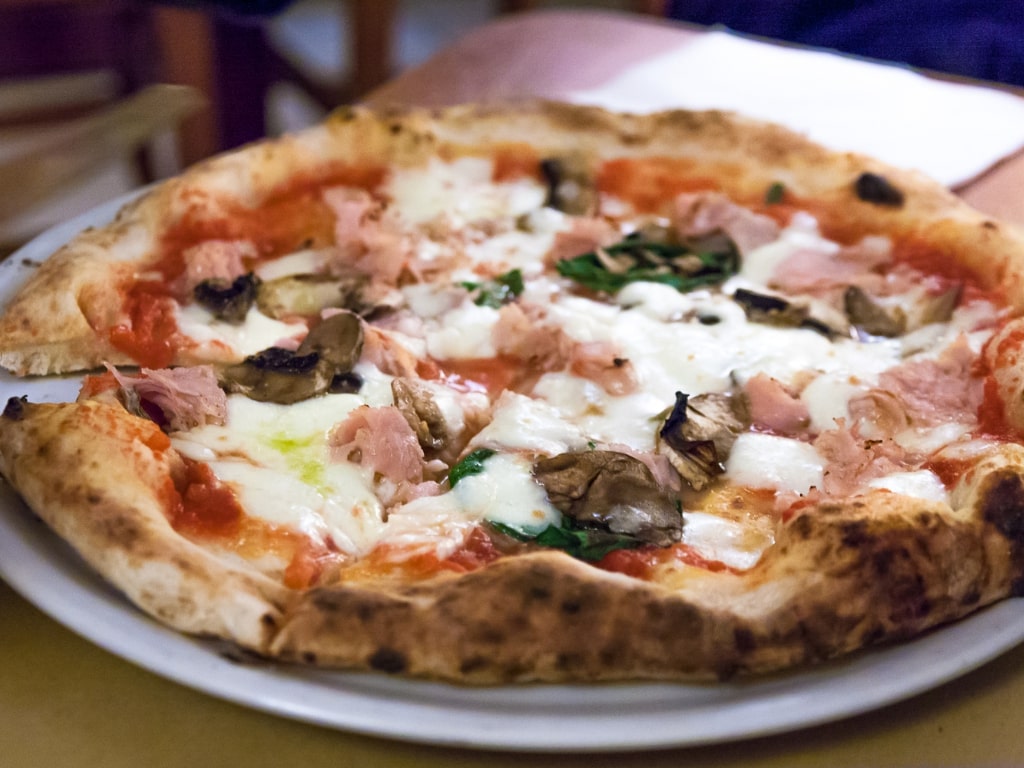 6. Glorizia, 1916
A cornerstone of the wealthy Vomero neighborhood, this historical pizzeria survived through both world wars. The restaurant has seen some of Naples' most prominent figures inside, wanting to try the tried and true flavors they've passed down from generation to generation. You'll want to try the 1916 pizza: ricotta, mozzarella, courgette flowers, artichokes, salami, and provolone del monaco.
7. Make your own on a Food Tour
One of the most exciting things about going to a new city is experiencing the local cuisine. In our Savoring Naples Food Tour, We've made it easy for you to savor the foods that make Naples unique, like mozzarella di bufala, spaghetti alla puttanesca, and Neapolitan pizza. Part walking tour, part food tour, you'll eat your way through the city while learning about its culinary history with a local, expert insider.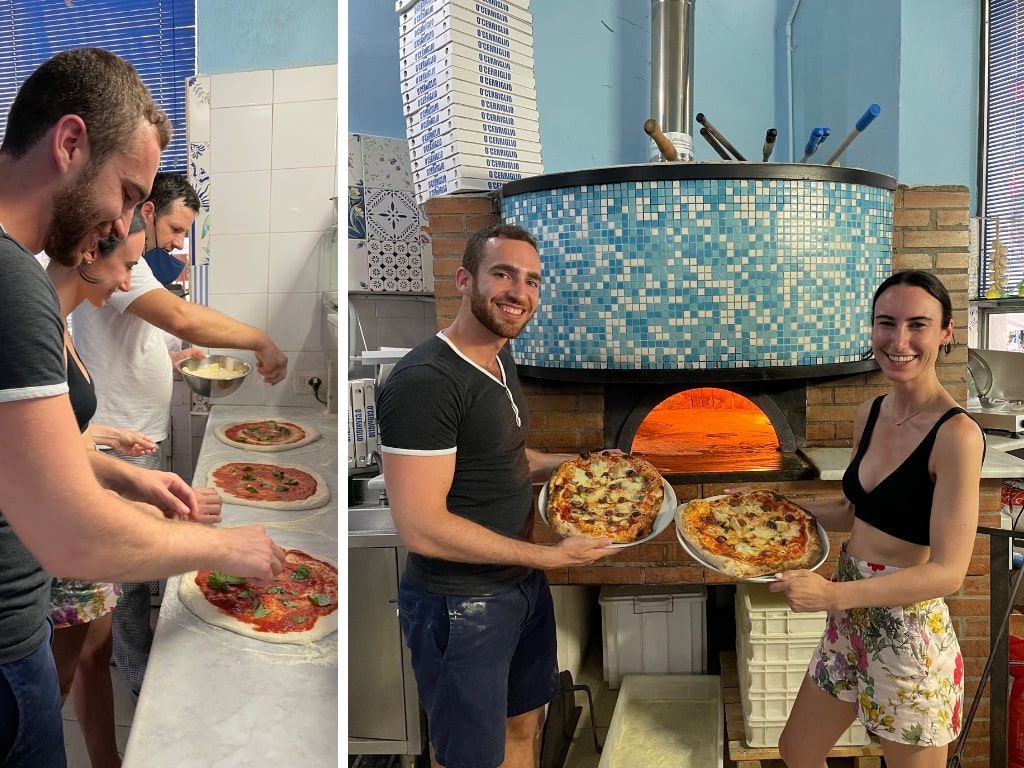 At the end, you'll have the amazing opportunity to make your own pizza at one of Naples' traditional pizzerias. With the guidance of a trained pizzaiolo, you'll get your hands dirty by kneading dough, spreading sauce, and sprinkling mozzarella. Become a master in pizza-making, impress your friends, and remember Naples forever in this hands-on walking tour.
Things to do in Naples, Italy at Night
8. Enjoy City Views & the Bay of Naples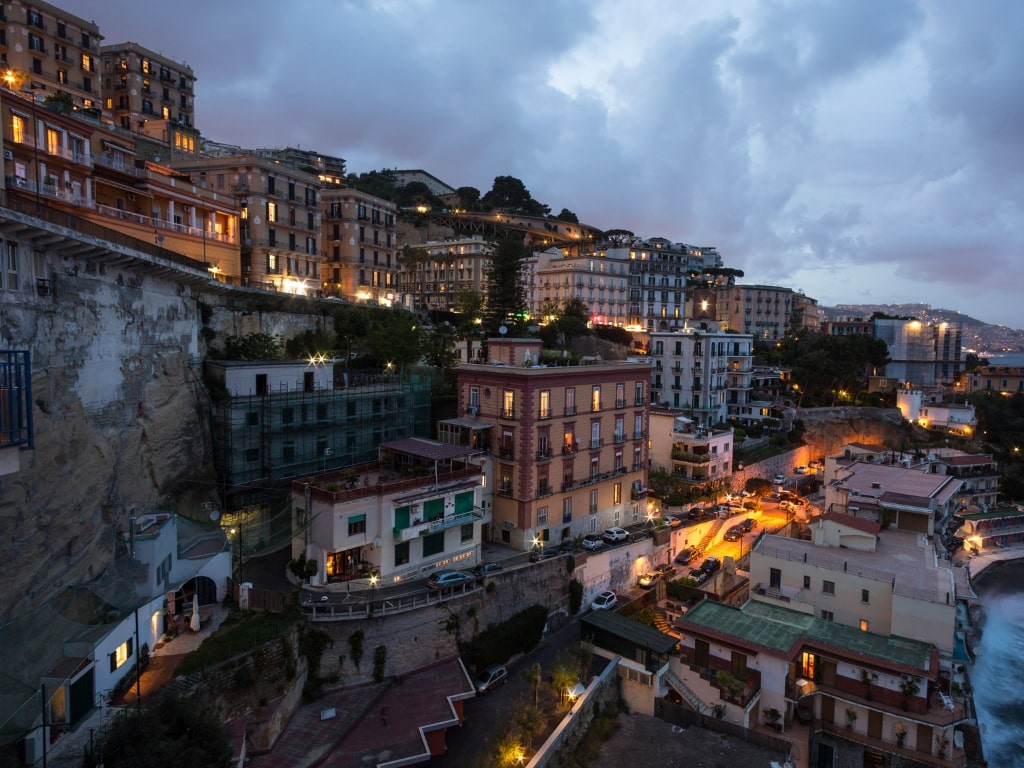 Let's not forget that Naples has amazing seaside views. Walk around the Bay of Naples and hear the soft crashes of the ocean waves and gentle coastal breeze. Plus, the whole city sparkles at night. The illuminated castles and other historic buildings give you the chance to see the city in a whole new light.
Romantic Things to Do in Naples, Italy
If cooking a pizza on a food tour and walking around the Bay of Naples at night with your other half isn't romantic enough, exploring art in the city will do it! Make a romantic day out of touring the city's historic Baroque art. Stroll hand-in-hand, and gaze at the blushes and brushstrokes of the past.
9. Explore Caravaggio and Baroque Art
In the 17th century, Naples was an economic and political powerhouse that fueled an artistic flourishing. Most notably, Baroque art and architecture made its way to Naples during this time period.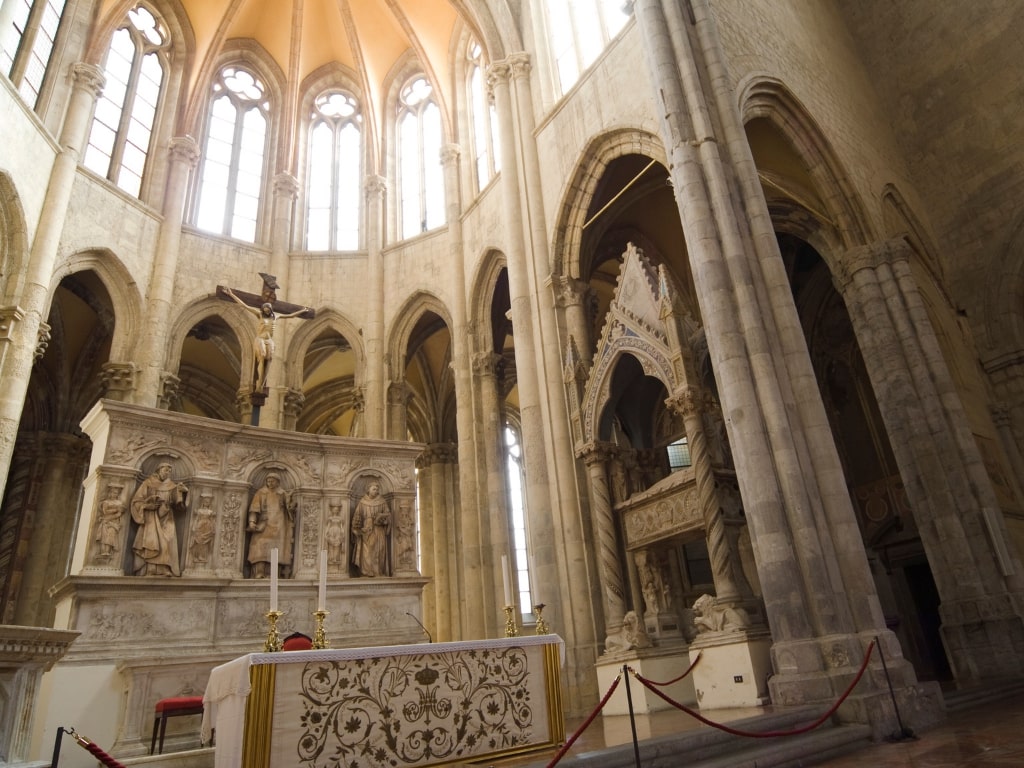 Baroque is characterized by contrast, intense color and detail, and elaborate decor. The style had its roots in Rome, but quickly moved to Naples, especially once Caravaggio moved to the city. After killing a man in Rome, this tortured artist fled to the city and established his great reputation as a Baroque artist. His dramatic use of light and dark is exemplified in The Seven Works of Mercy masterpiece, which you and your significant other will have to see in the Pio Monte chapel and palace.
On our Caravaggio and the Baroque in Naples tour, you'll see Baroque in nondescript chapels and majestic churches, including the Cappella Sansevero, Santa Chiara, and the famous San Domenico Maggiore.
There's nothing more romantic than browsing a museum together! The Museo d'Arte Contemporanea is perfect for couples looking for an adventure.
While Naples isn't widely regarded as a city with the best contemporary art, it has an amazing modern scene that can unfortunately go missed if you don't look for it. Naples first became a center for modern art in the 1960s when the top artists of the time, including Andy Warhol, Robert Rauschenberg, and Cy Twombly spent time in the city and became inspired by the local Neapolitan flavor. In fact, the New York Times recently declared that "Naples is Italy's best-kept secret" in terms of contemporary art! You and your partner will love staring in awe at the evocative installations, smattering of cutting-edge galleries, and stunning collection of modern art.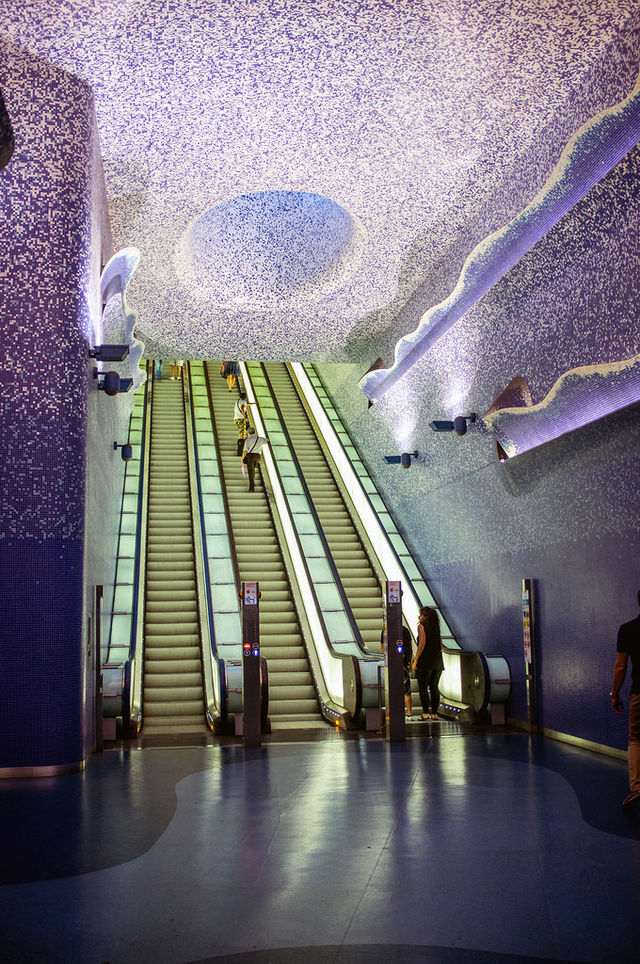 Here's an especially adventurous and romantic insider tip: Naples has some really cool contemporary installations in its subway stations. Put together in 2012, the Stazione della Metropolitana dell'Arte (Toledo station) is an off-the-beaten path wonder. The entire metro has been transformed into a surreal, dream-like landscape for you and your loved one to enjoy together.
Unusual Things to Do in Naples, Italy
11. Gaiola Island
Just a thirty minute drive from the city center, Gaiola is a small, beautiful, and perhaps cursed island off the coast of Posillipo in Naples. The site is quite interesting to behold — there's a sliver of a stone arch that connects two huge rocks that make up the island. That isn't the only odd thing about the place either.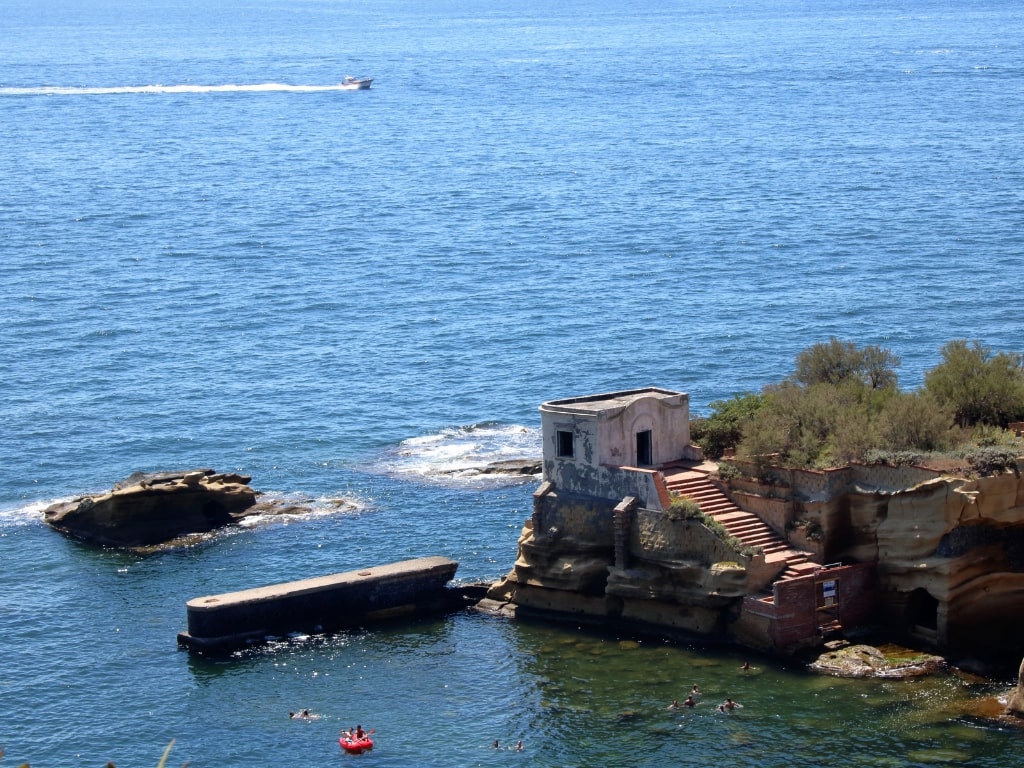 All eight of Gaiola Island's owners have suffered one tragedy or another. The first went bankrupt, the second was found dead and wrapped in a rug, the third died of a heart attack while visiting the island, the fourth was locked up in an asylum where he committed suicide, and on and on.
Eventually, the island became the government's property. Check out this unique island from the coastline, or boat, swim, scuba dive, or snorkel at the nearby Gaiola Underwater Park, a marine protected area.
12. Bourbon Tunnel
If touring the underground Napoli Sotterranea and catacombs wasn't enough for you, the daring history junkie in you has to check out the Bourbon Tunnel. Originally built as an escape route for the aristocracy in 1853, this deep tunnel now contains rusted over vintage cars and wartime relics. It was also used as a bomb shelter to protect against air raids. You can still see objects left by people who were sheltered here like hair brushes, children's toys, and beds.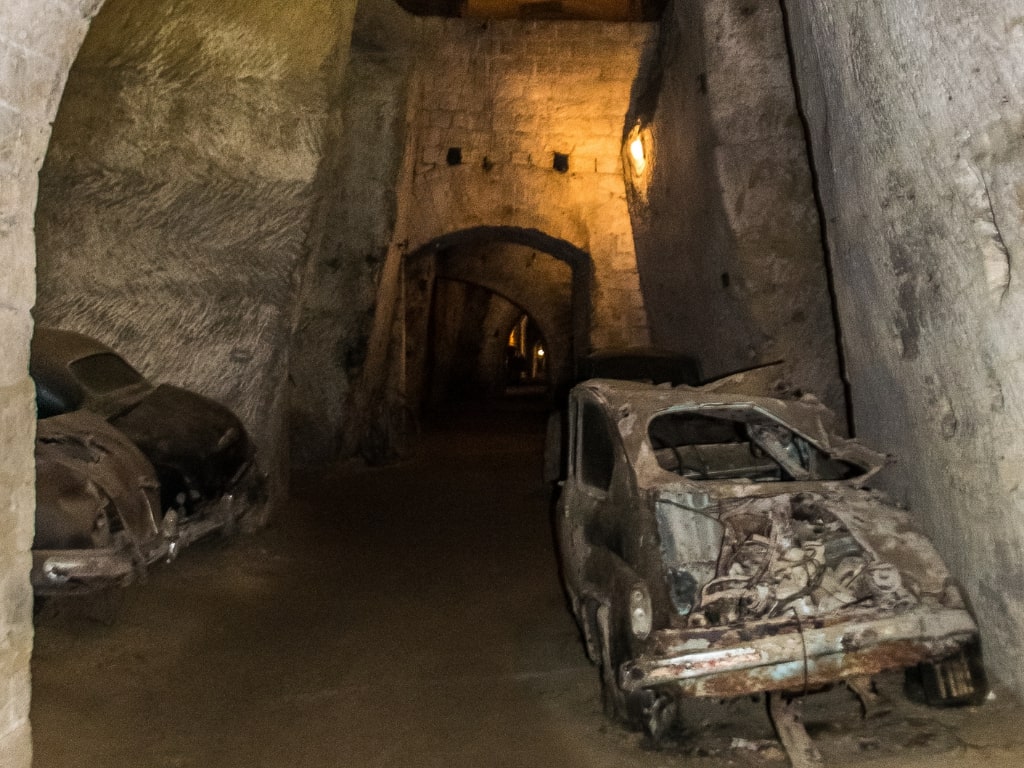 Things to do in Naples, Italy with Context
The southern Italian city of Naples houses a vast set of sights that you won't be able to find anywhere else. Whether you're staying for a day, a week, or for a longer term, we've talked about all the best things to do in Naples, Italy to help pinpoint what exactly you need to see in this historic mine of a city.
Staying for a day? See Naples underground to get a sense of its ancient history, walk through medieval castles, and situate yourself in the city at the Piazza del Plebiscito.
And if you've got some time left over, try the Archaeological Museum of Naples, meandering through the Museo d'Arte Contemporanea, and seeing Pompeii and Herculaneum.
Be sure to stop for some Neapolitan pizza and sample the local cuisine too!
Join us on our many tours in Naples, or learn about Naples online for deep-dives or introductions to all your curious thoughts about Naples!

Other blog posts you may be interested in: