Tour Details
Tour Description
Our Ostia Antica tour, a popular day trip from Rome, provides an in-depth way to visit this stunningly preserved ancient Roman city. With an archaeologist or classical historian leading the way, we'll pick our way through two thousand-year-old apartment complexes, visit a bygone restaurant, and learn about bizarre religious cults.

We'll begin our Ostia Antica tour in Rome with a short private car or van ride toward the coast. Along the way, our guide will discuss the regional geography of the area, Ostia's role as Rome's port, and the historic background leading up to the town's rise in the Imperial era. On-site, we will spend 3.5 hours combing through the ruins, which include some of the best examples of baths, a fantastic amphitheater, and several Mithraic temples, not to mention a forum with temples. As we walk, we'll focus on the daily life of regular, working-class Romans. We'll spend time in the market area with its wonderful mosaics discussing the economy of the empire and the materials and commodities that made their way through there every day. We will also spend time in the insulae (apartment houses) that characterize Ostia and even visit an ancient bakery and fast-food restaurant.

At the end of our Ostia Antica tour, participants are free to linger on-site (where there is also a modern restaurant) or return to Rome with our guide. If you decide to remain and are booking a private tour, you can ask our team to delay the return car or van transfer. If you are booking a small group tour and would like to stay on-site longer, you will need to return to Rome by train.

Note:
The synagogue in Ostia—the oldest in Europe—is located at the far end of the site, but is not usually included on our tour. On private tours, it is possible to shape the tour so that we include it—please let our team know in advance that you would like to visit this area of the archaeological site.


Why Ostia Antica?
Why would I tour Ostia Antica instead of Pompeii? There are two reasons many of our clients in Rome choose to visit Ostia over Pompeii. The first is that it's much closer and easier to visit. While it takes up to three hours to get to Pompeii from Rome, Ostia is a quick 25-minute train ride. The second reason is that many scholars feel that Ostia is a better example of a real, working-class town than Pompeii. We add a third reason. Visiting Ostia has a lower carbon footprint than visiting Pompeii, and given the crowds at the latter and general "undiscovered" feeling of the former, it's a more enjoyable, enriching experience.


FAQ
What is a private tour?
Our private tours are limited exclusively to travelers in your party. They are designed to provide a learning experience that is completely tailored to you and your traveling companions. Private tours give you more flexibility with scheduling (you decide when the tour best fits in your trip), the ability to tailor your itinerary (we'll work to match the itinerary to the interests and dynamics of your group), and more personalized time with your guide.

Are tickets included?
Yes. The cost of this tour does include a ticket to the site.

How long is the van ride?
We book a van, and the one-way transfer is 45 minutes (1.5 hours round trip).

Is it possible to spend more time on-site on our own?
You are welcome to stay more time on-site, but the guide's time with you ends at 1:30 pm. If you booked privately, contact us and we will delay your return transfer. If you booked a small-group tour, you can take the train at the Ostia train station to go back to Rome. The ride is 30 minutes and the ticket costs €1.50 per person.

Is this tour mobility friendly?
Ostia Antica is an archaeological site that is still being uncovered, making it very difficult for wheelchairs, walkers, or canes. The average group tour covers about 3 miles. Private tours have the option to cover less ground, and are the best option for those with mobility concerns. All guests should wear comfortable walking shoes.
Where You'll Start
Tour Experts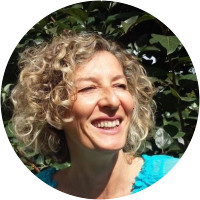 Cecilia is an art historian and a native Roman with a Master's degree in Medieval and Renaissance art from the Sapienza University of Rome. Although her specialty is painting and decorative arts, she has a broad knowledge of the history of Rome and a personal passion for ancient history, which she shares on many antiquity-themed itineraries. Cecilia has worked actively in the past as a lecturer, teacher, and curator of exhibitions. She had been a staff member of the didactive service of the Vatican Museums, the Galleria Doria Pamphili and the Galleria Colonna where she still frequently consults. As a licensed guide for Rome and Florence and with a specialized teaching degree, she has more than 20 years of experience in leading highly-qualified tours.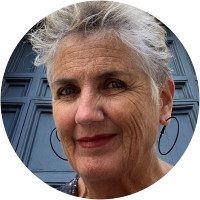 Liz, a native of San Francisco, California holds degrees in architecture from the University of California at Berkeley and Università degli studi "La Sapienza", Rome. She specialized in restoration and urban design. Her restoration projects have brought her to work in direct contact with the rich historical layers of Rome and Italy. She has been leading study walks for Context Rome since its beginning and has lived in Rome since 1988 practicing architecture, researching design and lecturing at university study abroad programs.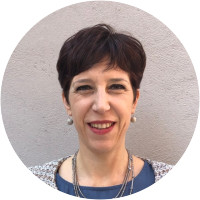 Sara is an art historian with doctoral degrees in Medieval and Modern Art History and Classical Antiquities. She is the author of a book, published by the Accademia dei Lincei, on the antiquities collection of Pope Julius II and has written various articles in important scholarly journals on the history of Renaissance and Baroque collections. More recently, she had published a book on some of the most famous paintings of Caravaggio in Rome which introduces a new interpretation of the works, based on philological data, and which is changing the way we look at this artist. For many years, she has combined her philological research with her work as a university instructor, museum educator and professional tourist guide.
Reviews can only be left by Context customers after they have completed a tour. For more information about our reviews, please see our FAQ.
If only we had opted for the full day at Ostia Antica instead of just the afternoon! There was so much to see, and Dony did a fantastic job curating the most interesting places and telling us the history behind them. We were sad the museum wasn't open, but it will give us a reason to go back!
May. 5, 2023
Dimo's tour was absolutely amazing. We saw so much detail in Ostia Antica that we would have walked right by if we had visited on our own. He made the tour very special for me and my wife. Would book again without hesitation.
Dec. 24, 2022
Priscilla is an excellent guide. During our tour of Ostia she was knowledgeable without being overly academic and she was just good company. Special thanks to her for adjusting the walking to our pace while still giving us the full Ostia experience. Well done.
Dec. 7, 2022