Tour Details
Tour Description
Our Ostia Antica tour, a popular day trip from Rome, provides an in-depth way to visit this stunningly preserved ancient Roman city. With an archaeologist or classical historian to lead the way, we'll pick our way through 2000-year-old apartment complexes, visit a bygone restaurant, and learn about bizarre religious cults.

We'll begin our Ostia Antica Tour in Rome with a short private car or van transfer toward the coast. Along the way, our guide—an archaeologist or classical historian-—will discuss the regional geography of the area, Ostia's role as Rome's port, and the historic background leading up to the town's rise in the Imperial era. On site, we will spend 3.5 hours combing through the ruins, which include some of the best examples of baths, a fantastic amphitheater, and several Mithraic temples, not to mention a forum with temples. As we walk, we'll focus on the daily life of regular, working class Romans. We'll spend time in the market area with its wonderful mosaics discussing the economy of the empire and the materials and commodities that made their way through here every day. We will also spend time in the insulae (apartment houses) that characterize Ostia and even visit an ancient bakery and fast-food restaurant.

At the end of our Ostia Antica tour, participants are free to linger on site (where there is also a modern restaurant) or return to Rome with our guide. If you decide to remain and are booking a private tour, you can ask our team to delay the return car or van transfer. If you are booking a small group tour and will like to stay on site longer, you will need to return to Rome by train.

Note: The synagogue in Ostia—the oldest in Europe—is located at the far end of the site, but is usually not included on our tour. On private walks, it is possible to shape the tour so that we include it—please let our team know in advance that you would like to visit this area of the archaeological site.


Why Ostia Antica?
Why would I tour Ostia Antica instead of Pompeii? There are two reasons many of our clients in Rome choose to visit Ostia over Pompeii. The first is that it's much closer and easier to visit. While it takes up to three hours to get to Pompeii from Rome, Ostia is a quick 25-minute train ride. The second reason is that many scholars feel that Ostia is a better example of a real, working class town than Pompeii. We add a third reason. Visiting Ostia has a lower carbon footprint than visiting Pompeii, and given the crowds at the latter and general "undiscovered" feeling of the former, it's a more enjoyable, enriching experience.


FAQ
What is a private tour?
Our private tours are limited exclusively to travelers in your party. They are designed to provide a learning experience that is completely tailored to you and your traveling companions. Private tours give you more flexibility with scheduling (you decide when the walk best fits in your trip), the ability to tailor your itinerary (we'll work to match the itinerary to the interests and dynamics of your group), and more personalized time with your guide.


What is a small group tour?
Our small group tours cover many of the same itineraries as our private tours, but they place you with other travelers in groups of 6 or less. They operate on a pre-scheduled calendar, and are designed to provide an opportunity to engage with and learn from other travelers. Most of our small group tours require at least three (3) participants to run, although there is some variation from walk to walk. However, there is some variation from walk to walk. As you sign up for a tentative walk we display the minimum number required in order to confirm.

Are tickets included?
Yes. The cost of this tour does include a ticket to the site.

How long is the van ride?
We book a van, and the one-way transfer is 45 minutes (1.5 hours round trip).</p>

Is it possible to spend more time on site on our own?
You are welcome to stay more time on site, but the guide's time with you ends at 1:30 pm. If you booked privately, contact us and we will delay your return transfer. If you booked a small group tour, you can take the train at the Ostia train station to go back to Rome. The ride is 30 minutes and the ticket costs €1.50 per person.

Is this tour mobility friendly?
Ostia Antica is an archaeological site that is still being uncovered, making it very difficult for wheelchairs, walkers, or canes. The average group tour covers about 3 miles. Private tours have the option to cover less ground, and are the best option for those with mobility concerns. All guests should wear comfortable walking shoes.
Where You'll Start
Tour Experts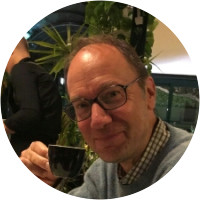 Originally from England, Richard has lived in Rome for the last fourteen years. He holds a Master's degree in medieval and twentieth-century history from London University and has a broad-minded and synthetic approach to understanding Rome. Richard works quite frequently with institutional travel organizations, such as museums and church organizations, and as a result spends much of his time traveling all over Europe. He brings this cosmopolitan and pan-European experience to bear on his work with us in Rome, constantly making connections to other cities and countries in the course of his lectures and seminars.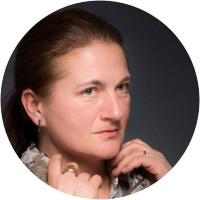 Elisabeth has multiple advanced degrees in archaeology and classical studies. She has done studies in classical philology, specifically Latin, and ancient art history. A frequent lecturer and adjunct faculty at John Cabot University, Elisabeth is currently researching Etruscan cultures. She wrote her dissertation on Etruscan musical instruments and is an active member of Gruppo Archeologico del Territorio Cerite, a conservation organization in northern Lazio.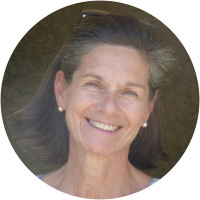 Patrizia holds a Master's degree in Medieval Archaeology and has studied at the Vatican and at the University of Aix-en-Provence. Her experience excavating in Rome is extensive, including major work at the Crypta Balbi in the 1990s, arguably the most significant archaeological excavation in central Rome in the last century. She worked for FAI - Fondo per l'Ambiente Italiano (Italian National Trust) as Rome's cultural attache for over 20 years. Patrizia is the author of the guidebook to Villa Gregoriana (Tivoli). She is an accomplished teacher and guide whose knowledge of (and passion for) the city of Rome is boundless.
Reviews can only be left by Context customers after they have completed a tour. For more information about our reviews, please see our FAQ.
Another wonderful experience with Context Travel. They have the best guides, and Jade provided a solid historical perspective while also giving us insights into life in Rome today. Jade was friendly, helpful, and informative. An engaging exploration of Ostia Antica.
Dec. 25, 2021
Your guides are knowledgeable and handle interaction in a gracious way.
Aug. 5, 2021
Dony was engaging, incredibly knowledgeable, passionate and told memorable stories. He brought all that we said into our understanding of today - such as the negotiations of Ostia Antica being like Wall Street. Or the "fast food" of the place being like McDonald's. These are stories we'll remember and share with friends. What went right - was on time, great driver, clear communication. At the end, we got a bonus by being dropped off at a different location and Dony gave a brief history of the area as we set out to walk back to our apartment. No changes to recommend.
Jan. 15, 2020