Tour Details
Tour Description
On this 2.5-hour Rijksmuseum tour with skip-the-line tickets, we'll explore the treasures in one of the world's greatest museums accompanied by an expert in art history. We'll stop to view many of the famous Old Masters, including Rembrandt and Vermeer, as well as lesser-known artists. Along the way, we'll form a view of Dutch life through the lens of its great artistic figures, making this a perfect tour for both fine arts connoisseurs and those interested in a holistic view of Amsterdam's cultural and artistic development.
Sites Visited
Rijksmuseum (interior and exterior)
Included
Skip-the-line tickets to the Rijksmuseum
Viewing of Rembrandt's The Night Watch
2.5 hours with an art historian
Itinerary Details
We'll begin our tour discussing how art became a prominent part of the Netherlands' culture as trade and exploration bloomed and the nation became a world power. In a bustling central room of the redesigned Rijksmuseum, we'll gaze up for ourselves at Rembrandt's masterwork: The Night Watch. The space is dedicated to this famous painting, which is crucial to any discussion of Amsterdam in the 17th century.
Depending on our guide and interests, we may choose to explore in any number of directions. We will view and discuss more works by Rembrandt, as well as other Dutch masters of the 17th century, such as Vermeer, Steen, and Ruisdael. But, we'll also take time to step away from the crowds in these popular galleries to look at the works of more obscure artists. These less-trafficked rooms are carefully curated to show off the scope of Dutch art over past centuries, illuminating how artworks were collected and valued, and how everyday life was portrayed in painting. The Rijksmuseum also boasts a fantastic collection of furniture and other objects that provide many clues to Dutch traditions and European society of the time. Regardless of our route, we'll emerge from our time together with a deeper understanding and appreciation of Dutch history and art.
Families traveling to Amsterdam may want to consider our
Rijksmuseum Tour for Kids
. Or, for more artistic explorations in Amsterdam, we recommend our
Rembrandt in Amsterdam Tour
and our
Dutch Golden Age Tour
.
FAQ
What is a private tour?
Our private tours are limited exclusively to travelers in your party. They are designed to provide a learning experience that is completely tailored to you and your traveling companions. Private tours give you more flexibility with scheduling (you decide when the walk best fits in your trip), the ability to tailor your itinerary (we'll work to match the itinerary to the interests and dynamics of your group), and more personalized time with your guide.

What is a small group tour?
Our small group tours cover many of the same itineraries as our private tours, but they place you with other travelers in groups of 6 or less. They operate on a pre-scheduled calendar, and are designed to provide an opportunity to engage with and learn from other travelers.

Does this tour "skip-the-line?"
Yes. We will purchase tickets in advance so we may enter the museum as quickly as possible. Tickets for the Rijksmuseum are not timed and are valid for the whole day, so you may exit and enter as many times as you like.

Does this tour include any current temporary exhibitions?
The tour visits the Rijksmuseum's permanent collection. Your entry tickets are valid for temporary exhibitions as well, but often, it is necessary to separately book time slots for visiting the exhibition(s). If you would like to include a particular temporary exhibition, we can usually do so on a private, custom basis. Please get in touch with us for more information and updated pricing.
Is this suitable for travelers with mobility challenges?
We cover quite a bit of ground on this tour, although in some cases we may be able to adjust the itinerary based on the needs of your party. Please get in touch with us so we can advise if this itinerary will be appropriate for you or propose modifications where necessary.
Where You'll Start
Tour Experts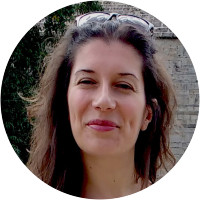 Maria Lucia is an ltalian independent art curator & exhibition designer based in Amsterdam, NL. She has an MA in Museology from the Reinwardt Academy of Amsterdam and a WO in Architecture from the university "La Sapienza" of Rome. In her thesis for the MA in Museology and work at the Cultural Heritage Agency of the Netherlands, she investigated the topic of heritage and public participation. Thereafter she worked as art curator & exhibition designer for Beeldend Gesproken in Amsterdam, an art gallery and cultural podium specialized in artists with a psychiatric background; where she created, developed and built several exhibitions. Public participation and diversity issues are important points of development in her activity as art curator & exhibition designer. She is also a contributing writer for the Italian art review AI Magazine Books. Among her multiple interests she is passionate about Vincent van Gogh as "the essence of the artist" and as an endless source of inspiration. Maria Lucia is a creative thinker, writer and project developer; always looking for interesting food for thought/insights in order to get art and heritage closer to people. She loves to explore beyond the boundaries, searching for new perspectives and interactions with different artistic practices. Energy, passion, dedication, empathy and irony are her approach to work and life.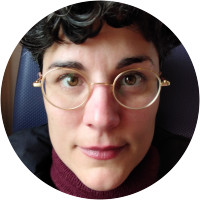 Roser studied Translation and Interpreting at the Universitat Autònoma in Barcelona. She did a minor in History and Linguistics in Amsterdam and fell in love with this city. She spent two more years studying Voice Over and Drama Studies. After a decade working in tourism, she became a tour guide. Her first focus was the History of Amsterdam, but it spread to the rest of the country. In 2013 she began guiding curious minds through the Jewish History of Amsterdam. In 2019 she got her diploma as a National Guide, while working at the Anne Frank House. She is now on her first year of the Art History bachelor's degree at the Universiteit van Amsterdam. You can find her behind the counters at the Museum of Modern and Contemporary Art in Amsterdam, the Stedelijk Museum.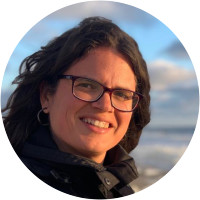 Vanessa has lived in the Netherlands for over fifteen years. As an Art Historian and expert in Cultural Heritage, living here has sparked her curiosity about this country and its society, with its unlimited options of sites to enjoy and explore. She speaks English, Spanish, and Catalan, as well as Dutch because she believes it is important to be able to understand the society that has welcomed her. The fields in which she is specialized are Heritage and Museums like the Van Gogh Museum (where she has worked as an official guide for the same museum organization) and the Rijksmuseum, but also the city of Amsterdam itself because every step you make in this city opens a new historical window. She has been working as an assistant curator in different galleries and museums of Amsterdam and as a Heritage Specialist and Consultant for the University of Barcelona, the Catalan Government, and also for U.S. companies. As a guide, she aims to help visitors feel like locals and to expand their knowledge about the art, history, and culture of the Netherlands.
Reviews can only be left by Context customers after they have completed a tour. For more information about our reviews, please see our FAQ.
Sandy's enthusiasm and knowledge combined to give us a fabulous experience. Highly recommended!!!
Mar. 30, 2022
Guide didn't show up. Waited 45 minutes.
Mar. 29, 2022
I can't think of anything to improve. Sabry was wonderful - very engaging and informative. We learned more during our tour than during a whole semester of art history in college!
Nov. 16, 2021
See the Rijksmuseum with Context
Get to know one of the art historians leading this tour