Tour Details
Tour Description
This six-hour tour takes you to Barcelona's most famous and charming sites, from the bewitching Gothic Quarter, lively Las Ramblas, to the magnificent Sagrada Familia, and to other treasures within this spellbinding city. From ancient Roman walls to Gothic architecture to Gaudi's unique designs, there's plenty to see and experience. Our Barcelona in a Day itinerary is specially curated weaving together some of the city's best-known sites. It's a fantastic introduction for travelers with limited time yet unlimited curiosity who want to experience the best of Barcelona in the company of a friendly local expert.


Please note: Tickets for the Sagrada Familia are very limited. We kindly ask for your flexibility when booking this tour. Thank you!
Sites Visited
Gothic Quarter
Plaza Nova
Gothic Cathedral
El Call
El Born
La Boqueria
Las Ramblas
Sagrada Familia
Included
6-hour tour with a Ph.D. or MA level expert guide
Skip-the-line tickets into the Sagrada Familia
Itinerary Details
We'll begin our adventure in a small cafe in the heart of the Gothic Quarter in the beautiful Plaza Nova which opens in front of one of the gates of the old Roman city. Sipping on a delicious coffee with introductions and a briefing for our day ahead, we will then set off and begin learning the fascinating details of the city starting with Ancient Roman times. We'll continue onward to discuss the influence of the Romans on Barcelona's city planning and architecture still apparent today, as our route moves through the bewitching Gothic Quarter. We will head to the awe-inspiring main Cathedral which was constructed from the 13th-15th centuries and features gargoyles and other mythical animals. We'll use this late Gothic masterpiece as a backdrop for discussing the medieval evolution of Barcelona.
Our adventure through the enchanting cobblestoned streets will take us into El Call, the Jewish neighborhood established in the Middle Ages. Here you'll learn about periods of relative religious freedom, as well as periods of intolerance that have marked Catalan and Spanish history.
Next, we will wander to El Born, to a local Spanish favorite and Barcelona's main market, La Boqueria, where we will try a local snack or Spanish delicacy. Leaving the market buzz and flavors behind us, we will stroll along the leafy green Las Ramblas, the main street through inner-city Barcelona. Below the shady trees and next to merchants, we will discuss the modern development of the city in the 18th and 19th centuries.
We will stop for lunch at a delicious local restaurant or cafe and use this time to re-energize and discuss anything from Spanish gastronomy to Catalan identity. After lunch, we will make our way to the day's grand finale: the awe-inspiring and beautiful La Sagrada Familia, with skip-the-line tickets. Barcelona has been a leading figure in the Art Nouveau movement and Antoni Gaudí's masterpiece is the perfect showcase of modernista architecture. Still under construction, nearly 100 years after the death of its visionary, the structure exemplifies the genius of a forward-thinking mastermind. Be prepared to marvel at this incredible and unique cathedral as your expert guide educates on its symbolism, aesthetics, and design and its relationship with the Modernisme movement, as well as the life of Gaudí.
Closing this enchanting and fascinating tour, you'll emerge with a deeper understanding of Barcelona and how it propelled itself onto the European stage. We'll have ventured across the city's most charming sites relevant to Barcelona's history, culture, and identity. Our Barcelona in a Day tour will leave you with a better understanding of architectural movements, the Catalan identity, and local gastronomy.
For a deeper exploration of Barcelona's architecture try our
Gaudi Barcelona Tour
. For children, we recommend our shorter
Gothic Quarter for Kids
tour, which is led by experts specially trained in educating children.
FAQ
For more information
about Context tours, please visit
our FAQs
.
Book with confidence
— see Context's flexible cancellation policy
here
.
Where do we meet? Where does the tour end?
We meet opposite the main cathedral in front of the Hotel Colon and end the tour at Sagrada Familia. Your confirmation email will have the exact meeting point details along with a map, and a 24-hour phone number for any last-minute issues.
Will this tour enter the Barcelona Cathedral?
Please note that we enter Catholic sites on this tour and visitors must dress appropriately, following these instructions: No see-through clothing. Tops must cover the shoulders. No plunging necklines or exposed backs or bellies. Shorts and skirts must come down to at least mid-thigh.
Is this tour walking-intensive and/or wheelchair accessible?
The route may include narrow sidewalks and cobblestoned streets; please contact us to discuss in more detail your mobility concerns so that we can best advise. We are always happy to design a private, customized tour for visitors with mobility concerns.

Is a car service available for the entirety of the tour?
A car service is available for 4 hours of the tour and the guide will slightly modify the route to accommodate.
Can you swap out the Sagrada Familia visit for the Gaudi venue?
If you want to swap Sagrada for another Gaudí venue (or if Sagrada tickets are booked out) Park Guell, La Pedrera, Casa Batlló or Casa Vicens would be totally doable.
Do we buy children's tickets?
Tickets are free of charge for children under 11. We only buy adult tickets.
Where You'll Start
Tour Experts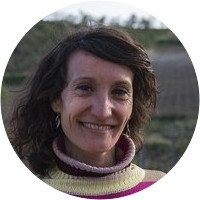 Mariona was born and raised in Barcelona before moving to France to study a degree in Translation and Interpretation. Since she loves her home town, a return was inevitable and she began to show Barcelona and the surrounding area to locals and visitors alike. In addition to organizing cultural events and trips, she decided to study a postgraduate on Cultural Management at Universitat de Barcelona. She previously gave in-house tours at the Palau de la Música Catalana and the Sagrada Família. She's always seeking to build on her knowledge, currently she's studying a post-graduate course on Picasso at Universitat de Barcelona.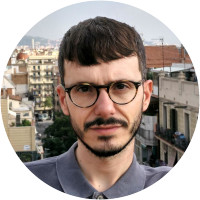 Jose Ortiz has a PhD in Art History and a Master's degree in Heritage Management. His thesis was focused on death iconography in the Renaissance and Baroque Catalonia, in the 16th-18th centuries. Nowadays, he is conducting research about diseases in art and working as a professor for Tourism Studies. As a Docent, he leads the medieval and modernista Barcelona Tours. As an Official Tourist Guide, he has specialized in the permanent collections at museums including the Picasso Museum, the Catalan National Art Museum, the Barcelona History Museum and the Miró Foundation. Furthermore, he has experience leading tours about gastronomy, Gaudí and his architecture, fashion and design, as well as other specialized tours.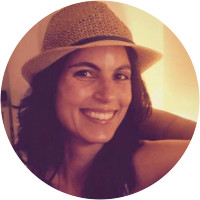 From an early age Ester was convinced she wanted to become a tour guide. Once she completed her tourism studies, she spent several years living in Vienna to improve her German. She initially worked with groups of American teenagers traveling through Europe and dovetailed these introductory experiences with other work in the Marketing and International Business. Since gaining her license as an Official Tourist Guide for Barcelona and Catalonia, Ester has been able to combine her passion with her profession and dedicate herself to guiding on a full time basis. She continually adds to her knowledge base through ongoing specialized courses in art and history. Having found her niche, Ester loves sharing her passion with visitors coming to Barcelona and hopes to provide them with an unforgettable experience.
Reviews can only be left by Context customers after they have completed a tour. For more information about our reviews, please see our FAQ.
We learned soo much from Zaida- she was fantastic. She was such a fantastic guide that we were able to return to Barcelona and explore the different neighborhoods in the days after our tour with her very confidently. We have completely fallen in love with Barcelona. Thank you so much..
May. 29, 2022
We loved Anna! We was so wonderful, especially with our son. They had a great connection.
May. 27, 2022
it was lovely! informative and interesting. Anna was delightful and so accommodating.
May. 18, 2022