Tour Details
Tour Description
Christmas in Rome has always been a spectacular time of year. Steeped in tradition, most churches display elaborate nativities for veneration during the Christmas season. On this three-hour Rome Christmas tour, we will explore the city's magnificent holiday displays, from the church of St. Mary Major to the church of San Cosmas e Damiano, visiting several other important sites in between. Led by a theologian, we will explore the meaning and function of these relics and nativities and how they relate to the Christmas tradition.
Rome Christmas Tour
We begin at the church of St. Mary Major, where relics of the Christ child's manger, normally covered by Pope Pius IV's reconstruction of the high altar, are revealed during the Christmas season. We will also discuss one of the oldest nativity scenes in Rome, carved in marble by Arnolfo di Cambio in 1280. Depicting the arrival of the Magi, the scene was almost entirely destroyed during the 16th century when Pope Sixtus V ordered it moved. The remaining figures, all beautifully carved, can be viewed only during the holiday season.
World-Renowned Nativities
We then continue through the Monti neighborhood where we may stop for a coffee and traditional Christmas pastry, such as
pangiallo
or
torrone
(nota bene, we try more seasonal treats on our
Rome Holiday Food Tour
). As our time in Monti ends, our discussion culminates in the viewing of two of the most breathtaking and well-known Nativity Scenes in Rome. The church of San Cosma e Damiano annually displays its Nativity, a stunning artistic achievement that ranks among the largest in the world. Finally, we'll visit Santa Maria in Aracoeli, which exhibits a more understated but no less beautiful Nativity that, from Christmas Eve onwards, includes the Santa Bambino, a sculpture of the Christ Child carved from olive wood.
This is a seasonal walk available only from December 8 until January 6 of each year.


Where You'll Start
Tour Experts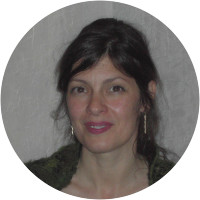 Carol received her B.A. from Mount Holyoke College and holds M.A. degrees in Italian literature from the University of Toronto, where she has taught, and in art history from Boston University. Carol has been teaching for five years as adjunct faculty for several Rome study abroad programs and has been a guest lecturer in art history and restoration for numerous visiting American university summer programs. She has been a Visiting Fellow twice at the Massachusetts Center for Renaissance Studies in Amherst, Mass, where she has given numerous lectures and participated in conferences. Through her affiliation with various art institutes, Carol has participated in a variety of laboratory and fieldwork restoration projects throughout Tuscany and Lazio over the past eight years. She has treated numerous paintings, frescos, and gilded objects, and has worked on-site at locations such as Villa il Farneto in Vicchio, and Santa Maria Castagnolo. She is currently completing her Italian laurea in restoration. Carol also completed the graduate certificate program in Museum Studies from Tufts University with a specialization in conservation. With over five years of professional curatorial experience in the U.S. encompassing the care and treatment of art objects, she has authored numerous conservation grants and was a successful applicant to the Smithsonian Institution's Collections Care program.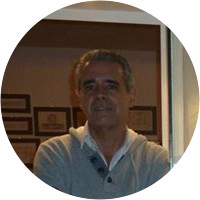 Jose brings an unusual combination of theoretical knowledge and practice to his walks, which he has led in Philadelphia and in the New York Metropolitan Museum of Art, as well as in Rome, Naples, and Florence. A professional fine artist with an art studio in Rome near the Church of Santa Maria sopra Minerva and graduate of St. John's College in Annapolis, Maryland, Jose knows how to read the almost forgotten languages of Greek and Roman mythology embedded in the art and architecture of Rome. His studies of Plato's dialogue, TIMAEUS, for example, open up dimensions of Raphael's School of Athens fresco and of Michelangelo's Sistine Chapel ceiling frescoes otherwise unsuspected by visitors to these two sites. In addition, his own native Cuban background and master's degree in Spanish literature from the University of Delaware in Newark give his walks a Spanish flair and sense of humor that can be most welcome elements. Jose also studied fresco painting, history, and restoration at the Spinelli Institute of Art and Art Restoration, in Florence, but his St. John's College "Great Books" education earned him a rich 20-year-plus teaching career at the University of Miami, first in the English Department (specializing in Composition), followed by art history and freehand drawing in the School of Architecture. During the summers, this docent has taught "plein-air" drawing for the Rome Art Program directed by artist Carole Robb. Jose holds the official Italian tour guide license for Italy, issued in Rome (Province of Lazio) in 2017.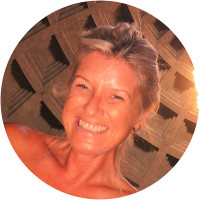 Lauren has a doctorate (PhD) in Art History with a specialization in the architecture of Raphel and Neuroarthistory and has been studying the city of Rome for over 35 years and teaching in Italy for 20 years. She has taught at many universities, and now teaches at The American University of Rome and an Italian High School – Marymount Liceo. Her publications include Raphael and the Villa Farnesina and she was the editor for 'Raising the Eyebrow'. Current research interests include; Caravaggio and the Counter-Reformation, the Baroque Cardinal Scipione Borghese – his life and times - and she is writing a biography of Raphael. She is passionate for all things Roman, teaching from the Etruscans to the Eighteenth Century with a little bit of Mussolini thrown in! Sharing her knowledge and the stories and secrets embedded in the layers of this amazing city on Context walks is always exciting because everyone sees differently and so she always learns from her clients and students.
Reviews can only be left by Context customers after they have completed a tour. For more information about our reviews, please see our FAQ.
Chiara was friendly and a wealth of knowledge about the city, the basilicas and churches, and pointed out spots along the way. Our walk to each nativity scene was interesting and at a comfortable pace. At our request we made a detour for cappuccino and a small bite. She led us to a lovely shop for the best coffee with baked goods to match, which we could not have found on our own. Our entire tour felt very personalized and rich with time in each setting. The basilicas and churches were stunning and special and we loved hearing the history of each nativity scene. Chiara speaks English well (and taught us a bit of Italian!) She was special and our time with her unforgettable. (We also took her advice for a dinner spot and had an extraordinary dinner!) Thank you, Chiara!
Dec. 18, 2019
Chiara was so very responsive to our every need and question. Spectacular way to start our week in Rome.
Dec. 15, 2019
All info was excellent as usual. Docent was very caring for me on back streets and ways to go up hills. Once again at end of tour I was too tired to spend more time at Aracoeli whre we ended. I had planned to go back there and to SS Cosmas and Damian, but trip was cut short when I got the flu in Florence and while making it back to Rome was not able to build up my strength to stay so came home two weeks early. As usual Context was excellent.
Feb. 5, 2018