Few localities embody taste and class more than Tuscany and Sicily. These Italian regions are a treasure trove of awe-inspiring history, art, architecture, landscapes, and so much more for the hungry traveler in you. You might be thirsty after admiring Tuscany's city gems like Florence or after a day of breathing in Sicily's picturesque seasides. What better way to quench that thirst than to sample one of their world-renowned wines? Take a sip with us, and read about the difference between Tuscan and Sicilian wine history, grapes, and more.
Italian Wine Regions Map
Even though we'll be focusing on the Tuscan and Sicilian wine regions, the best way to kick off this blog would be to introduce the top wine regions in Italy.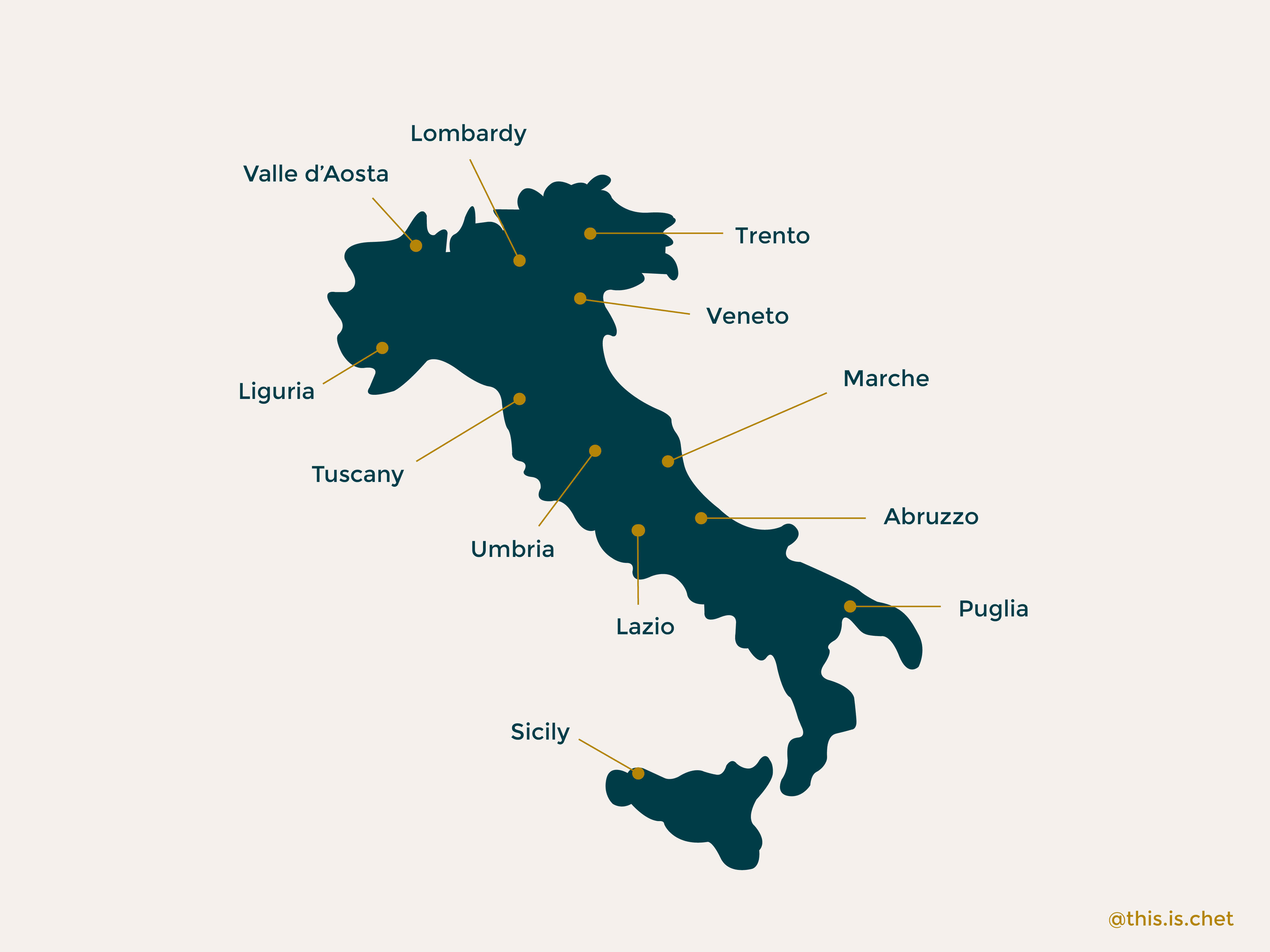 Abruzzo - best known for rosé wines and mountainous landscape
Emilia - best known for their light sparkling wines, frizzante, and lambrusco.
Lazio - located in Rome and best known for its crisp, white wines
Lombardy - best known for red wine, and sparkling wine
Marche - best known for its acidic, dry white wine which pairs beautifully with seafood
Piedmont - best known for its sweet white wine and red dolcetto wine (hints and aromas of cranberry and raspberry) and local truffle pairings
Puglia - best known for its vineyards, olive groves, and full bodied red wines
Sicily - best known for its floral red wines, and Marsala
Tuscany - best known for warm reds like merlot and Cabernet Sauvignon
Umbria - best known for its warm bold red wines, similar to Tuscany
Veneto - the largest wine producing region in Italy, located in Venice, is best known for its prosecco and and sparkling dessert wines
Tuscan Wine History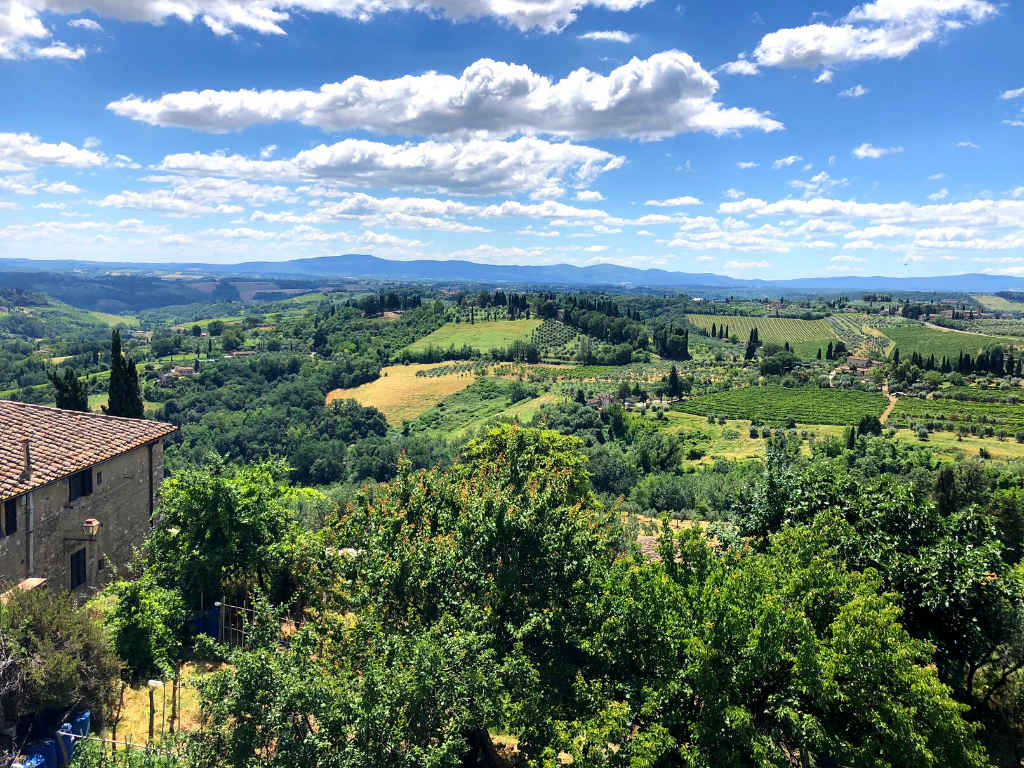 With its rolling hills and idyllic green landscapes, Tuscany is more than the Leaning Tower of Pisa or the Renaissance art of Florence (although those are pretty cool too). It also has an incredible history of wine making that carries into today. Did you know that the drink has been part of Tuscan history for more than 3,000 years? That kind of time span would make it difficult for wine not to be an integral part of Tuscan culture! Let's take a look at some of this fascinating history:
Wine with the Etruscans, Greeks, and Romans
The ancient Etruscans first came to the region of Tuscany in the 8 BC. There are two schools of thought on how exactly they came to cultivate the grapevine. Some say Etruscans brought it with them from Asia before settling in Italy, others believe that grapes were natural to the country. Either way, merchants began to sell this sweet fruit across the sea, making it an important Etruscan crop.
By the time the Greeks came in during the 3rd century BC, viticulture became vital to Tuscany. Grapevines blanketed green fields so much so that the region became known as Enotris, the "land of wine." By 1st Century AD, the Roman Empire took the area, and, being very fond of the substance themselves, continued to cultivate the vineyards that the Etruscans set.
Wine during the Middle Ages and Renaissance
Because wine was so important to the practices of Christianity, the beverage became popular as a ritualistic means of worship. Consequently, bishops, abbots, monks, and priests were the ones growing and cultivating grapes for wine production. Through the Renaissance and beyond, wine cultivation continued to grow in Tuscany. The city saw its first bottle sold overseas in 1710, and became a big player in the wine trade market, adding to it's huge popularity and success.
Of course, Chianti is the best known Tuscan wine. History has preserved this dry, red wine time and time again. In 1716, the Grand Duke of Tuscany localized Chianti and gave the area legal protections. In the 1960s, Chianti became one of the first wines to receive a DOC, or a Destination of Origin, giving it more legal protection and acclaim.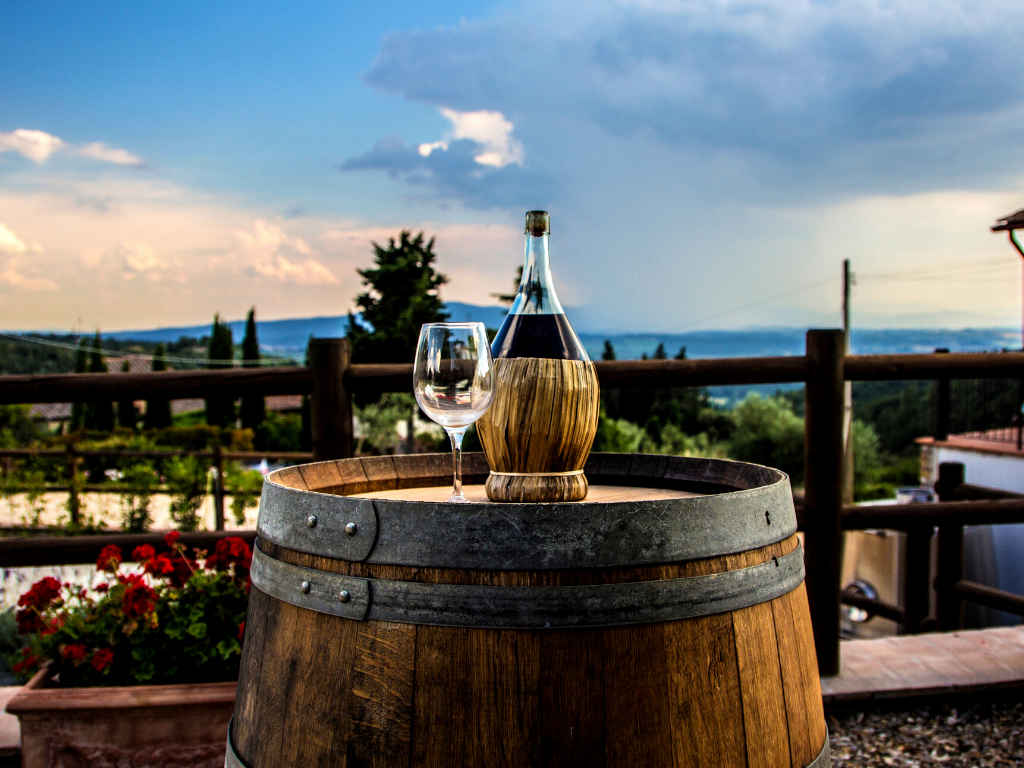 Wine Tasting in Tuscany
While Chianti is the best-known Tuscan wine, the Chianti region has so much more to offer. From wine trails to coastal vineyards, Tuscany is bountiful in its wineries. Of course, to learn about these wines, we must first go back to its roots: the grapes.
There are four primary places that grapes grows in Tuscany:
Chianti
Montalcino
Montepulciano
The Tuscan coast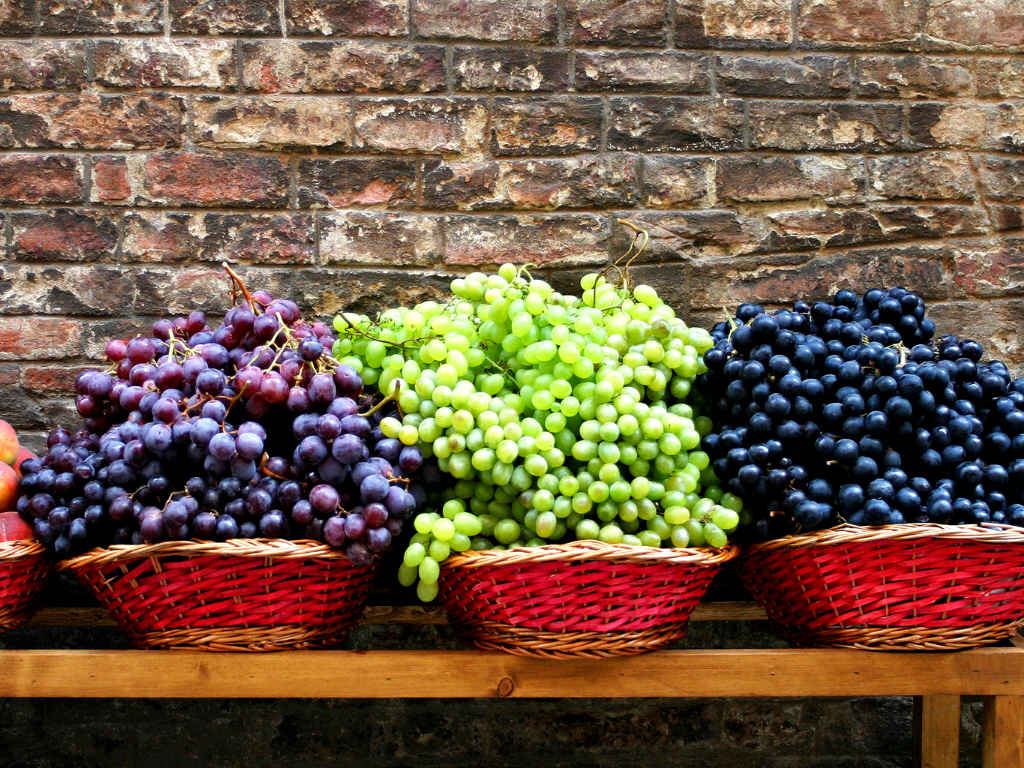 With their deep purple hue, Sangiovese grapes grow most abundantly in these areas and produce the renowned Chianti, Vino Nobile di Montepulciano, and Brunello di Montalcino wines. When in Tuscany, these wines are a must. The other popular grape variety in Tuscany is the Trebbiano. This green grape is usually used in white blends. Other grapes include Vermentino, Vernaccia, Nero, Canaiolo, and more. However, Sangiovese grapes take up more than half of Tuscany's vineyards. In the past, it was more common to see other grape varieties added to wines, but these days, you'll likely see 100 percent Sangiovese from a single vineyard.
Other than Chianti, Vino Nobile di Montelpulciano, and Brunello di Montalcino, the other popular red wines include Super Tuscans. These take a local spin on the Bordeaux-style blend of Cabernet Sauvignon, Merlot, and Syrah. White wines to look out for include those made with the Trebbiano, Vernaccia, and Vermentino grapes. To finish, you'll need to try the Vin Santo, the dessert wine that Tuscany is known for, which is traditionally eaten with an almond biscotti.
If you're looking for a guide through these world-renowned Tuscan wines, you can't miss our Sense of Tuscany Wine Tasting where we'll sample these local wines at local wine bars, or get up close and personal with the Chianti wine region in our Tuscan Taste Adventure tour, which is also family friendly.
Sicilian Wine History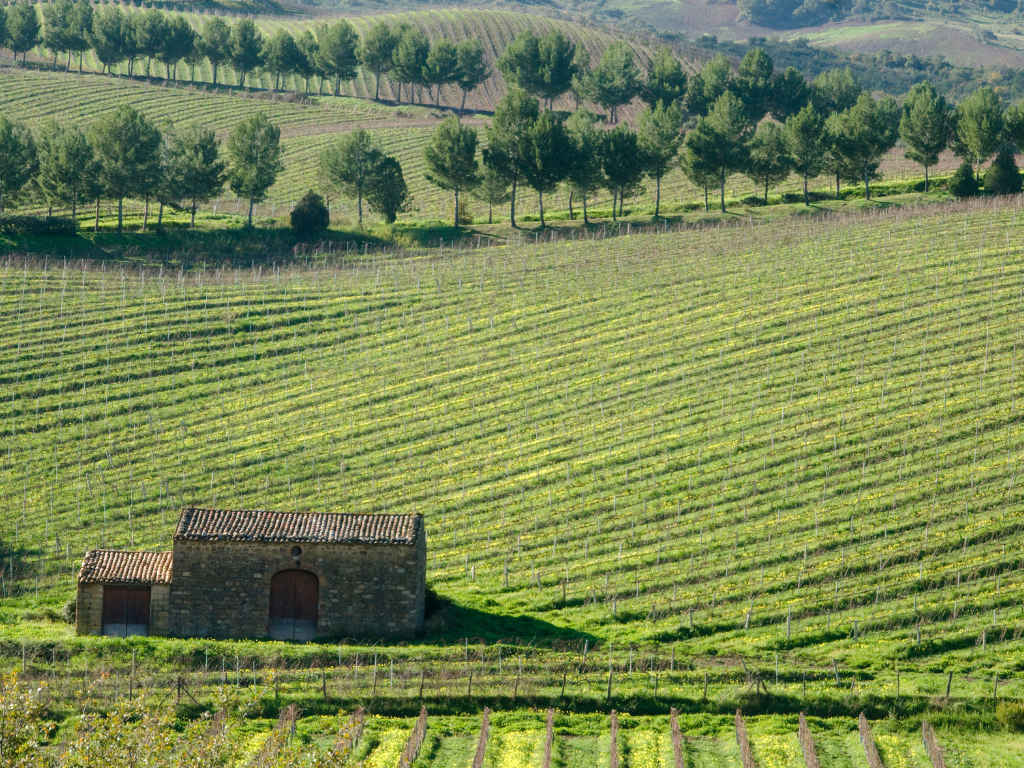 Tuscany isn't the only place famed for its distinct wines. Like the Etruscans, Greeks, and Romans in Tuscany, Sicily has also seen changing hands in its viticulture. In 4000 BC, the Greeks brought their winemaking techniques to this little island off the tip of mainland Italy. And what a good place to bring it —Sicily, with its arid climate and constant sunshine, is the ideal place for wine cultivation. The Romans again were quick to adopt the techniques brought by the Greeks. Julius Caesar, in fact, was known to enjoy a good Mamertino, produced in Messina, Sicily. Soon the region became a high producing wine region, exporting to Europe, China, and India.
Legacy of the Sicilian Wine Region
The curious thing about Sicily's wine history is that so many cultures have occupied the island, and so many have tried to eradicate its status as a wine producing region, but the legacy of great drink remains strong. For example, Byzantines, Arabs, and Normans have all occupied Sicily at one point and have all tried to rid it of wine. What's more, grape phylloxera, an insect that can heavily damage vineyards, caused an economic crisis around 1880. In spite of all this setback, Sicily maintains its leadership in making wine.
Wine Tasting in Sicily
Like Tuscany, Sicily also has distinct, indigenous, historical grapes that make its wine unique. The grapes you want to look out for are:
Nero d'Avola
Frappato
Nerello Mascalese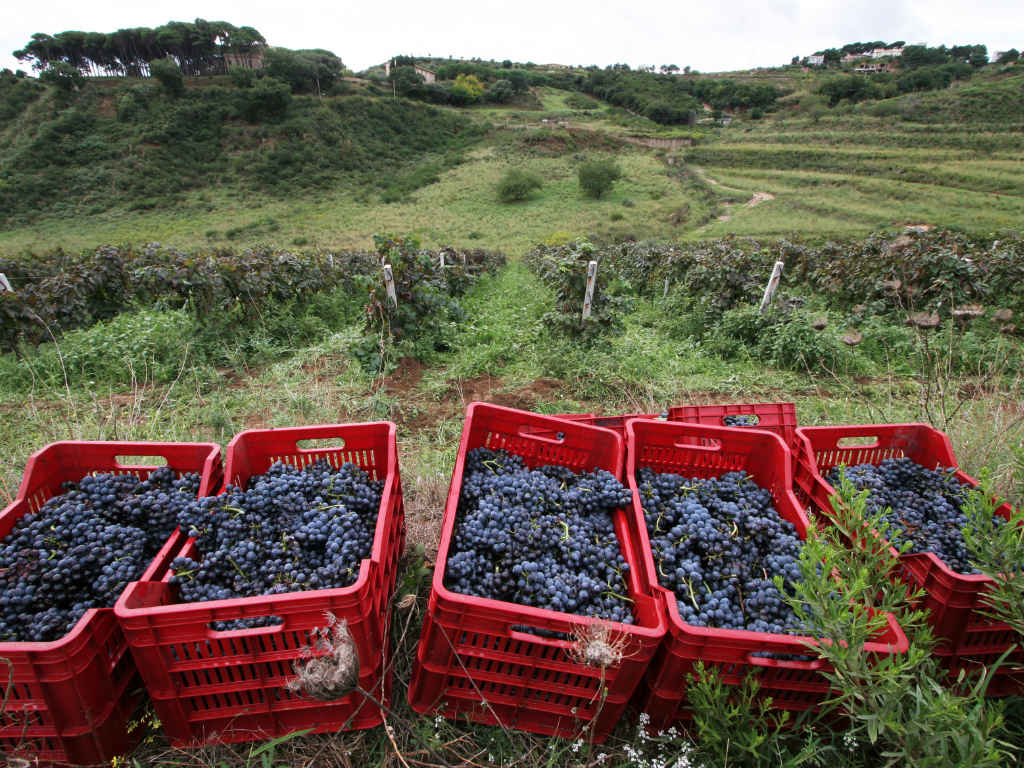 Nero d'Avola is the most prevalently planted and renowned red grape in Sicily, like the Sangiovese in Tuscany. It has a deep flavor profile and a robust acidity. Tasting berries and spice is common in this wine. Frappato is an often blended, floral wine while Nerello Mascalese, cultivated from the volcanic soils of Mount Etna, yields a spice-forward flavor.
On the white grape side, Catarratto is the most popular. Grillo and Inzolia comprise the foundation blend for Marsala, the region of Sicily that produces the most white wine.
If you're wondering where to start on your wine tasting journey in Sicily, you've got to start with Mount Etna, or "Mama Etna." The nutrient rich, volcanic soil yields an abundance of produce for local communities, hence its nickname as a guardian for the area. As mentioned before, its main grapes are Nerello Mascalese for red and, for white, the Carricante variety.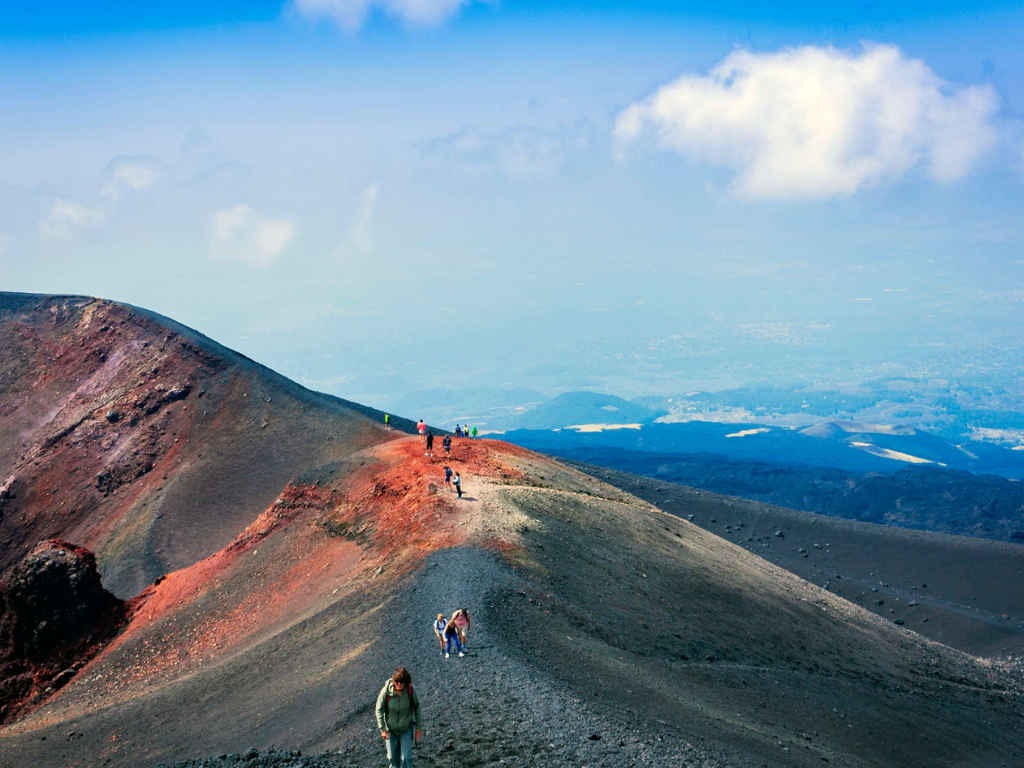 You can learn all this and more during our Mount Etna and Sicilian Wine Full-Day Tour. With an expert guide, you'll discover more of the history behind this volcanic wonder and how it is an integral part of the wine-making process in this bountiful region of Italy.
Of all the riches to be found in Italy, wine is perhaps the most coveted. From Tuscany's precious Sangiovese grapes to Sicily's prized Nero d'Avola and Nerello Mascalese, you'll not only taste the deep and aromatic spices of these wines, but also the longstanding history, culture, and traditions that went into their legacy.
Thinking about visiting Italy? Learn #withContext before you go, while you're there, and when you return. Get a comprehensive view with one of Context's tours in person - in Tuscany and Sicily - or learn about Tuscany and Sicily with our scholars online in the world of Context Conversations.
Other blog posts you may like:
Tours you may be interested in:
Seminars you may be interested in: