There's a storybook quality to Scotland that is unparalleled to any other place on the planet. Abandoned castles, mysterious rock cairns, and beautiful isolated islands with scenic green cliffs remind us of the long-gone time of vassals, rebellion, and magic. It's no wonder that this otherworldly country is abundant with Scottish folklore, Loch Ness monsters rising out of the murky Highland waters, and druids casting spells on people.

More than its enchanting characteristics, Scotland is uncannily stunning. No matter which region you're in, you're sure to catch a glimpse of a natural wonder that'll make your jaw drop. Even in Scotland's cities, you can marvel at gorgeous earthly views like Edinburgh Castle which sits on top of Castle Rock, a volcanic formation estimated to have risen 350 million years ago. With its bright green hilly terrain and glistening blue coastline, Scotland can feel like a whole different planet sometimes.
Centuries of history combined with amazing scenery will make your Scotland trip unique indeed. From things to do for the adventurous traveler to popular media-inspired itineraries, we've got your journey covered with Context.
We'll start by introducing you to the most popular regions of Scotland and their characteristics, and then we'll dive into the best things to do while you're there.
Places to Visit in Scotland
Start your Scottish escapades by checking out a few distinct regions of this small, but vibrant country. Of the many places to visit here, we chose to begin with Loch Lomond, the Highlands, and the Orkneys to give you a sense of how breathtaking and unique the destinations in Scotland are. These regions don't include the big cities of Edinburgh and Glasgow — we've reserved an in-depth spot for them further down this post.
Loch Lomond & Central Scotland
Home of the Trossachs National Park, the Munro mountains, and the largest lake in Britain, Loch Lomond, and central Scotland have no shortage of natural beauty. The verdant greens of the lush forest and reflective murky waters of the loch make a spectacular contrast to the surrounding white snow-capped peaks. This region also contains the historic city of Stirling, offering insight into the country's past as well.
Scottish Highlands
When you think of Scotland, what comes to mind? You might envision warring clans, sloping green mountain ranges, and the best dram of whiskey. The ancient lands of the Scottish Highlands are known for their incredible history, unbelievable topography, the largest whiskey-producing area in Scotland. Glens galore, the Highland's natural beauty is its number one draw.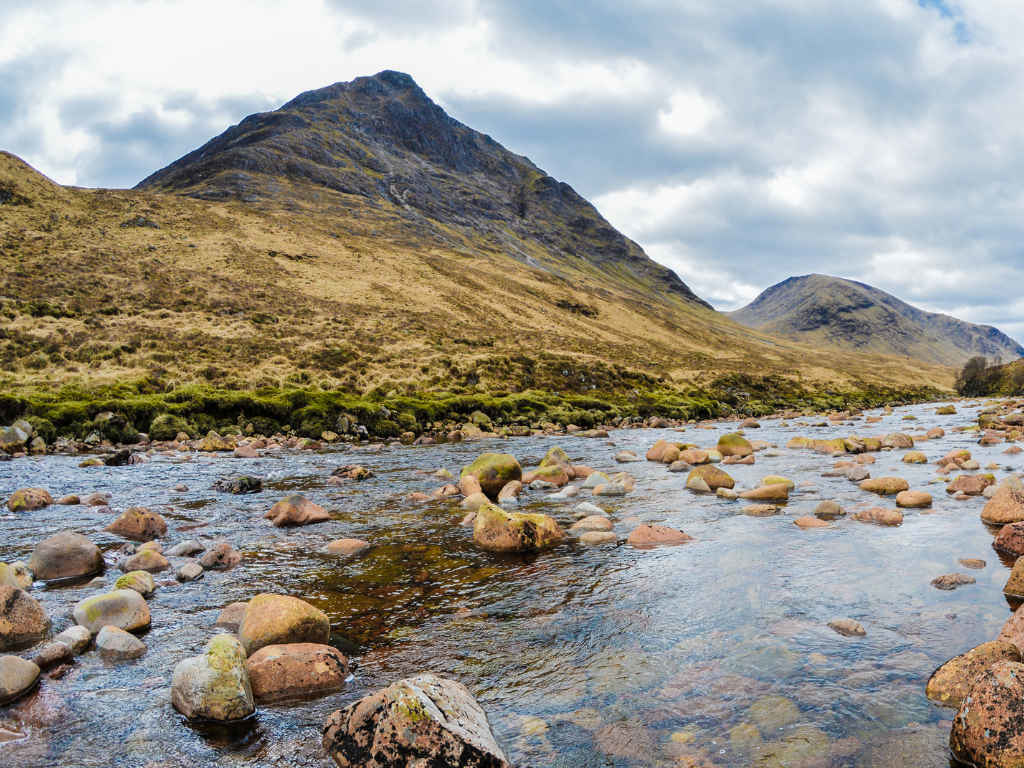 Orkney Islands
If you stand at the most northern tip of the Scotland mainland, you can see the enchanting scattered islands of Orkney against the hazy horizon. This archipelago comprises over 70 islands and boasts picturesque views of sandy, rocky coastlines, eerie Neolithic settlements, and old churches. History, wildlife, and the green open fields mingle, leaving you with an ethereal feeling.
This is by no means an exhaustive list of the most sought-after regions of Scotland. There's something wonderful to see in almost every part of the country, which is why we'll start this list off by recommending a road trip!
Unique Things to Do in Scotland
Go on a road trip: North Coast 500
Taking a road trip ensures that you'll see all the bounty that Scotland has to offer. With a car, you'll be able to stop and wander through the many random stone ruins scattered throughout fields, sink your feet into the many pools, lochs, and beaches, admire the shaggy Highland cows, and stay in quaint towns and big cities alike. Road trips require more planning, but one through Scotland's treasures will be well worth it. Of course, you can always tailor the adventure to fit your needs, budget, and schedule.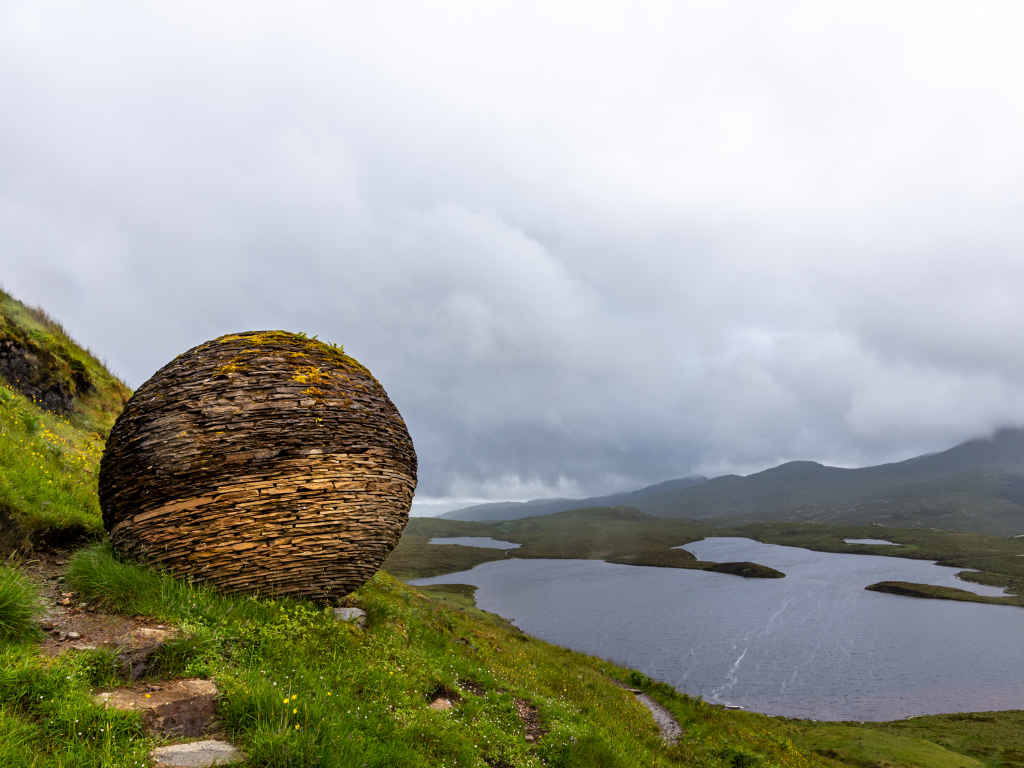 We highly recommend the North Coast 500, which loops through the Scottish Highlands and is regarded as one of the best coastal road trips in the world. Perforated with ruins, caves, museums, whiskey distilleries, jagged cliffs, hills, mountains, and beaches, there's no shortage of action on this thrilling history-drenched journey. Here's a quick rundown on what to expect for this incredible road trip in Scotland:
Length of trip: 5-7 days
Cities/towns: Inverness (start), Wick, Durness, Torridon, Loch Ness (last stop before looping back to Inverness)
Attractions: Culloden Battlefield, hiking, Smoo Cave, Loch Ness, various castles, Dunnet Head Nature Reserve, 47 whiskey distilleries, and so much more
The beauty of road trips is that you can cut or add as you see fit! If you're flying into Edinburgh, it's quite easy to rent a car and add more cities along the way to Inverness where you'd begin the North Coast 500.
It can be easy to stick to the more touristy lists of things to do in the big cities of Scotland, but if you want the true essence of the island, you'll have to forage deeper by immersing yourself in the sheer depths of its lore, history, and greenery. Understand who Scotland is and her many layers by listening to Scottish folklore at a bar, hiking through glens, lochs, and forests, and touring its many abandoned castles.
Learn Scottish Lore
Enjoy a glass of whiskey or a pint of beer while listening to the legendary folktales that surround Scotland. Many bars and restaurants in Edinburgh, Glasgow, Inverness, or smaller villages and towns have storytelling events that are typically good for the whole family. Bewitching tales of battle, Celtic fables, and Viking superstitions all make for great learning as you sip the distilled, smooth spirit that Scotland is known for. More on whisky culture in Scotland below!
Hike through Scotland's Finest Forests
A hike through Scotland's nature reserves is an absolute must. Surrounded by dense trees and unreal mountain ranges, you have a wealth of great options to choose from when deciding on a jaunt through the land. Or you can have it all! Scotland's sweeping scenes are plentiful and you can very much find mountains, lochs, forests, cliffs, plateaus, and rocky terrain all in the same area. On a clear sunny day with Scotland's endless, panoramic sky soaring above you, there's nothing like going back to the basics. Relish in an apple, some sharp cheddar cheese, and bread on a jagged rock by a trickling stream.
Visit Castles in Aberdeenshire
Scotland is truly an enchanting fairytale, a fact especially made true by its many castles. These fortresses are pretty much everywhere in Scotland, but the region of Aberdeenshire is specifically known for its abundance of castles. In fact, there are over 263 castles in Aberdeenshire! Imagine hiking through a serene green forest and finding pointed towers nestled on the bank of a gushing river.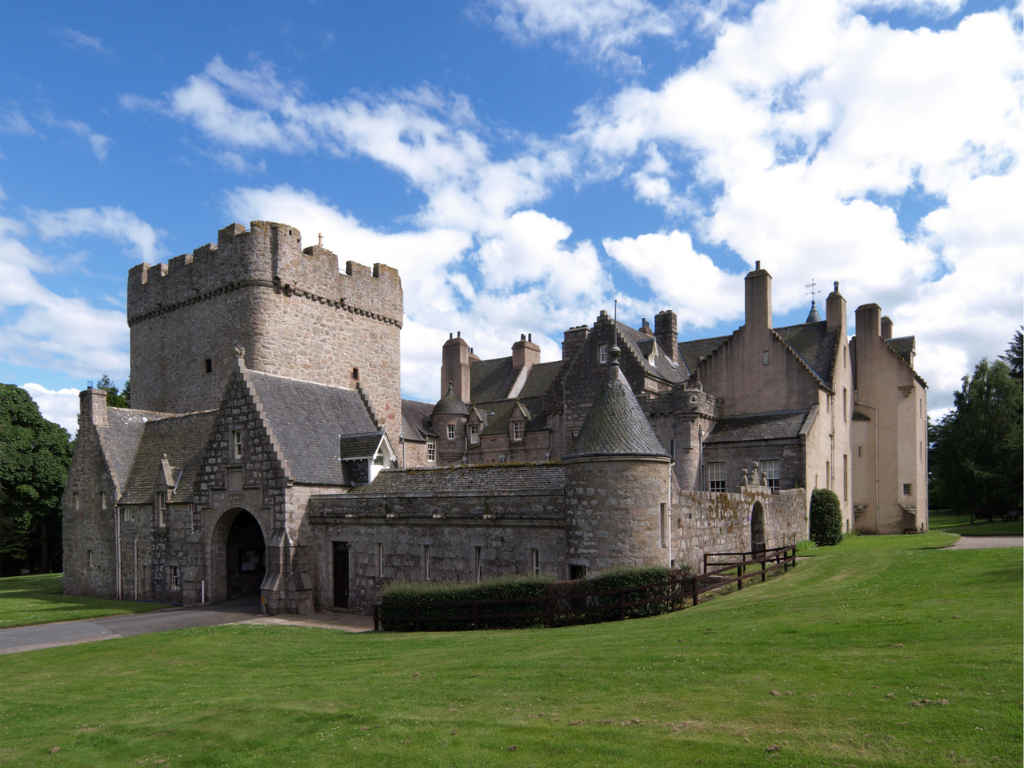 You can make an entire day out of hunting for the best castles. With specific trails you can check out, stately homes to see, castle ruins to stumble on, and options to even stay in these beautiful strongholds, there's plenty you can do in the castle-rich region of Aberdeenshire. Particularly worth visiting is the most famous Balmoral Castle, the summer home for the Royal family since the 19th century.
Hidden Gems in Scotland
These hidden gems (often tucked away in more remote parts of Scotland) are well worth the effort to get to. Aside from the tantalizing castles, ancient forests, and shining lochs of Scotland, if you dig deeper, you'll find even more awe-inspiring natural and prehistoric formations that will make Scotland your favorite place to visit.
Cairns, Standing Stones, and Stone Circles
Cairns is a mystery left by a people that we try again and again to understand. These large stacks of stones date often around 2,000 years ago (or earlier), and were possibly made for burial purposes, defense, astronomy, to mark trails, or other reasons. Cairns is a phenomenon seen around the world, erected in Alaska and Greenland as well.
Though cairns have had some speculation around their usage, archeologists today are still stumped by what exactly stone circles and standing stones were used for. Settled over 10,000 years ago, Scotland's first residents had a story to tell and we can only imagine what it might have been. Find these enigmatic structures, especially in Orkney, the Shetlands, Dumfries and Galloway, and Argyll.
Caves of Scotland
While not always the first natural formation that people associate with Scotland, caves provide a unique insight into both the country's topography and the ancient people that sought protection in them. They're scattered all over Scotland, but one of note lies in Sutherland called Smoo Cave.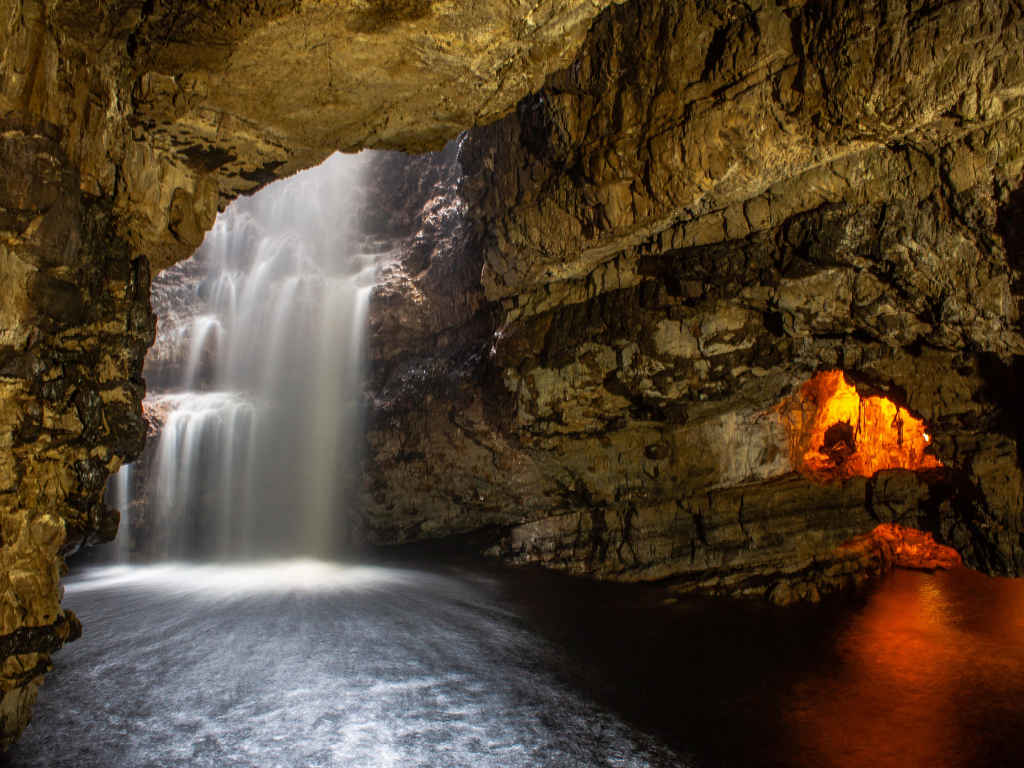 This one's especially breathtaking because it's set against a limestone cliff near a sea inlet, which allows a small waterfall to gush through a hole at the top. Smoo Cave is also the largest of Britain's sea caves.
Cliffs of Scotland
Scotland's cliff sides are bold and daring. Standing near them with the wind swirling around you conjures a powerful and tingling feeling. While there are many more popular cliffs to recommend, we chose a more undiscovered site, Whaligoe Steps, for you. Hanging right off of northern Wick, these steps set against an impressive cliff might be difficult to find (if you're inspired to go on the North Coast 500, Whaligoe Steps is a stop), but the history, man-made steps, and surreal view of the ocean crashing against the rocks make it a sight to behold. Whaligoe was most likely named after whales that would have crashed onto the shore. The stairs were constructed around 1792, used to get to the bottom of the cliffs which was a fishing station at the time.
Whaligoe Steps gives you a real sense of the world's vastness. Surrounded by sea and monumental rock below a gray sky, hundreds and hundreds of birds flock around you, housed in the cliff's crevices.
Animals of Scotland
Sheep are probably the first animal that comes to mind when thinking of Scotland. You might see sheepherding in action in the farmlands if you're lucky. More than sheep, Scotland is a bird watcher's paradise. Scotland's diverse landscape makes a great shelter for birds of all kinds. You can go bird watching in forests, beaches, and rocky hills alike.
And, of course, we can't fail to mention the cute Highland cow. You definitely know someone who looks like this rockstar of a bovine.
Magical Places in Scotland
Shetland Islands
To the northeast of the Orkney lies the quaint and otherworldly Shetland Islands. The fearless adventurer comes to the Shetland Islands to sneak a peek at their colorful birds, sparkling Northern Lights, and vestiges of Viking heritage. About 100 miles north of mainland Scotland, this archipelago is closer to Norway than Scotland!
Outer Hebrides
With a total population of 26,502 and fifty uninhabited islands, the Outer Hebrides is another fascinating archipelago off the west coast of Scotland. Like the Shetlands and the Orkney Islands, the magic of the Outer Hebrides comes from its isolation. The untouched white sand, turquoise waters, mysterious stone circles, and Scottish Gaelic-speaking population make the journey to the Outer Hebrides one to remember.
Isle of Skye
Perhaps the most popular image of Scotland, the Isle of Skye brings in people from all over the world in search of its rock pinnacles, dramatic cliffs, and other scenic geographical features of the island.he Vikings nicknamed the Isle of Skye "Cloud Island," or "Sküyo," after the heavy mists that fall around the striking landscape, giving it a powerful and alien quality. Check out the wildlife in this area like seals, otters, and over 200 species of birds.
Fun Things to Do in Scotland
For centuries, Scotland has inspired poets, bards, writers, musicians, and movie-makers. With its ancient ruins and uncanny topography, it's not too surprising that the secrets of Scotland would spark creative energy. Recently, Outlander and Harry Potter have both used Scotland as backdrops to support their magical plots. Here are some places to check out if you're a fan of Outlander or Harry Potter.
Scotland for Outlander Fans
While Outlander takes place in real places in Scotland, they were often filmed in different locations within the country. Fans of Outlander will instantly recognize the pretty town of Culross (Cranesmuir in the show), its cobbled streets lined with seventeenth-century houses. Likewise, the forbidding towers of Doune Castle will be more familiar as Castle Leoch, the fictional seat of Clan MacKenzie. Scenes that take place in Inverness were actually filmed in the picturesque village of Falkland, while the stately ruins of Linlithgow Palace were filmed as Wentworth Prison in Outlander, where Jamie was held and sentenced to death. Along with Midhope Castle (Jamie's home of Lallybroch), Aberdour Castle (Sainte Anne de Beaupré), and others, you're sure to round up a substantial itinerary in Scotland on this decade's most popular television phenomenon.
Gearing up for the next season of Outlander in March 2022? We've got the perfect seminars to keep you informed and excited! You can spend 7 days in Scotland with our Outlander expert, Alan Montgomery, exploring the History and Heritage of Scotland.
Scotland for Harry Potter Fans
There's plenty to do in Scotland to get your fill of Harry Potter. Scotland's green foliage, rugged mountains, and sparkling bodies of water made for an excellent background to convey a sense of whimsy and magic. The most iconic Harry Potter image - and the most famous site for Harry Potter travel - is the Jacobite Steam Train atop the Glenfinnan Viaduct in Lochaber.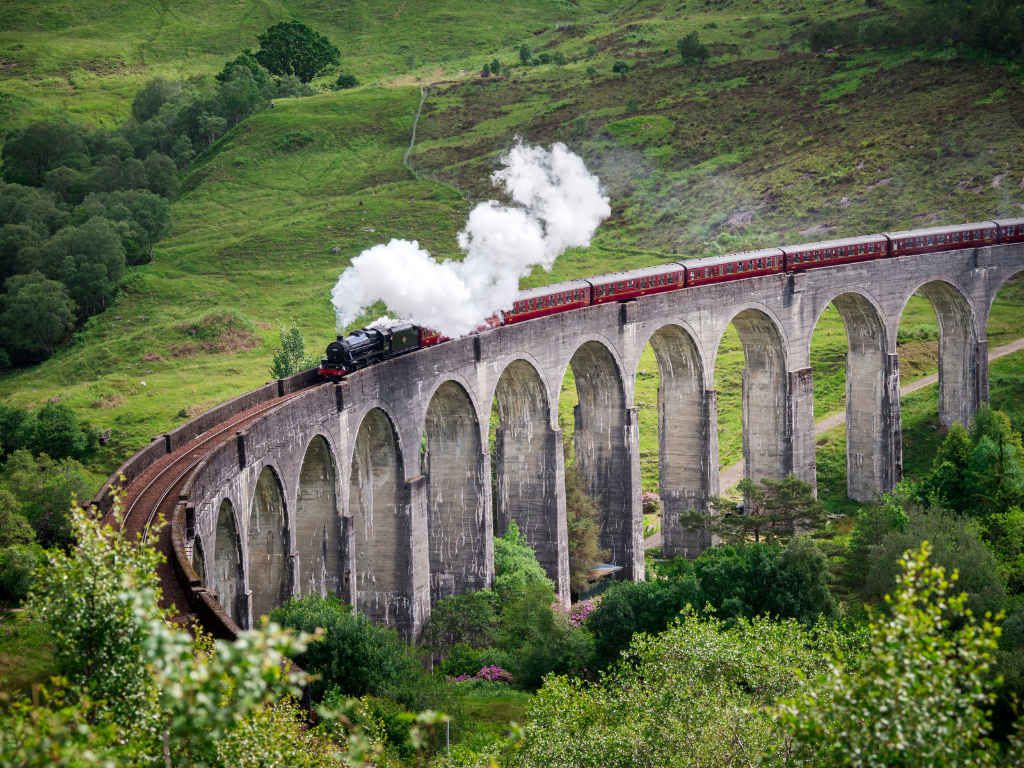 This train is entirely bookable if you want to go for a ride on the Hogwarts Express. While on this journey, you can also witness the incredible wilderness of Rannoch Moor in Lochaber, where Death Eaters stopped the train to get ahold of Harry in the Deathly Hallows Part I. It's worth a peek at the rocky plains and glittering lake views. The steep sweeping scene of Glencoe is also the site of many Harry Potter scenes, including where Hermione punches Malfoy in The Prisoner of Azkaban, and it's where Hagrid's hut sat. Witches, wizards, and muggles alike are welcome to enjoy our Quills and Magic Wands Tour for Kids in Edinburgh!
Whiskey and Food in Scotland
A whisky tasting is a must when you're in Scotland. The country prides itself on its whisky production for good reason. Each whisky-producing region has its own distinct flair, taste, and story. There are five official whiskey regions of Scotland: Speyside, Highlands, Lowlands, Campbeltown, and Islay. Speyside whisky is typically fruity and nutty, Lowland whisky is light and floral, Highland whisky is sweet and full-bodied, Campbeltown whisky is dry and sweet, and Islay is spicy and smoky. Each region also has top distilleries where you can enjoy the history of the drink, appreciate the process, as well as a dram.
If you're in Edinburgh, you can experience the fine distilled amber at one of the top distilleries in the Lowlands, the Glenkinchie Distillery, with Context.
What to Eat in Scotland
Haggis is Scotland's unique food claim to fame, and while some people may be hesitant to try the sheep intestine, the complex savoriness might make it your favorite food. The country is also home to wonderful seafood soups, hearty breakfasts, and other wonderful treats. Here's a list of four foods you've got to try while you're in Scotland (other than haggis):
Neeps and tatties are normally eaten alongside haggis, but you'll find them as a side accompanying many Scottish dishes. "Neeps" refer to turnips and "tatties" refer to potatoes. Mashed with chives and butter, these sides are the melt-in-your-mouth meal you're looking for after a long day of exploring.
Fuel up every morning while you're in Scotland with a full Scottish breakfast.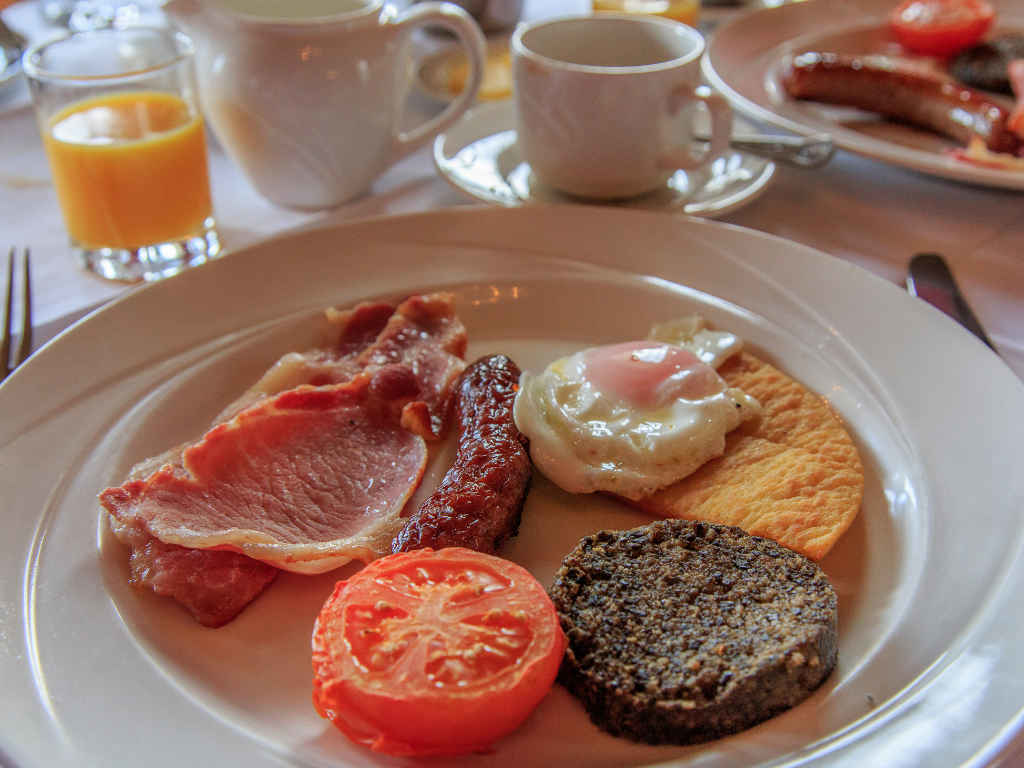 Like a continental, the full plate comes with black pudding sausage (pig's blood, fat, and oatmeal), lorne sausage, and tattie scones. The hearty meal will keep you going all day, just make sure to slather the tattie scone with butter.
Sticky toffee pudding will make your eyes water with its sweet goodness. A classic British staple, this dessert is made up of sponge cake doused in toffee sauce topped with ice cream.
This creamy fish soup was traditionally cooked up along the coast where there's more readily available fresh seafood, but you can find it in the big cities too. Originating in the fishing village of Cullen, Scotland, the wholesome soup consists of smoked haddock, milk, leeks, onion, and potatoes. Pairs well with a nice Scotch whisky! In Edinburgh, you can eat your way through windy streets and grand houses while learning about the Scottish food renaissance with Context's Savoring Edinburgh Food Tour.
Cities to Visit in Scotland
Now that we've covered all that you need to know about underground Scotland, we'll move on to the charming cities of Edinburgh and Glasgow to round out your comprehensive Scotland adventure. Centuries of history and quaint villages coalesce to make a dazzling experience.
As the Capital of Scotland, Edinburgh enchants with sweeping vistas, a magically medieval Old Town, and a stately Georgian New Town. Here's a great list of things to do in Edinburgh, guaranteed to be an exceptional visit: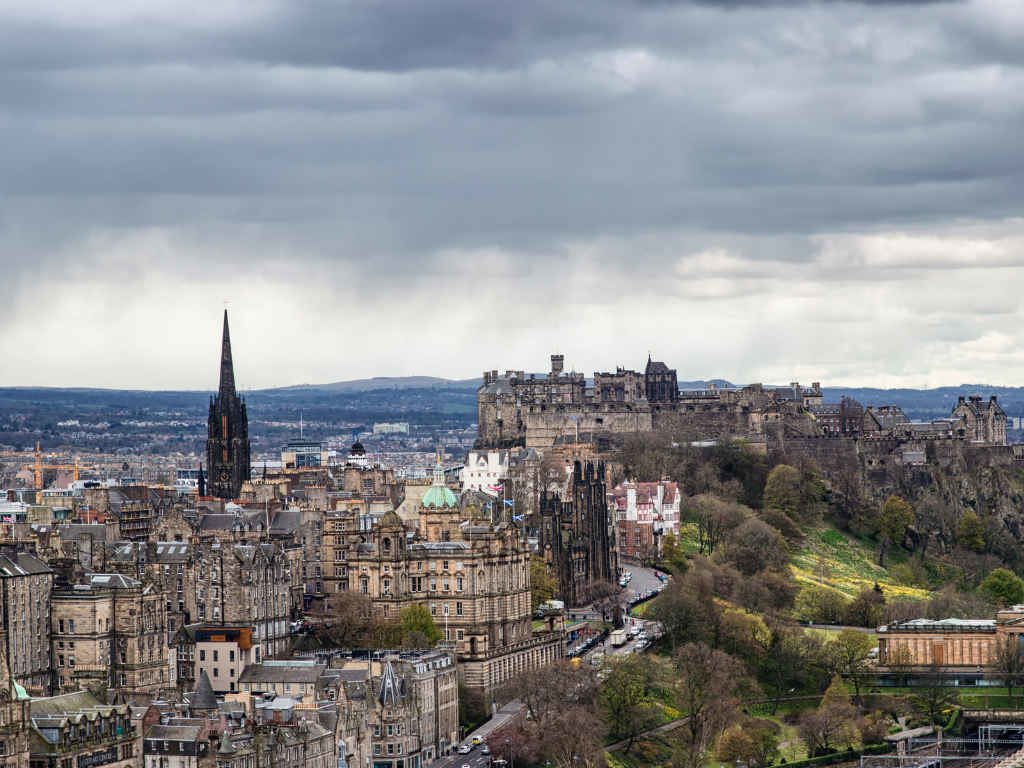 Get your fill of history in the Old Town where you'll get a chance to witness the Royal Mile that runs between the Palace of Holyroodhouse, the official residence of the Queen, and the Castle. This part of the city is also crammed with old mansions and other landmarks that provide the perfect backdrop for an examination of social history, political intrigue, and possibly even ghost stories. Context has the perfect walking tour for you to explore these facets of Old Town Edinburgh.
Discover Edinburgh Castle
Built in the 11th century, Edinburgh Castle sits atop a volcanic rock that has always given it strategic importance and natural defense against enemies. This important fortress sheds light on the medieval history of Scotland and the turbulent history of Scotland and England. Learn more during our Edinburgh in a Day tour, which includes other vital historical components of Scotland as well. You can also visit St Andrews Castle, St. Andrews Cathedral, and Old Course at St. Andrews with Context on our Day Trip to St Andrews from Edinburgh.
Learn about Scottish Identity at the Scottish National Gallery
Scottish identity has been fraught with struggles that can be seen to this day. Scotland is known for its long and complicated history, its proud nationalism, and its enduring connections to much of the world. The Scottish National Gallery tells the history of the country through a collection of portraits stretching from the sixteenth century housed in a stunning neo-Gothic structure, replete with statues romanticizing the medieval history of the country. Dive deep into the complex history behind Scottish identity during our Creating the Scottish Identity: Literature, Art, and Politics where you'll learn about the role of the tartan among other important Scottish symbols.
Meet an Edinburgh Ghost
Edinburgh is also home to many dark events that have drawn spirits to its streets. Sites of public executions, eerie graveyards, and witch sightings have all contributed to a paranormal sense that still exists in this old city. In fact, a 1842 article stated that Scotland was "more infested with ghosts than any other part of Europe," adding that these ghosts were uglier, rowdier, and all-round more horrible than ghosts from any other nation.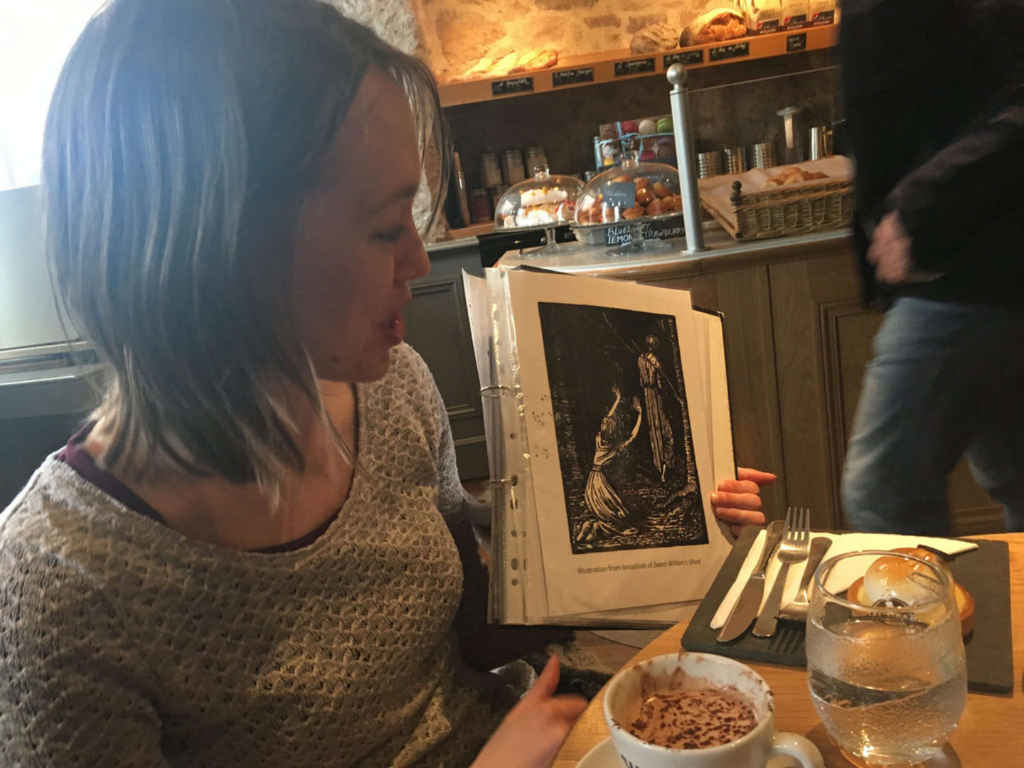 Context's Edinburgh Ghost Tour explores the rich history of Scottish ghost stories, using Edinburgh's Old Town as a guide.
Glasgow has quite a different vibe than Edinburgh. No less important in history, Glasgow's industrial and artistic background has made it an urban landmark, staking a claim at the forefront of contemporary art, nightlife, and culture. Scotland doesn't always come to mind for its art scene, but Glasgow's top things to do are all art-related.
There's a reason why so many recent Turner Prize winners come from Glasgow. The disproportionate number of influential and successful artists continuously pouring out of the city is what has caught the attention of the international art world and has caused curator Hans Ulrich Obrist to dub the phenomenon 'the Glasgow miracle'.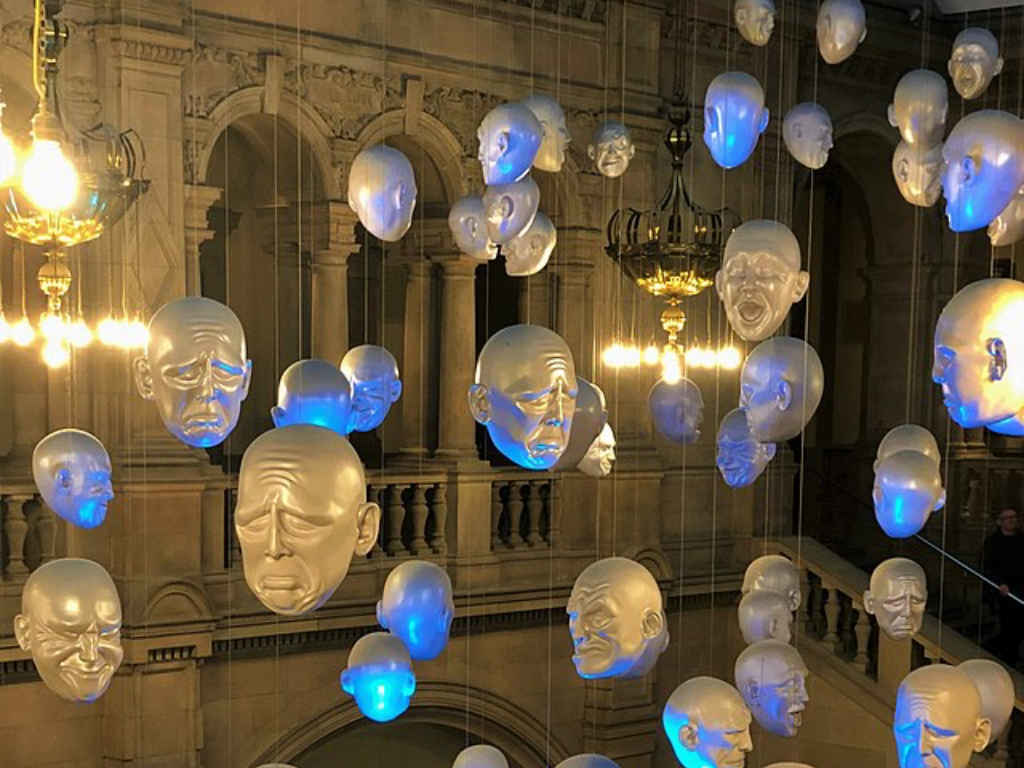 The Centre for Contemporary Art is where you should start your journey in understanding what makes Glasgow's art scene unique. The Modern Institute and Transmission Gallery are also two vibrant galleries that you can't miss. Want to see it all? Our three-hour Glasgow Art Tour will give you an insider's view into the city's renowned contemporary art scene, guiding you through the city's top art destinations.
If you're curious about the architectural and design movements in Glasgow, join us on our Mackintosh in Context tour.
From the mystical, open lands of the Highlands to the pristine, untouched islands, Scotland has something for every adventurer. There are parts of the country that have existed as they were several thousand years ago, and other regions that have experienced the toils of time. Either way, Scotland is a magical, otherworldly place.
Want to learn with a true expert? Get a comprehensive view with one of Context's tours, or learn more about your favorite destination or topic with our virtual, live-taught courses and seminars.
Other stories you may be interested in: