Tour Details
Tour Description
In this 3-hour introductory walking tour of Amsterdam we'll visit Amsterdam's Old Town with a local historian, painting a vivid image of this free-wheeling and artistic city, from the charm of the canals to the pleasures of De Wallen. This is a perfect orientation tour for the first-time visitor.
Amsterdam's Old Town
Our walk begins just a stone's throw away from the spot that helped give Amsterdam its name: Dam Square. We'll discuss the origins of the city and form an understanding of the foundational aspects of Dutch culture, which are reflected in the development of the medieval city. We'll get our bearings at this central square, also home to the World War II National Monument and the Nieuwe Kerk (New Church). The church isn't used that often these days, except for the most special of occasions—like royal investitures, and the wedding of King Willem-Alexander and Queen Maxima.
Into the City Center
From here, we'll move through the streets of the city center, making our way past the Royal Palace. This impressive building was once the Town Hall, until Louis Napoleon Bonaparte (not the one you're thinking of, but his younger brother/step-son-in-law—we know, it's confusing, we'll spare the details) seized power in the Netherlands and installed himself as ruler. Although it wasn't long until control shifted back to the House of Orange, the name has stuck. Leaving Dam Square, we'll catch a glimpse of Amsterdam's UNESCO World Heritage Site: the architectural marvel of the canal belt. (If you want to spend time getting to know this area properly, we have a
Dutch Golden Age Tour
that can help with that.) Along the way to the canal belt, we may also stop in at the Begijnhof courtyard, a time capsule of the 17th-century. We'll take time to discuss Amsterdam's economic flourishing during those years and how that success has made the city what it is today.
By the time we finish our walk together, we'll have a sense of how Amsterdam came to be and what it is today. We'll have had a taste of the city's story—all the better to get out and explore further on your own, or on one of our other
Amsterdam Walking Tours.
.
FAQs
Will we visit the Red Light District on this tour?
As of April 2020, Amsterdam has prohibited walking tours from passing prostitution windows in the city center. While this may be a topic for discussion on your Introduction to Amsterdam tour, you will not spend time in the Red Light District itself.
Where You'll Start
Tour Experts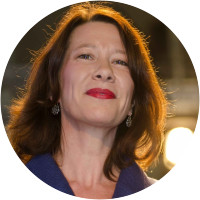 Alette has an MA in Art History (Vrije Universiteit, Amsterdam) and holds a Ph.D. in the History of Science and Technology (University of Twente, Enschede). For both her thesis and her dissertation, she researched the intricate relationship between nature, art and science in the 20th century (thesis) and the 17th century (dissertation). Sculpture parks, ornamental gardens, and botanical gardens form the sites of study. As an independent scholar, she presents papers and writes articles on this subject. Alette also teaches art history and lectures on topics such as 17th-century Dutch art and architecture, 18th century Empire design, garden architecture, and landscape engineering. She has curated several exhibitions and stood at the basis of the exhibition Black is Beautiful on the image of black people in Dutch art history. She lives in the city where she was born: Amsterdam.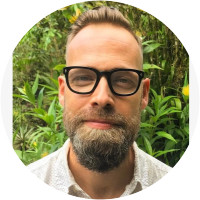 Bas has worked in the hospitality industry in his hometown of Amsterdam for over 15 years in a variety of capacities. He feels that he has grown up in a global village - this liberal city which has a ridiculously rich history and has inspired millions all over the world. Amsterdam for Bas is not just beautiful canals, breathtaking architecture, red lights & coffeeshops. Amsterdam is a feeling, an attitude, a way of thinking. As a local and cultural expert, Bas knows his town very well and finds it always a true pleasure to show people what his Amsterdam is all about by trying to pass on some of that 'local feeling' to those who dare to explore a little further. He looks forward to welcoming visitors to Amsterdam.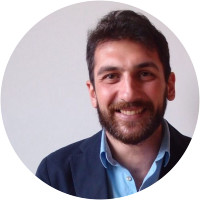 Giorgio is an architect specialising in sustainable and performance-based design. While busy with his thesis work in archeological restoration, he took part in several surveys of the Roman and Greek ruins of Kos. He moved to Amsterdam in 2012 and has continued to work within local architectural firms since. He has a genuine passion for cities and enjoys telling stories and sharing his interest with others.
Reviews can only be left by Context customers after they have completed a tour. For more information about our reviews, please see our FAQ.
It was perfect. We have taken many tours over the years but this is our first Context Tour, based on a friend's recommendation. Alette was extremely knowledgeable and shared insights into Amsterdam we would not have captured on our own. We will definitely recommend Context to our traveling friends!
Dec. 15, 2019
Alette was so knowledgeable and passionate about her city! Wonderful tour by a wonderful person. Thank you!
Dec. 10, 2019
This was a great orientation to the city. Barend was very knowledgable and made the tour fun and interesting.
Sep. 7, 2019